ANZA 1st Scouts offered a day filled with excitement and fun for the children from Melrose Children's Home, Rachel Landau says.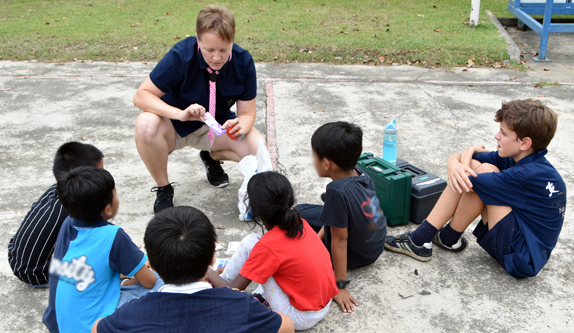 Following on with the success from last year's afternoon spent with children from Melrose Children's Home, we made plans for another session this year.
With some major changes to staff at the home, the planning process was more complex than expected as new relationships had to be forged. However, a date was set – Sunday 27 November – and the Boys Brigade campsite at Sembawang was booked for the day. This provided us with a field, large dining area and covered shelter for activities in the event that, as with last year, the heavens opened for the afternoon.
The objectives, as with last year, were to give the children a fun and interesting afternoon – while also introducing them to aspects of Scouting. The more experienced Scouts helped plan the session to include games, dinner and a rotation of three activity stations. Some older Scouts were dispatched to the kitchen to prepare fruit snacks and dinner, while others mixed with the children to accompany them in games and to the stations. A fun and energetic game of Bullrush started things well with everyone getting involved and using up a bit of energy.
A first aid session saw great enthusiasm for applying bandages, slings and plasters. This became particularly enjoyable once they started drawing wounds onto their arms and legs with a red pen that then required attention. An arts and crafts session, ably run by James Mansfield-Page proved very successful, as well as a small scale construction section run by two of our Venturers – older Scouts aged between 14 and 18.
First aid and construction are very much a part of Scouting and provided opportunities for learning and applying new skills. The children certainly seemed to have a great deal of fun and there were a few more games before dinner.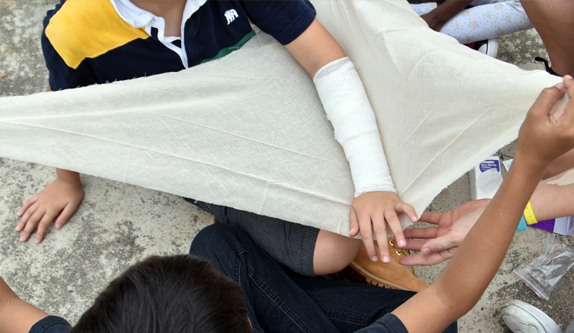 Learning how to use an arm sling.
This year, dinner was a repeat of a popular meal from a previous camp, being fried chicken, mashed potatoes and carrots, followed by fruit salad. The fact that it didn't rain all afternoon this year was a definite bonus and dinner was again appreciated by all.
Finally, over a campfire – well, a BBQ really but it served the purpose perfectly – copious quantities of marshmallows were toasted and consumed before a bus load of happy and tired children were returned to Melrose Home.
Thanks have to go to our Scouts for their part in activities and our Venturers who ran their station successfully, managing both the children and the activity. Kerry Low and our other leader Elisabeth Lange certainly played a big part in making the afternoon go well, but our biggest thanks has to go to our leader James Mansfield-Page. Not only was he very involved in the planning and a huge hit with the children, but his dedication to the event and energy on the day played a major part in making the day such a success.
We are delighted to continue to build this relationship and provide a hands-on event like this – it's something very tangible, particularly for our Scouts, as they can see the results of their efforts.
Interested in Scouts? There are new opportunities for Scouts Troop (ages 10-14), Venturers (ages 14-18) and leaders. Sign up on ANZA's website or email Rachel Landau at 1stanzascouts@anza.org.sg.