Redeeming her husband's charity prize draw trip from the 2016 ANZA Black Tie Ball, Lauren Brown experiences Javanese beauty.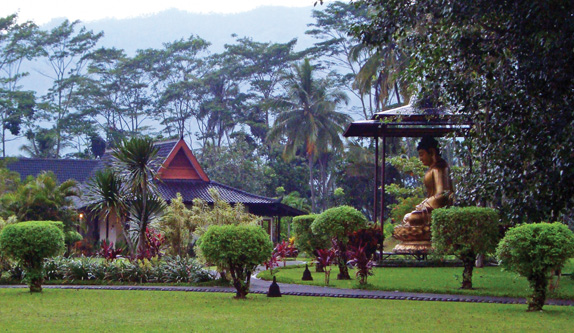 A holiday in a luxurious five-star resort for two nights, three days for two, with spa treatments included? Bingo! My husband was fortunate enough to win a fabulous getaway to MesaStila resort – we had been told it was an amazing place to relax, unwind and rejuvenate.
The first challenge to face is locking in a few days with the other half – hoping that he won't get hijacked by a sudden work commitment. The second hurdle is hoping that a work commitment doesn't suddenly appear once the trip is booked.
Booking a relaxing holiday is something neither of us are used to as we tend to have very active holidays or base them around competitions – he's into mountain biking, and I'm into running.
Nestled in the volcanic region of Central Java is MesaStila, one and a half hours' drive from Achmad Yani International Airport. Originally a coffee plantation, the area has been beautifully restored and now functions as a boutique resort and spa, with coffee plantation and organic farming functions – of which, the resort prides itself on educating and employing locals on the ways of hotel practices, coffee production and organic produce farming. This in turn plays a fundamental role in community development and sustainability.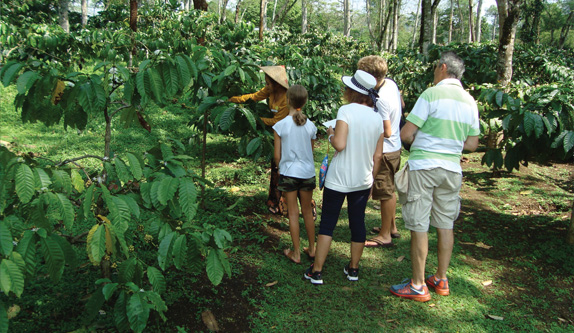 Exploring the coffee plantation.
As we arrive at the resort we are greeted by an incredibly serene place that has beautiful views of volcanic mountain peaks all around us. Once welcomed and shown to the villa, we take some time to explore the resort. We soon realise that, yes, most do come here to relax and rejuvenate, making the most of the award winning spa facilities – what we don't know is that there's a lot more do get upto while we're here. Running trails and mountain biking obviously get our interest straight away, but there are market tours, bike tours, horse riding, coffee plantation tours, daily yoga, traditional dancing…suddenly it dawns on us that we aren't going to have enough time to do everything. This just turned into the ultimate holiday break of relaxation and action, all rolled into three days.
With some creative planning we are able to arrange some big action days and still get a chance to sit by the pool and put the feet up. Spa treatments are planned at the end of the day or around activities. The staff are lovely, and everything has been thought of when it comes to treatments.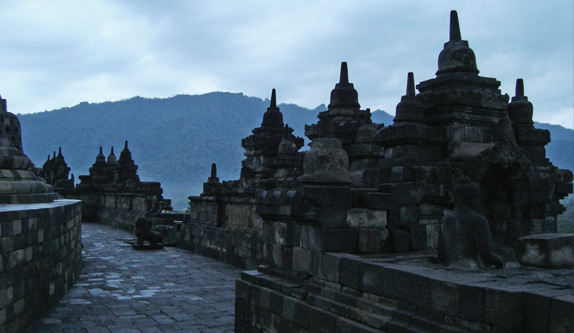 Waking up bright and early for a unique sunrise.
Thankfully we packed our own bike gear so that in the event we came across a place that hired out bikes, we had the rest. As it turns out, you can hire everything at the resort. If you are a biking enthusiast, Sri Agus is the local cycling guide who can send you Strava® maps in advance, and design road or mountain tours to suit your level. If you are an enthusiast or taller than the average person, it is best to fly with your own bike.
MesaStila has a rich history, and the plantation tour is a must. The facilities allow you to relax and unwind amongst beautiful colonial era style decor and stunning views. The grounds that surround the reception and bar buildings – originally the Master's home – is a lovely place to unwind with a G&T and a spot of giant chess or croquet.
As part of taking in the sights of the region we book a sunset tour of Borobudur Temple. Built in the 9th century, it is the largest Buddhist temple in the world. This is an incredible experience, and the guided sunset tour allows you to visit the temple after public hours – meaning you can really take in the beauty of the surrounds without the tourists. Even through torrential rain, the temple provides a very peaceful and calming environment. A place to stop, reflect and think.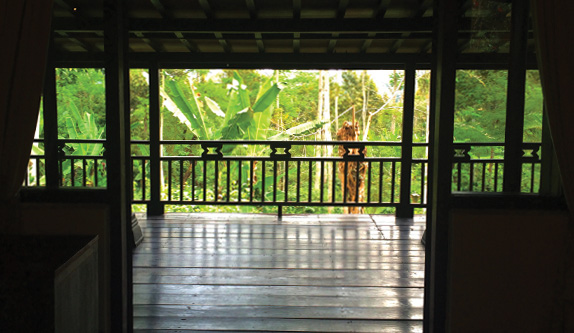 A room with a view.
The horse ride tour through the local village enables us to see how the community lives – and the children love coming out to say hello. At the end of each day we relax in the main restaurant, overlooking the resort pool and incredible views, while eating a fair of local and international cuisine.
The fabulous part about the trip is being as active or inactive as you like, without feeling like you are missing out on anything. The resort makes the most of what the local environment has to offer to balance between a unique spa experience, and adventures for the action holiday enthusiast.
This MesaStila trip was a prize won via the ANZA Black Tie Ball charity prize draw. Click here to find out what's up for grabs at our ExtravagANZA Black Tie Ball.