Whether through gears or gadgetry, Singapore's been pretty future-focused with these new, fun activities, Gerard Ward says.
With kids having their faces buried in smartphones, there has to be a better way to get them moving their bodies more. Here are a handful of activities that people young and old can get involved with.
Augmented Reality
ArtScience Museum has teamed up with Google, Lenovo and WWF to create a world within a smartphone. Visitors take these 'phablets' attached to robust selfie sticks and walk around Basement 2 of the museum, getting to see a jungle appear among the floors and walls of the room.
Using Google's new Tango technology, the Lenovo Phab 2 Pro uses dual cameras for area learning – in this case, a circular hallway – depth perception and motion tracking to learn the dimensions of the room it's in. Users move the phone around, seeing a virtual rainforest. Along the way are prompts to press on the screen – for example freeing a lesser mouse-deer from a trap – and visitors can then watch the reed animal scampering around their feet and heading off back into the wild.
The 'Into the Wild' exhibition brings awareness to the plight of illegal logging, poaching and palm oil forest clearance that is not only destroying natural ecosystems of forests worldwide, but quickly pushing animals towards extinction. For example, in the last 60 years orangutans have declined by around 50 percent, and are now only found in the wild on the islands of Borneo and Sumatra.
At the end of the exhibition, held on Level 4 of the museum, visitors are encouraged to plant a virtual seed to grow a tree – for every virtual tree planted in ArtScience Museum accompanied by a pledge to WWF, one real tree will be planted in Rimbang Baling, an Indonesian landscape in Central Sumatra recognised as 'the beating heart of the central Sumatran Tiger landscapes'. During the last century, over 95 percent of the world's wild tiger population has vanished.
While this is one of the first uses of Tango technology in public, the potentials are huge to make use of our physical space in new ways – it's no surprise that Singapore would be all over trying this kind of new technology.
Into the Wild
ArtScience Museum, 6 Bayfront Avenue, 018974
6688 8888
marinabaysands.com/museum/into-the-wild.html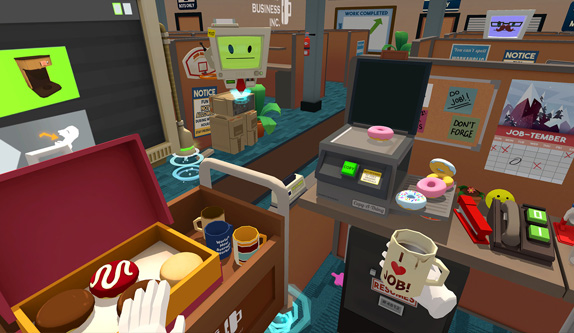 Virtual Reality Arcade
Looking ridiculous is something I'm good at. I'm not colour-coordinated, I trip over rocks that don't exist, and my sneezing changes from stifled hiss to a seismic shift. Throw on a virtual reality headset and I'm someone else.
Ignite VR is a small space within Marina Square Shopping Mall that has four virtual reality spaces set up – essentially a square of green carpet, a computer, a Vive headset and controllers as well as a flatscreen TV for friends to watch what's going on. Founder of Ignite VR Roy Koo plans to be around until at least May when the lease runs out. Before his arcade, people who were curious about the technology – myself included – had nowhere to go aside from buying it first. Families can have fun too, with comfy couches for the adults to sit and watch if they don't want to get involved in the arm-flailing and body-weaving action – though I suggest you do.
'This setup is great for corporate events, where players can help each other,' Roy tells me as I begin to adjust the headset, beginning to see a virtual environment on the screen that'll soon be near my eyes. There's a tourism shop two doors down, and lots of tourists looking to spend some time while the next tour bus rocks up can have a go.
The controllers that are strapped to your hand look like remote controls with cup holders in the end, but are quite high-tech. Sensors placed around the room read where the headset and controllers are, allowing you to duck, weave, walk around the virtual world you're in.
The first game I try is familiar: Fruit Ninja. Like the smartphone game, you have to cut through fruit thrown into the air – the only difference is you have two samurai swords in hand, using 180 degrees to chop away.
The next is a bow-and-arrow situation called 'The Lab: Longbow'. This is where I become a little more focused. Picking up a bow and arrow – left hand and right hand – the aim of the game is to protect your castle gate from little stick figures charging with swords and axes. You physically have to steady the bow and pull an arrow back with your hands to fire. I leaned, aimed, judged distance and let go of that bow string countless times – first in a controlled way, then by the time the stick figures were ganging up on the door, in a flurry.
There are dozens of games to try out, from the silly Job Simulator game, space shooter Space Pirate Trainer to a 3D painting space called Tilt Brush. Some can be played with more than one person. For an hour, it'll cost $28 if you book ahead of time – usually $30 an hour – and there are options for half-hour slots ($15) and pay per play ($3) if you want. I can't imagine playing just the one time.
Ignite VR
Marina Square Shopping Mall #01-223/224, 6 Raffles Boulevard, 039594
8688 0490
ignite-vr.com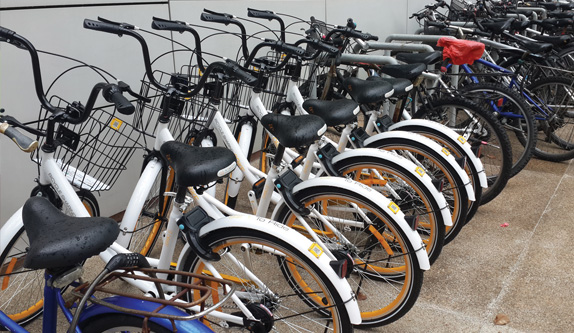 Bike Sharing
Sometimes it's those last-minute moments when you think 'If only I had a bike for this last few kilometres' that a bike-sharing phone app comes in handy. While it's still not the first thing a person would think, there have been three companies popping up in Singapore offering bikes for rent by the hour all around the country.
The original concept for this style of bike rental came from the Barclays Cycle Hire – also known as 'Boris Bikes' – in London and 'Citi Bikes' in New York City, with docking stations around town that allowed bikes to be rented out short-term using a credit card.
This concept adds a bit more freedom, with a smartphone app locating the bikes around you. The first company to arrive was oBike (obike.com), with two more brands shortly after, MoBike (mobike.com), now ofo (ofo.so) – as well as Singapore's LTA deciding on its own version of this kind of bike scheme. February was a busy month for bike-sharing services in Singapore.
You might see some of the white and yellow-coloured single-gear oBikes at MRT stations around town – including Jurong East, Buona Vista Woodlands and Bukit Batok. These bikes, found by using your phone's GPS and unlocked by scanning a QR code, are $1 for every 30 minutes. There's a $49 deposit for new users, which can be refunded when the user is finished using the service for good – until then it's held in your account.
Users find any public bicycle parking area around town when they're done, then manually lock the bikes with a contraption that sits above the back wheel to finish the trip. This arrangement is a step towards a sharing economy here in Singapore, and could be the start of a healthier city.
oBike (obike.com)
MoBike (mobike.com)
ofo (ofo.so)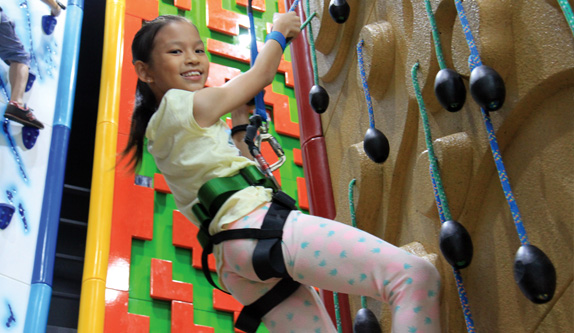 Automatic Rock Climbing

Rock climbing was always something that required persistence and training – and a friend who was just as willing to go so that they could belay the rope as you climbed up. While you might be lucky and have a dedicated friend for one session, getting them back might prove tricky.
Because of technology however, the need to nag non-climbing friends is over. Clip 'n Climb, New Zealand's fun approach to rock-climbing, has made its way over to Singapore at the newly opened Our Tampines Hub (OTH). With 19 walls – all eight metres tall – to scale, this park will have young and old climbing all sorts of different walls.
Each wall has a different spin on things; you'll be climbing space invaders on one, a Morse code-style wall on another, and even grabbing 'ice picks' to scale the Dry Ice wall – don't worry, it's just a name.
The pulley system is unique in that it's automated, meaning you won't need to take turns spotting your partner and taking care of the rope as they climb. Make sure to wear sporty clothes and closed shoes.
The rock climbing walls are situated in HomeTeamNS, which also houses a laser tag arena – for those wanting to train for cardio after the muscle-building of wall-scaling. It costs $25 for 90 minutes of Clip 'n Climb – with discounts for SAFRA and PA members.
Clip 'n Climb
Our Tampines Hub #03-03, 51 Tampines Avenue 4, 529684
hometeamns.sg/clip-n-climb-hometeamns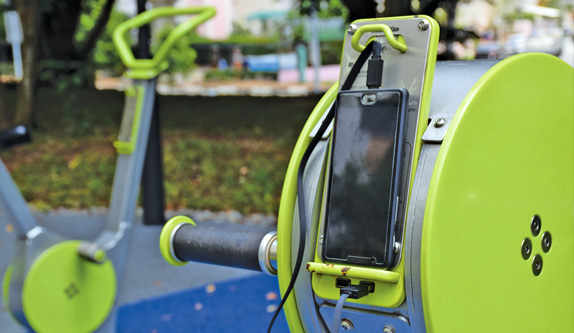 Self-charging Exercise Equipment

A while back there had been a surge of exercise-connected ideas and fads with TVs powered by stationary exercise bikes and pedometers on Tamagotchi toys to encourage kids to walk more.
The latest to come from human energy to electricity comes in outdoor exercise equipment. UK-based gym equipment manufacturer The Great Outdoor (TGO) Gym Company has built a series of machines that people can convert human energy into electricity – charging smartphones and iPads as they pedal and cross-train. This initiative to spend time exercising outside with an added benefit of a charged phone seems to be the best way to get a kid glued to their phones to be outside. No longer would those Netflix binges be too guilt-ridden – though it's highly unlikely you'll be able to pedal long enough for more than two TV episodes.
Singaporean group Playpoint – a company responsible for bringing some of the most interesting playgrounds in Singapore, like the Wall-Holla vertical playground – installed a series of TGO machines at an HDB not too far from Bukit Panjang in the north-west. To work out the arms the hand bike fits best, and those who don't skip 'Leg Day' can take on the spinning and recumbent bike – the cross trainer is the nice middle ground.
Little green lights indicate the voltage charge you're creating as you pedal. The estimated time to fully charge your phone would be roughly three hours, which seems like a lot, but if you're hoping to get just enough charge to get you home, this is a great place to start – just don't forget to have that USB cord with you.
TGO Energy Gym
234 Bukit Panjang Ring Road, 670234
playpoint.asia/projects/energy-gym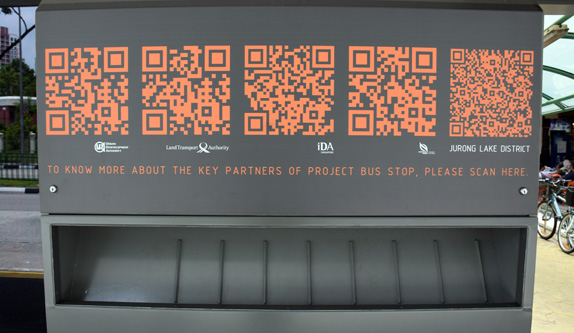 Smart Bus Stop
What on Earth could this possibly mean? Back in August of 2016, Singaporean architect firm DP Architects, as well as a multi-agency collaboration with government bodies, launched the concept bus shelter to encourage more use of public transportation. With the aim to make a shared space a little more community-friendly through the use of modern technology, there are a heap of bells and whistles attached to this shelter.
Along the shelter is a bookshelf – though on our visit to the stop, most of the books were missing – a built-in swing set, phone chargers, a place to park your bike. Big touchscreens have bus arrival timings, maps and journey planners, news and events, links to download e-books from the National Library Board (NLB). On the roof is a miniature garden that uses a rainwater irrigation system to keep the plants happy and healthy. There's even free wifi on offer for those needing it.
While this only really applies to those who go on certain buses near the Jurong East MRT station, this is still a great indication that Singapore is pushing to reimagine public spaces that we use every day, and to bring communities a little closer together.
Project Bus Stop
134 Jurong Gateway Road, 600134