One ANZA Soccer coordinator not only gives time to help kids play on the field, but helps breast cancer patients live their lives better, Gerard Ward finds.
ANZA's reputation was well-established for Janine and her family before they left their life in Hong Kong for Singapore – so much so she recalls possibly joining the association even before her family arrived.
Knowing some people who were a part of ANZA Soccer, Janine was hoping to get her two boys – aged 6 and 8 at the time – into the next season of soccer. 'At the time we couldn't get the kids into ANZA Soccer, so we would just turn up every Saturday just to see if the kids could have a kick around,' Janine says. It wasn't until the U9s Coordinator Cheryl Morrow was leaving and asked Janine whether she'd like to take over that she got involved with volunteering for ANZA Soccer – alongside friend Michelle Wheeler.
Two years later, Michelle and Janine are now coordinating the U11s, as well as taking over the competitions that Penny Galligan used to run. 'We were going to be there all the time anyway because the kids were playing,' Janine says. 'Michelle and I like doing it. It's nice to do it together as well, I think doing it on your own is quite a huge job as well.'
Her two boys Lucas and Matias, now aged 8 and 10, are playing soccer, and Janine hopes to get her daughter Amelie to play next year. 'When you see on a Saturday we have like 100-something kids just in our age group, there's a real sense of satisfaction that these kids are [playing soccer],' Janine says. 'If we didn't have organisers, then we couldn't get to do it, so it's good for the kids to do it for them.'
Janine has had a bit of experience in organising in the past, having helped out the Australian Association of Hong Kong when she lived there. She was involved in running the Pink Morning Tea fundraiser there, helping raise money for breast cancer research.
Having lived in Hong Kong for five years, it was in her second last year living there that she was diagnosed with breast cancer. 'I was only at stage 1, but I had a type of cancer that was called a HER2+ (Human Epidermal growth factor Receptor 2-positive), which is a very aggressive type of cancer,' Janine explains. 'I had to go through all the treatments, I had a lumpectomy, and then they had went in to check that it hadn't gone into my lymph nodes, which it hadn't, which is great.'
While she was lucky to have caught it early, there was much more work to do, including chemotherapy treatments, particular drugs and radiation sessions. Shortly after her one-year clearance, Janine and her family moved to Singapore.'For me, having all those treatments does take a toll on your body,' she explains. 'So my first year here was more about me and getting my health back. I went and saw a nutritionist, and she got me on a very good track with a diet.'
Janine explains the process of eliminating food and beauty products that could trigger a change in hormones, as 'breast cancers are a very hormonal-based cancer', and she was 'triple-positive' – where her body was producing so many. Because everything has chemicals in them, it meant figuring out what foods to cut out. That meant dairy, gluten and processed sugars, which at the beginning made her wonder what she had left to enjoy. 'It becomes a lifestyle change,' Janine says of the new diet, explaining that within a year, she felt a whole lot better. 'I was feeling healthy, happy to do my exercise four to five times a week…like I'm on the right track.'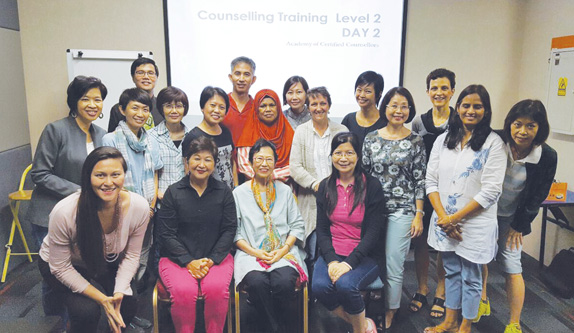 The Breast Cancer Foundation (BCF)'s 'Befriender Counselling' course.
Once Janine felt like she was happy with where she was, it was time to help others. A week later, with almost impeccable timing, she received an email. Janine had joined the Breast Cancer Foundation (BCF) when she first came to Singapore, and the email was from the BCF about an upcoming 'Befriender Counselling' course. This crash course isn't to make you into a fully qualified counsellor, but in four full days, it aims to certify you as a Befriender for the foundation, whereby you are equipped with the skills to help guide others who've just been diagnosed with breast cancer. You can either attend the hospital every Tuesday to see ladies who have just been diagnosed and need someone to talk to about support or general questions, or be available via telephone. There is also a big support group once a month where ladies and befrienders come together to talk on different topics, from treatments and operations to nutrition.
Janine offers her help every Tuesday at hospital, getting a text message the day before to let her know how many people will be diagnosed. 'Sometimes we don't have clients where no one's been diagnosed, which is always great news,' Janine says of the text messages. 'Other days there'll be two or three, but they don't necessarily want to talk to you straight away. I know how I felt when I was first diagnosed, and I'm not sure I would want to go start talking to some lady I didn't know about what's going to happen straight away.'
The aim is for befrienders to be available in case someone who has just been diagnosed with breast cancer has someone who can guide them in those questions that come from hearing such shocking news. 'BCF tries to link people up of similar situations like cancer, treatments, operations,' Janine says. 'We have someone in the group who has had a full mastectomy with no reconstruction, a mastectomy with a reconstruction – and these ladies have no problem or issue in showing the other ladies this is what it's going to look like. They're quite brave, actually.'
While not there to inform what kinds of procedures or operations they should have – Janine insists her best advice is to trust your doctor – the Befrienders can talk about things like side effects of chemotherapy. 'It's different for everyone, but even if you have really bad nausea or vomiting from chemo, there are always tablets you can take to ease that,' Janine says. 'You don't want to give them the horrible impression of it, but you also want to reassure them that there are ways to ease whatever symptoms you might have.'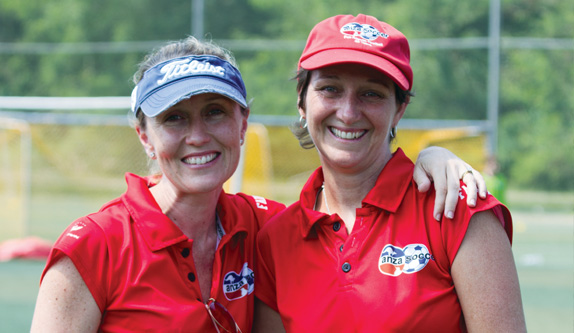 Michelle Wheeler and Janine Furlong at ANZA Soccer.
Her biggest surprise in being a part of the BCF is that oftentimes the biggest issue for those newly diagnosed isn't the cancer itself, but the financial or family matters attached to it – something that during her time on the counselling course, Janine was wondering why they were learning about finance. 'You'd be amazed at what issues come up when you diagnose,' Janine's teacher told her.
You wouldn't be able to tell by looking at the happy, healthy Janine sitting across from me that she ever had breast cancer, and part of her openness towards her story has come from having the time to get her health and happiness back. 'It's not like I'm embarrassed about it or anything like that, but what you don't want was anyone's pity,' she explains of the difficult topic. 'Thinking back to Hong Kong when I first had to go out in my scarf, I got into the lift of the condo we were in, and a lady I knew from the bus stop saw me and just burst into tears,' Janine recalls. And I was consoling her, you know? "I'm okay, it's fine".' No matter how well-intended reactions and comments were from friends and colleagues, it's hard to face that kind of attention on a daily basis.
Everyone knew she had breast cancer in Hong Kong, so moving to Singapore – where only a handful of friends knew – was so refreshing to Janine. This gave her the time to be prepared in her own time before being more open about her journey with cancer.
Everything happens for a reason, Janine tells me. She mentions this because soon after she decided that she was willing to talk more about her life's story, an email from yours truly popped into her inbox, asking for a chat.