There are three more reasons to go outside and explore the great outdoors, Gerard Ward finds.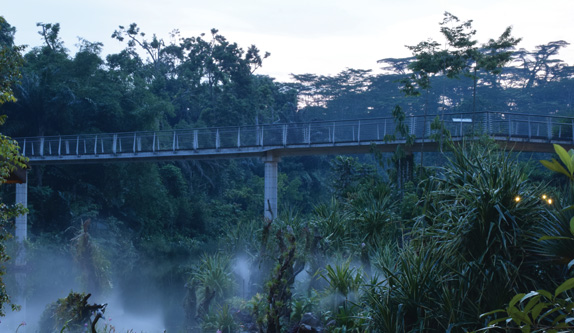 Singapore Botanic Garden and Learning Forest
753 Tyersall Avenue, 257700
The UNESCO World Heritage Site just seems to keep growing, with the Singapore Botanic Garden's latest section Learning Forest opening a couple of months ago. Visiting this gorgeous scenery of green makes you wonder how long this 10-hectare project was under wraps for.
A huge undertaking for the NParks group, the newly opened section is an attempt to improve the natural conditions of the rainforest and wetlands. This addition has all sorts of local plants, trees – some over 100 years old – and fruit-bearing lychee and mangosteen trees. The more than 500 plants include some 14 endangered and 29 vulnerable plant species, and the local fauna has 100 different species, from birds and reptiles – you might recognise a familiar sight of the water monitor in the swamp – to butterflies.
The 8-metre high SPH Walk of Giants comes with a canopy web made from ropes that visitors can sit on, getting a bit of comfort surrounding the tembusu tree. Your little monkeys should have no problem hanging out here.
The elevated walkway gives an amazing view of the new space – especially at night-time. Wait until the sun begins to set for the bridge to light up, and the area to be given a golden warm hue. Most of the section will close come 7pm, so be sure to see the Walk of Giants and elevated walkway before then.
This is not all for the park; in 2018 the 8-hectare Gallop extension will be opened to the public, complete with a 'Dipterocarp Arboretum', a Forest Conservation Interpretive Centre and Natural History Art Gallery.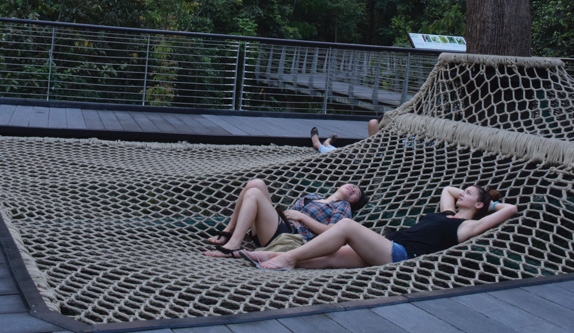 Chestnut Nature Park North
Chestnut Avenue, 679514
To hike, or to bike, that is the question. The northern part of the Chestnut Nature Park is finally open, giving us an extra 64 hectares of nature to explore –the total park is 81 hectares, making it a mere hectare short of being Singapore's largest nature park.
While not the most easily accessible space to get to via public transportation – the closest train station is the Bangkit LRT – there is a car park. There are mountain bike and hiking paths along the northern and southern sections of Chestnut Nature Park. By the entrance is mountain bike hire shop Aire MTB, with rental rates that start from $15 an hour on weekdays ($18 on weekends) that get cheaper the more hours you rent. Riders, make sure you check with the Muddy Trails Meter before you ride to give you an indication of what to expect when you start riding. By the entrance of the bike path is a concrete bike park for kids to ride around in – think a skate park for two-wheelers. The bike path has some pump tracks for those wanting to give some stunts a go.
The hiking path is more rustic, more rugged and muddy. Be cautious if you're wearing running shoes or sneakers, as they'll possibly have less grip when given a muddy coat. You'll come across trees with amazing bare roots that look like hands with dozens of fingers. Beautiful purple flowers upon closer inspection have ants working together to not fall off by climbing around each other. If you're lucky you'll be able to spot the red-coloured Banded Woodpecker chipping away some bark to grab some ants to munch on. It's a wonder to witness a bit of nature almost completely hidden from the noises of highways and cars.
Hikers can take the southern part – which opened back in April of last year – to continue their hike down towards the Dairy Farm Nature Park.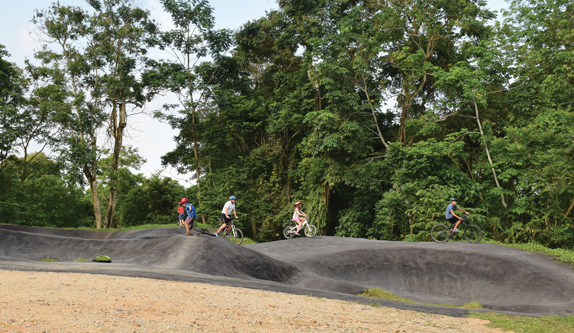 Windsor Nature Park
30 Venus Drive, 573858
In late April we were treated to another opening of a new 75-hectare park, essentially connected to MacRitchie Reservoir. Windsor Nature Park has three new trails to try out. Along the shorter Hanguana Trail – named after the 'Critically Endangered' ruby-red Hanguana rubinea and white Hanguana triangulata along the path – are signs dangling from the local flora. The Singapore Kopsia, another species of flower categorised as 'Critically Endangered' in Singapore, is only a foot high, but will eventually bloom into beautiful white flowers with red dots in the centre. At the end of the trail is a small office that looks like it may eventually be a café – if the two signs inside are of any indication.
Take the Squirrel Trail, along newly laid concrete paths and wooden planks, and you'll come across some of the park's wildlife. Monkeys laze about, rifling through the hair of nearby friends and people-watching the monkey-watchers. Squirrels scurry, lizards scatter beneath the fallen leaves and birds chirp as you walk down the green corridor of nature.
The Drongo Trail – named after the species of bird and not after that person who cuts in front of you in the shopping lane – is its own elevated walk, with some incredible twisted vines that hang within an arm's reach. What's great about the Drongo Trail is its connection to MacRitchie, meaning once you're done, you can continue on towards the TreeTop Walk and to the reservoir.