Australian, Rhianna Buchanan will fly to Singapore next month for the Monster Jam as a Blue Thunder Driver – expect thunderous, roaring engines and stunts that defy logic. We caught up with this extraordinary driver – who counts being a body double to Scarlett Johansson on her Hollywood resume – to talk about her career, positive outlooks and keeping safe in a dangerous industry.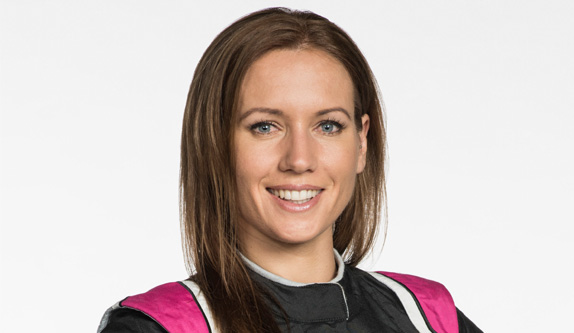 You grew up racing bikes and driving cars on the farm in Queensland; how did this passion start?
I really was born into the industry; cars and bikes were in my blood! Great weekends were always spent with friends and family riding on our properties and testing our skills.
You also did ballet and hip hop and enjoyed performing – is that something that continues to this day?
I still love dancing, although these days it's reserved for nights out with friends. I do love a spontaneous boogie when a good song comes on though; it always puts you in a great mood!
How did the step to stuntwork in Hollywood come about? What's the move from Queensland girl balancing tom boy and dance, to working in the movies?
A friend of ours recommended my fiancé, Jack Field, for some work that came up. I was there to liaise on the stunts they wanted and be a mechanic for him, but when they found out I could ride as well, they put me to work! Obviously, my riding and driving skills are utilised but things like timing and choreography are also handy skills which I learnt from dancing.
What do you particularly love about stuntwork? And the driving in particular?
It's always incredible to be part of creating or working on bringing a movie storyboard to life. I've been very lucky in working with some talented and professional crews. It is not as glamorous as it may seem – it's hard work – but very rewarding as well and definitely a thrill.
Have you found any limitations or sexism in your industry?
I have been fortunate enough to work with so many positive and supportive people but there will always be others with differing opinions. While you can't necessarily change the views of others, you can focus on what's important to you and surround yourself with like-minded people. I guess I have maybe changed my outlook on it; instead of thinking someone is sexist, I simply figure they don't know what I'm capable of and let my actions speak for themselves.
How do you keep yourself fit and safe in this dangerous job?
I train a lot and eat lots of healthy meals! Fitstop Australia will see me at their facility every day of the working week while I'm at home, and when I travel, I take the workouts with me and replicate them in the hotel gym or in a park depending on the exercises. Healthy eating is extremely important in maintaining energy levels, concentration and focus, and eating a good portion of food keeps me happy too!
When did the offer come through to take part in Monster Jam?
In 2015, I got a last-minute call asking if I was available to be a Monster Jam host for the Australian Tour. I said yes in an instant and had a great time getting to know the Monster Jam family and touring around Australia. As soon as the 2015 tour finished, we locked in for hosting in 2016 as well. As Octoberapproached the next year, however, I got another call asking if I was interested in trying out to become a Monster Jam driver! Again, it didn't take long for my answer to come through the line and next thing Iknew I was off to Paxton, Illinois to attend Monster Jam University. Throughout the 2015 tour, they thought I would be a perfect candidate with my background in motorsports and stunts and my attitude towards achieving anything I put my mind to!
What can people expect to see you doing as a Monster Jam truck driver?
People can expect to be kept on the edge of their seats! I'm looking forward to ripping in and doing it all – big air, wheelies and donuts! It's all about getting the Monster Jam fans cheering!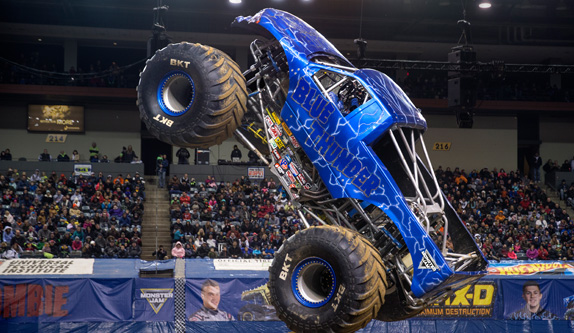 Are you ever terrified of a stunt in a show or on the silver screen?
Whenever there is risk involved, safety is of course the main priority. Although we are pushing boundaries for both machines and bodies, it is calculated, and with the right training, it can be done safely while being exhilarating, fun and entertaining at the same time.
Away from the day job, are you equally into adrenaline-pumping sports and experiences?
For sure! It's all about experiencing and testing skills as well as just getting out and being active. From sky-diving to wake surfing and everything in between, I am lucky to have a rad bunch of humans I call friends who are always ready for a new adventure.
How do you relax?
Spending time with family and friends is a great way to unwind. I also love being outdoors and appreciating the natural beauty we have in this world. I am definitely known for spending lots of time appreciating wildlife, especially our Australian wildlife!
Are you familiar with Singapore? What are you looking forward to seeing on any downtime you may have here?
I love Singapore and have been a few times as well as visiting plenty of neighboring countries. The first thing that I fell in love with in Singapore was the use of space and incorporation of green areas throughout the city. The second thing I fell in love was the food!! Singapore is also very clean, which says a lot about the people; they are respectful and proud of their country. Speaking of the people, Singapore definitely has some of the friendliest in the world! I'm looking forward to catching up with lots of friends we have made there, seeing as much of the city as we can and also meeting plenty more new faces who want to come and see what Monster Jam is all about!
ANZA teamed up with Monster Jam to offer a fantastic Facebook giveaway to our members. The question was put to you to comment on your favourite road trip journey – and we had some excellent answers which had us reaching for our car keys – and our passports. And the winners are…
Leanne Mills for her recommendation for the California State Route 1 for the amazing towns and coastline.
Sam Atkinson for her "drive" throughthe Moselle Valley, Germany.
Congratulations , you have each won a family bundle of four tickets for Monster Jam, 19 August at SIngapore's National Stadium. Please contact the ANZA office to get your prize on +65 6223 7992