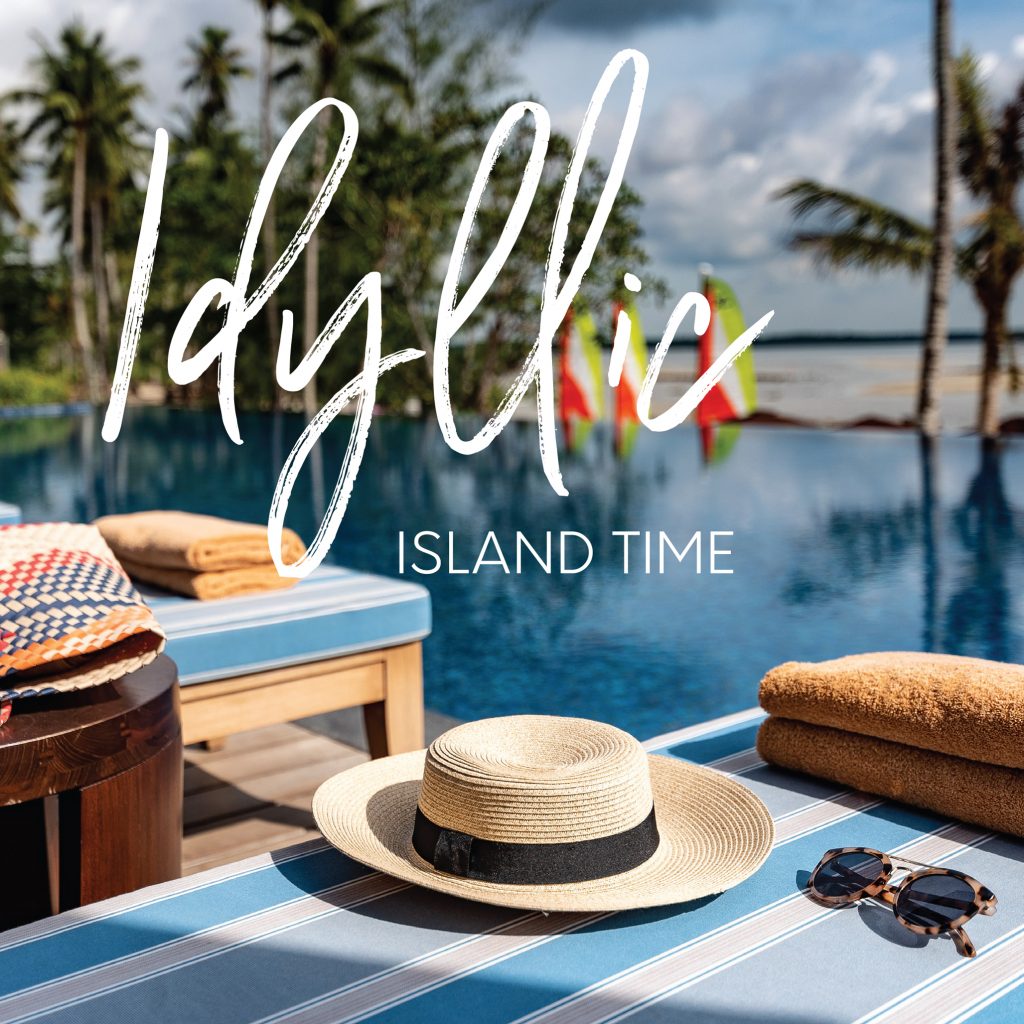 Offering a plethora of water sports, adventure activities and spa offerings, plus a well-run kids' club, The Residence is a calm, friendly oasis.
Leaving it all behind
A short ferry ride from Tanah Merah Ferry Terminal and my family are docking at Bintan – the largest island in Indonesia's Riau Archipelago. Quickly clearing customs we're met by smiling The Residence staff, who hand us reviving lemongrass-scented cold towels and fresh cookies. It's about a 90-minute drive to the swish, new luxury resort, which boasts 127 breezy, oversized villas. We're happy to sit back and take in the passing scenery of deep green jungle, and tranquil winding rivers. The final destination is well worth the wait. The resort lies on the remote eastern coast of the island, blessed with some of the region's best beaches and panoramic views of the South China Sea. It's blissfully removed from the busy golfing resorts and has a beachy, laidback vibe. The staff are mostly local, and always happy to go the extra mile for guests. Bikes are parked outside your accommodation, and it's lovely to cycle slowly around the expansive resort.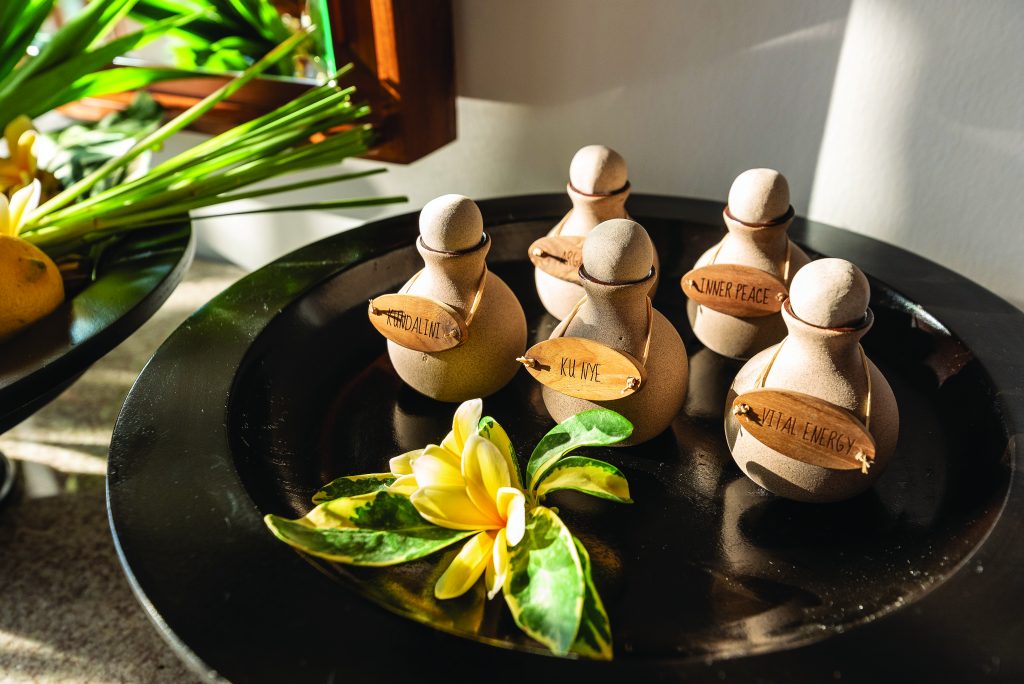 Spa sessions
Before checking into our villa, we grab a quick lunch from the main restaurant, The Dining Room. The meals are fresh and Indonesian-inspired, and I tuck into delicious chicken skewers, impaled on fragrant stalks of lemongrass (the resort's signature scent!), and served with a spicy peanut dipping sauce. Sipping on a fresh watermelon juice, we gaze over untouched jungle and mountains, and enjoy the cooling sea breeze. My first stop is to the spa, with products and treatments by award-winning British spa brand, ila. Inspired by natural indigenous therapies and ancient Ayurvedic treatments, the pampering and wellness program is staffed by experienced, peaceful therapists, and features eight well appointed treatment huts. It's hard to choose from the heavenly menu, but I settle on the signature Restu Suci (Earth Blessings) a 120-minute massage, featuring a fresh ginger and pandan foot wash in a copper bowl, resonating singing bowls and a Hawaiian style lomi lomi full body massage, which deploys long sweeping strokes of the elbow and arm. It's a very nice way to ease into leisurely island time. We locate our beach villa, a chic luxury pad with its own living room, enormous bathroom with freestanding tub and rain shower, and all the mod cons (hello, coffee machine). The pièce de résistance is the private plunge pool on the deck, which spills onto a sandy stretch of beach and a calm bay. There's nothing to do but immediately sink into the cool waters and exhale.
Out and about
It's tempting to hole up in our villa for the duration, but there's so much to see and do, it would be a crime not to make the most of our few days away. I rise at 8am to join an open-air yoga session on a deck overlooking the ocean. Today's class is taught by Anabel Chew of Webarre. The poses and sequences are challenging and dynamic, and it certainly wakes up my muscles for the day. Free 45-minute stretch sessions are offered daily at the resort – there's also a full gym, if you want to offset the sundowner cocktails and delicious food. After breakfast, we head to the activities area, thoughtfully situated a distance away from the main resort. There's an obstacle course with challenging high and low elements, jet skis, kayaks, archery, paintball, rock climbing, wakeboarding and ATV vehicles. Whetting our appetite for adventure, my husband and I grab a couple of sturdy ATV's and head off into the bumpy, muddy jungle track, for some rev head action. Active older kids will adore this area of the resort, while my eight-year-old is kept well entertained at the free Kakatu Kids' Club. The club is open from 9am-6pm and keeps kids aged 3-17 busy with tie dye, tote bag painting, batik and cooking. There's also beach marine discovery walks, volleyball, and giant board games. Although to be honest, most kids will be happy splashing in the gigantic main pool, or wading out to the double wooden swing in the middle of the shallow bay.
Island hopping
Boat trips are a great way to see more of the natural beauty of the archipelago, and we head out by speed boat to nearby Mapur Island, 16 kilometres and a 45-minute-high speed ride away. Although it's bucketing down when we leave, it miraculously clears up when we drop anchor offshore from a stunning white sand island, famed for its rich marine life.
Submerging into the warm, clear emerald waters with flippers and snorkel masks, we discover a healthy reef, teeming with colourful tropical fish. Enjoy a picnic lunch on the pristine, deserted beaches, framed by smooth boulders. Or if you're dive certified, take a deeper look at whale sharks, manta ray, barracuda and shipwrecks. If lazy rivers are more your scene, a mangrove tour winds through stilted fishing villages and ancient mangroves. If you're lucky you'll spot a snake coiled in the trees, cheeky monkeys, monitor lizards and kingfishers. Night tours are magically lit up with fireflies.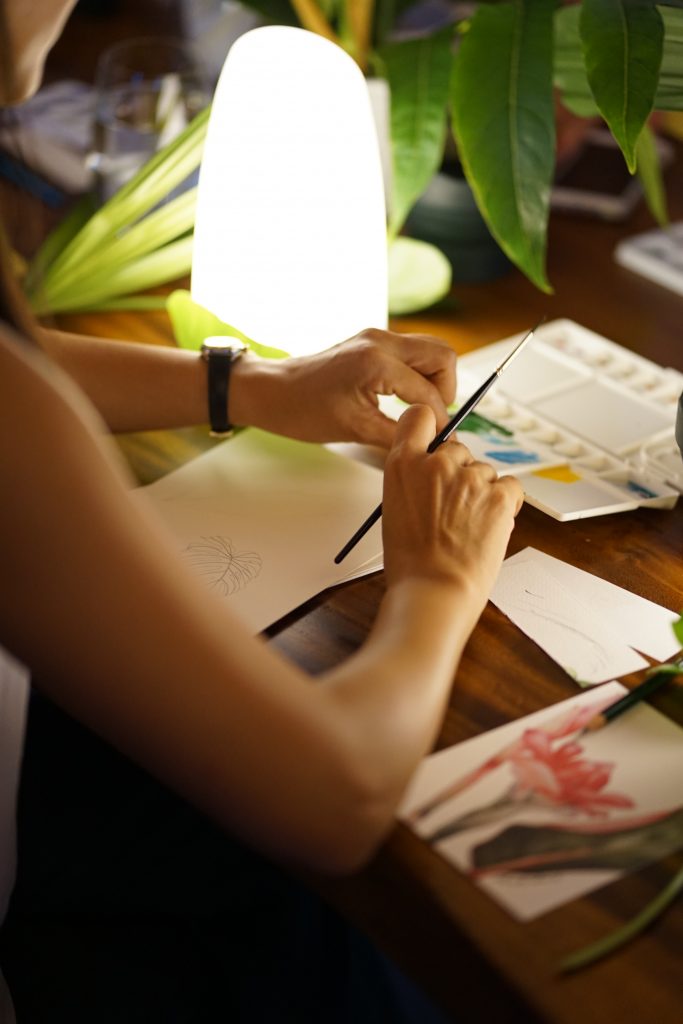 Creative workshops
The Residence hosts regular workshops and retreats, and we attend a two-hour botanical painting workshop and high tea with Singaporean artist Lucinda Law. Sipping on a ginger tea, it's the perfect way to spend a drizzly afternoon, as we learn how to use watercolours to capture the stunning tropical plants and flowers that surround the resort. Our final dinner is a seafood barbecue, at the relaxed Rica Rica restaurant by the beach, where we indulge in more local Indonesian flavours including King prawn with honey and garlic sauce, red snapper with local herbs and sambals, and mushroom rice wrapped in banana leaves. The finale is a version of the beloved Chendol dessert – with green noodles, a coconut pandan custard, adzuki red beans and ginger ice-cream. It's a sweet end to a truly decadent island escape and we all agree we'll be back soon for a second helping.
Travel essentials
Get there: Bintan Resorts Ferry offers five fast ferry services daily (from 9.10am to 8.20pm) from Singapore's Tanah Merah Ferry Terminal to Sri Bintan Pura Terminal in Tanjung Pinang for $58 return. reservations.brf.com.sg
Best time to visit: The northeast monsoon season is the wettest part of the year and falls between the beginning of October and the end of May. The best time to visit is June-September.
Local life: Bintan is home to 300,000 locals, and is a true mix of cultures including Malay, Bugis, Chinese and the Orang Laut (sea people).
What to pack: Bug repellent to combat biting sand flies and mozzies; wet weather gear for tropical downpours and boat trips; and local currency Indonesia Rupiah (IDR) as most stores won't take Singapore dollars.