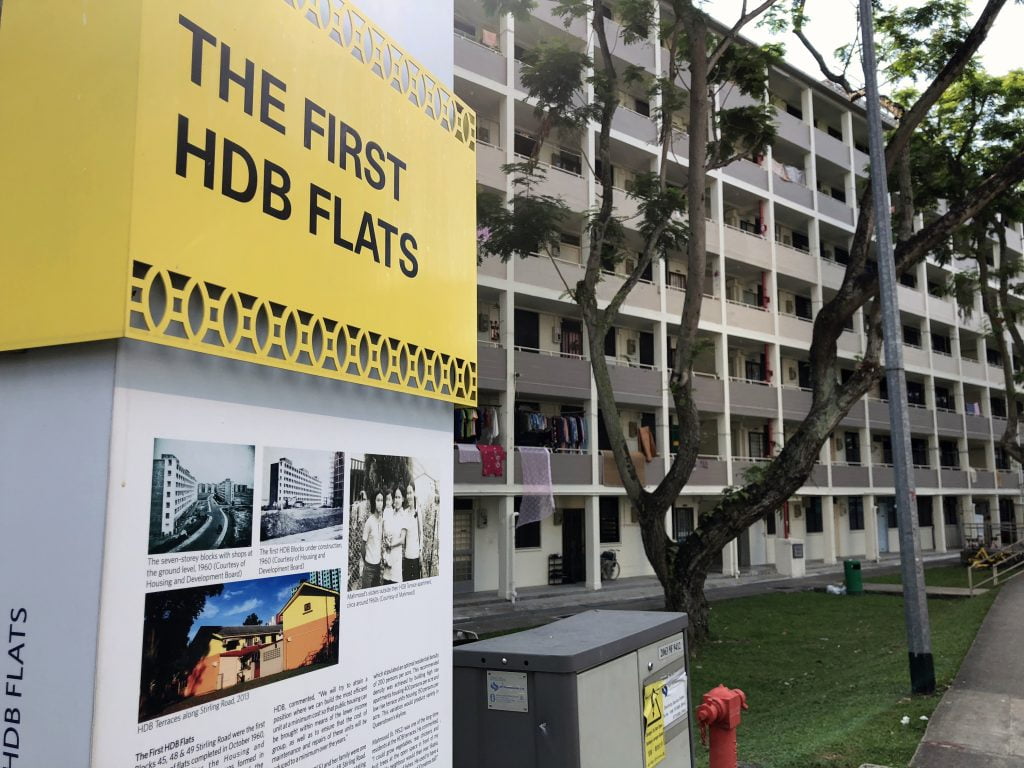 In his 2018 National Day Rally, Prime Minister Lee Hsien Loong spoke about the success of government housing. "Singapore's housing policies have been uniquely successful. We are the only major city in the world where nearly every young couple getting married can afford to buy their first home immediately."
What is HDB housing?
The HDB develops residential estates as various sites throughout Singapore, and the flats are offered for sale under a 99-year leasehold.
Why a leasehold and not freehold? Prime Minister Lee explains the rational. "HDB sells the flat to you for 99 years. You own it, and you can pass it on for one or two generations. After that, the flat returns to the State, the Government redevelops the land, and builds new flats for future generations. This is the only way to recycle the land and ensure that all our descendants can buy new flats of their own".
Apartments are located in housing estates that function as towns. Currently, there are 23 HDB towns across Singapore. Most have their own schools, shops, recreational facilities like playgrounds and outdoor gyms, and often a hawker centre or wet market. Part of the HDB mission statement is promoting active and cohesive communities, so HDB developments are always planned with community facilities in mind.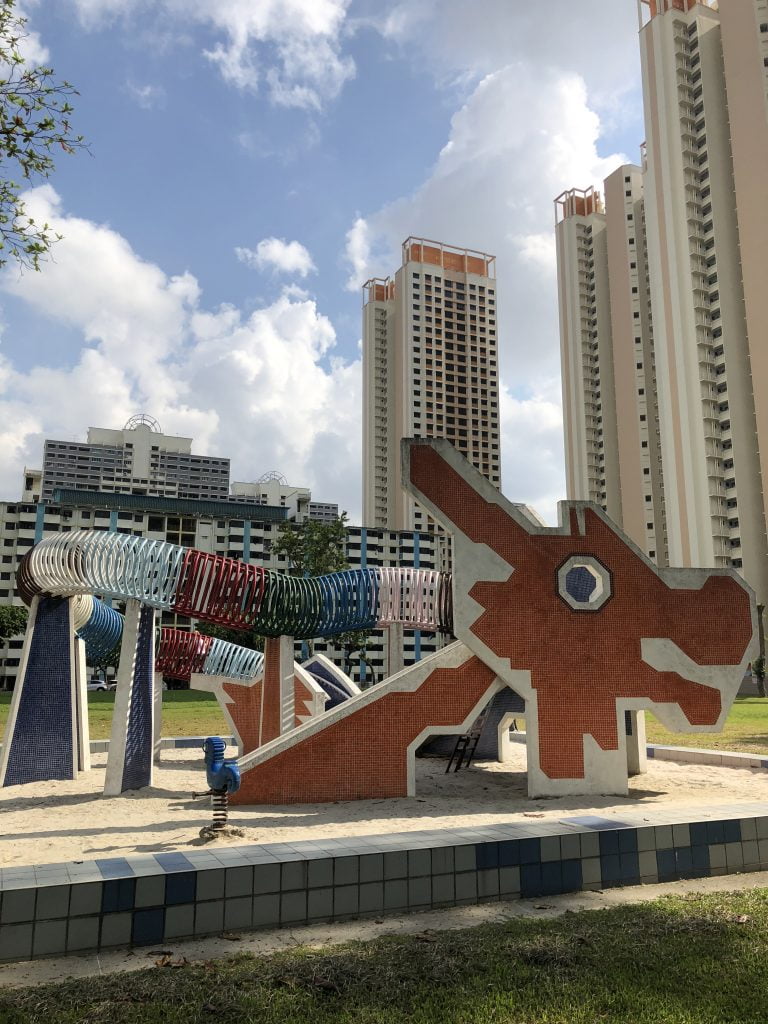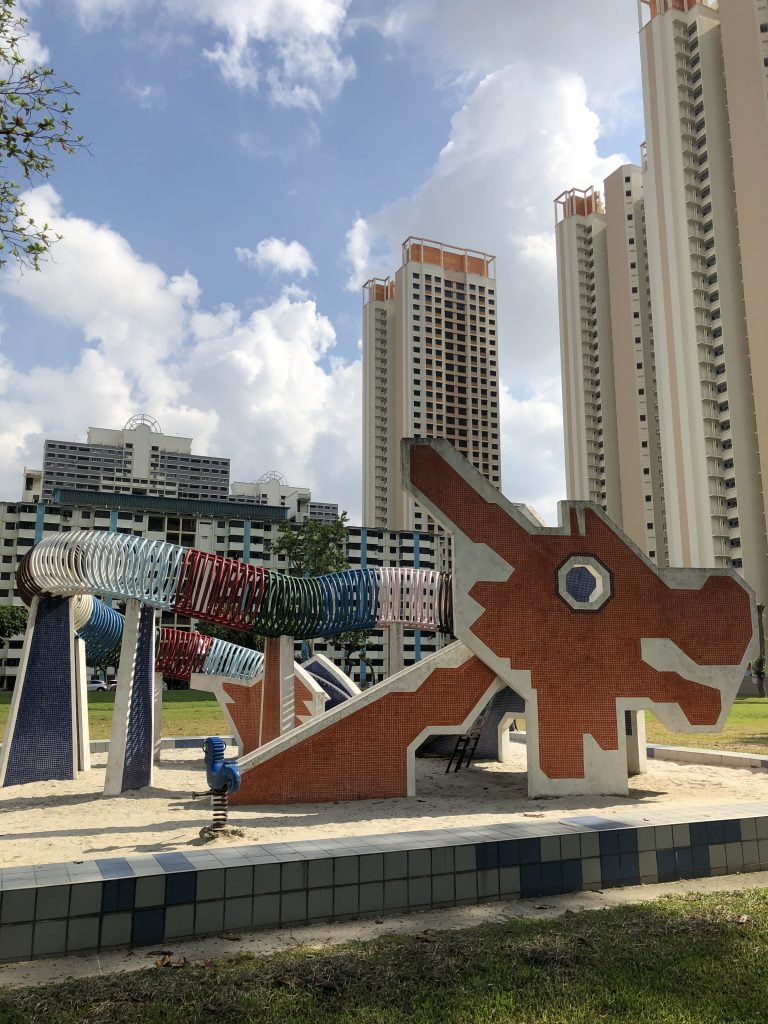 How does the housing system work?
There are two types of HDB flats available to buy: new flats in new developments where the price is determined by the HDB, or resale flats which you buy from the owner with prices determined by the market. In general, only Singaporean citizens can buy HDB flats. Under certain circumstances, Permanent Residents can buy resale HDB flats.
To buy a flat in a new development, prospective buyers enter a ballot. Their queue position in the ballot is determined by various eligibility criteria and priority schemes.
For example, unmarried citizens under the age of 35 cannot apply unless they are widowed or orphaned. Priority schemes include first-time applicants (new homeowners), seniors, and multi-generational applications where parents apply to live in the same development as their married children. There are currently more than10 different priority schemes, so determining an applicant's place in the ballot is a time-consuming process. Once you have a secured a flat, there is a minimum occupation period of 5 years before you can sell it or rent it out.
Can expats rent a HDB?
Yes. For an expat, the maximum initial lease term is 1.5 years. To renew your lease after that, the owner will need to reapply to the HDB office for approval. This is partly because there is a 'non-citizen quota' for each neighbourhood and block. The HDB sets this quota to maintain an ethnic mix in HDB towns. Currently, the quota is set at 8% at the neighbourhood level and 11% at the block level. Once the quota is reached, only Singaporeans and Malaysians can rent a flat in that neighbourhood or block.
History of HDBs
In the 1950's, many Singaporeans were living in slum-like settlements. To remedy this, the HDB was set up in 1960. It replaced its predecessor, the Singapore Improvement Trust (SIT), which was set up by the British in the 1920s. Within three years of formation, the HDB had built 21,000 flats. Over the years, HDB architects have experimented with many architectural styles.
HDB hotspots
Some of Singapore's most significant HDB developments include:
Stirling Road, Queenstown
Blocks 45, 48 and 49 in Stirling Road were some of the first flats completed after the HDB was formed. Handed over to residents in 1961, these blocks formed part of HDB's 'First Five-Year Programme', an ambitious plan to build 50,000 units in five years. These blocks are still standing today and are part of Queenstown's Heritage Trail. Some of the original residents settled there after being made homeless by Singapore's biggest fire at Bukit Ho Swee, which killed four people and left 16,000 homeless.
Tiong Bahru
The town of Tiong Bahru contains several historically significant styles of HDB blocks. The area was first developed by the SIT prior to formation of the HDB. The Art-Deco-style buildings bordered by Seng Poh Rd, Tiong Poh Rd, Tiong Bahru Road and Moh Guan Terrace were built in the 1930s. In 2003, they were given conservation status by the Urban Redevelopment Authority. Between 1948 and 1954, SIT also built several blocks of four-storey buildings with distinctive rounded staircases, that can be seen along Tiong Bahru Road and around Tiong Bahru Market.
The Pinnacle @ Duxton
The Pinnacle's striking design resulted from an international architecture competition, which attracted over 200 entries from architects in more than 30 countries. It was won by two Singaporean architecture firms, ARC Studio Architecture + Urbanism, and RSP Architects Planners & Engineers. The estate has 1,848 apartments in seven blocks. As well as being the first 50-storey HDB project in Singapore, it features the world's longest sky gardens. The gardens, at 500 meters length, are located on level 26 and level 50. The 50th level is open to the public on payment of a $6 fee, and enjoys panoramic city views.
Public interest in the development, completed in 2009, was enormous. 3,149 applications were received for the first release of 528 flats. It has received numerous design awards.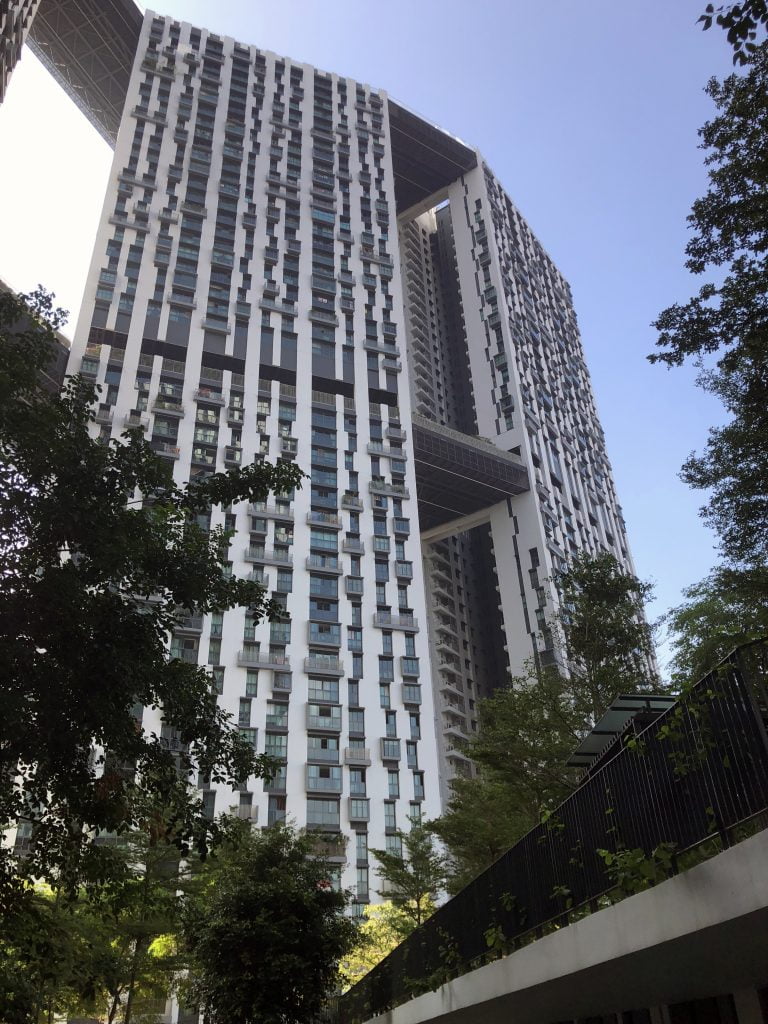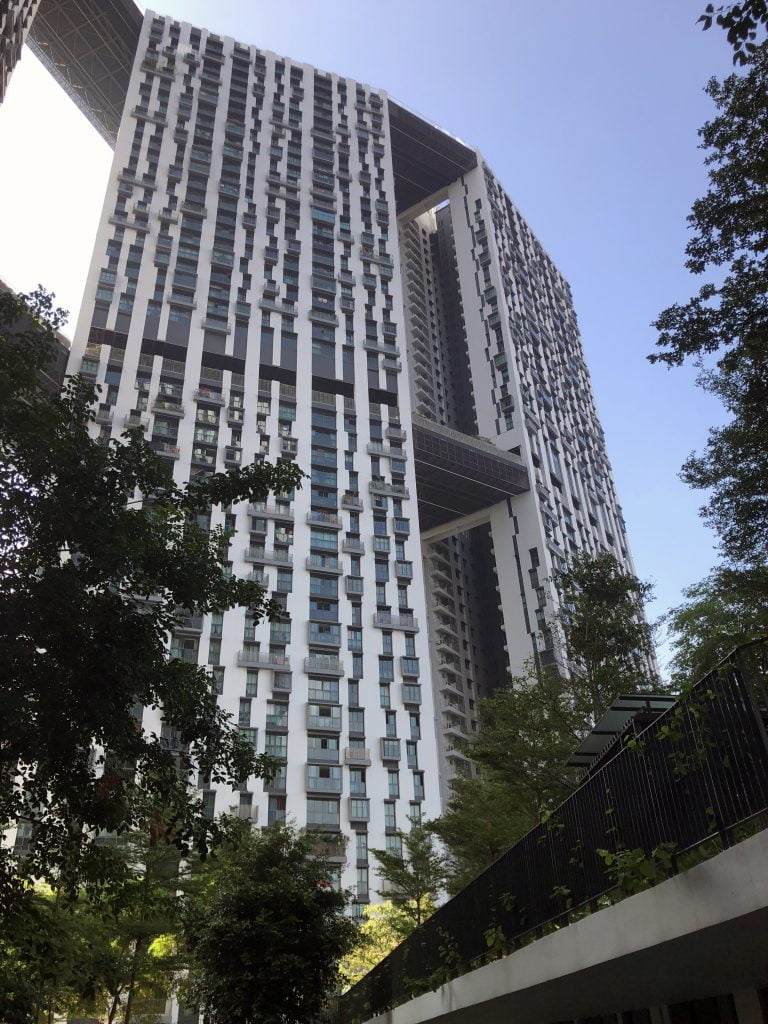 HDB Trivia:
– The largest HDB towns are Jurong West, Tampines and Woodlands, with over 200,000 residents each.
– You're not allowed to have cats (because they tend to escape and urinate in common areas). One dog is ok, as long as it's a breed on the HDB-approved list.
– The highest price recorded for a resale HDB flat is $1.18 million, for a five-room flat in Bishan.
– The HDB town of Queenstown was named after Queen Elizabeth II, to celebrate her coronation in 1952.
– The iconic dragon playground at Toa Payoh was designed in 1979 by HDB employee Mr Khor Ean Ghee, for the Toa Payoh HDB town residents.
Story: Karola Clark