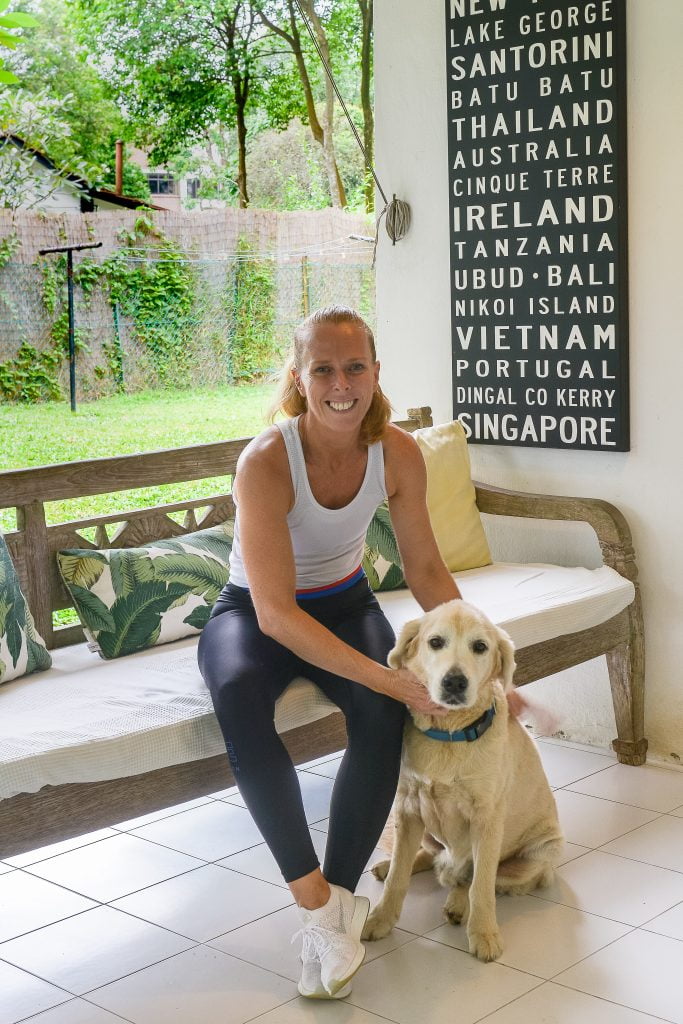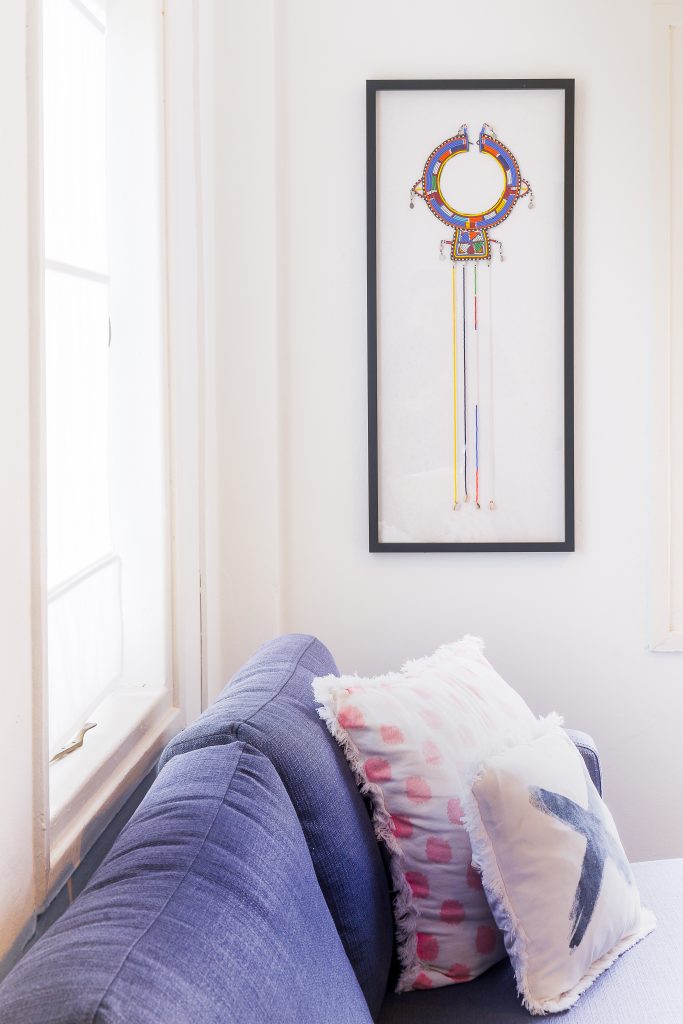 Where are you from?
I was born in Sydney, but I grew up in Ulladulla on the South Coast of NSW. It was right by the beach. When I was 18 I moved to Sydney, and then here. I've been in Singapore for 12 years now.
How did you find this house?
We started off in Grange Road, in a condo with a big pool and resort facilities, but not a lot of outdoor space. We wanted to get a dog, so we moved into a landed place – once you've done that it's very hard to go back! My kids Rory and Jordy were at Tanglin Trust School and we would drive past this neighbourhood all the time, so it was on my radar.
What's the history of this place?
It used to be a British army camp. These houses were for middle ranking officers, who lived here with their families. I had a lady walk past taking photos the other day, and she said: 'I hope you don't mind, but I used to live here when my dad was posted here 30 years ago.' I was like, 'no problem!'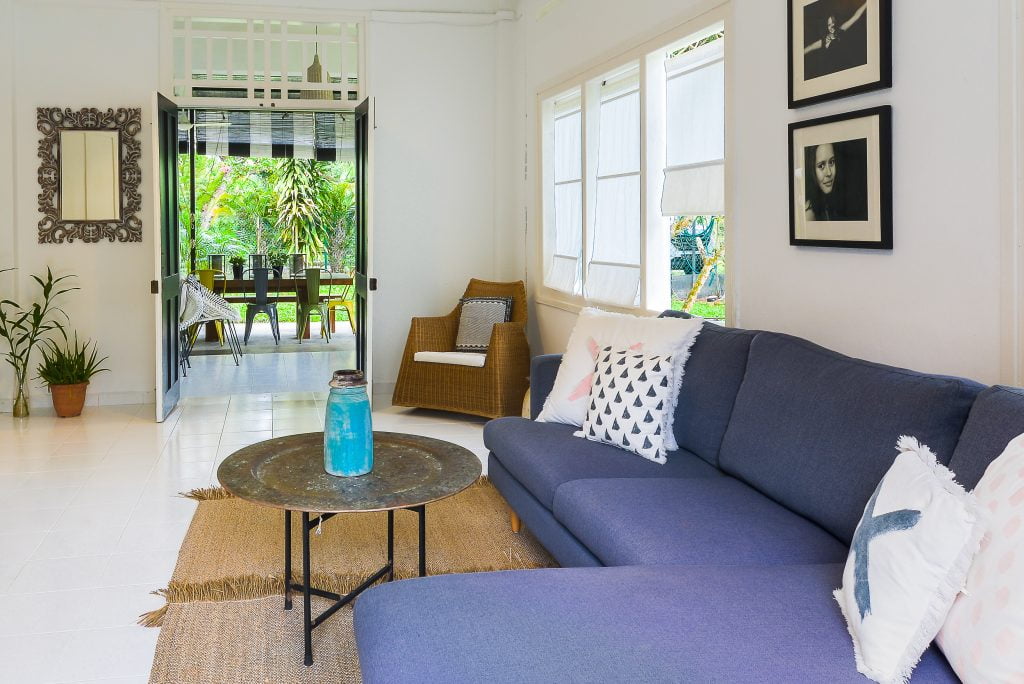 Have you done any work on the house?
We've done quite a bit of work. We added the front patio and a cover at the back so that Rory could have a play area. Even though black and whites are big, the rooms are not huge – so there's not enough space to have a dining or play room. We extended the outdoor areas instead – now we have dinner outside every night, and I just love that. It also meant we could put in black and white striped blinds, which was my dream!
What do you love about the house?
I love having the outdoor space. Rory is a keen golfer and footballer so it's perfect for him. I also love entertaining, and this house is set up for barbecues. In Australia I grew up with an outdoorsy lifestyle, with space for kids and dogs, so it's nice to have it here in Singapore. We don't have air con – everyone freaks out about that – but we have fans and the doors are open all the time. The houses have open vents, already built in – so there's airflow through the house all the time. Rory has asthma and eczema, so the air con just didn't agree with us. I luckily don't get bitten by mosquitos and neither do the kids, so that doesn't really worry us.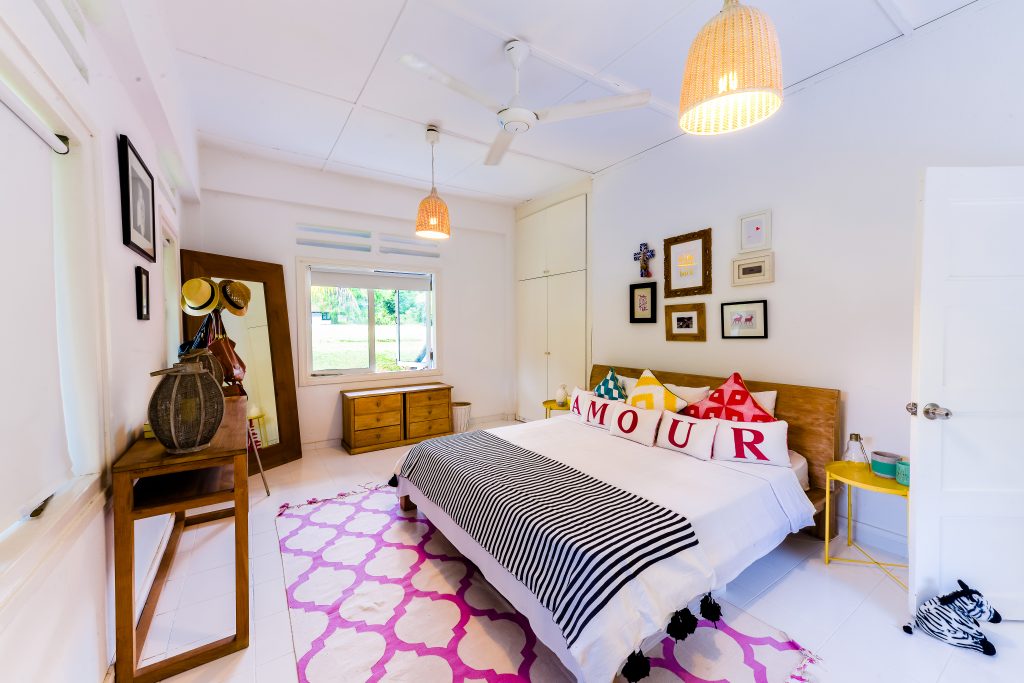 What style did you want for your space?
I adore the black and white minimalistic, traditional look. This house has a style of its own, so my furniture choice is really in keeping with that – it's not outrageously modern or antique. I got a lot of the furniture from Originals – their pieces have a modern Asian feel. I like light, bright, white, clean lines! That's what I've gone for, but there are also little pops of colour around the house.
What are some of your most precious possessions?
I love my framed neckpiece. We were at the border checkpoint passing through Kenya and Tanzania. A lady had a whole stack around her neck for sale. I spotted one in particular – I really liked the colours and the way it went together – and I had to buy it. It's a great memento.
How did you get into the fitness industry?
Originally when we came to Singapore, I worked in advertising. I left to have Rory, and did freelance bits and pieces. But a friend and I were massively into sport and fitness and we decided that instead of having coffee and cake, we would start a business called Bloom'n FIT (bloomnfit-sg.com) for Mum's with babies. It runs in the Botanic Gardens three mornings a week. Then I split up with my husband and I wanted to stay in Singapore. I needed to do something more substantial in order to afford to live here and to get an EP. I didn't want to go back into advertising, and that's when I looked at F45 (f45training.sg/novena). Within three weeks, I'd bought my first franchise. I just took a risk. It's absolutely my passion – it's HIIT, high intensity interval training, in a group. It's my favourite kind of training as it's so motivational. I'm really passionate about it, and it's been really amazing. Now I own Novena, Holland Village and Orchard. In the space of two years it's just taken off and snowballed. I'm just starting to get some kind of work-life balance!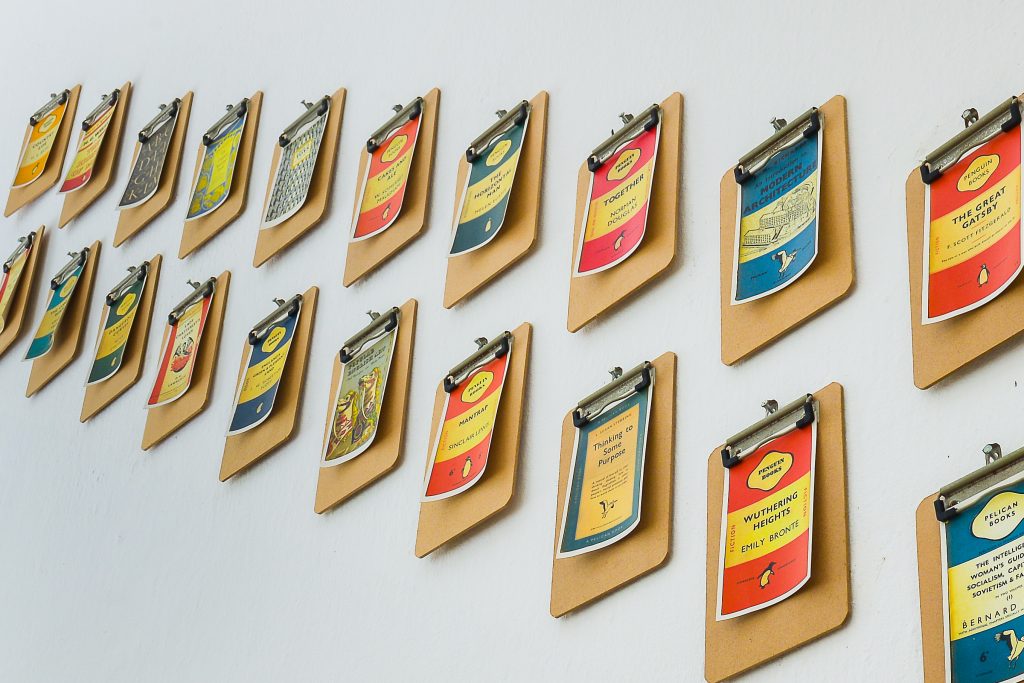 Pretty as a Postcard!
"I was in a really cute little bookshop in London with Jordy, and I really liked a set of postcards, featuring vintage book covers. She brought them for me later for my birthday. When she was visiting for holidays I said; 'right we've got to do something with those postcards,' so I found the small clipboards, and we measured it up and nailed them into the staircase wall. It was a great project for us, and every time I look at them, I think of her."