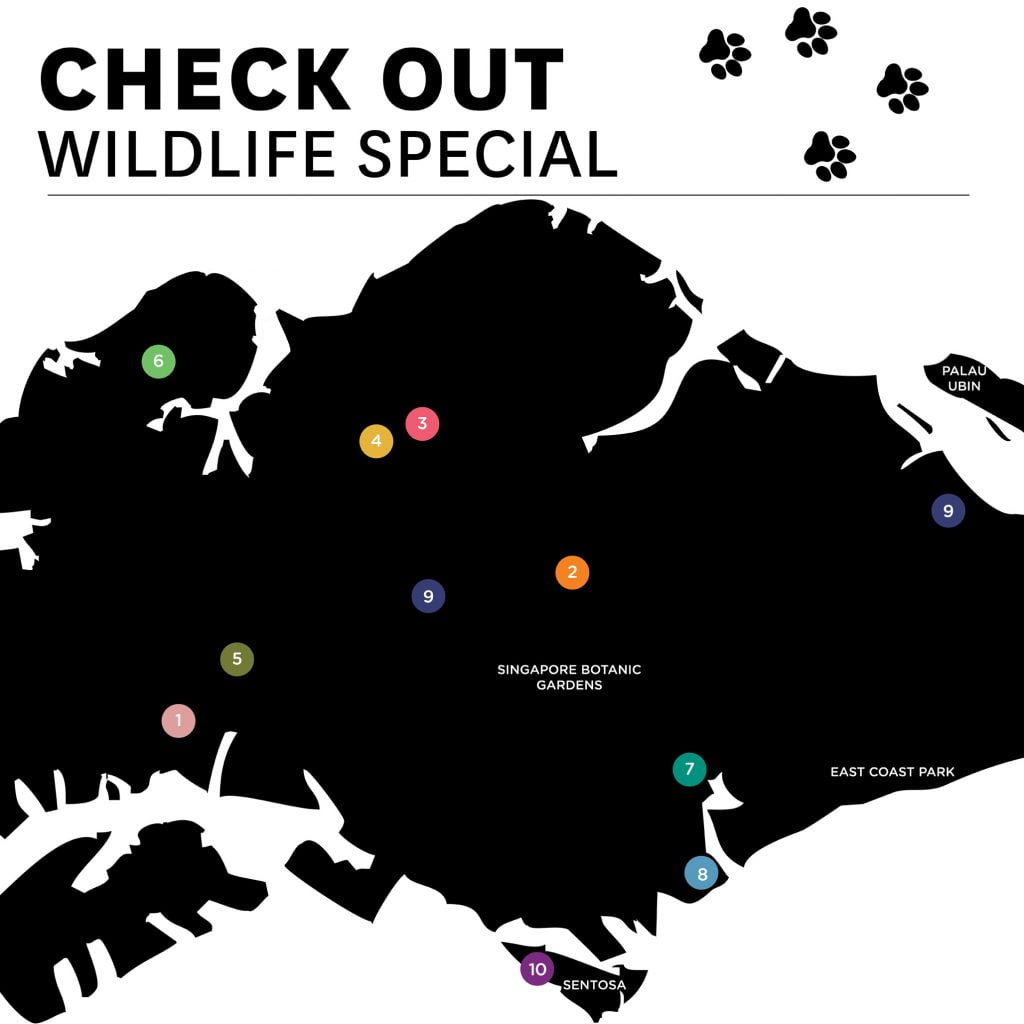 1. Jurong Bird Park
2 Jurong Hill 628925 
wrs.com.sg/en/jurong-bird-park
Jurong Bird Park offers a haven for close to 3500 birds, across 400 species. Take the family and enjoy a day out with our feathered friends. Visit zones like Birds of Prey, Flamingo Lake, Hornbills and Toucans. Penguin Coast, Pelican Cove, Swan Lake, Wetlands, Wings of Asia, and a walk-in waterfall aviary where birds fly overhead or strut around the rainforest floor. There are also bird shows, lorikeet feeding and more.
2. MacRitchie Reservoir
Along Lornie Road, Bukit Timah
nparks.gov.sg
MacRitchie Reservoir is Singapore's oldest reservoir and a haven for hiking, kayaking and wildlife spotting. This 12-hectare green space is great for bird watching and home to a large population of macaques. Join a regular free monkey walk, led by park wildlife experts. If you do encounter monkeys, be advised not to feed them, use flash photography, or hold plastic bags or food in your hands.
3. Singapore Zoo
80 Mandai Lake Road 729826
wrs.com.sg/en/singapore-zoo
The Singapore Zoo is an institution and a must do for visiting friends and family. Wander through a series of zones that replicate diverse animal habitats around the globe – from Australasia to Africa. Meet reptiles, giraffes, primates, Asian elephants, kangaroos, big cats, and more. There's also water play, a ropes course, and thrilling daily shows.
4. River Safari
80 Mandai Lake Road 729826
wrs.com.sg/en/river-safari
River creatures are represented in this separate zoo attraction, which takes visitors on a walking and boat tour of some of the world's most famous waterways, including the Mekong, Nile, Mississippi, Congo, Yangtze and Amazon rivers. View otters, manatees, crocs, electric eels, fish, stingrays, turtles, giant puffer fish, and snakes. The other attraction here are the giant and red pandas. The mostly flat walkways are perfect for little kids and those who are not so mobile.
5. Butterflies Up Close
Science Centre
15 Science Centre Rd, 609081
science.edu.sg/whats-on/exhibitions/butterflies-up-close
Step inside Singapore's only indoor butterfly enclosure, where humidity and temperature are carefully controlled to ensure a thriving winged population. Walk among beautiful butterflies from Singapore and around the region. Discover more about the stages of butterfly metamorphosis, from an egg to a striking adult. Guided tours are offered daily at 2.30pm.
6. Hay Dairies Goat Farm
3 Lim Chu Kang Lane 4, 718859
haydairies.sg
With more than 20 years in the goat business, Hay Dairies in the place to go if you're interested in these farmed animals. Take an educational tour, which includes a goat milking session (between 9-10.30am) and hands-on feeding. Find out how to care for these sociable, curious animals and taste delicious goat's milk, or pick up a souvenir, such as handmade goats milk soap.
7. Meomi Cat Café
668 North Bridge Road 188801
facebook.com/meomicatcafe
No pets at home? Get your fluffy fix at Meomi Cat Café, located in the Kampong Glam area. Resident in-house cats stalk about purring and preening, or snoozing in comfy cat nooks. With lots of seating and plenty of cake and coffee, it's easy to hang out with these kitties for a few hours. Note: the café only accepts kids over six years.
8. Marina Reservoir / Gardens by the Bay
If you're on Singapore otter watch like us, head down to the path alongside Garden's by the Bay (look out for the otter signs) There are two species of otters that have returned to the island – smooth-coated otters and Asian small-clawed otters, and there have been consistent sightings around this marina area. Dawn and dusk are the best times to spot otters.
9. Gallop Stable
100 Turf Club Road 287992
& Carkpark C, 61 Pasir Ris Green, 518225
gallopstable.com
Love horses? Get back in the saddle or introduce your kids to the joy of horse-riding at Gallop Stable. This friendly stable offers riding lessons, longer trail rides, kids camps and workshops, and other horsey activities like pony feeding, birthday parties and other special events. They also offer a stable experience, where little ones can learn how to care for these regal animals.
10. Animal Encounters, Sentosa
Palawan Amphitheatre
sentosa.com.sg/explore/attractions/animal-bird-encounters
The Palawan Amphitheatre on Sentosa's Palawan Beach puts on free daily animal encounters. Take the kids down to the sand and see displays of intelligence, agility and responsiveness from mischievous macaques, majestic birds-of-prey, reptiles and colourful parrots. From 2pm to 5.30pm. Other wild animals you can spot on Sentosa include lizards, monkeys, birds, and more.