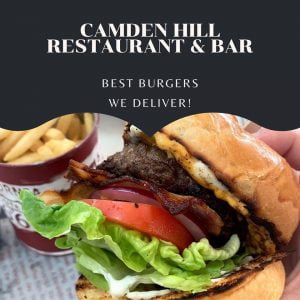 Camden Hill Restaurant & Bar
Hollandse Club
22 Camden Park | Singapore 299814
hollandseclub.org.sg/dining
facebook.com/camdenhillrestaurant/
Checkout the takeaway / delivery service menu and special offers and place your order at 6468 2012 or 9776 2260. Open from 10:00 AM to 10:00 PM with last orders at 9:00 PM.
OUR REVIEW:
Camden Hill Restaurant & Bar is in the heart of the Hollandse Club, sprawling across a breezy, spacious deck that overlooks the lush green jungle setting, and a gleaming 50m pool. Not a member? No worries. Guests are welcome at the laidback club's signature restaurant, especially during the week when the scene is a little quieter. 
The extensive, affordable menu features a range of Dutch classics (think mini fluffy pancakes or Poffertjes, Bitterballen meatballs and fries with mayo) and spicier Asian dishes. 
We start with an entrée of sweet roasted pumpkin on sourdough, with melted mild Taleggio cheese and a kale pesto sauce. It's delicious. For mains we try the authentic Beef Rendang, with a creamy coconut sauce and a satisfying afterglow of heat and spice. The dry curry is served with fluffy rice, piquant pickled veg and crispy prawn crackers. Dessert is Crème Brulee, a smooth, just-warm vanilla custard, underneath a crack of caramelised sugar – it's gone in six spoonful's!   
Verdict: A lovely, leafy spot to gather friends or family for a relaxed meal – there's a fantastic kid's menu and dining and drinking options to suit any palette.