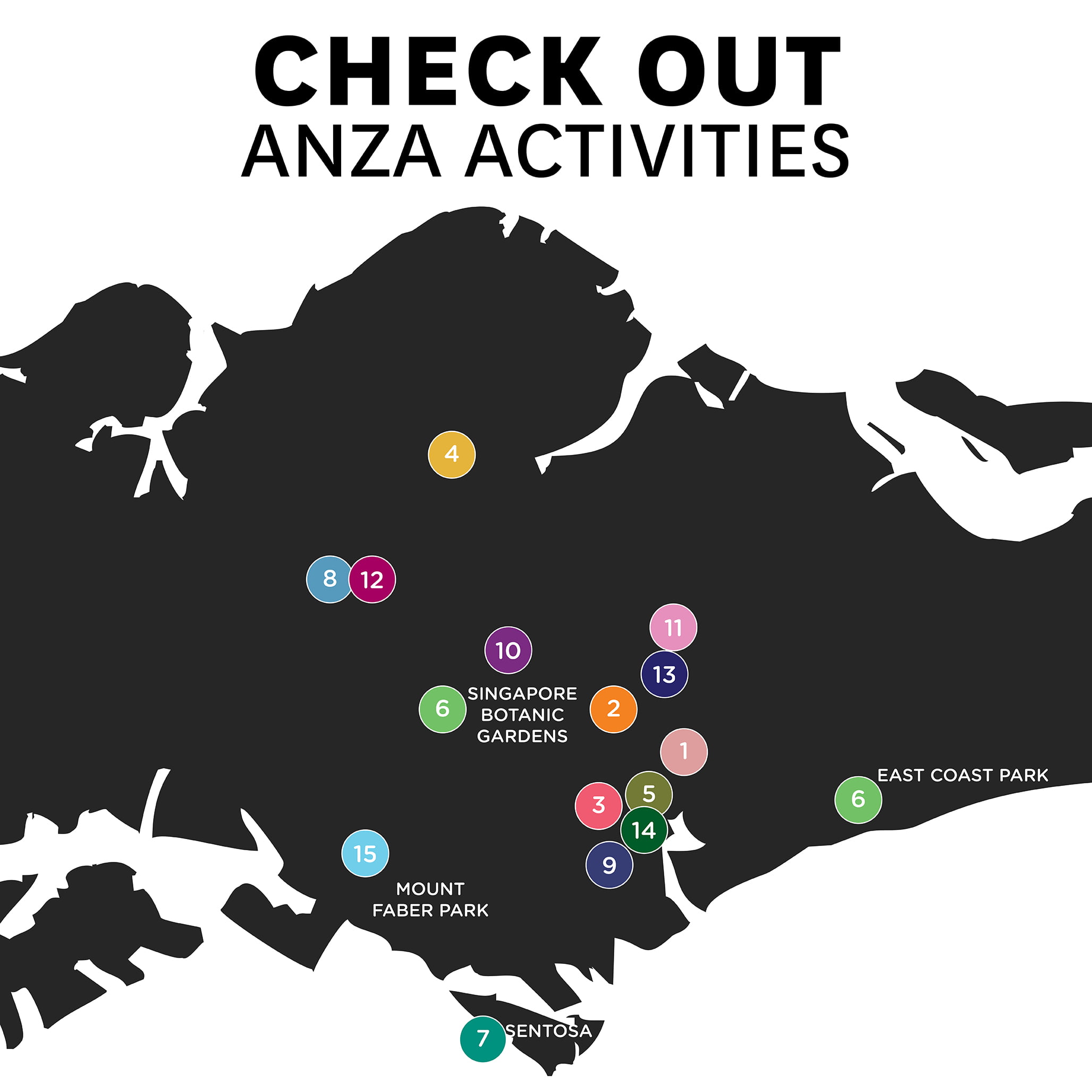 1. BUSY BEES, STITCHES, KNIT FOR LOVE
ANZA Office, 261a Beach Road, 199541
anza.org.sg/groups/busybees 
anza.org.sg/groups/knit-for-love
anza.org.sg/groups/stitches
Like to keep busy and have a chat with a group of lovely volunteers? The Busy Bees meet up at the ANZA office in vibrant Kampong Glam on Wednesdays and Fridays from 1-4pm. The group usually consists of around 5-10 regulars who work on various ad hoc and events-based craft projects. Other groups that meet up at ANZA HQ include the needlecraft groups Stitches (Thursdays 10am-12pm) and Knit for Love (Every third Friday 10am-12pm)
2. CASUAL COFFEE
Coffee Bean & Tea Leaf, 176 Orchard Rd, The Centrepoint, #01-33C/D, 238843
anza.org.sg/groups/casual-coffee
Grab a caffeine fix and find out more about life in Singapore at this relaxed social catch up. Casual Coffee meets the second Wednesday and last Friday of each month, at 10am. Drop in whenever, there's no need to register. The meetings are held at a well-stocked mall, so you can browse the shops afterwards or grab a bite with new friends!
3. MAHJONG
Boomarang, 60 Robertson Quay, #01-15 The Quayside, 238252
anza.org.sg/groups/mahjong
Every Thursday from 10am-1pm, the ANZA Mahjong crew gets on the tiles. This popular Chinese game is addictive, and many participants have been coming for years to play a few rounds and have a laugh. There's always room for newcomers and Boomarang puts on excellent Aussie pub style meals if you're peckish.
4. GOLF (LADIES 9 & 18 HOLE)
Mandai Executive Golf Course, Upper Seletar Reservoir, Mandai Rd Track 7, 779384
anza.org.sg/sports/golf-9-hole-ladies
anza.org.sg/sports/golf-18-hole
On Tuesday mornings ANZA's women golfers hit the greens for a relaxed and social nine holes. This beautiful spot is a secluded part of Singapore, and a great way to get some fresh air and exercise away from the crowds. An 18-hole group for more serious golfers plays on Wednesdays at Orchid Golf and Country Club.
5. TENNIS (Casual & Experienced)
Fairmont Hotel, 80 Bras Basah Road, 189560
anza.org.sg/sports/tennis
Fancy a game of social tennis and a chat? Hit the courts with the ANZA casual tennis group. They meet Fridays, 9-11am to work on their swing and get some exercise. Experienced men and women play on Wednesdays from 8-10pm.
6. CYCLING
Botanic Gardens, East Coast Park, Mount Faber
anza.org.sg/sports/cycling
Every day of the week ANZA cyclists pedal around all corners of this scenic island. The group meet up at the Botanic Gardens (at the Food Canopy) Saturdays at 7am, as well as Rats Corner (Orchard) Mount Faber and the East Coast Park Carpark B1 at various times during the week. From a social spin to elite level racing, they're the people to meet if bikes are your passion.
7. NIPPERS
Palawan Beach Sentosa, 098498
anza.org.sg/sports/nippers
On Sundays from 8:45-10:30am you'll spot the colourful caps of our Nippers, as they learn the basics of surf lifesaving – from paddling boards, to sand sprints, rescues, and swimming. There's also ample opportunity after training for a coffee and breakfast at a beach café!
8. SOCCER
The Cage, 220 Turf Club Rd, 288001
anza.org.sg/sports/soccer
ANZA's soccer stars hit the pitch at The Cage on Saturdays from 8am. Expect fancy footwork, golden goals, and lots of cheering as our talented youth teams train and compete in this popular sport.
9. SECRET MEN'S BUSINESS
The Penny Black, 26-27 Boat Quay, 049817
anza.org.sg/groups/secret-mens-business
Love sport, beer and lending a hand to charity? Secret Men's Business is for blokes looking to make friends and make a difference. They catch up for lunch and lager every third Wednesday of the month at Boat Quay and play golf each Tuesday and Thursday. If you're an ANZA Member, just turn up and say G'day!
…and even more ANZA hangouts!
10. Running
Gardens Gate, next to Botanic gardens MRT
11. SCOUTS
AIS, 1 Lor Chuan, 556818
12. AFL WOMBATS
Centaurs Rugby Pitch, Turf City, 220 Turf Club Rd, 288001
13. ATHLETICS
Toa Payoh Stadium, 297 Lorong 6, Toa Payoh, 319389
14. CRICKET
Singapore Cricket Club, A Connaught Dr, 179681
15. NETBALL
Tanglin Trust School, 95 Portsdown Rd, 139299
Check out all our interest groups here
And our sports groups here