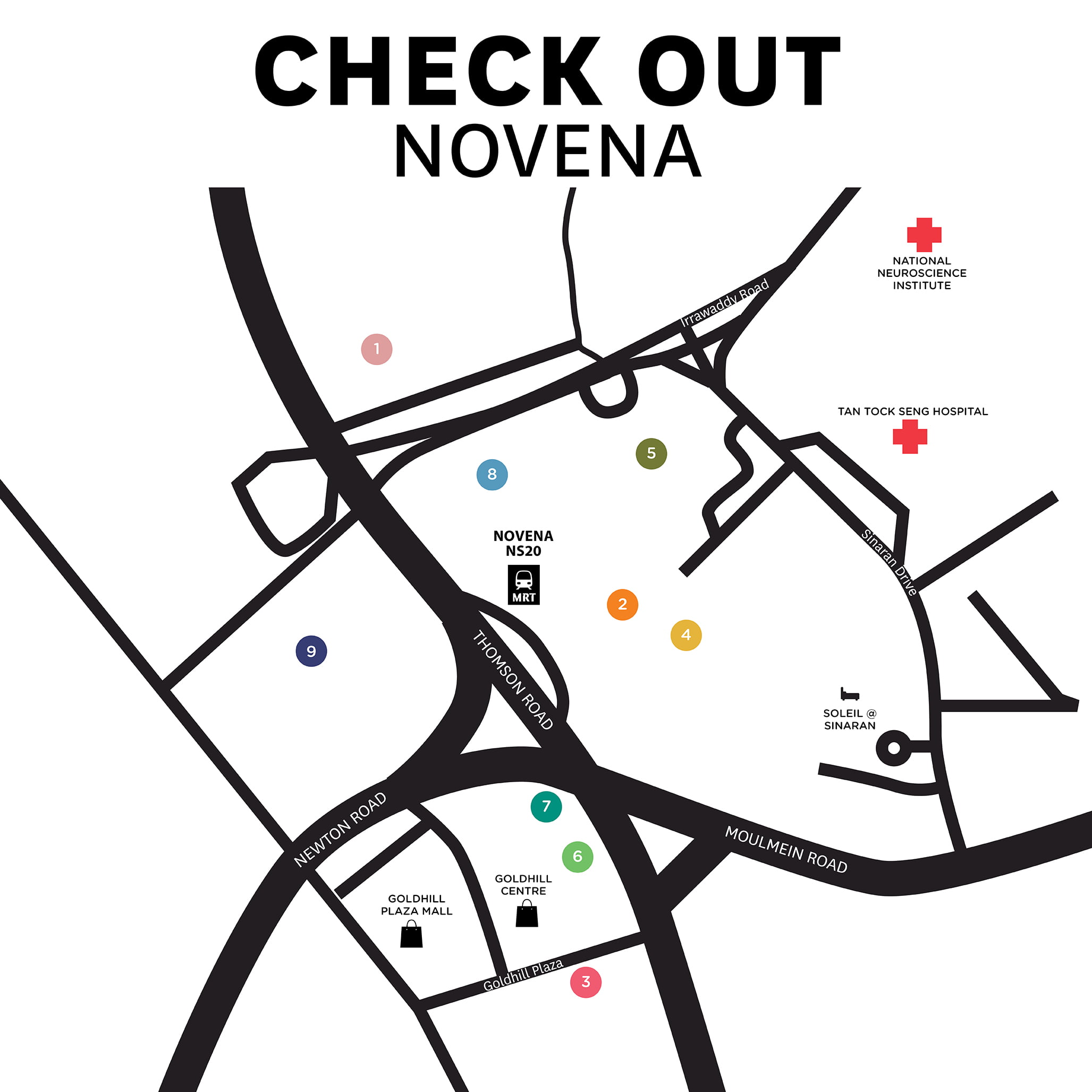 1.NOVENA CHURCH
300 Thomson Rd, 307653
novenachurch.com
The first mass was held at this beautiful church on 31 July 1948, a far cry from its 15,000 plus devotees today. Refurbishment of The Church of Saint Alphonsus (better known as Novena Church) was completed in 2017, and when visiting, you can see the intricate details of what this Catholic church has to offer.
2.CLIMB CENTRAL
Novena Square, 238 Thomson Rd, #03-23/25 307683
climbcentral.sg
Climb Central has climbing packages for children, adults and families, along with all types of classes. Take a monthly membership or a one-off day pass. It's fantastic strength training and a fun way to get out of the rain or heat and get yourself and the kids climbing walls (literally).
There are varying levels, so no need to worry if it's your first time or if you are an expert. Check out the many varieties of classes online before you go.
3.UNITED SQUARE SHOPPING MALL
101 Thomson Rd, 307591
unitedsquare.com.sg
Originally built with families in mind; this is a one-stop-shop for the little ones – from Cotton On Kids to children's learning centres. You can also find many restaurants (including my favourite poke bowl outlet "Poke Lulu") dotted around the shopping facility.
4.VELOCITY NOVENA SQUARE
1238 Thomson Rd, 307683
velocitynovena.com
If you're seeking anything sports-related, this is the shopping mall for you. With its distinctive basketball hoop out the front, you'll see youngsters shooting hoops, or if you arrive early enough (pre-COVID days) a group of yoga enthusiasts stretching the morning away. Find everything from Decathlon to True Fitness gym, health food supplies, and loads of sports clothing and equipment.
5.COMFORT ZONE FOOT WELLNESS
Novena Square 2, 10 Sinaran Dr #B1-99/100/115/116, 307506
facebook.com/Comfortzonefw
Comfort Zone Foot Wellness is ultra relaxing (it has a sign asking all customers to turn off their phones and be quiet), the friendly service is impressive and the massages are great. Find this massage specialist on the lower level of Novena Square 2 shopping complex and find out for yourself why it gets glowing reviews.
6.AH CHEW DESSERTS
181 Thomson Road, Goldhill Shopping Centre, 307627
ahchewdesserts.com/about-us
If you're like me and love trying local delicacies, but don't know where to start with desserts, don't worry, the friendly Ah Chew staff are on hand to help you with your selection. They have everything from the more subdued grass jelly desserts (which I now love) to the more outrageous (to my Western palette!) bird's nest soup with red dates. If all else fails, the ice-cream is delicious.
7.THE CLUELESS GOAT
189 Thomson Rd, Singapore 307631
facebook.com/thecluelessgoat
This no fuss, affordable cafe has a raw, earthy feel about it and some delicious things on its menu. Brunch is my favourite time to visit; choose from the restaurant's all-day breakfast menu, waffle or sandwich options. Everything in this popular eatery is delicious.
8.TWO MEN BAGEL HOUSE
103 Irrawaddy Rd, #01-04 Royal Square, 329566
twomenbagels.com
There's usually a fast-moving line-up at this New York style bagel joint. Grab a delicious, freshly made bagel in Plain, Salt, Sesame, All Sorts, Cheese, Multigrain, Garlic, or Blueberry. Top with different 'schmears' of flavoured cream cheese, or more adventurous combos like the 'Primal' of Smoked Brisket, Cheddar, Chimichurri, and Charred Peppers or 'Bobow' of Tarragon Ricotta, Double Sunny Eggs, Sundried Tomato Relish, Avocado, and Balsamic. Worth the wait in the queue.
9.IRAS GALLERY
Revenue House, 55 Newton Road
iras.gov.sg/irashome/About-Us/Our-Organisation/IRAS-Gallery
This finance gallery is located on the 1st story of Revenue House. Interesting exhibits outline Singapore's tax history, dating back to 1819. You can wander through the space on a self-guided educational tour, with displays and interactive games which help explain Singapore's taxation system. This small museum is educational and packed with loads of fascinating history and information.