Fixing your dental problems can do more than increase your confidence. Straight teeth and proper alignment can improve your oral health by reducing the chance of gum disease. However, if you've ever looked into getting braces, you know they don't come cheap. Our friends at Pacific Prime Singapore discuss insurance and orthodontic care.
Insurance and orthodontic coverage: What you need to know
Orthodontics describes specialised dental care that involves correcting misalignment of the teeth or jaw. Braces are the most common type of orthodontic work, followed by retainers and splits. While orthodontic work is often done in childhood, it can be used to correct issues like bites, crowding and spacing at any time.
Those with orthodontic issues are advised to treat them early to avoid expensive treatment costs and increased risk of hospitalisation. Fortunately, dental insurance ensures these issues can be taken care of, without having to pay high out-of-pocket fees.
Does dental insurance cover braces?
It's almost impossible to find a standalone dental insurance plan in Singapore, though dental insurance is available. That means your best bet is to secure a health insurance plan and add on dental coverage. If you've already got an employer-provided insurance plan, you could get orthodontic coverage by adding dental benefits to your existing plan.
There are typically two types of add-on dental insurance coverage offered: routine dental and major dental. The former covers regular dental treatment, such as consultations, cleaning, and fillings, while the latter covers more costly treatments, like orthodontic work and gingivitis treatment.
In some cases, you might be able to claim for orthodontic care with a health insurance plan that covers dental treatment, if it's for medical reasons and backed by your dentist. For example, if your teeth are causing health problems or if you need braces after an accident.
How does orthodontic insurance work?
Since orthodontic coverage is typically added to health insurance plans, it will likely come with a waiting period of six to twelve months. During the waiting period, you won't be able to make any claims for orthodontic treatment received. In Singapore, many plans with orthodontic coverage work on a reimbursement model, which means you need to pay first and submit a claim to the insurance provider to get reimbursed.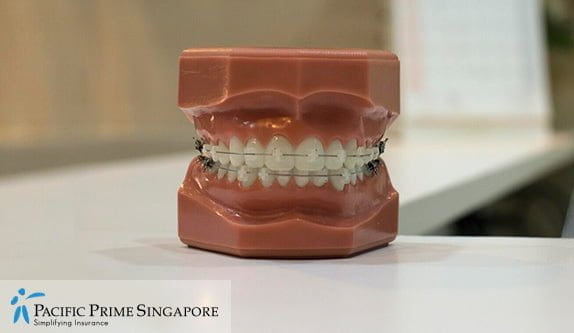 Need more help? Whether you're looking for dental insurance in Singapore or individual medical insurance, Pacific Prime Singapore is here to help. As a reputable insurance broker, we compare health insurance in Singapore and globally to help you find the best plan for your needs and budget. Contact us for impartial advice, an obligation-free quote, or a plan comparison today