I've loved living in Singapore for the past 14 years, but like so many grounded expats here I'm missing my beautiful homeland and everything it represents; weekends away at the bach, paua fritters and crays on the barbie, world class mountain bike trails, Pohutukawa flowers in the summer, decent meat pies…the list goes on and on. But most of all I'm missing my whānau – my family and community.
As I was approaching the date of yet another missed trip back to Aotearoa and feeling achingly homesick, I heard about the Kiwi Waka Ama club. I decided to head down to Aloha Sports Club on the East Coast to check it out, quickly discerning that Kiwi Waka Ama is so much more than a paddling club.
New Zealanders share a deep culture that links to our people and our land and Kiwi Waka Ama is a place where members of all nationalities can learn about Kiwi culture, and experience being part of a whānau. It also provides a place for New Zealanders living in Singapore to connect with their culture. For this homesick Kiwi, kicking off my jandals and heading out on the moana (ocean) in the waka (Māori canoe) with my new whānau is the next best thing to being home.
I had a chat with club Co-Captain Mike Matthews about Kiwi Waka Ama and what they're all about.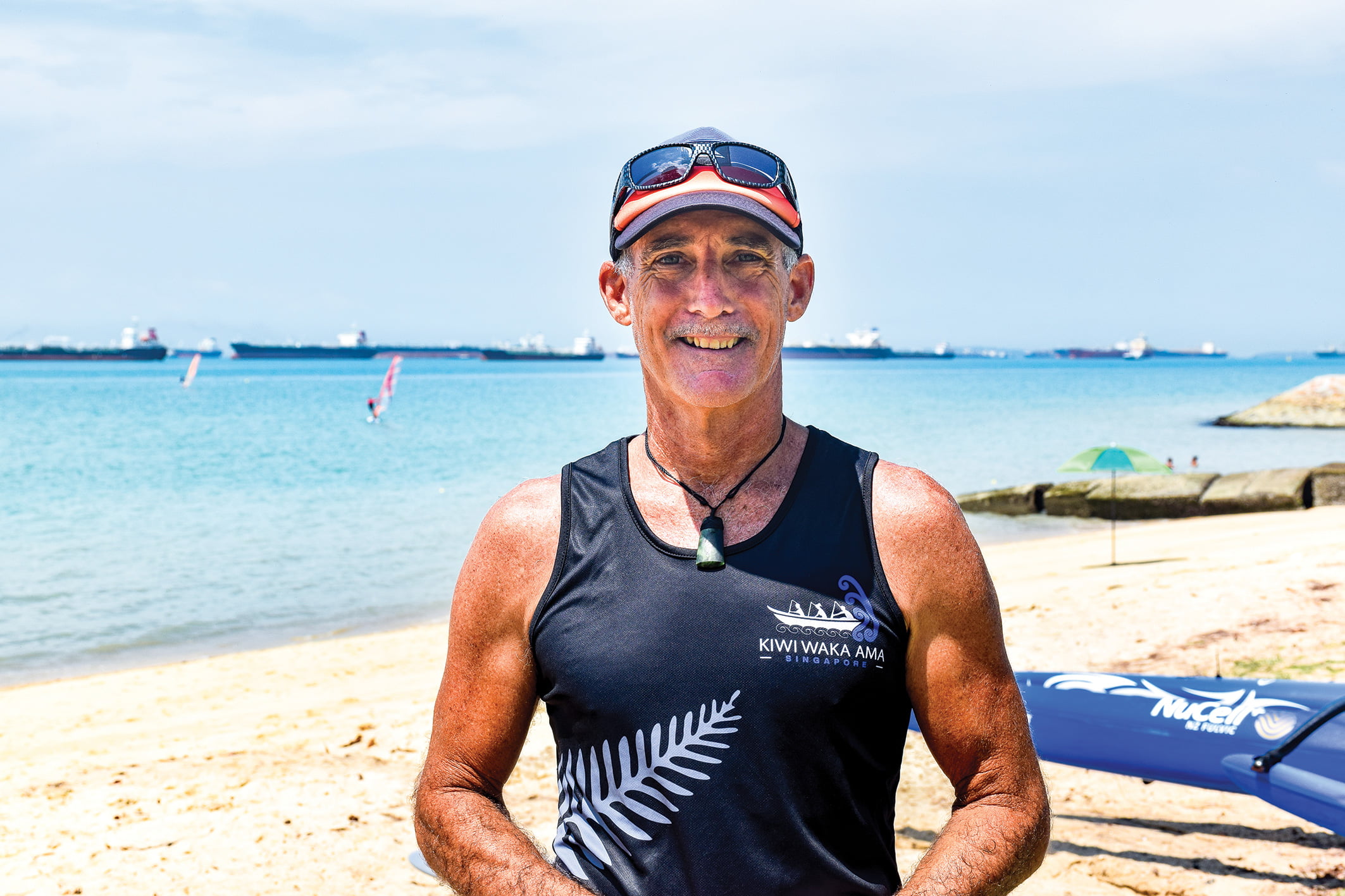 How long have you lived in Singapore?
25 years. My wife Sandra and I came on a one-year contract and career opportunities, experiences and regional travel were compelling reasons to stay. Over time, becoming more connected with local communities and groups, and raising our daughter here made Singapore feel more home and it's why we are still here.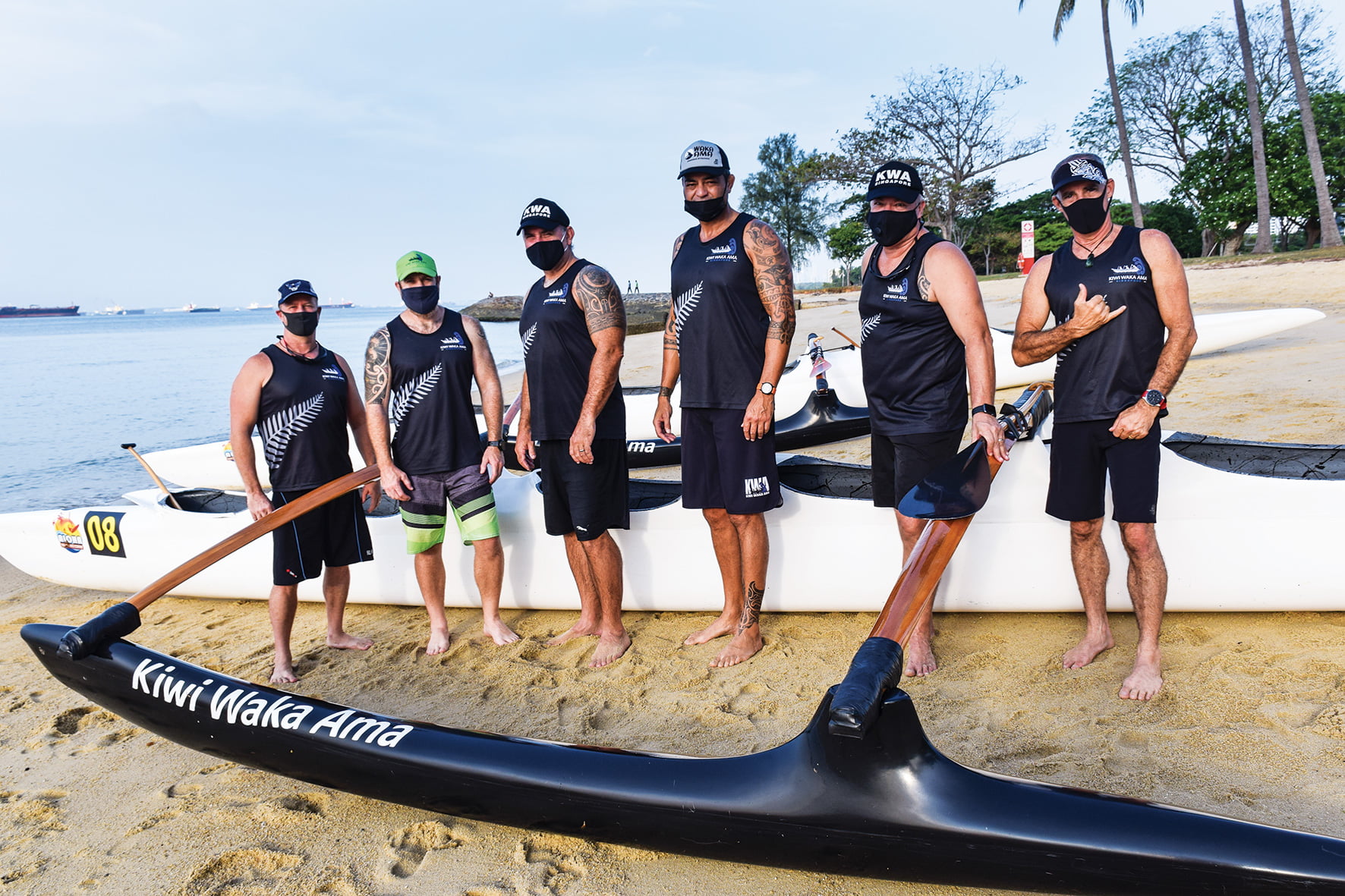 Why did you start the Kiwi Waka Ama club?
In a word, connection. A small group of us were regularly paddling once a week using canoes rented from the Singapore Paddle Club at Sentosa. In true Kiwi Style, we would bring kai (food) and socialise afterwards. As the group got bigger and we started to see and experience an identity, we realised that to grow, we needed to find our own tūrangawaewae (a place of being). Given our whanaungatanga (family connection) to our cultural heritage, we also understood we needed more than a traditional set of club guidelines to operate. Our kaupapa (a principle or policy) is the foundation for how we conduct ourselves, both on and off the water. We made the decision to base ourselves on the East Coast as it has a more relaxed vibe and is very suited to families, with plenty of space for the tamariki (children) to play together and build their own connections.
Mauri tū, mauri ora, an active soul is a healthy soul
What is your role with the club now?
I was President during the foundation years of the club, however, as the club grew and new roles emerged, I was appointed Co-Captain. I work closely with Mary (Women's Club Captain) to plan, develop and manage the club's on-water paddling activities. This includes building coaching and training programs, organising club training sessions and generally overseeing the growth and development of the paddlers. I also coach our young paddlers. Watching the youth develop their own strength, courage and leadership styles, while learning the principals of team work is extremely rewarding. The most important role however, is to support and contribute to the development and preservation of the kaupapa of the club and support the collective efforts of the leadership team and all members – both past and present. It's also important to acknowledge the efforts of the people who have returned to New Zealand or other shores, who were a big part of setting up the club.
He aha te mea nui o te ao
What is the most important thing in the world?
He tangata, he tangata, he tangata
It is the people, it is the people, it is the people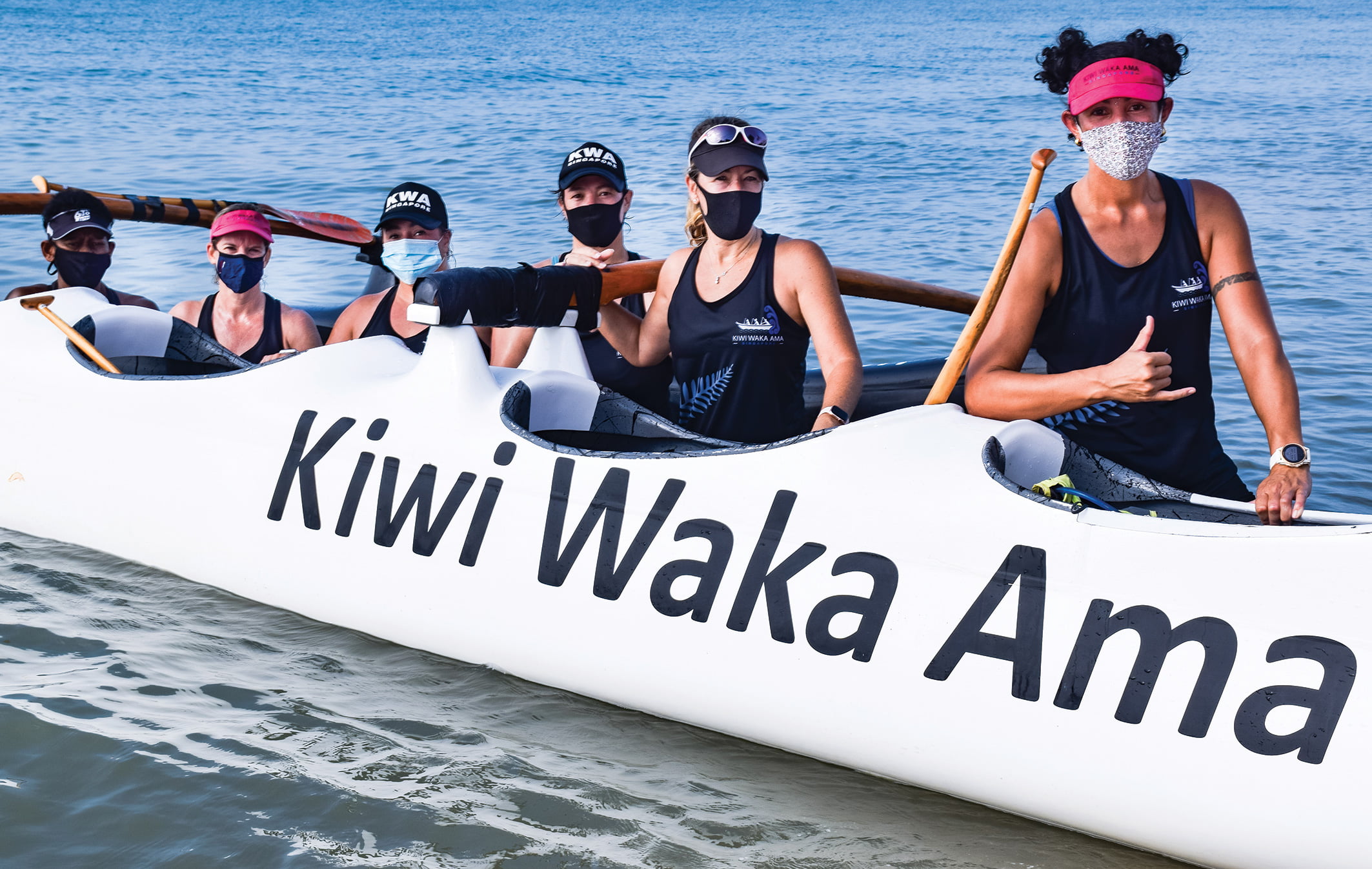 What is the Kiwi Waka Ama Club?
While the club's main activity is paddling, kapa haka (a traditional song and dance performance) is an integral part of our activities. Through our learning and performing of kapa haka, the connections to each other, our heritage and culture, the land and water, we see ourselves as a whānau. This is very evident every weekend when we come together, old and young, and experience the wairua.
Toi tū te whenua, whatungarongaro he tangata
The land remains when the people have disappeared
How does the club celebrate NZ history and culture?
Pre-COVID we performed at Waitangi Day celebrations, the Aotearoa Ball with the Australian International School Kapa Haka Group, and have done a number of performances at trade events – including at the New Zealand High Commissioner's residence. We also live our kaupapa every day. From simple things like saying a karakia (Māori incantations and prayers, used to invoke spiritual guidance and protection) before leaving the shore or opening a committee meeting, to how we treat each other (as whānau). We adopt many traditions. For example, the importance of our tamariki (children) – they are our future. We have programs to develop their paddling, but we also make sure they are cared for and included in all the club's activities, so that they can experience and learn about their culture and heritage. We don't see leadership as the responsibility of a single person. Decisions are made through conversation, using our kaupapa for guidance.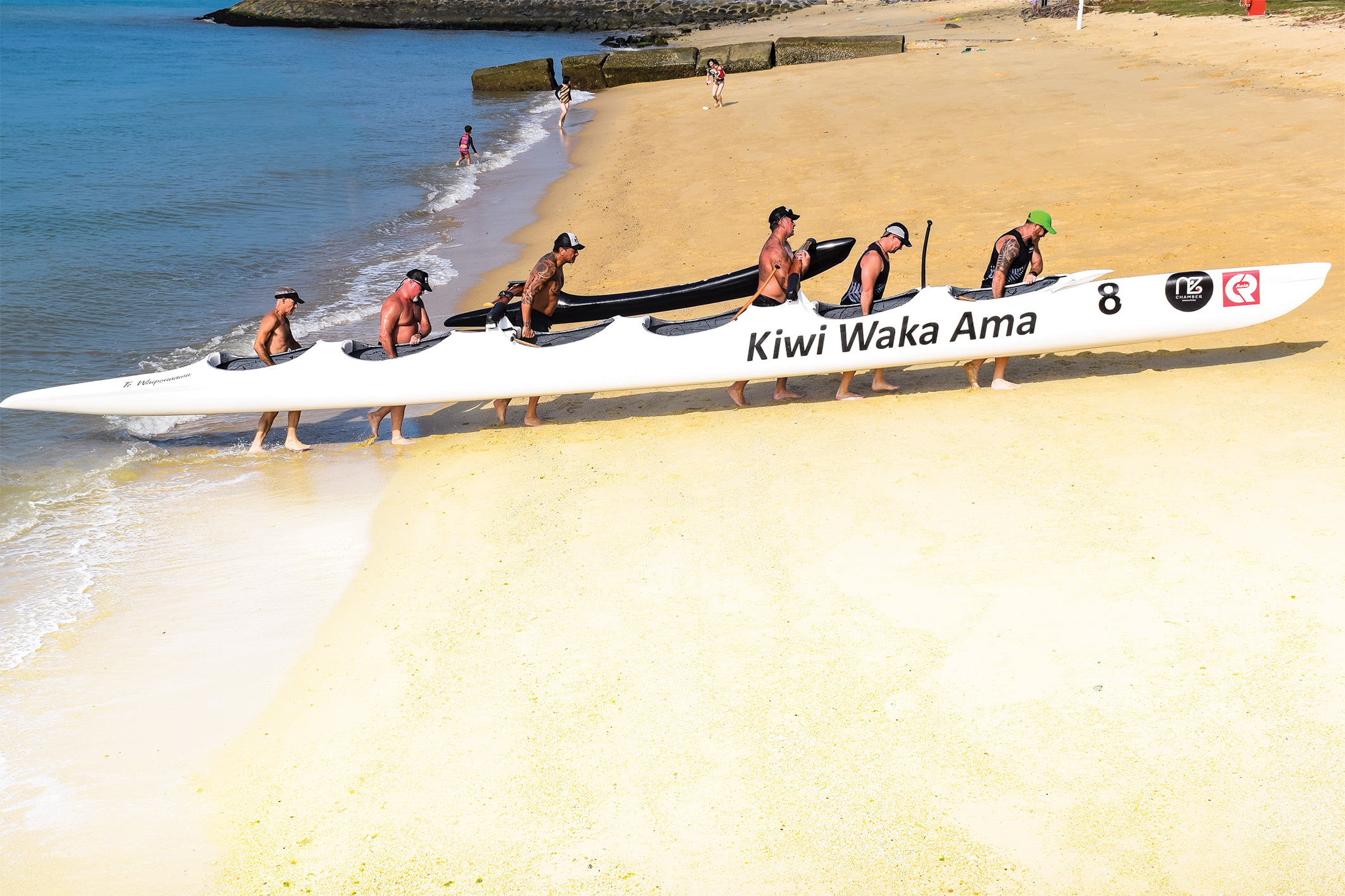 How has being involved with the club enriched your time in Singapore?
Being part of the club has allowed me to connect with our culture, far more than had we stayed in New Zealand. Through our kaumātua (Māori elder), Tony Keepa, we have achieved more than simply learning waiata and haka. Experiencing the wairua, the deep connection to our heritage, and knowing you belong has been hugely enriching and the essence of who we are as a club. For the members from other countries and cultures, experiencing our wairua is something they will carry forever.
He aroha whakatō, he aroha ka puta mai
If kindness is sown, then kindness is what you shall receive
Are you open to other nationalities?
Absolutely! Connecting people from all backgrounds is an integral part of our kaupapa. We currently have members from more than 10 nationalities – all part of the same whānau. It's really cool to hear members from other countries totally fluent in saying karakia before going out on the water.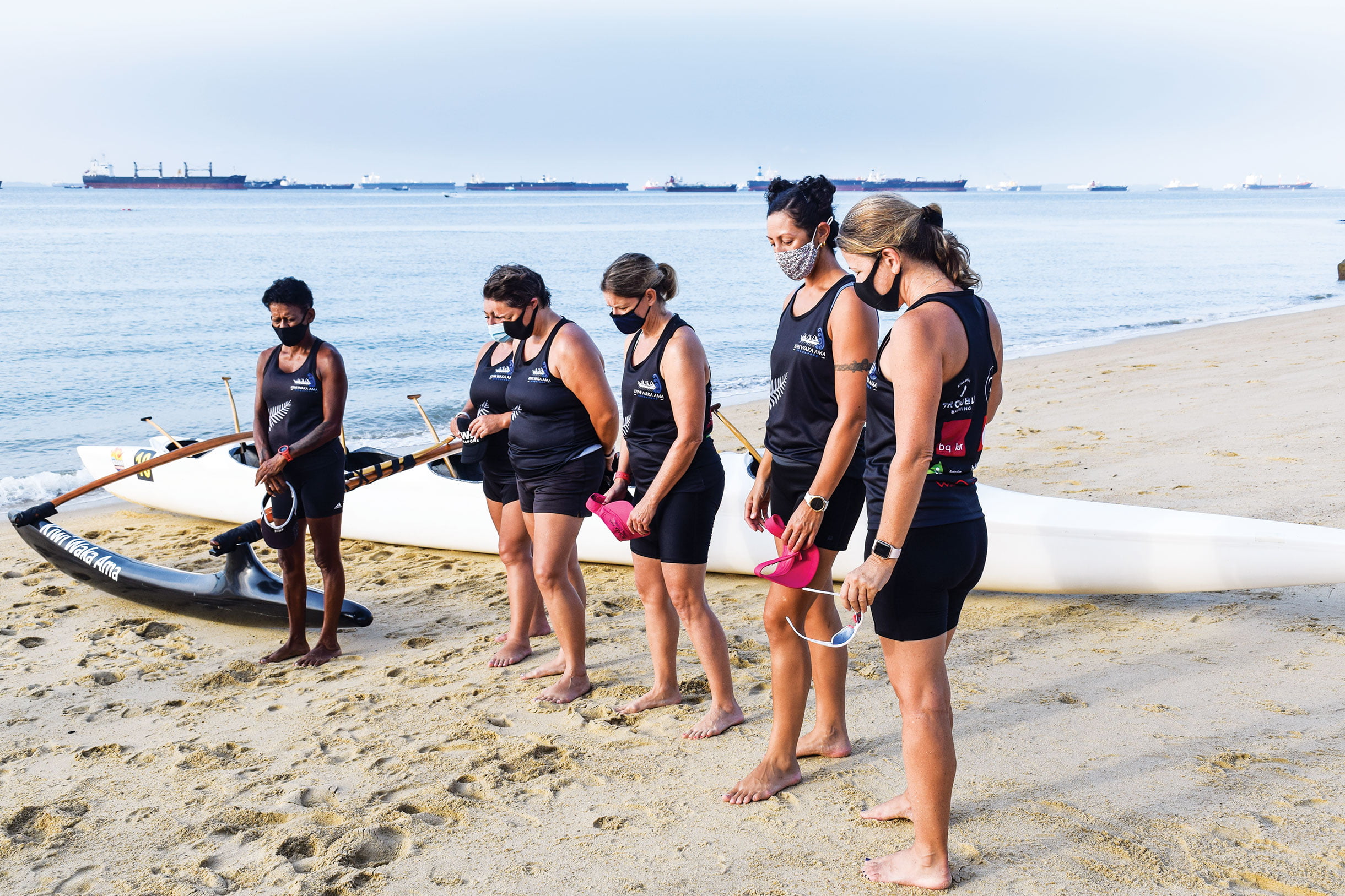 What training is involved?
It really depends on the level of interest and commitment. Some of us can be on the water 4-5 times a week, as well as doing land-based training. Other members like the social aspect and will paddle once or twice a week. We run specific training for men (Tuesday evenings) and women (Thursday evenings). We currently have mixed training on Wednesday evenings, Thursday and Friday mornings (you get to see some amazing sunrises) and then a number of sessions on Saturdays and Sundays. On Sunday mornings we run sessions for rookies and we have a dedicated weekly youth paddle session.
What competitions are your members involved in?
As a club we compete in local paddling events, such as the Singapore Ocean Cup and the Country of Origin. Our paddlers have also competed in events in Hawaii, Tahiti, Australia, New Zealand and Hong Kong and the World Va'a (outrigger canoe) Championships. Fingers crossed that international travel will return before the end of the year so we can send one or two crews to compete in the ATIR – a 46km paddle race around Hong Kong Island.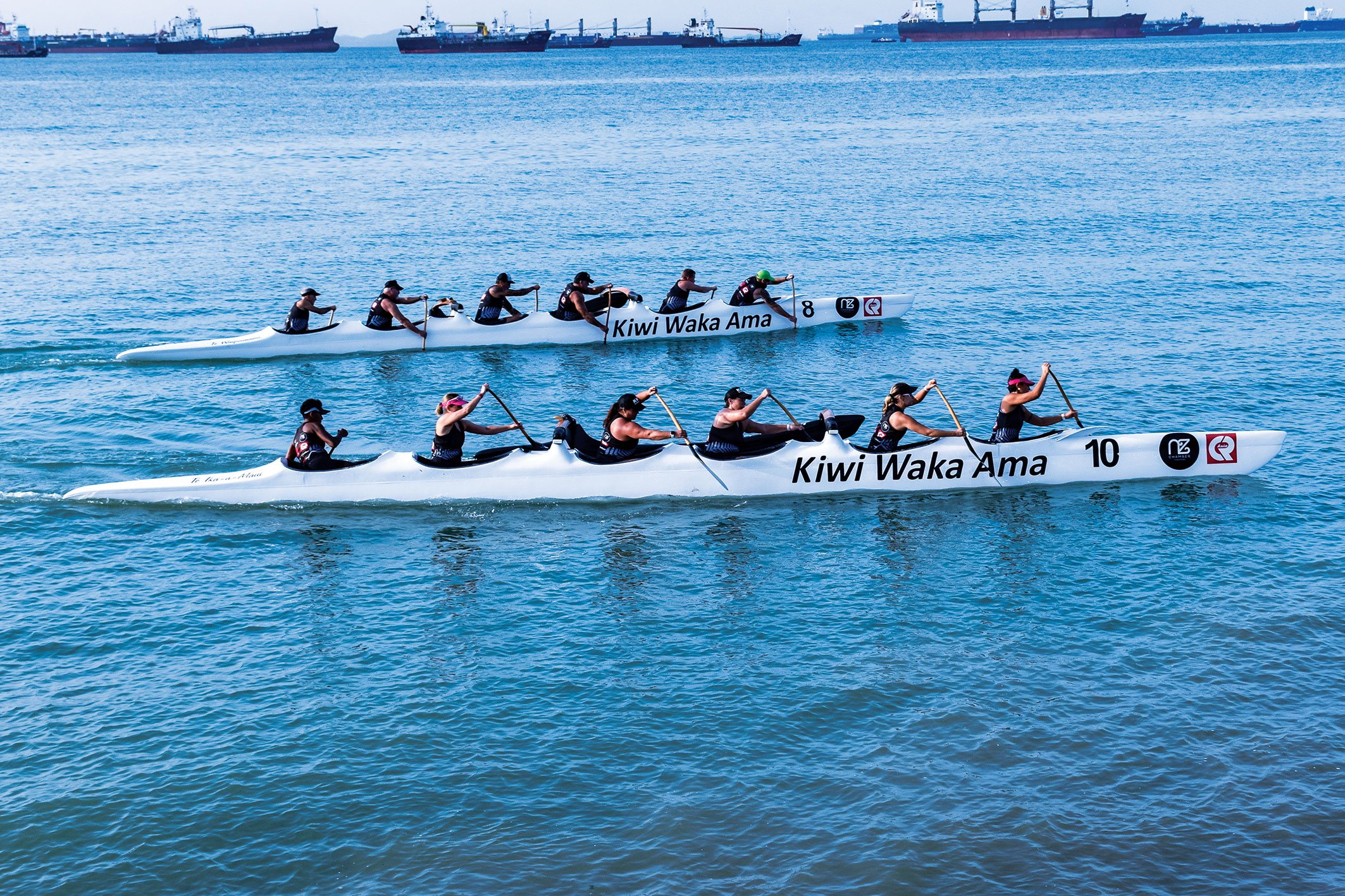 Any special achievements?
There have been many highlights, both on and off the water. Establishing the club and growing to now 80 members in just two years, contributing to the growth of the sport in Singapore and success in local paddling competitions are some. One significant moment was performing the haka to a Singapore Trade delegation departing for a two-week trip to New Zealand. As it happened, it was the day of the Mosque shooting in Christchurch. The power and emotion of the haka was deeply emotional for all in attendance.
What's next?
We have recently launched a fundraising campaign to purchase additional waka so that we can continue to accept new members and grow the club. We'd love to see more youth getting involved in both paddling and kapa haka and we will continue to put effort in this area. We are also open to hosting team building events. The waka is an incredible platform for experiential learning of teams and leadership.
E hara ā tātou toa, i te toa takitahi, engari he toa takimano
Our strength is not that of an individual, but that of a collective
Support our fundraiser at accelevents.com/e/KiwiWakaAmaSingapore
There are some fantastic items and experiences up for grabs, including return premium economy flights with Air New Zealand.
Find us at https://wakaamasingapore.wixsite.com/mysite