Looking to hire a helper in Singapore? You'll need to secure a maid insurance plan for your Foreign Domestic Worker (FDW) to meet the
Ministry of Manpower (MOM) requirements
. For timely COVID-19 coverage, however, you'll have to complement the basic plan with a
top-up health insurance plan
. The experts at
Pacific Prime Singapore
offer tips on choosing the right maid insurance in Singapore.
What is maid insurance in Singapore?
Maid insurance protects you from unexpected expenses related to your helper's work and non-work-related accidents. You can secure maid insurance in Singapore through maid agencies, insurers, and agents/brokers.
Ministry of Manpower (MOM) requirements
Maid insurance is mandatory in Singapore, which offers the below coverage:
SGD $60,000 per year for personal accident coverage.
SGD $15,000 per year for hospitalisation coverage, covering inpatient care, day surgery expenses, and other medical expenses sustained by your FDW's accident.
If your maid isn't a Malaysian citizen, you must also buy a SGD $5,000 security bond, which is available at any bank or insurance company.
How much does maid insurance cost?
The cost of maid insurance in Singapore is based on the duration of the policy. You have a choice between a 14-month and a 26-month insurance term policy. Expect to pay between SGD $180 to SGD $360 for a 14-month plan, and SGD $230 to SGD $460 for a 26-month plan. Naturally, this price will also fluctuate depending on your insurer and any additional benefits you add to the plan.
What do the maid health insurance plans cover and exclude?
See below for a few examples of common inclusions and exclusions found in maid insurance. For more details and tips, check out this useful guide to finding maid insurance in Singapore.
Coverage
Emergency, surgical, or hospitalisation expenses.
Third-party liabilities caused by the maid.
Theft that is perpetrated by your maid.
Exclusions
Outpatient care. This is any medical consultation and/or treatment that doesn't require overnight hospitalisation.
Pre-existing health conditions. This is any medical condition the maid has before you secured the maid insurance plan.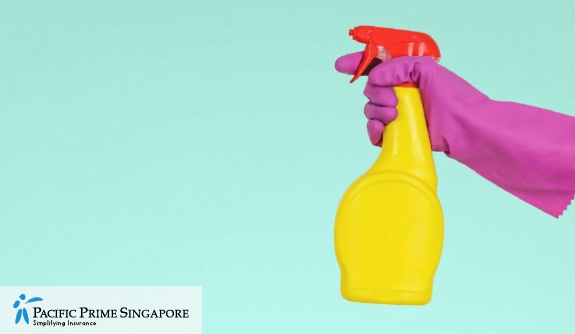 Secure health insurance in Singapore today! Our friends at Pacific Prime Singapore are happy to help you compare plans to find one that best balances your needs and budget. Get a free quote now with their online quotation tool. For personalised advice, speak to their team of insurance experts.