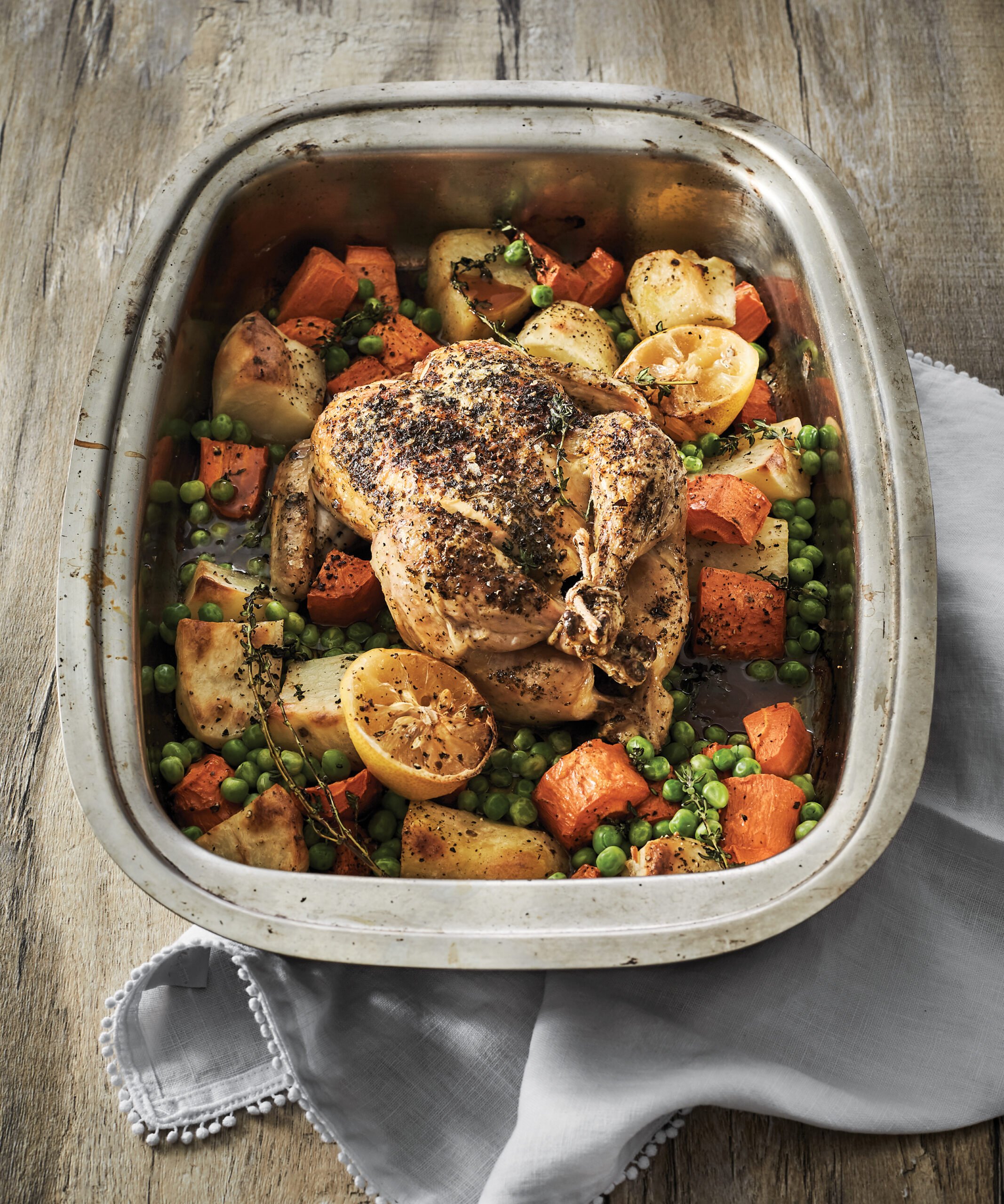 Serves 6
This quick-and-easy, one-pot wonder is featured in chef Roshini Dharmapala's Sunday Roast cooking class. She transforms the juices from the cooked chicken into a delicious gravy at the end. This dish always hits the spot!
INGREDIENTS
1 large chicken, about 1.8 kg
Salt, as needed
Ground black pepper, as needed
1 lemon, cut into halves
50g butter, softened
2 tsp dried mixed herbs
750g potatoes,
peeled and cut into quarters
500g carrots, peeled and cut into chunks
2 tbsp olive oil
300ml chicken stock
1 tsp yeast extract (Marmite)
100g green peas
 METHOD
Preheat the oven to 220ºC (425°F).
Rinse the chicken and pat dry. Season well with salt and pepper. Place the lemon halves into the cavity of the chicken and rub the butter and dried mixed herbs all over the skin. Place in a roasting pan. Place the potatoes and carrots around the chicken and drizzle the olive oil over the chicken and vegetables.
Roast for 45–60 minutes, until the chicken is cooked through. Check by piercing the thigh with the tip of a sharp knife. The juices should run clear. Alternatively, a meat thermometer inserted into the thickest part of the thigh should read 76°C (170°F).
Transfer the chicken to a cooling rack and cover it loosely with a sheet of aluminium foil. Set aside to rest for 10 minutes. In the meantime, pour the chicken stock and yeast extract into the roasting pan with the roasted vegetables and return to the oven to roast for another 10 minutes.
Remove the roasting pan from the oven and add the green peas. Stir to mix and heat the peas. Season to taste with salt and pepper. Serve alongside the roast chicken.
Reprinted with permission from COOK: Food to Share ($40), available through bakerandcook.biz/collections/cookbooks