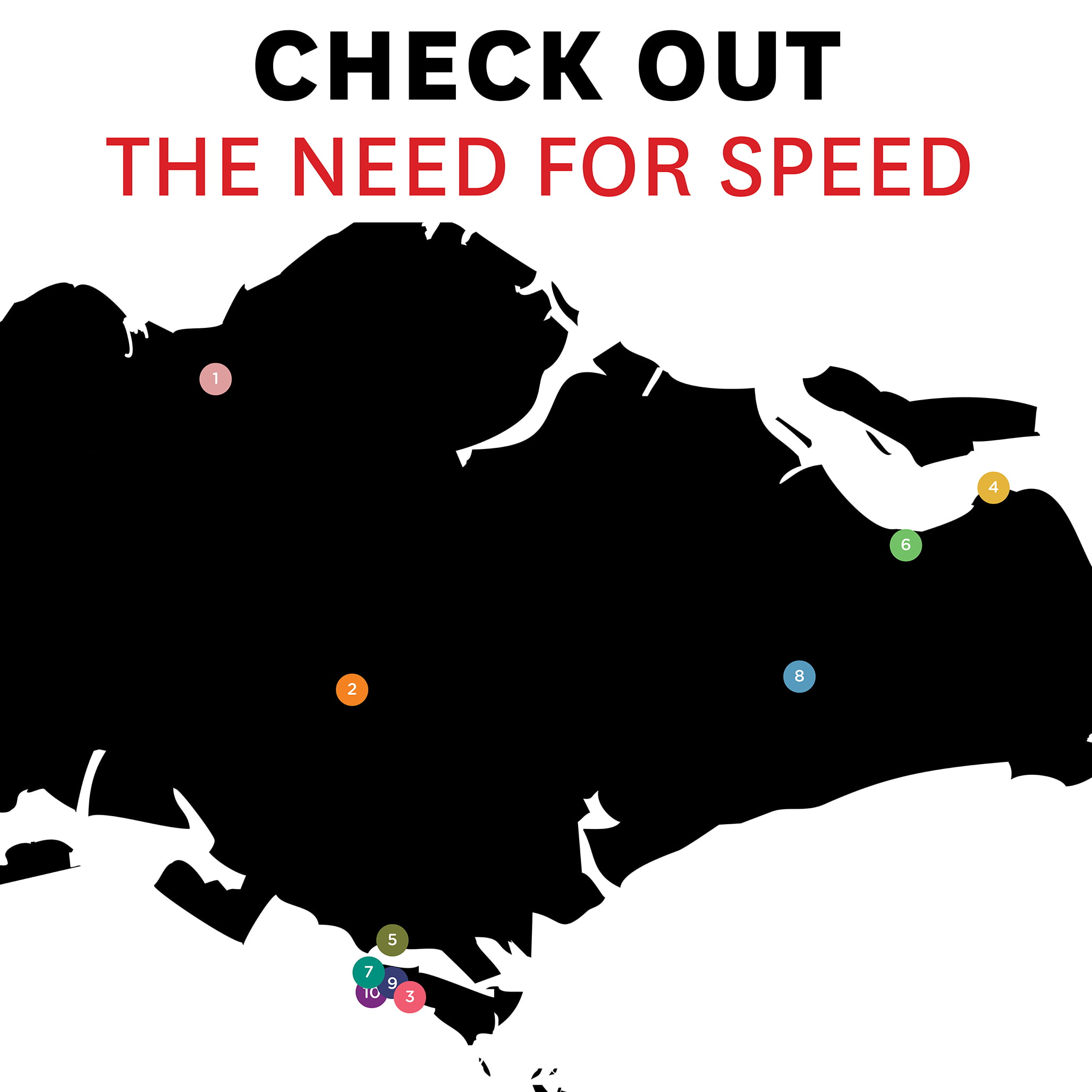 KF1 Karting Circuit
1 Turf Club Avenue
kf1karting.com
Great for true racing fans, KF1's track was designed by a renowned F1 track designer and features the only dual directional track in the world. The track alternates between novice, advanced and professional kart races. When my son and I showed up for our session, the pros were having a go and we got a vicarious thrill as they zoomed by at speeds of up to 100kph. Our more sedate novice karts reached 30kph, which still provided plenty of torque on hairpin turns. We left humbled by the demands of the sport and eager for another race. Good for older tweens and teens as drivers must be at least 140cm tall. Sessions start at $35.
The Karting Arena
200 Turf Club Road 01-01B
thekartingarena.com
This carting circuit uses electric go-karts. They're easier to handle with a faster acceleration, allowing younger drivers to experience a taste of racing. Simulators let young drivers get a few practice rounds before heading out on the track. You can race other drivers or focus on your personal best. Ages 9 and up. Sessions start at $40.
Skyline Luge Sentosa
45 Siloso Beach Walk
skylineluge.com
This award-winning attraction is perfect for a family outing. Riding the low-slung luge carts, with handle bar controlled braking, is safe enough for children six and older but was loads of fun (even for my jaded teenager). Skyline Luge's motto is "once is never enough" which was certainly true for my family. Three Luge rides are $27, though family discounts bring the cost average down.
Changi Sailing Club
32 Netheravon Road
csc.org.sg
If your speed demon is more interested in water than land, why not introduce them to sailing? The Changi Sailing Club offers a four-day program (held over two weekends) that teaches kids 7-13 the basics of sailing, including knots, capsize recovery, rigging and basic boat handling on Optimist sailing dinghies, affectionately known as "bathtubs". Your sailor will receive an Opti-Junior Certification at the end of the course. $256.80 for members $363.80 for non-members.
RHIB Boat Rides
2 Keppel Bay Marina Vista at Keppel Bay
Book through klook.com/en-SG or theyachtclub.sg/rhib-adventure-boat-rides
If water adventures are your jam, but you'd prefer someone captained the boat at fast speed, then a Rigid Hull Inflatable Boat (RHIB) ride might be just the thing. You can explore the southern islands in these "military-style" boats, cruise by Labrador park or get a unique view of the big guns and canons of Sentosa. Fast, yet stable, RHIB rides start at $70.
Wild Wild Wet
1 Pasir Ris Close
wildwildwet.com
For water adventures without a boat, why not try Wild Wild Wet? With rides that range from mild to extreme, this water park was rated Top 5 in Asia. For the thrill seekers in your family, be sure to check out the Torpedo, a 6-story free fall that propels you to speeds of up to 70kmh with hair-raising twists and turns. $24 for a day pass.
Mega Adventure
10A Silso Beach Walk
sg.megaadventure.com
If not by land or by sea, what about air? Let your kids fly on the longest zip-line on the island and reach speeds of up to 60kph. Mega Adventure has a zip line, ropes course and bungy trampolines. The minimum weight to ride solo is 30kg, but children lighter than 30kg can ride tandem with an adult. From $55.
Forest Adventure
Bedok Reservoir
forestadventure.com.sg
Forest Adventure is a multi-level ropes course set on the banks of the Bedok Reservoir. Riding the Big Zip, a 300-metre zip line over the water, comes with every ropes course purchase, but can also be purchased separately. The ropes courses have age and height restrictions, with the Kids Course designed for ages 5-9, the Junior Course for kids 10-14, and the Grand Course for anyone 1.45m or taller. $25 for the Big Zip, or $39.50 for Kid's Course (includes Big Zip).
iFly Singapore
43 Siloso Beach Walk 01-01
iflysingapore.com
iFly mimics the experience of falling from 12,000 to 3,000 feet. The experience will take about 1.5 hours, which includes a briefing, suiting up in a flight suit, and training. For ages seven and up and all ability levels. From $66.
Bungy
30 Siloso Beach
ajhackett.com/sentosa/
For those truly ready to push their personal limits, test your mettle on Sentosa's AJ Hackett 47-metre bungy jump platform. With nothing between you and the ground except the bungy cord between your legs, find out if you have what it takes to fling yourself into thin air. Jumpers must weigh at least 40kg and those under 18 will need parental consent. From $88.
Check out other fun kids activities!