If you think the spiritual side of physical and mental health is a load of hocus-pocus, think again! Ancient and traditional prcatices continues around the globe today as a bid to keep mind, body and soul in check. In the last part of our spirital series, we chat to Libby Cattalini, a Sound Therapist and Shamanic Practitioner from Australia. She teaches sound healing in Singapore and has lived on the red dot for almost seven years.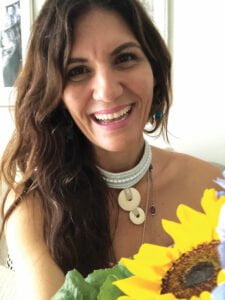 What exactly is sound healing?
Sound healing occurs when the frequency of sound helps to rebalance and reconnect someone to a state of calm. It's an ancient modality that has been scientifically proven to change a person's brain waves to promote different states of being.
How does it work?
Treatments range from a combination of techniques with voice and instruments dating back thousands of years, using frequencies from ancient cultures such as those from Egypt, China, Tibet, and India.
Modern science has complemented this with the invention of instrumentation to measure and assist with healing. Ultrasound for example is a sound frequency that creates images and is now used in modern medicine. Sound therapy has even made its way into education via the Montessori school system in the USA, and has proven to assist children with issues such as emotional regulation and hand-eye coordination.
When did you start your sound healing journey?
It came to me during a Shamanic journey that this was my service to others – a calling if you like. It wasn't completely new to me as I've been a participant of sound baths for over 20 years.
How do you train to become a sound healer?
I've studied full time and am a Certified Sound Therapist. I've been lucky enough to take part in very intense immersive courses and have done vocal sounding with some of the best teachers in the USA. I studied Natural Medicine over 25 years ago and have practiced Reiki in France, Italy, USA, Australia and Singapore. I'm also a Shamanic Practitioner and offer sessions for emotional releasing.
What health benefits does sound therapy personally bring to you?
It connects me to my inner voice and spiritual side. It assists me to keep a perspective on the things that matter, relaxes me, and helps me to focus on my inner balance.
How do you include it in your daily life?
I use sound frequencies to get me into various brain states when studying or to go to sleep. You can listen to specific sounds to create harmony or stimulation. It can be extremely powerful, but it's also unique to you as a person.
How do you share your skills with others?
I offer private sessions for specific requirements for individuals and couples. I also conduct beautiful outdoor sound bath groups out in nature in the evenings under the stars at Dempsey. This is a collaboration with Wildlings Forest School. It's an amazing experience where we soak up not just the sounds of instruments, but also the sounds of nature surrounding us.
Please talk us through one of your sessions …
A client lays in a relaxed position while I offer a guided meditation and sound therapy specifically tailored to their needs. I use a combination of instruments on and around the body that have vibrational effects, for instance crystal bowls, gongs, Tibetan bowls, drone flute, tuning forks and vocal toning. Clients report that they feel a sense of deep relaxation from being in a tranquil space. Others have a release of emotions, or have experienced visual responses such as lights, colours and memories. Many come out of a session with a very clear direction in their mind.
For details on Libby's sound healing sessions log onto spirit-connect.com