Rosemead is the latest venture by the Jigger and Pony group with Executive Chef David Tang (Caffe Fernet) at the helm. Named after chef Tang's hometown in sunny California, Rosemead brings the next evolution of modern California offerings to Singapore. Housed in the heart of the CBD in the iconic Quadrant building, the restaurant takes over the venue that used to house The Black Swan. Rosemead's high-end cuisine suits this magnificent art-deco 1920s heritage building perfectly.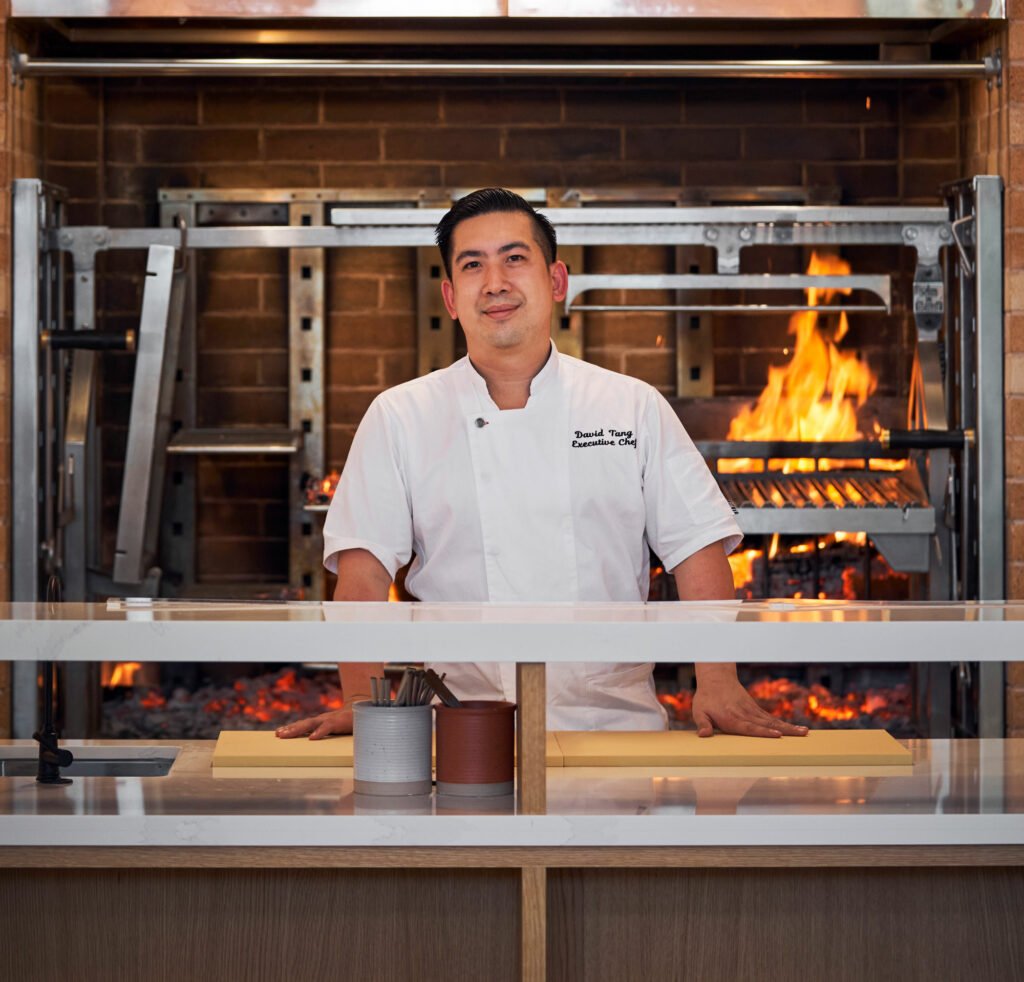 Local seasonality is at the core of the menu and Chef David Tang strives to engage local and sustainable ingredients as much as possible. He works with a growing community of local and regional producers, particularly with vegetables and fish, including BlueAcres Aquaponics, Edible Garden City, Crab Lovers Farm and Ah Hua Kelong in Singapore, alongside farm collective Weeds & More and Chitose Farm, both in Cameron Highlands, Malaysia. "There are many similarities between Singapore and California in that both are omni- seasonal all year round," he says.
Latin America California food
Our culinary journey began at the Chilled section with our first starter, the Hama Hama Oysters (S$27 for three) topped with salmon roe and horseradish. The quality of the ingredients created succulent layers of pure and crisp flavours. Next came the Big Eye Tuna Crudo Kombu Soy & Kinome (S$18), the centre tuna loin is diced and combine with minced tuna belly dressed in a kombu infused soy sauce with fresh wasabi and tangy radish pickles with kinome leaf. The table simply went silent; each bite was an explosion of flavours and textures.
Staying with the Asia-themed dishes, the Coal Seared Kanpachi with Shiro Dashi (S$17) came next. The Kanpachi, a meaty fish from the yellowtail amberjack family, is aged for three days before serving to tenderise the flesh and intensify flavours. Quickly seared over coals to add some light smokiness, the fish is thinly sliced and served with dashi fortified with wakame and topped with young onions, sesame seed and radish. This was a showstopper; needless to say, we wanted an encore, but there still more dishes ahead.
In a nod to Latin American California food, we were served the Fremantle Octopus & Cucumber Aguachile (S$16) – Aguachile is a Mexican dish made in a ceviche-style of cooking. Slices of perfectly cooked octopus were presented with compressed cucumber and pickled red onion slices in an aguachile style marinade for a refreshing and subtle bite.
Our last dish from the Chilled section was the Grassfed Wagyu Tartare Kampot Pepper & Lettuce (S$26) featuring one hundred percent grass fed Wagyu sirloin with phrae laap spice, finished tableside with Kampot black pepper caramel sauce. The Phrae laap spice is an aromatic northern Thai spice blend typically used in appetisers and salads. In true Los Angeles style, this dish is a combination of French, Asia and Latin elements. The tartare is chopped and mixed with red onion, serrano chile, phrae laap spice and grapeseed oil.
High cuisine at its best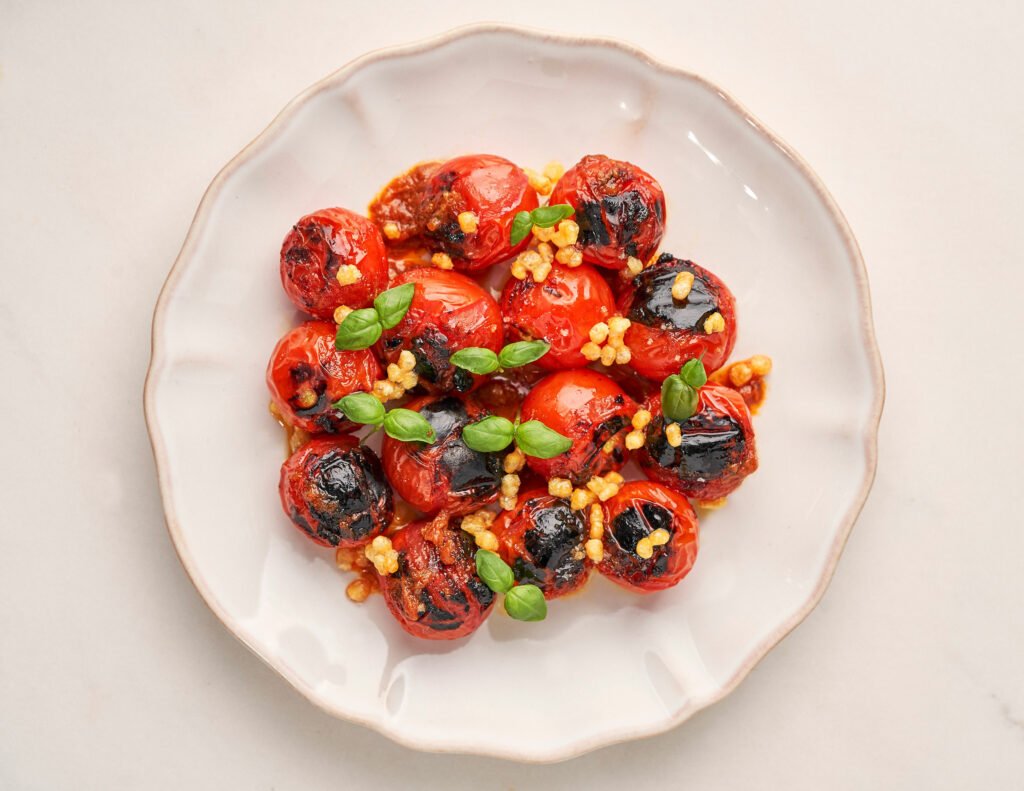 Moving onto the Vegetable and Grains, next came a dish with true Italian roots: Chitose Farm Tomato & Basil, Crackling Pork Skin (S$21), and juicy cherry tomatoes roasted on hot coals until blistered then tossed with an nduja vinaigrette. Nduja, a spicy sausage typical from Southern Italy is cooked and the oils are then combined with Pedro Ximenez sherry vinegar 25 year, and basil. To top it all off, the tomatoes are then sprinkled with pork cracklings.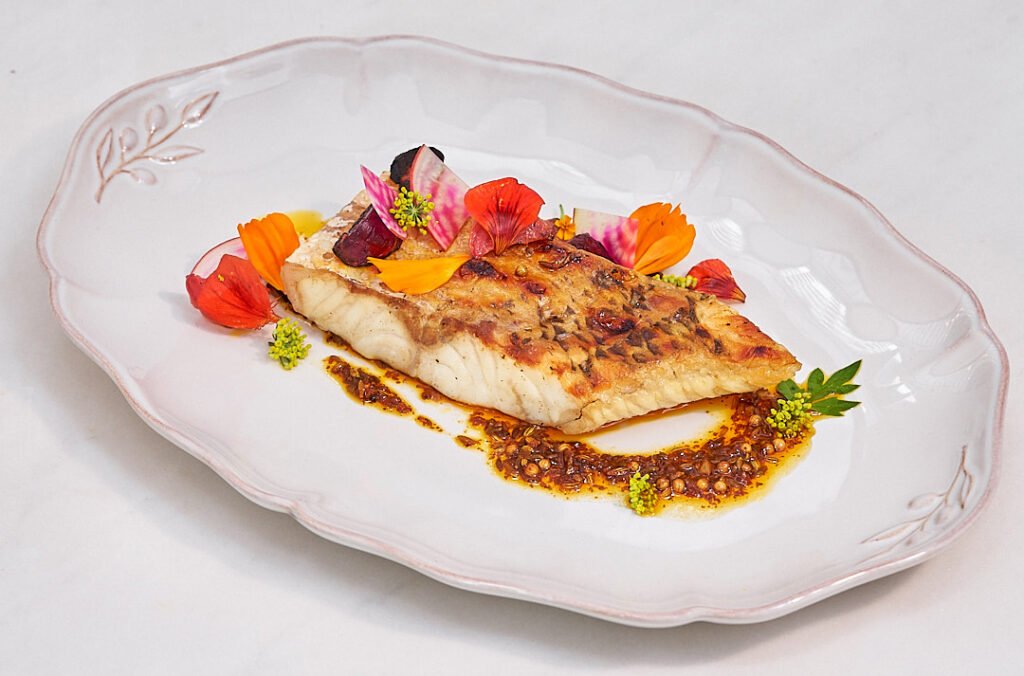 We then proceeded to the Cooked over Orange and Lychee Wood Embers. The first dish was the Canary Island Seabass & Green Peppercorn, Sauce of Iberico Ham (S$68). Spanish seabass caught overnight in the Canary Islands and flown to Singapore. The fish is then dry hung to intensify the richness of the flesh, seasoned with sea salt and roasted to perfection with a crispy skin and delicate filets. Accompanied with a sauce made of Iberico jamon and preserved green peppercorns, it's high cuisine at its best (and can easily be shared by two people).
Last but not least was Rangers Valley New York Sirloin 200g With Mojo Verde & Charred Leeks (S$80). Australian Angus Sirloin grilled on Rosemead's open hearth, it's served with mojo verde in another nod to Los Angeles Mexican origins; a sauce made with cilantro, olive oil, sea salt, garlic and cumin and for added flavours topped with smoked leek and a delicious confit garlic puree on the side.
Despite feeling very full, we managed one last dish to share; the Paris Brest, Cajeta & pepita praline (S$10). Rosemead's Pastry Chef Elena prepared this traditional French dessert with choux pastry and a praline flavored cream. Her version features a pumpkin seed praline blended with cajeta, the Mexican version of Dulce de Leche, and Pepita, the Spanish word for pumpkin seeds. This offered a subtle salty ending with nutty, rich and crunchy textures and was the perfect ending.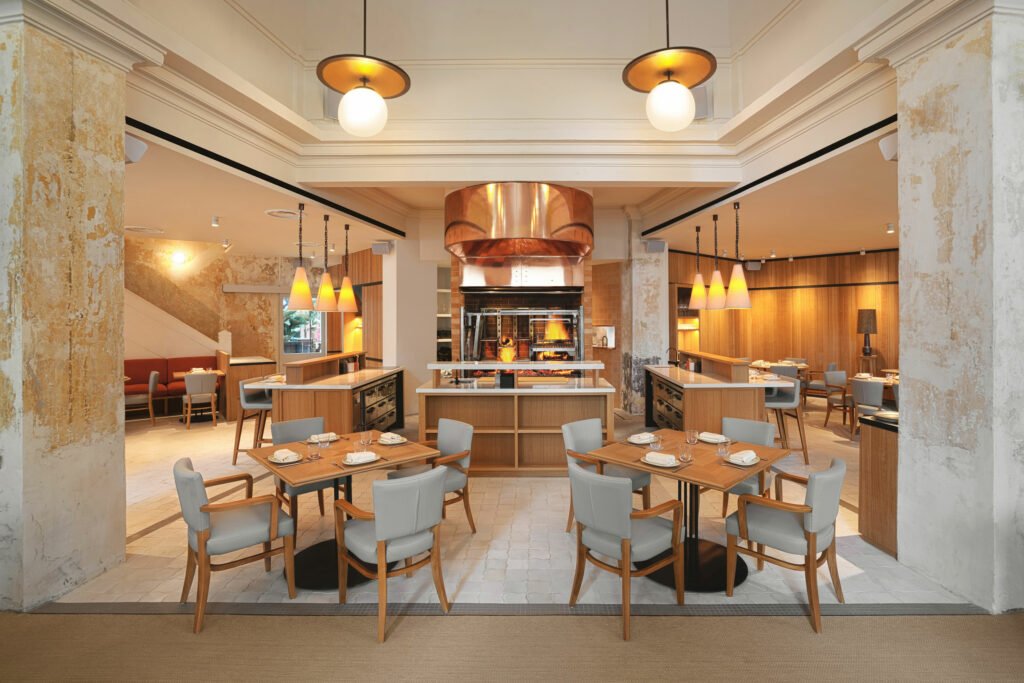 Verdict: Rosemead's modern Californian offerings are extraordinary and filled with awe-inspiring flavours that proudly represent its Californian roots. This is an elegant dining venue but the atmosphere is relaxed and convivial; the perfect set up for this newcomer to the Singapore culinary landscape.
Rosemead
19 Cecil St, 049704
Tel: 9781 9084
rosemead.sg