Les Bouchons Rochester
10 Rochester Park
Rochester Commons, 139221
lesbouchons.sg
Singapore may be famous for its cultural melting pot of Asian dishes, but Singapore's French restaurants do bring a lot to the table (literally). Beyond the stereotype of great bread, great wine, and oh-my-goodness the pommes-frites, there is plenty to love about the French food scene. You may not need an introduction to Les Bouchons. This famously dependable French eaterie celebrates its 20th birthday this year, after the first outlet on Ann Siang Road opened in 2002. While other restaurants fell by the wayside, Les Bouchons became known for its classic French cuisine and value-for-money Steak Frites amid a casual ambience that pays homage to the bistros and steakhouses of Paris. The second location at Robertson Quay opened in 2006.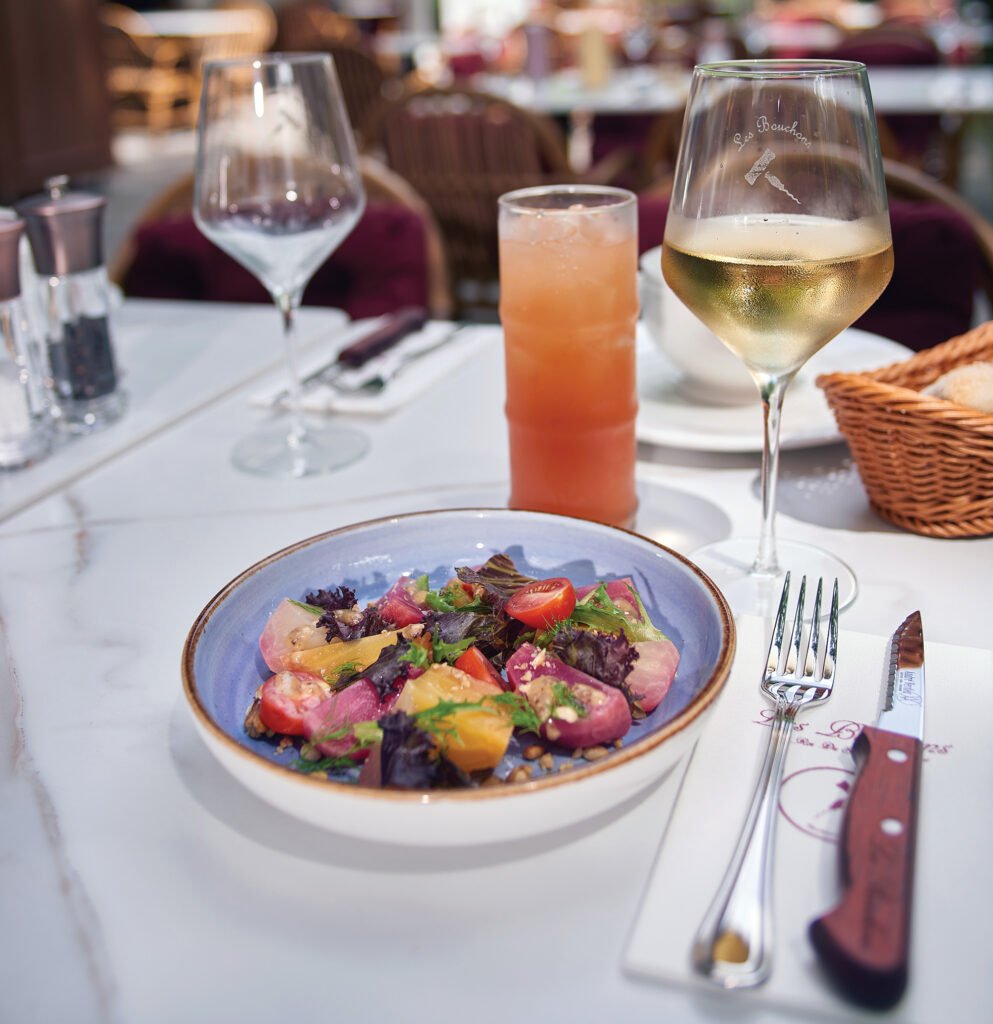 The latest west-side outpost is housed in a stunning two-storey bungalow in Rochester Park. As per its sister restaurants, it oozes an elegant sophistication without being stuffy with its signature sultry colour palette, vintage artworks and French artefacts. Upstairs, 2000 wine bottles adorn the walls and a pretty veranda offers an outdoor (and potentially romantic!) setting. What makes Les Bouchons Rochester even more special is the surrounding greenery, which offers up space for outdoor dining (where dogs are allowed) and a Pétanque court, the first of its kind in Singapore.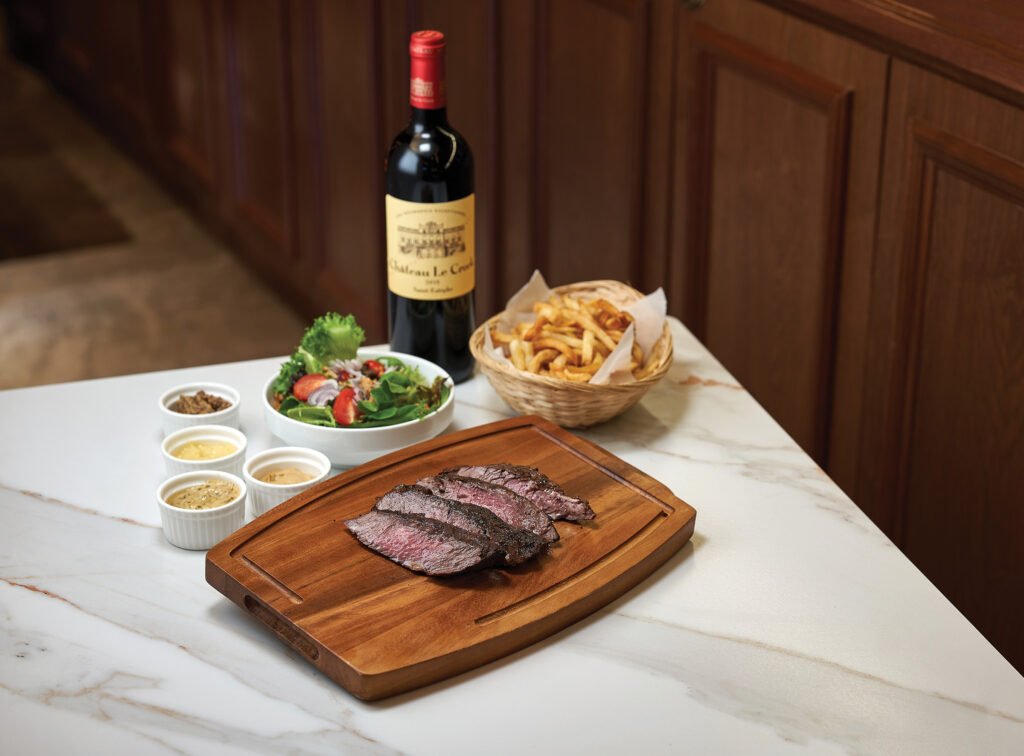 It's here on the court that we began lunch, boule in one hand, and an ice-cold pastis – an anise-based spirit – in the other. (This is how they do it in the South of France, apparently). When rain stops play, we're whisked to our indoor table to hear about the menu while we inhale a basket of warm bread rolls.
Along with classic dishes, the Rochester Park venue is experimenting with new and exciting recipes, carefully curated by French Executive Chef Mickaël Cornac who's been working with the brand since 2014, and Chef Nelson Chua, formerly of Poulet, Au Petit Salut and Atout.
We start with mouthwatering new entrées Terrine de Foie-gras "Maison", a foie gras terrine served with onion chutney and toast; French Ceps Soup with Truffle Oil; and French Heirloom Beetroot Salad, a refreshing palate cleanser before we move onto the main course.
Things get meaty with the new additions of Grilled Sirloin Wagyu, Grilled Canadian Pork Chop, and Poulet aux 40 Gousses d'Ail – a traditional 40 Garlic Roasted Chicken 'stew' which tasted hearty and homely. Les Bouchons' famous Extra Tender Angus Beef Filet and French Fries also made an appearance to remind us just how good they are. Away from the meat, all outlets offer beautifully-cooked seasonal seafood. The Catch of the Day was Atlantic Sea Bass from the Canary Islands which melted in our mouths.
A small plate of Truffle Brie "Maison" cheese was served before we nosedived into a selection of wildly decadent desserts: Double Chocolate Lava Cake with Vanilla Ice Cream, Île Flottante, and the deceptively light-to-eat Crème Brûlée.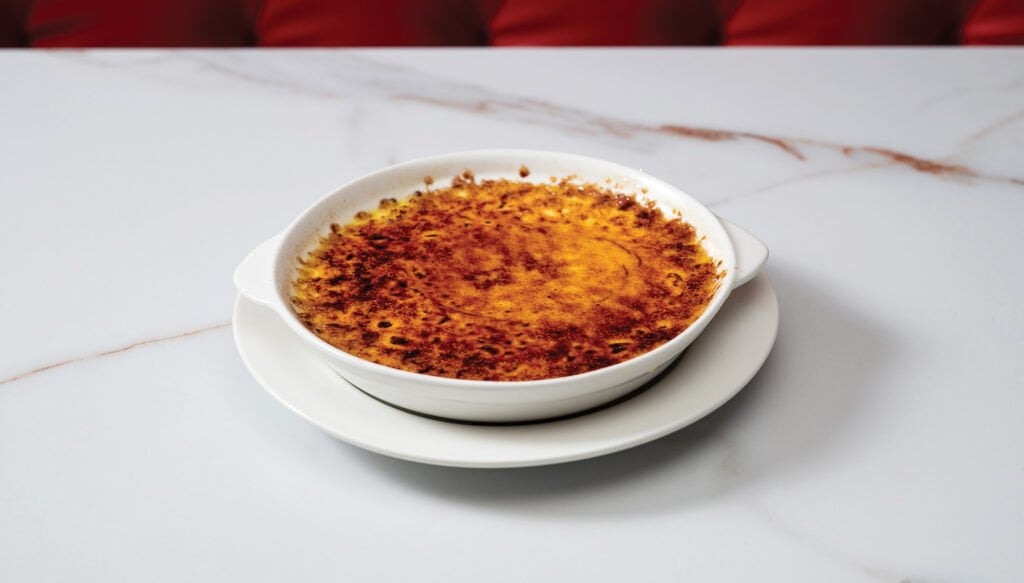 Of course, a French meal would not be complete without accompanying wine. Here, eighty percent of approximately one hundred labels of old and new world wines and rare and vintage selections are from France, and many are exclusive to Les Bouchons. While finishing a glass of 2019 Petit Chablis, followed by a final Limoncello, we realise that we may have to embrace another European stereotype – the siesta – or afternoon nap. You have been warned!
VERDICT: An elegant spot for business meeting, a romantic dinner, or food with friends. Keep your eyes peeled for the introduction of a new brunch menu which will add to the perfection.