Kaarla
88 Market Street, #51-02 CapitaSpring, 048948
kaarla-oumi.sg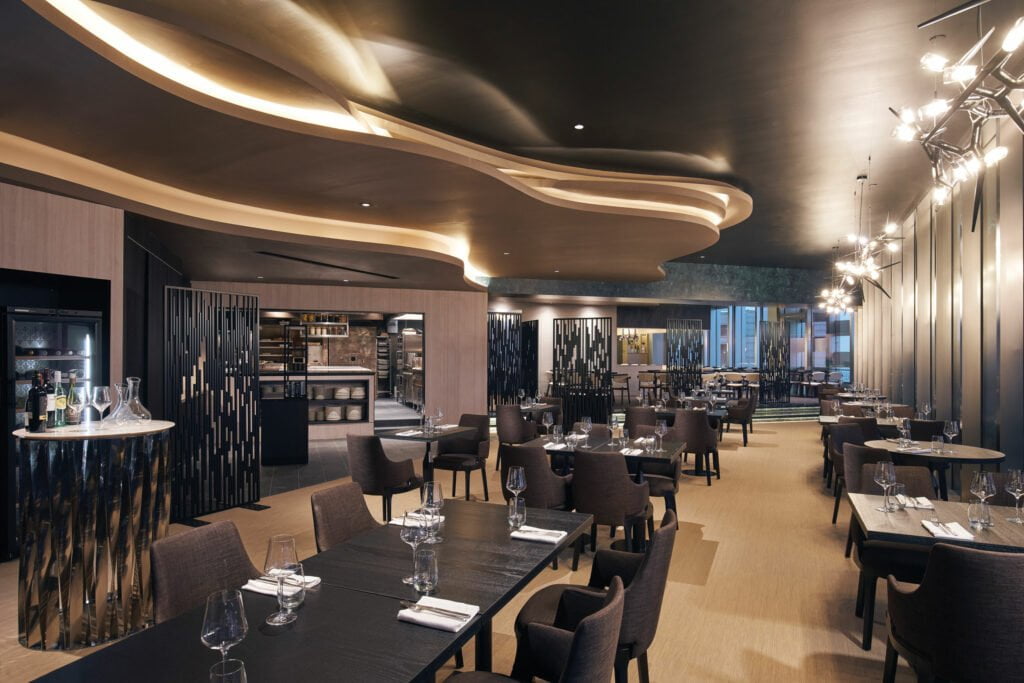 Kaarla, meaning "where the home fires burn", is a new and exciting contemporary restaurant and bar highlighting coastal Australian cuisine. Helmed by Executive Chef John-Paul Fiechtner (JP as he is affectionately known), it honours nature by maximising every ingredient used. A central element of Kaarla's kitchen is its custom-built grill and oven designed by Samuel Fraraccio, a trained stone mason in Australia. In line with the concept, Kaarla's wine list features Aussie wines produced by sources that follow eco-friendly growing principles.
We'd already heard the buzz around Kaarla before we arrived. The menu is truly inventive, mysterious, rich, and unique; the ambience is light and informal; and the offerings encourage the table to share. 
We started our culinary adventure with the Sydney Rock Oyster, Fig Leaf, Oyster Plant Vinegar (S$8/piece), a simple mix of raw Sydney rock oysters drizzled with subtly sweet house-fermented fig leaf and oyster plant vinegar. Next up was the Salt Cured Kangaroo and condiments (S$32). This 'carpaccio' of kangaroo loin was house cured and topped with nutty, chewy black barley ancient grain from Western Australia, anchovy and shiro dashi dressing, bunya nut and finger lime, and crowned with greens and flowers from Kaarla's own food forest. It was one of the most unique dishes we've ever tried.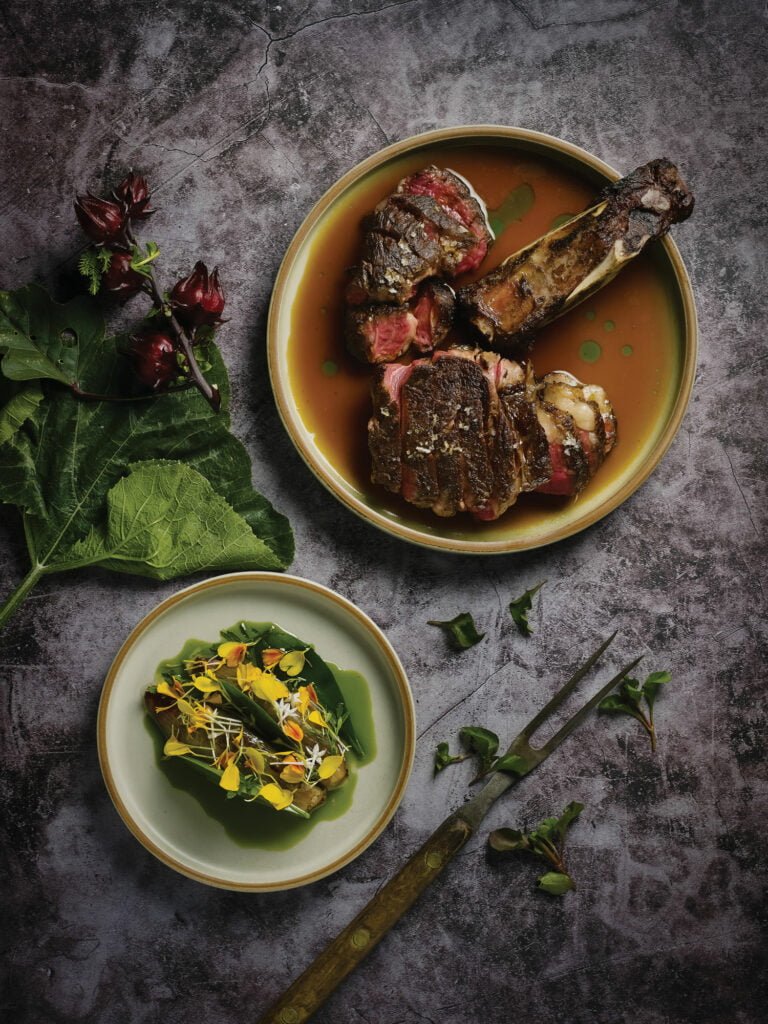 We followed with Zucchini, Mussels, Tomato, Trout Roe (S$30), a sophisticated but light creation with locally sourced zucchini flowers steamed and infused with smokiness and a slight char on the coals. This was served alongside mussels from South Australia, pickled in mirin and chardonnay vinegar, and sweet Japanese tomatoes and trout roe sustainably sourced from Yarra Valley in Victoria.
On the side was the Kaarla Closed Loop Salad – Roof Top Leaves and Flowers, Tiger Nut Curd, Daikon (S$28). This dish highlights ingredients from the day's harvest of edible leaves and flowers, all tossed in a house-fermented calamansi juice dressing.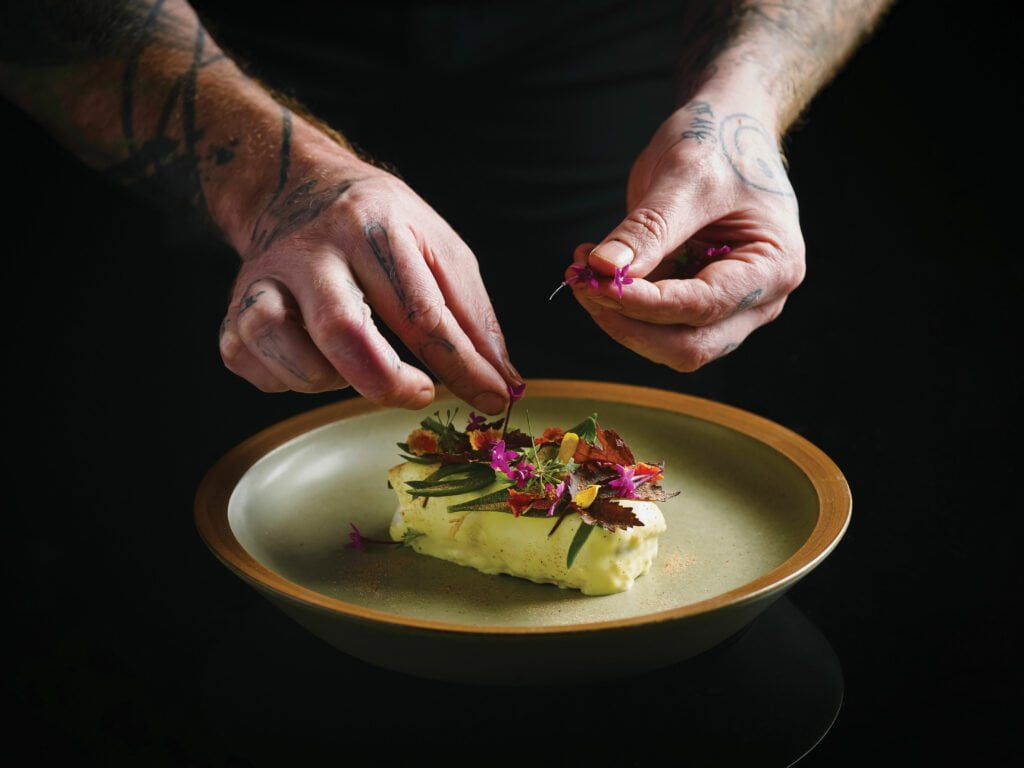 For our main we ordered the White Pyrenees Lamb Saddle, Myrtle Honey, Salt Bush, Bunya (S$58). We also had the Aged King Island Beef, Braised Onions, Garden Salsa Verde, Kampot Pepper 600g (S$120). The Free-Range Pork, Minya, Riberry, Eggplant (S$58) could be cut with a fork, the sweet meat matching perfectly with the minya and the bitterness of the eggplant. For a taste of the pecan we chose the Murray Cod, Fermented Fennel Juice, Bitter Leaves and Carrot (S$62). The cod undergoes a quick salt brine with citrus and aromatics, and is then steamed and lightly finished in the wood-fired oven. A flavoursome beurre blanc-style sauce of fermented fennel juice and fish stock served alongside sea blite and pickled vegetables sets it off perfectly.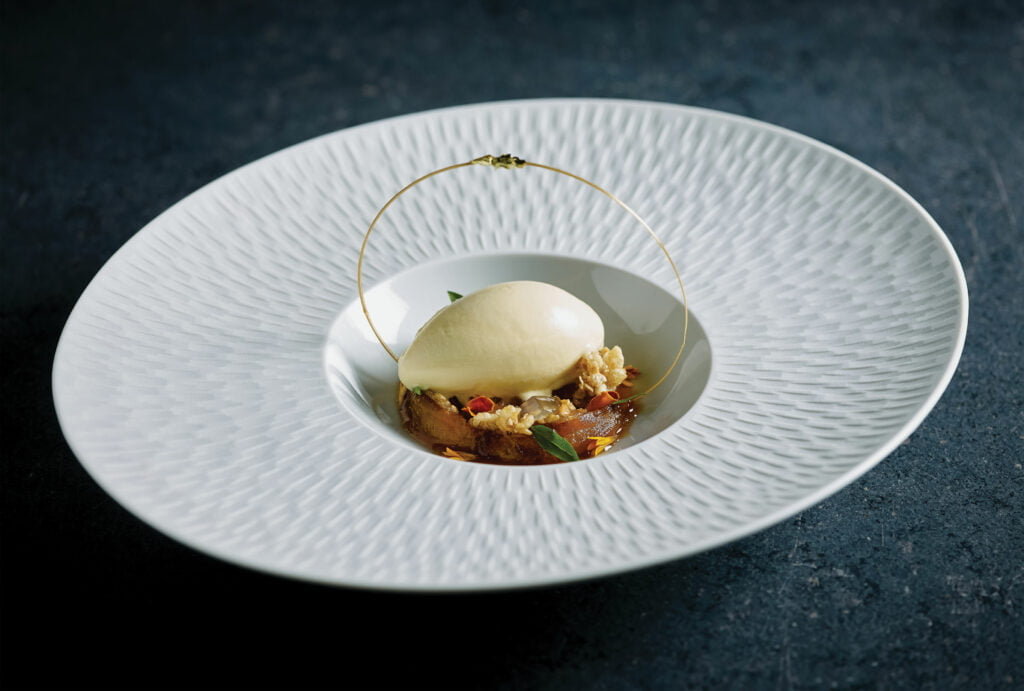 Our desserts were Arden Grown Tigernut Ice Cream, Tigernut Nougatine, White Chitose Corn, Calamansi Jelly and Poached Oranges (S$25) – a great way to end a fantastic meal.  
Verdict: Kaarla is not a cheap night out, but unlike other restaurants, the menu is guaranteed to surprise and the location features some of the best skyline views Singapore has to offer. Put it on your list of places to try.