In the last three years, it feels like we have been caught up in a heavy storm that threatens to drown us. We have faced Covid, war, racial violence, environmental disasters and more. There has been so much fear, loss and change. Besides facing this collective trauma together, we also have a common human experience: our inner critic is frequently belittling or attacking us for the mistakes we have made, or dictating what we should, or have to do.
"You should be more careful, why did you make this stupid mistake?!"
For most of us, we are our own harshest critics. Our inner critics can be the voice of a punitive caregiver or authority figure. While facing both internal and external threats, we can feel anxious, depressed and confused on how to navigate to a state of safety and stability.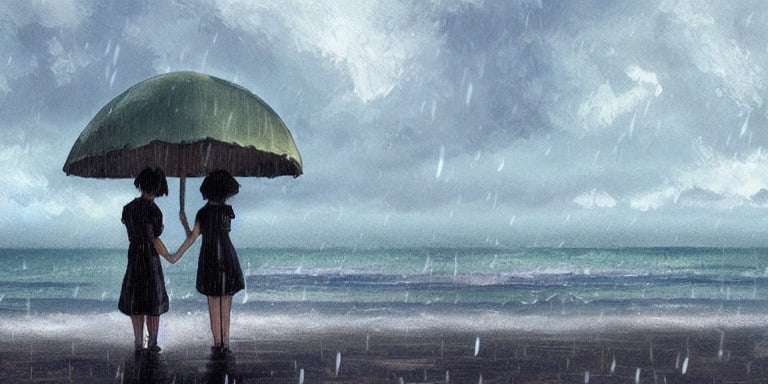 Navigating internal and external storms 
What if mindful self-compassion can anchor us during destabilising times to find the strength to go forward? There are more than 1000 published, peer-reviewed studies on impact of self-compassion in people's lives. This is what the data tell us: practicing simple, self-compassion techniques in daily life can:
– Increase our wellbeing, resilience, motivation and persistence
– Reduce our self-criticism, self-doubt and worry
– Improve our relationships with others
– Improve our relationship with ourselves
Here is a curated selection of research articles.
What is mindful self-compassion?
Let us illustrate it with a scenario: imagine your close friend has done poorly in a project that is really important to him/her. How would you respond to your friend? Now, consider if you have similarly done poorly in a project. How would you treat yourself? Do you notice any discrepancy between the way that you treat your friend and yourself in times of struggle?
Chances are you would be kinder to your friend. You might give them a hug and would support them. Research found that 78% of people are more compassionate towards others than themselves, only 6% are more compassionate to themselves than others, and 16% are about equal. This means that most of us are very hard on ourselves.
We usually encourage and motivate our friends in nourishing ways, with good intentions that they will achieve their goals. However, we tend to whip ourselves to reach our desired outcomes. If we have the same wish for ourselves and our friends to do well, can we similarly motivate ourselves with love instead of fear? In essence, Mindful self-compassion is the ability to be present in the face of life's challenges while supporting and motivating ourselves in the same way we would do for a friend: taking action to protect ourselves during a storm
What is the Mindful Self-Compassion course?
Self-compassion is a skill that can be learnt. The Mindful Self-Compassion course by Alliance Councelling is a cutting-edge, applied mindfulness course that will help us discover and tap into our powerful inner strengths. It empowers us to respond to the stresses and difficulties of our lives with a kind, engaged presence. The 8-session Mindful Self-Compassion course is scientifically-supported and based on the groundbreaking research of Kristin Nef and Christopher Germer. It is experiential and provides specific and practical skills for different contexts in daily life. You can think of them as exercises for your mindfulness and compassion muscles.
You can now access the Mindful Self-Compassion course online here from the comfort and convenience of your own home with two experienced guides who have made their own journey into self-compassion and helped many others to do the same. The next course begins in October 2022. As you navigate stormy situations in life, may you anchor yourself, go within to find out what you truly need and give yourself permission to access that. This may give you the strength, courage and wisdom to tide through the storms and go the distance.
Alliance Councelling has three locations in Singapore (two in Cluny Court and one in the Upper East Coast), and a team of 30 multilingual, multi-cultural counsellors and psychologists. Since 2009, they've provided counselling for children and families, teens, adults and couples. Methodologies include Gottman Method Couples Therapy, Marathon Couples Therapy, Sex Therapy, Pre-postnatal Therapy, Walk and Talk Therapy, mindfulness-based practices and psychological assessments. They also curate corporate employee assistance programmes and training workshops.
Register for the Mindful Self-Compassion course at admin@alliancecounselling.com.sg or +65 6466 8120 | alliancecounselling.com.sg | Discover more about Dr Karen Pooh here