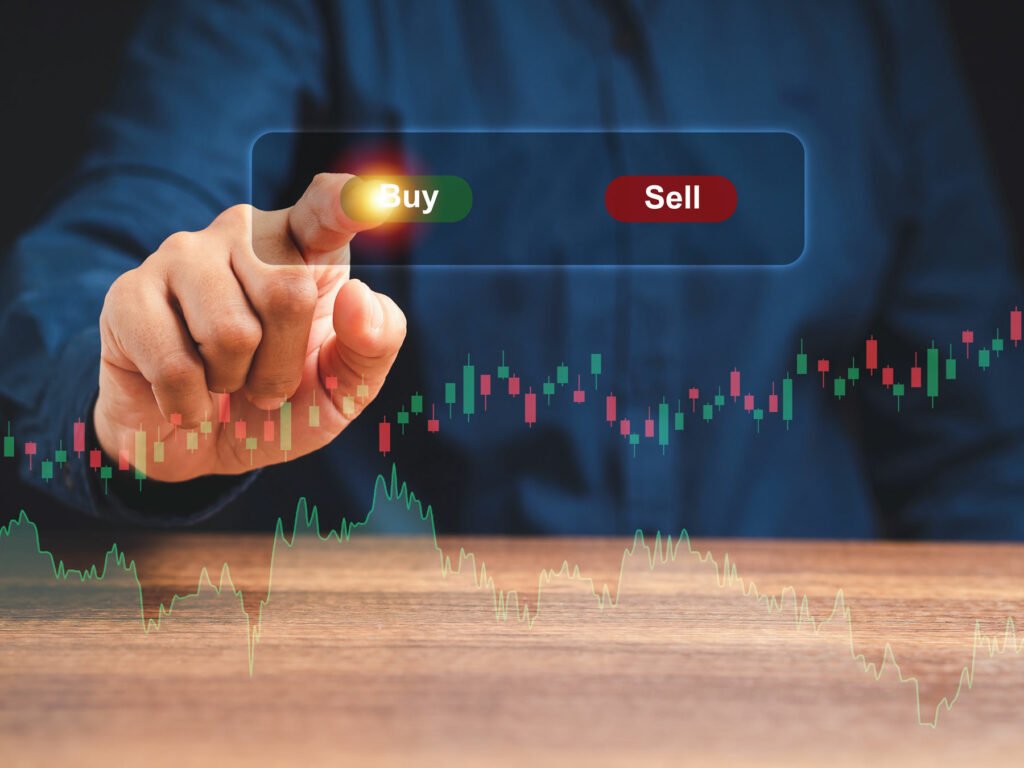 Almost everyone has heard the phrase "Buy Low, Sell High".  Yet studies tell us that in most circumstances we "Buy High, Sell Low". Why does this occur, and what hinders our ability to follow one simple rule? This diagram reveals where the emotion takes over from logic and affects our decisions.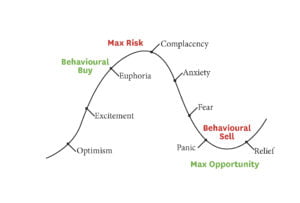 In the downturn at the end of 2018/2019, I had clients wanting to 'sell out now to cash'. The market was down and in the zone of  'Maximum Opportunity'. Some clients ignored the guidance, others saw the opportunity to add to their investments. The difference in their portfolios 12 months later was astonishing: the clients that had sold out were still on the side-lines, whilst the market was at an all-time high. 
Check your attitude to risk
If you've ever said "I'm adventurous" in a rising market and "I'm cautious" in a falling market, then you're neither. You're in between. It's vital you understand your tolerance for risk before you invest. Here's some points to bear in mind:
Turn off the news
Bad news and dramatic hype sells news stories. What happens today, tomorrow, or next week won't affect your goals. Turn off the noise when it comes to your investments. Your goals are about decades, not days, so watch the tide, not the waves!
Focus on what matters
People worry a lot about what they can control. Focus on what matters to you and be influenced by your behaviour. Forget the rest.

 

 

Avoid the doomsayers
Naysayers will wait for an eternity to say, "I told you so."

 

If you wait long enough, there will be a bear market, but in doing so you often miss out more from the returns of simply staying invested.

 

Emotional attachment
Our feelings can cause us to keep investments for longer than we should. An example can be shares in the company you work for. Fundamentally, you believe in the company, but you need to develop a strategy to manage your exposure. Exposure will cause emotions to conflict. By receiving new allocations every year, you'll still want the shares to rise in value. It's the de-risking and divesting that is so important.

 

Fear of loss
If you're holding on to an investment that, if you cleared all your holdings today, you wouldn't add to your portfolio tomorrow, why are you holding it? Loss aversion with investments means people are often too scared to crystalise a loss, even though the 'overnight rule' would suggest that the money could work harder elsewhere.
Our attitudes to risk may be different, but we each have inherent behavioural patterns that lead us to make similar investment mistakes. You won't always make perfect decisions, but what's important is to focus on your long-term goals. They will change too, and you need planning to allow for that.
It may be helpful to engage professionals who can focus on future outcomes, remove emotion from decision making, and build sensible plans that fit your goals and your appetite for risk.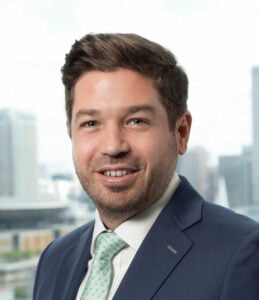 David Reynolds, Senior Partner at Select Investors, a Partner Practice of St. James's Place, works closely with and supports expatriates with their financial wellbeing, through integrated tax and wealth planning during their time in Singapore and beyond. 
The value of an investment with St. James's Place will be directly linked to the performance of the funds selected and may fall as well as rise. You may get back less than the amount invested. 
Contact David on david.reynolds@sjpp.asia or +65 9101 4814 to arrange a consultation and discuss your planning needs for your financial future.
The 'St. James's Place Partnership' and the titles 'Partner' and 'Partner Practice' are marketing terms used to describe St. James's Place representatives. Members of the St. James's Place Partnership in Singapore represent St. James's Place (Singapore) Private Limited, which is part of the St. James's Place Wealth Management Group, and it is regulated by the Monetary Authority of Singapore and is a member of the Investment Management Association of Singapore and Association of Financial Advisers (Singapore).Company Registration No. 200406398R. Capital Markets Services Licence No. CMS100851. St. James's Place Wealth Management Group Ltd Registered Office: St. James's Place House, 1 Tetbury Road, Cirencester, Gloucestershire, GL7 1FP, United Kingdom. Registered in England Number 02627518.