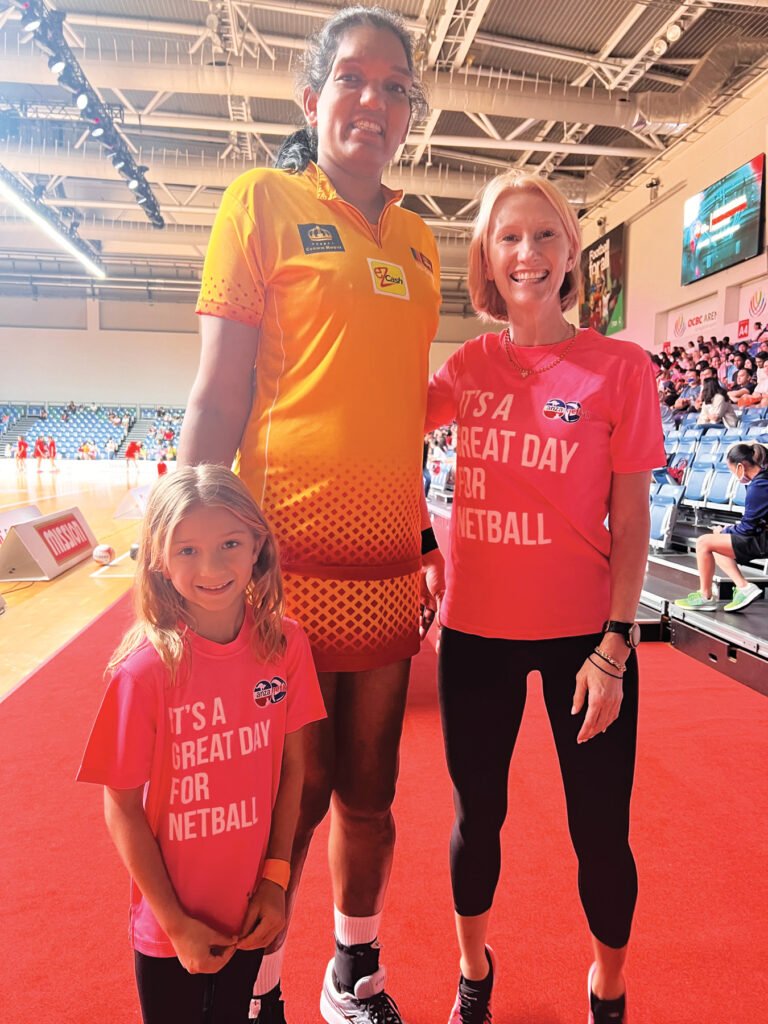 As a former international player representing Hong Kong for the last decade, and a member of various committees in the Hong Kong Cricket Club, Emma Bibby's experience is perfect for the ANZA Netball Committee. She has wasted no time getting involved, immediately jumping in as a volunteer coach, as well as organising a group excursion to the recent Asian Netball Championships in Singapore. During the tournament, Emma assisted with player photos and autographs as well as explaining on court strategies and tactics to some of the older girls who attended. It was an incredible experience for all players and parents who went along.
Hi Emma Bibby!
Don't just take our word for how great the Asian Netball Championships were – our newest arrival talks us through it.
"After relocating to Singapore a few months ago, I had the privilege of also joining the ANZA Netball Committee. What a pleasure it has been to become part of a community of dynamic, energetic and vibrant volunteers, coaches, players and supporters.
The Asian Netball Championships 2022 took place from 3 – 11 September. It runs every two years and is the region's most prestigious netball competition. For the first time ever, this year saw 11 teams fighting it out for the title, with the top two nations qualifying for the 2023 Netball World Cup in Cape Town, South Africa. Having been part of the Hong Kong squad for the past decade, and having competed in the Asian Championships myself, debuting in 2012 in Sri Lanka, I was delighted to take on the task of connecting the ANZA community with this event.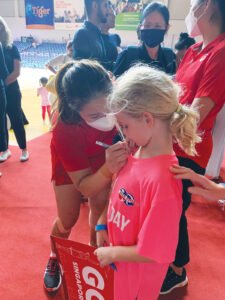 Energy & enthusiasm
The OCBC Arena at Singapore Sports Hub served as the ideal backdrop to sell-out crowds of budding sports fans cheering on their respective teams. As a professional runner in my youth, I'm very familiar with the energy and enthusiasm that elite sport can bring to a young athlete's journey, so I was super-motivated to acquaint ANZA players of all ages with this local competition.
Over the course of the week we witnessed some incredible games, especially over the finals weekend when the top four teams fought it out head-to-head. In the semi-finals, Singapore defeated regional rivals Malaysia 54 – 41, while Sri Lanka ran out winners by a 67 – 43 margin over Hong Kong. Lifted by a noisy 2,500-strong home crowd, the final saw Sri Lanka claim their sixth gold medal at the Asian Netball Championships, defending their title from 2018 and claiming victory over Singapore 63 – 53. Although Singapore didn't win on the day, their fighting spirit was commendable and for a young team they put up a consistent performance throughout the nine-day competition.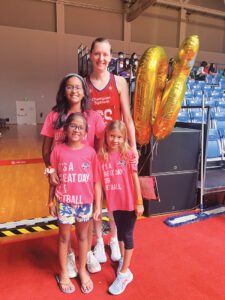 Successful shooter
I had the pleasure of speaking with Tharjini 'Genie' Sivalingma, from Sri Lanka. Towering at 208cm, Genie is the tallest player on the netball stage and  recognised as one of the most successful netball shooters of all time. I first played against her in 2012 and we wish her well in Melbourne as she joins the Victorian Netball League this season. 
ANZA Netball was fortunate to attend the Asian Netball Championships as part of the Schools Outreach Programme which gave 25 free tickets to our players. This was matched by ANZA Netball providing another 25 tickets for accompanying adults ensuring a large group of over 50 ANZA players and parents at the event. A big thank you to Netball Singapore for giving us the opportunity to 'be the voice behind the Singapore team.' With ANZA Netball wearing their stand-out pink 'It's a Great Day for Netball' t-shirts, we felt very well represented around the arena.
Lastly, a thank you must also go to all those who joined the ANZA fun. I hope the competition ignited your passion for sport, inspired you to keep pushing towards your dreams, and motivated you to set goals, work hard and enjoy your netball journey."