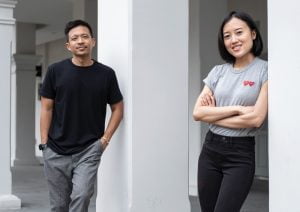 Salt & Palm is the creation of dynamic brother-sister duo, Chef Natasha Soetantyo and Mark Soetantyo. After winning over Sydney with its fresh interpretations of Indonesian cuisine, the inaugural Singapore outlet opened in March to take guests on a journey that navigates modernity and tradition. Chef Soetantyo's passion and willingness to explore new combinations without straying far from her deep-rooted Indonesian traditions is evident throughout the menu.
With a Coconut Mojito by our side, we begin with a trio of exquisite appetisers that set the tone for our culinary adventure. First came freshly shucked Amélie oysters complemented with tomato tamarind and basil kemangi pandan oil ($28). Next was the Potato Cake ($12), a playful interpretation of Indonesian perkedel, crowned with vegan mayo and seaweed-based caviar that was indistinguishable from the real thing. These tiny bombs of flavour were incredibly addictive and the table wanted an encore. Then we enjoyed Balinese-style Fish Cakes ($12) accompanied by a chicken skin tuille and a chilli lemongrass shallot salsa.
Our mains kicked off with the Prawn Bisque Pasta ($32), inspired by a North Sulawesi dish called woku. These succulent prawns are served in a briny broth highlighted by the star ingredient of Kemangi leaf. Our meal continued with the Porchetta ($32), Salt & Palm's take on the Balinese babi guling. The meat is first marinated with the traditional and unique basa genap spice blend before being cooked Italian-style, giving it a Western twist. The Porchetta was a favourite at our table and my personal winner.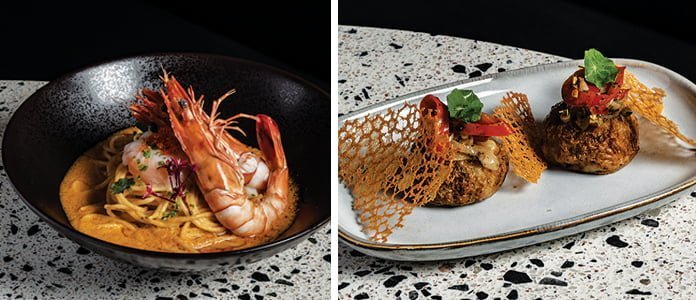 No Indonesian meal would be complete without rendang, and we were lucky to sample two exceptional versions. The first was the Mushroom Rendang ($20), a yummy rendition made with mushrooms and baby potatoes mixed in a slow-cooked rendang sauce and topped with toasted coconut flakes. The second, the Beef Short Ribs ($52), featured melt-in-your-mouth Australian beef ribs, slow-cooked in a savoury Indonesian-style rendang sauce and elegantly topped with toasted coconut flakes and coconut foam – every bite was packed with flavour. Both rendangs delivered the wow-factor, but as a meat eater, the ribs version edged only slightly over the non-meat rendang. Throughout the meal we tried organic and natural wines from a curated wine list that were a flawless match to our dishes.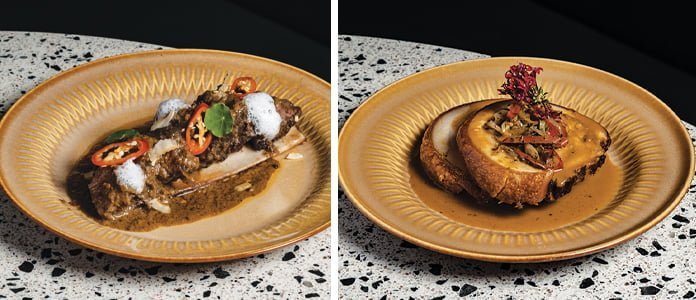 We wrapped up with two scrumptious desserts. The Pandan Coconut Crème Brûlée ($15) was egg and dairy-free, giving the French classic a modern Indonesian touch. The Pavlova ($18) is made with a plant-based meringue, crowned with plant-based mango and passionfruit cream, and embellished with mango, blueberry, grilled peach and coconut flakes.
Verdict: Salt & Palm offers amazing food and friendly, knowledgeable staff, all wrapped in a "Bali-esque" atmosphere. It's ideal for date night or dinner with friends or simply for cocktails and a bite. Be warned: the drinks and nibbles here can easily turn a casual outing into a full-blown, satisfying meal. If you're in the Joo Chiat area, put Salt & Palm at the top of your hitlist.
Salt & Palm
 467 Joo Chiat Rd, 427678
 saltnpalm.com.sg