Telunas Private Island, Indonesia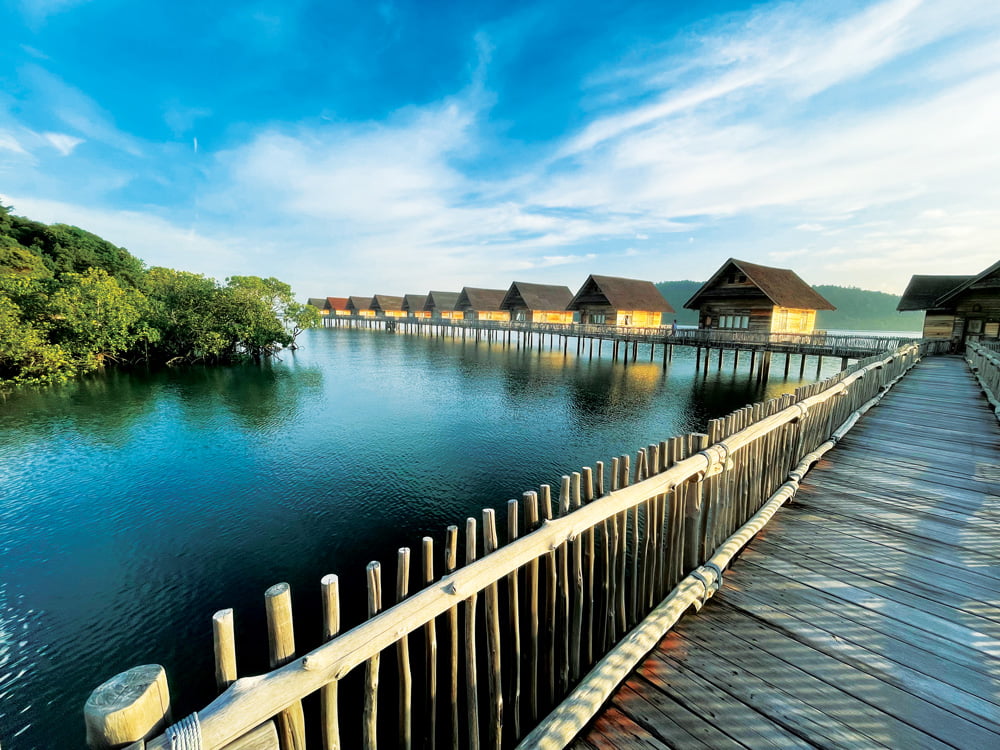 Whispers of the kids' club started circulating before we reached the island. The journey to this staycation from Singapore, which involves a boat from Harbourfront Ferry Terminal to Sekupang, Batam, followed by another boat from Sepkupang directly to Telunas (3-4 hours in all), involved murmurs of toys, swimming, and nature hunts. Rumours spread with such anticipation that it was hard to tell who was more excited: the children or parents.
Indeed, Telunas Private Island in Indonesia is an idyllic crowd-pleaser. It's Robinson Crusoe-esque with powder white sands, turquoise waters and chill beach vibe, but also offers plenty of back-to-basics activities for families, couples and singles from Singapore looking to unwind in paradise without boarding a flight.
Being a WiFi free zone, guests come here to switch off and/or reconnect – with themselves and each other. Couples can languish poolside, enjoy a spa treatment in one of the overwater 'villas', or dine-a-deux by the water. The kids' club is a gorgeous sandy space for those aged 5-12 years-old to play, create, and have fun. A babysitting service is also available if parents want time alone. Lots of cool sports are on tap including kayaking, SUP, fishing, badminton, darts and table tennis – just head to the 'sports shed' and they'll deck you out with equipment, life jackets and a smile. I found a hammock and spent several hours with a good book.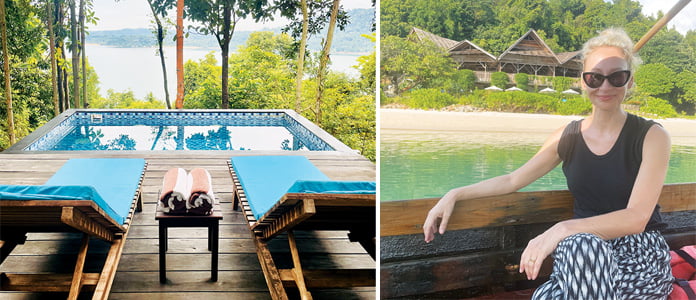 Telunas Resorts launched Telunas Beach Resort consisting of 40 overwater villas in 2004. We visited their sister property, Telunus Private Island Resort, which opened in 2014 within waving distance across the water to the beach resort. Here you'll find 15 shabby-chic overwater villas as well as five Ritz Villas which were completed in 2018 and are nestled high up in the rainforest. Warning: those with dicky tickers or dodgy knees would be wise to book an overwater stay. However, if you're the picture of health and it's ultimate privacy and lush, unadulterated greenery that gets you going, opt for a Ridge Villa. The path to reach them is a little steep, but your glutes will thank you for it.
The panorama itself is absolutely worth the trek. A beautiful villa with crisp white sheets, a separate living room/dining space, whopping outdoor bathroom, private pool and unparalleled sunrise vistas awaits. And the sounds of wilderness! I eschewed my iPods for the entirety of the trip to become fully immersed in an aural symphony of nature. Unfasten your mosquito net, open the sliding doors, and soak it all up.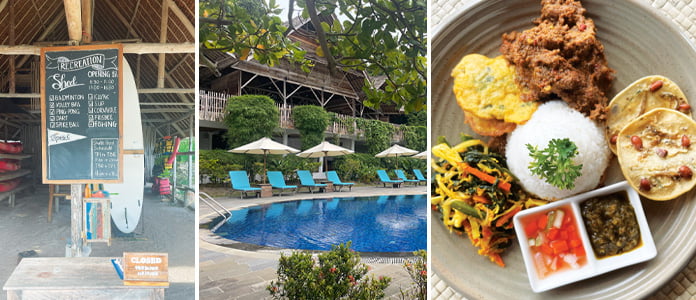 Come nightfall, the vibe is romantic with low lighting, stillness, and the occasional beach bonfire. Dining is a seamless affair as you order your forthcoming meals each morning and just wait for them to be served to you. Three courses come generously portioned and include the likes of beef and vegetable salad, traditional Indonesian Rijsttafel, and tangy lemon meringue tart.
For a post-dinner drink, a cute outdoor bar serves beer, wine and cocktails which you sip with your toes in the sand. However, most guests at Telunas Private Island were going for more retro styles of relaxation. Families were playing Scrabble. Two teenage sisters enjoyed a game of darts. Dads were reading actual printed books to their brood. It felt like the 1980s again: simple, peaceful, and thoroughly charming, which sums up Telunas Resorts perfectly.
 telunasresorts.com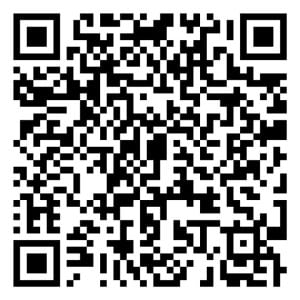 ANZA Travel Offer At Telunas Resorts!
Book a minimum 2-night stay at Telunas Beach Resort or Telunas Private Island and receive a complimentary 60-minute Spa Body Massage. Offer applicable for two adults. Please remember to state 'ANZA – Free Massage' under 'How Did You Find Us?' on the booking form to claim the offer. Offer is based on space availability and valid until 19 December 2023.
The Westin Singapore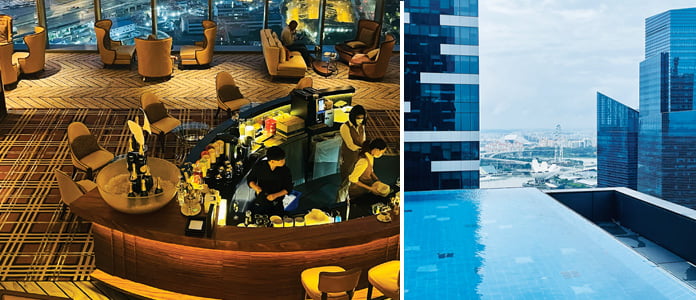 Escape from the city while in the city? It's totally possible with a staycation at The Westin Singapore. While it may sit pretty in Asia Square Tower 2 in the Marina Financial District, relaxation is practically instant as you're whisked from the hubbub and up to the 32nd floor for check-in.
Entering the reception area, enormous pendant lamps, marble floors, squishy suede daybeds and comfy lounge chairs set the scene before incredible views of the city's Southern shore. It's spacious, slick and super-luxurious. Depending on your package, you might be handed a glass of fizz as you confirm your stay, meaning that you feel quite giddy by the time you reach your room and it has nothing to do with the high altitude.
For a more business-focused hotel, The Westin Singapore does a remarkable job of promoting comfort, leisure and wellbeing. Rooms are huge with two double beds featuring plush Heavenly® Bed and White Tea Aloe toiletries to promote maximum sleep. A wellness menu is placed on the work desk extolling the importance of rest, healthful food and fitness as a reminder that life is about work and play. Massive picture windows overlooking the water bring your heart rate down (unless you don't like heights). Bathrooms come with giant bathtubs for the ultimate indulgence.
A unique touch is the option to exercise from your room thanks to the new WestinWORKOUT® Gear Lending Kit programme. As a bid to make training easily accessible, Westin's Sculpt & Follow Kit by Bala is a mini-gym-in-a-bag that you can get delivered to your room so you can keep fit in private while wearing your PJs (just us?). The kit comes complete with a yoga mat, resistance bands and bangle weights. Another lending option is the Recover & Recharge Kit by Hyperice – super-cool tech to massage achy muscles.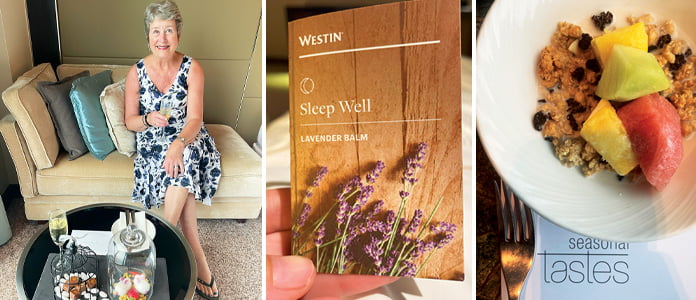 Alternatively, head to the 35th floor where you'll find a big gym and spa offering treatments from Heavenly Gemstone Journey to Couple's Rejuvenation. The outdoor infinity pool surrounded by chaise lounge and submerged sunbeds has to be one of the best hidden gems in the CBD. Swimming amongst the skyscrapers while trying to nosy into office windows in the distance felt gloriously decadent (and a bit naughty).
Of course, all this healthy living is going to make you hungry. Breakfast at The Westin Singapore is a smorgasbord of delights, including cereal and scrambled eggs, fried noodles and bao. Cook & Brew, the hotel's hip gastro bar offers delicious Asian-inspired dishes like Pad Thai, western favourites such as Fish & Chips and Guiness Braised Lamb, and stocks more than 100 varieties of beer. Meanwhile, come nightfall the Lobby Lounge transforms into a sophisticated hangout. Sip on a cocktail as a pianist tickles the ivories with some Frank Sinatra and Singapore's evening skyline puts on a gloriously twinkly performance around you.
12 Marina View, #2 Asia Square Tower, 018961. marriott.com
Tiny Away Escape, Lazarus Island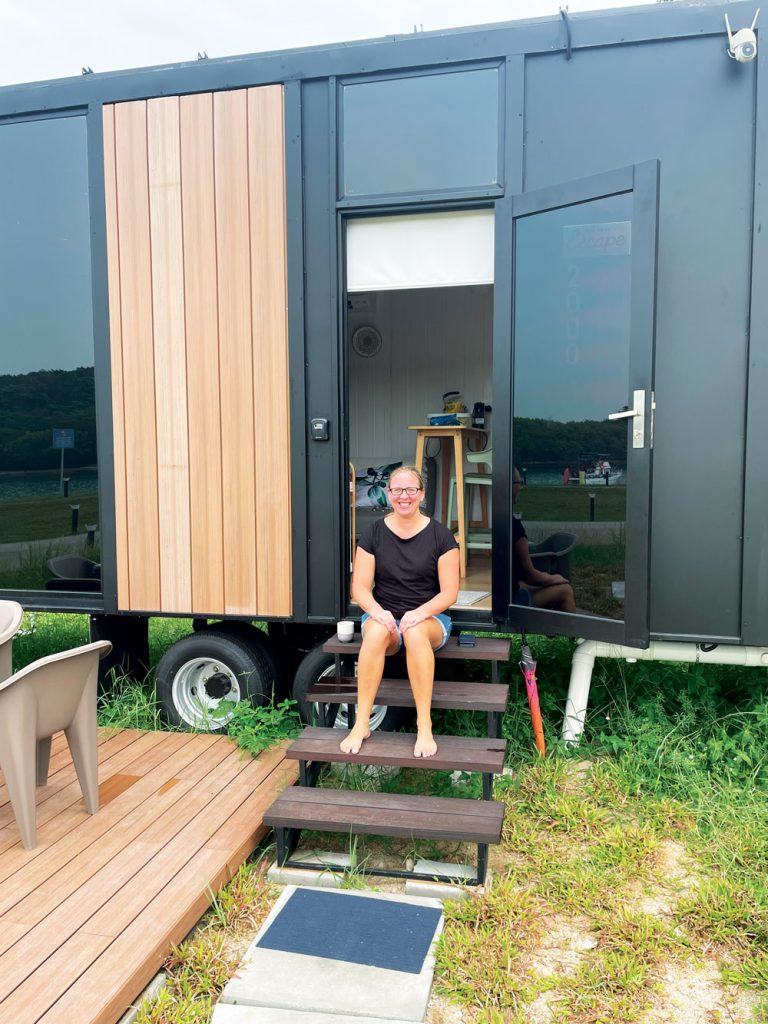 When it comes to travel, tiny has never been bigger. All the rage in Australia and New Zealand already, ecotourism start-up Big Tiny bring their delightfully diddy eco-accommodation to Singapore as part of a growing trend to simplify lives without sacrificing quality. As we took the 20-minute boat ride from Marina South Pier we had questions. How tiny is tiny? Will everything in the tiny house be tiny? Would we only get a tiny sleep?
From the outside, the five houses on Lazarus Island look like little containers on wheels with blacked-out windows, making what lies inside a total mystery. Unlocking the door was like opening a box of delights! Each house is designed with its own unique theme including
a colonial-era aesthetic, 1960s style, 1980s retro vibe, beachy chic and modern 2000s.
The bed was one of the most comfy I've ever slept in. The tiny 'living room' packs in a cushion-clad sofabed, footstools and a flatscreen TV (complete with Netflix). The dining table, which can accommodate a family of four, sits in the 'kitchen area' with a fridge, microwave, toaster, sink and cutlery-filled cupboards.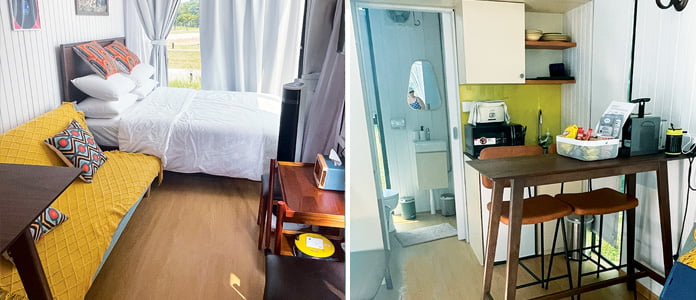 The bathroom won us over being bizarrely sizeable with a flush toilet, sink and strong shower. There's also storage facilities for bags, a hanging area for clothes, essentials such as blankets, torches, snacks, a hairdryer and – joy of joys – excellent aircon and WiFi.
So, what's missing? Nothing, apart from lots to do on Lazarus Island. Guests can hike, cycle (BYO bike), head to the beach, enjoy a picnic, fire up a portable BBQ and marvel over how near yet so far you feel from civilisation. More amenities and leisure activities are expected to be introduced, but for now this is not a place to visit if you get easily bored, are scared of the dark or dislike the great outdoors.
With no facilities on the island you're invited to bring your own food, drinks and sundries. Seeing as Big Tiny is not only a low-carbon and sustainable company with the welfare of the planet at heart, you're also asked to take your rubbish away with you. A lovely touch is that guests receive two microwavable meals per person per day which you can heat up in your kitchen and eat al fresco on the table outside your door.
After an evening dip, we cracked open our canned cocktails, arranged the nibbles, whacked the micro on for three minutes and had a gorgeous evening experiencing our very own Castaway island. For city dwellers looking for a unique escape away from the hustle and bustle, here's your spot.
 escapeatlazarus.com