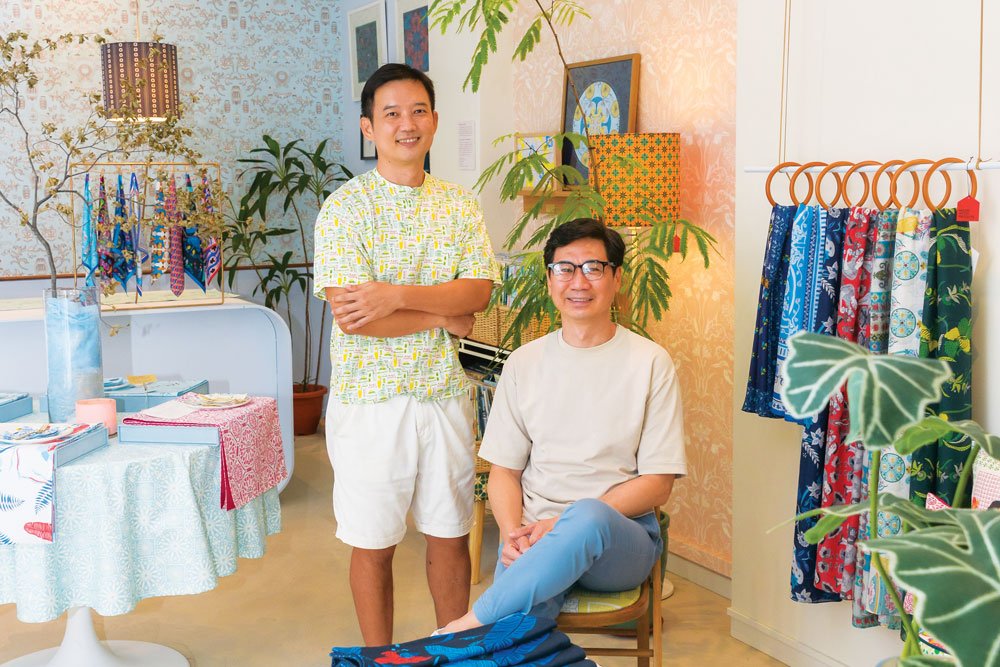 When Mike Tay and Eugene Yip moved to an old apartment in Tiong Bahru in 2003, they unexpectedly found themselves on the start of a design journey. Entranced by the surrounding architecture with art-deco influences and the options for authentic local food, Mike, a TV station sales manager at the time, took up photography to capture everyday encounters. Something of a new passion developed out of his curiosity, leading him to start experimenting with immortalising his pictures on posters.
Meanwhile Eugene, who ran a small advertising agency, was also inspired by his new environment. Interacting with local craftsmen and tradespeople while renovating their apartment deepened his interest in good design for homes.
Twenty years on, and with corporate jobs long gone, Mike and Eugene are the proud founders and owners of Onlewo, an interior design company that you're already likely to be familiar with, but perhaps don't realise it. Onlewo (which means 'peaceful, happy nest' in Cantonese) was conceived in 2015. The name works, Mike says, because "that is what I hope my design journey will bring to me and what my designs will bring to people's homes."
Today they stock over 30 products including home décor, gifts, and lifestyle and fashion accessories, with more exciting projects in the pipeline. Their beautiful pieces have become synonymous with Singapore. We chat to Mike about doing a job pivot, his thought process, and why feeling rather than thinking can often create magic.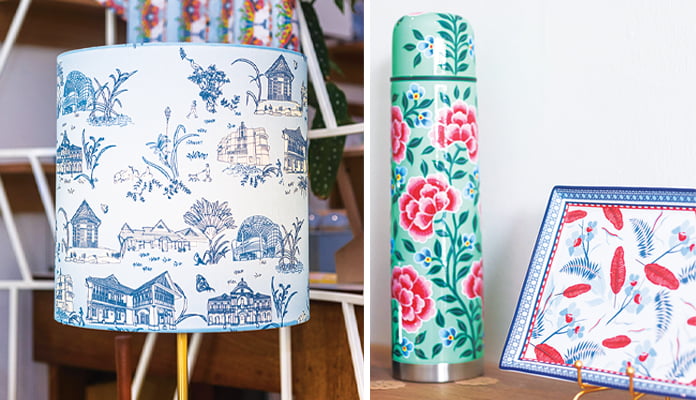 Onlewo is such an identifiable brand in Singapore. How have your products evolved?
Onlewo started with just posters. When we discovered more production partners, our products grew quickly and often; we also introduce new products because customers ask us to, and not all are produced or displayed. To choose one favourite piece is really tough!
How often do you introduce a new piece?
It depends. We juggle commissioned projects and other activities between the two of us. On average, I create one to two new prints per quarter, plus a variety of colourways for each print. Colour seems easy, but creating layered and tasteful colourways takes a good amount of time. We've just added a full-time seamstress to our team so now we're focusing on fabric for new apparel and gifting. Two exciting new products are our bone china tray and Singapore Journal which will have a cool Singapore spin to the pages!
Please talk us through your design process …
I don't start with much intention when designing as I'm guided more by feelings. When I start designing, I tend to wander, and I allow myself to. Through doing this, I often discover perspectives and layers that add sparks to the combination of colours and forms. Perhaps as self-taught designers, we design with a lot less of a pre-defined processes, be it for pattern, product, furniture or interior design. We feel our way rather than think our way through. Usually, I create the pattern first and then apply it on fabric, wallpaper, or other materials as we feel good about.
What inspires your work?
I look to nature which is very generous for both inspiration and my soul. Nestling in nature, I feel rooted again while at the same time, free. My mind clears up, my inner voice grows more audible, and my story becomes more distinctive. That's perhaps the only process I can describe as after that, my designing becomes just a matter of letting my heart flow.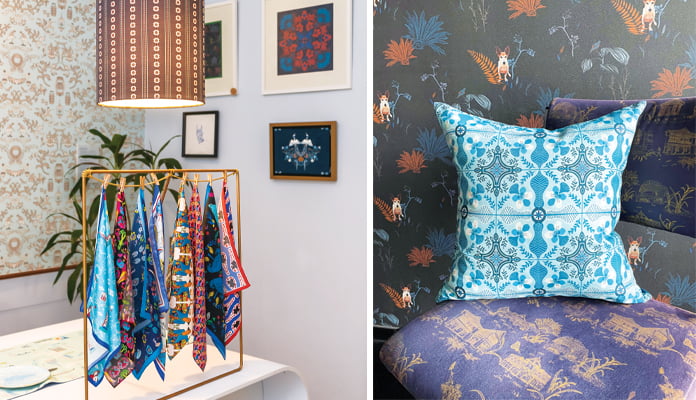 Tell us the story behind some of your pieces …
'Peranakania' was created when I was missing my mum. She is strong and yet tender, somewhat matriarchal, and like a friend to me. On an evening walk, I was reminiscing about how Mum was so in charge of life and yet displayed fragility. The creation of 'Peranakania' is a process that weaved together nostalgia, love and admiration of this special person who strived simply to be the best mother she could be.
You also weave elements together in surprising ways …
'Orchid Legacy' is another deeply satisfying design where I injected Peranakan tiles within orchids. Both are well known, well-loved and common Singapore elements. Orchids are such an apt representation of Singapore as they can thrive beautifully despite not having deep roots in natural resources. To me, fusing orchids with Peranakan tiles is a celebration of Singapore's natural and human heritage at a simple level. At a deeper level, it's an expression of how elegantly this city has been crafted and how nature has rewarded the effort.
We love how some of your Singapore elements are more playful …
Yes, 'Our Peranakan Town' print and my way of seeing Katong and Joo Chiat is an example of this. I expressed the Peranakan-ness and quirkiness of this charming district through motifs found on old building facades. However, as I live, eat, shop and work in this area too, there's a realness or relevance in this pattern to me and to many other fellow Easties. The liveliness of the neighborhood offers a lot of suggestions of modern life, which is why I blended in images of a yoga lady and a skateboarder to express that mix of heritage and modernity.
How do you and Eugene divide up your roles?
Most things fall naturally into place. We are each drawn towards different interests and that helps determine roles to large extent. My flair in pattern design puts me in the drivers' seat for creative output. Eugene is keen on business thinking, so he takes on that side of the work. Our dog Mei Mei is a bundle of joy, and she fits her 'customer happiness' role to a T!
Onlewo has collaborated with some impressive brands. Which are you most proud of?
Our recent works with Bvlgari, Patek Philippe and the Republic of Singapore Navy are very memorable. We designed highly customised patterns to tell the stories and created bespoke gifts for their VVIPs. The pattern for Bvlgari is infused with Bvlgari jewelry from 'Diva's Dream', 'Serpenti', 'Lady Rubellite,' 'Divine Palm' and our 'Wonder Peacock' series and arranged into a motif with a tinge of Peranakan flavour. For Patek Philippe, we rendered the national flowers of six countries within a garden cluster and expressed the pattern on velvet fabric covering a wooden mahjong chest. For the Singapore Navy, we created a bone china plate design that emulated Singapore's peace and prosperity, as well as the resilient and expansive friendship Singapore enjoys with other countries.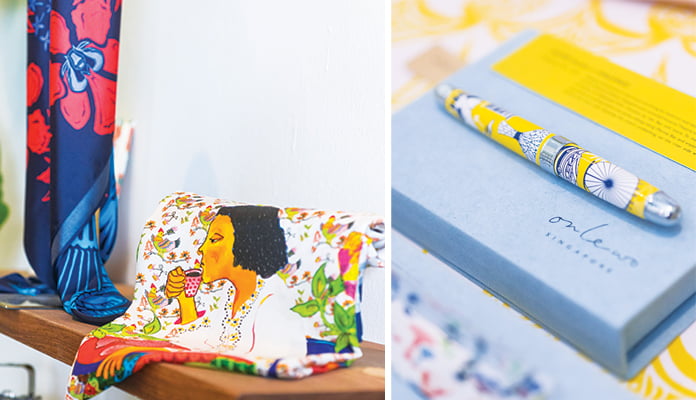 How do these partnerships come about?
Opportunities to work with these very admired brands happened because of referrals. Someone telling someone about Onlewo has always been the way we've grown, especially in the last six years, not only at a retail level but also at a corporate level. We're so very thankful that many customers generously share about us to their friends. This very privileged and powerful marketing channel is a godsend.
Who would you most love to collaborate with?
ASICS, because I enjoy tennis and their shoes fit very well for Asians. Also, Onitsuka Tiger. Their shoes are light, easy to wear with no laces, come in great colours, and I'm a big fan.
What are your hopes for Onlewo in the future?
To cultivate our design DNA further and open shops in places like Kyoto and Bali. The joy of discovering heritage, engaging with local craftsmen, learning from another culture and exploring new design expressions is a privilege we hope to have. We want Onlewo to always be a brand with provenance, so heritage and culture will forever remain at the heart of the stories we love to tell through patterns. Immersing ourselves in soulful new landscapes will be humbling, refining and rewarding, and it will still be curiosity that takes us there.
What would you recommend first-time buyers to Onlewo look out for?
Come visit us at our store in Joo Chiat and discover the spirit of Peranakan through sampling the foods, visiting the private museum, discovering the charm of shophouses and picking up something for your home from our range of Peranakan-inspired runners, cushion covers and plates. Specifically, our linen cotton notebook is nice to hold, the fabric cover is reuseable, and it will last a long time.
Visit the Onlewo store at 17 Joo Chiat Place, 427747
 onlewo.com   instagram/onlewo.com facebook.com/onlewo 8100 9800