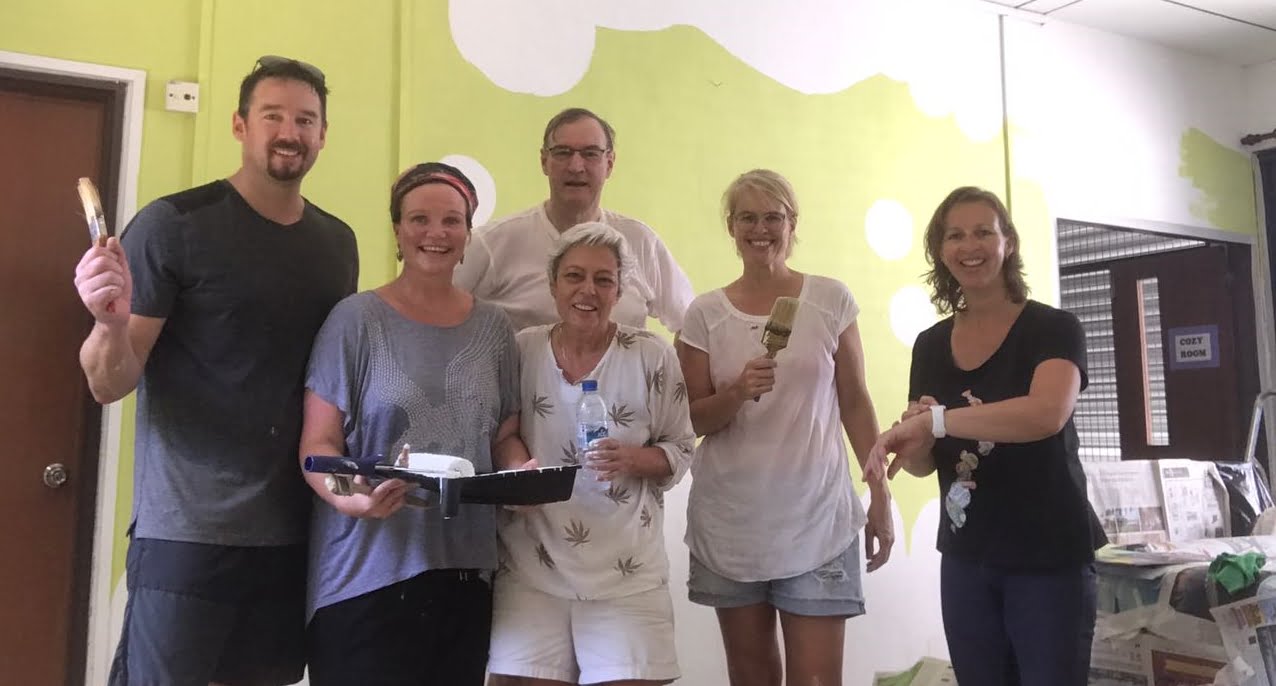 ANZA Action is the community affairs arm for ANZA in Singapore. We support charities in Singapore through fundraising and volunteering activities. Involvement in ANZA Action is a way of giving back to our adopted communities as well as experiencing a different side of life here in Singapore.
Upcoming events in support of our charity partners, get involved!
New2U Biannual Bazaar

–

 2

3 & 24 November 10:00am to 4:00pm
Sentosa Cove Carnival – Cycling without Age will be attempting to break a record by bringing 120 seniors to Sentosa for trishaw rides –

 15 & 16 November 
We need you!  Hot off the press volunteering opportunities:
Singapore Council of Women's Organisations:
iC2 Prephouse. Care giving and guiding. Since inception in 2012, iC2 Prephousehas provided professional advice and structured programmes for children with visual impairments, including low vision. They have volunteering opportunity to provide care giving and guiding for a student who is 3+ years old. Training and more details will be provided to you by our vision teacher. Schedule: 2 to 3 mornings on weekly basis | Duration: 3 hours (approx) | Location: Jurong West
Star Shelter Babysitters.  This is a regular volunteering opportunity babysitting for children whose mothers are victims of violence.  Hours are 7pm-9.30pm on your chosen weeknight
Museum Sitter.  This role is required to volunteer at the National Museum of Singapore during The Singapore Women's Hall of Fame exhibition 2 November to 19 January.  Over the course of the 3 months you would required to do 10 half day shifts with the main tasks for facilitating and tending to the museum exhibition
New2U Biannual Bazaar.  There are a number of roles such as shop assistants, packers, security, ushers etc on 23 and 25 November from 10am to 4pm for this busy event
Salvation Army:
Family Support Services. Help with food delivery to the elderly in HDB accommodation. This is located at Tiong Bahru and you would be rostered on once or twice a month on a Monday or a Tuesday
Tanglin Donation Centre.  This is an opportunity to help with pack and sorting of donated items, normally 3 hour sessions available on weekdays and Saturdays
Life we know.  Entertaining and befriending programme at Peacehaven Nursing Home in Changi – weekday mornings.
Dress for Success:
Creative Designer needed for designing eDM's, flyers and marketing materials
Board members x2 required, one person with an accounts background and a second person with a passion for fundraising and event management
Aidha:
Mentors required to teach Foreign Domestic Workers financial management and confidence skills.  The next volunteer orientation is on the 22nd of September
Riding for the Disabled:
Sidewalkers required for the next 10 week programme.  Training will run from 9 to 15 September
Ronald McDonald House Charity:
RMHC has roles available in the family room or on their Happy Wheels Cart.  Volunteers tend to carry out shifts at least twice a month of 4 hours each, morning, afternoon or evening on both weekdays or weekends
See below for more information on our partner charities, and please contact Suzanna at anzaaction@anza.org.sg for more information.
Our charity partners and their ongoing volunteer needs
Babes
Babes Singapore is a support group for pregnant teenagers in Singapore who, for various reasons, do not have the support of their family. They provide information and support without judgement to a vulnerable group.  Babes currently require babysitters to care for children whilst their mothers are attending workshops.  
Dress for Success
This worldwide charity supports low-income women to get back into the workforce or upskill. There are many ways that you can get involved from sorting and altering clothes, styling and helping with interview techniques, providing social media and office support. Dress for Success are currently looking for stylists and also rely on pro bono volunteers for their specialist areas.  Currently they would greatly benefit from volunteers who can provide pro bono work/advice in fundraising and graphic design.  For more information email anzaaction@anza.org.sg
Aidha
Aidha provides financial literacy and self-improvement classes for Foreign Domestic Workers here in Singapore, with the aim of helping them to set up businesses or make investments in their home countries. Opportunities to volunteer are either in the Head Office providing admin support on a week day, or mentoring, teaching at the classes on a Sunday.  The first step is to attend an orientation session. For more information see their website www.aidha.org or email anzaaction@anza.org.sg
New2U Thrift Shop
This thrift shop supports the Star Shelter for Women. ANZA members volunteer here selling in the thrift shop and sorting clothes. Please email volunteer@scwo.org.sg and see their website for more information at http://www.scwo.org.sg/.  They require volunteers Monday – Friday from 1030am  – 230 pm. New2U is located in Waterloo St.
Riding For The Disabled
The RDA Singapore are always ready to welcome new volunteers to help with the horse-riding therapy sessions the provide to those with disabilities. No experience is needed as full training will be provided. There are both morning and afternoon volunteering opportunities. To find out more or apply, please email volunteer@rdasingapore.org.sg or visit their website http://rdasingapore.org/
Salvation Army
ANZA members help with food delivery to the elderly in HDB accommodation. This is located at Tiong Bahru and you would be rostered on once or twice a month on a Monday or a Tuesday. Please email anzaaction@anza.org.sg if this interests you.
Ronald Mcdonald House
RMH is located at the National University Hospital, Kent Ridge. It is a small facility supporting the Paediatric ICU.  ANZA members staff the front desk here, either in the House or the Family room. Shifts are from 9am–1pm, and 1–5 pm. Duties involve answering the phone, taking deliveries.  RMHC is also launching a new food cart which will service the children's wards at National University Hospital and this will be volunteer led. Please email anzaaction@anza.org.sg  or see http://rmhc.org.sg/ if this interests you.
Singapore Cancer Society
The Singapore Cancer Society provide a holistic service from prevention and screening to wrap around services for cancer patients and their families.  SCS are always looking for drivers to take people to chemotherapy or radiotherapy weekday appointments. If you have a car and can spare 1-2 hours once a month or so then please email anzaaction@anza.org.sg.  SCS are currently testing some new services which will be volunteer led.  If this is an organisation that you would like to contribute to please get in touch.
Cycling Without Age
Cycling Without Age are looking for volunteer 'pilots' to take elderly Singaporeans on rickshaw rides around the parks of Singapore. See http://cyclingwithoutage.sg/ or email anzaaction@anza.org.sg to be put in touch with this charity.
IC2 Prephouse
IC2 Prephouse is a welfare organization working with children with low or no vision. We will provide updates our Facebook page when volunteering opportunities come up with IC2 Prephouse.
Melrose Home
Melrose Home is a children's home located in Clementi.  We will provide updates our Facebook page when volunteering opportunities come up with Melrose Home.  For more information on Melrose Children's Home please see http://www.childrensaidsociety.org.sg/
Project Dignity
Project Dignity is a social enterprise providing vocational training and employment services to specially abled Singaporeans.  You can help Project Dignity by using their catering services, engaging in their corporate team building days or undertaking their cooking courses,  See https://projectdignity.sg/about-us/ or contact ANZA action for more information.
ANZA Knitters
Singapore Cancer Society have a knitting programme to knit caps for chemotherapy patients. The caps go to the public hospitals and are a comfort to those undergoing chemo for the first time.  The knitters also knit for Babes, and other good causes. They meet at the ANZA office on the 3rd Friday of every month. Please email anzaaction@anza.org.sg to be "hooked up" with the knitters.
ANZA Office and Busy Bees
The office is always looking for help, especially around big events such as Melbourne Cup, the ANZA Ball, etc – Please email info@anza.org.sg or events@anza.org.sg
ANZA Action Committee
The committee oversees everything that ANZA Action does. It reviews the charities that we support, and will coordinate and run events that fundraise for charities. It is a volunteer portal for both ANZA charities and other charities in the community.  If you would like to be involved, please get in touch.
To find out more about our charities partners and the most up to date opportunities to engage with them we invite you to contact Suzanna at: anzaaction@anza.org.sg and join our Facebook page.