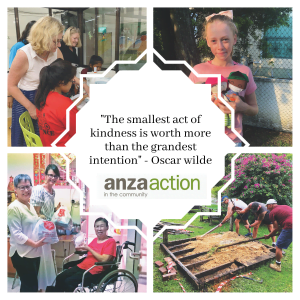 ANZA Action is the community affairs arm for ANZA in Singapore. We support charities in Singapore through fundraising and volunteering activities. Involvement in ANZA Action is a way of giving back to our adopted communities as well as experiencing a different side of life here in Singapore.
Our charity partners and their ongoing volunteer needs:
Gadgets4Good by ANZA Action
Don't just leave your old technology languishing in a drawer or cupboard – donate your old devices for a good cause!
GADGETS4good want your old phones, iPads and laptops. After ensuring that they are free of personal information and are still in reasonable working order, they will be distributed to our valued partner organisations such as:
– Migrant Workers in lockdown via TWC2
– Babes Pregnancy Crisis Support
– Melrose Home
Recycling your technology is both socially positive and a better outcome for the environment and there are many people who would be very grateful so please get in touch today. Call the anza office ph:6291 6301 or email info@anza.org.sg
Babes Singapore
Babes Singapore is a support group for pregnant teenagers in Singapore who, for various reasons, do not have the support of their family. They provide information and support without judgement to a vulnerable group.  
If you would like to volunteer please go to their website http://babes.org.sg/volunteering/ and complete their volunteer sign up form 
Dress for Success
This worldwide charity supports low-income women to get back into the workforce or upskill. There are many ways that you can get involved from sorting and altering clothes, styling and helping with interview techniques, providing social media and office support. Dress for Success are currently looking for stylists and also rely on pro bono volunteers for their specialist areas.  Currently they would greatly benefit from volunteers who can provide pro bono work/advice in fundraising and graphic design.  
Please visit the Dress for Success website to sign up https://singapore.dressforsuccess.org/get-involved/volunteer/
Aidha
Aidha provides financial literacy and self-improvement classes for Foreign Domestic Workers here in Singapore, with the aim of helping them to set up businesses or make investments in their home countries. Opportunities to volunteer are either in the Head Office providing admin support on a week day, or mentoring, teaching at the classes on a Sunday.  The first step is to attend an orientation session. 
For more information see their website https://www.aidha.org/get-involved/volunteer/
New2U Thrift Shop
This thrift shop supports the Star Shelter for Women. ANZA members volunteer here selling in the thrift shop and sorting clothes. 
Please email volunteer@scwo.org.sg and see their website for more information at http://www.scwo.org.sg
Riding For The Disabled
The RDA Singapore are always ready to welcome new volunteers to help with the horse-riding therapy sessions the provide to those with disabilities. No experience is needed as full training will be provided. There are both morning and afternoon volunteering opportunities. 
To find out more or apply, please email volunteer@rdasingapore.org.sg or visit their website http://rdasingapore.org/
Salvation Army
ANZA members help with food delivery to the elderly in HDB accommodation. This is located at Tiong Bahru and you would be rostered on once or twice a month on a Monday or a Tuesday. For more information and to sign up please contact wong.lee.chin@smm.salvationarmy.org
Ronald McDonald House
RMH is located at the National University Hospital, Kent Ridge. It is a small facility supporting the Paediatric ICU.  ANZA members staff the front desk here, either in the House or the Family room. Shifts are from 9am–1pm, and 1–5 pm. Duties involve answering the phone, taking deliveries.  RMHC is also launching a new food cart which will service the children's wards at National University Hospital and this will be volunteer led. 
To apply please contact Esther.Toh@rmhc.org.sg or see http://rmhc.org.sg/index.php/get-involved/ if this interests you.
Singapore Cancer Society
The Singapore Cancer Society provide a holistic service from prevention and screening to wrap around services for cancer patients and their families.  SCS are always looking for drivers to take people to chemotherapy or radiotherapy weekday appointments. To find out more about available opportunities at SCS please contact clara_lick@singaporecancersociety.org.sg
Cycling Without Age
Cycling Without Age are looking for volunteer 'pilots' to take elderly Singaporeans on rickshaw rides around the parks of Singapore. To volunteer you can go to https://cyclingwithoutage.sg/volunteer/ and fill out their sign up form.
IC2 Prephouse
IC2 Prephouse is a welfare organization working with children with low or no vision. We will provide updates our Facebook page when volunteering opportunities come up with IC2 Prephouse.
Melrose Home
Melrose Home is a children's home located in Clementi.  We will provide updates our Facebook page when volunteering opportunities come up with Melrose Home.  For more information on Melrose Children's Home please see http://www.childrensaidsociety.org.sg/
Project Dignity
Project Dignity is a social enterprise providing vocational training and employment services to specially abled Singaporeans.  You can help Project Dignity by using their catering services, engaging in their corporate team building days or undertaking their cooking courses,  See https://projectdignity.sg/about-us
ANZA Knitters
Singapore Cancer Society have a knitting programme to knit caps for chemotherapy patients. The caps go to the public hospitals and are a comfort to those undergoing chemo for the first time.  The knitters also knit for Babes, and other good causes. They meet at the ANZA office on the 3rd Friday of every month. 
Please email. Info@anza.org.sg to be "hooked up" with the knitters.
ANZA Office and Busy Bees
The office is always looking for help, especially around big events such as the Melbourne Cup and the ANZA Ball.
Please email info@anza.org.sg or events@anza.org.sg 
ANZA Action Committee
The committee oversees everything that ANZA Action does. It reviews the charities that we support, and will coordinate and run events that fundraise for charities. It is a volunteer portal for both ANZA charities and other charities in the community.  If you would like to be involved, please get in touch.
To find out more about our charity partners and the most up to date opportunities to engage with them we invite you to contact anzaaction@anza.org.sg  and join our Facebook page.