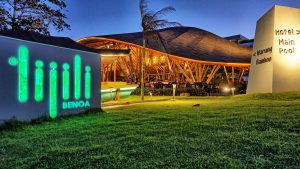 When you need the perfect peaceful and tranquil getaway, choose Tijili Hotel Benoa. Offering the best of both worlds we are conveniently located close to the airport with direct access to the beach while still offering a laid back holiday atmosphere away from all the bustle of city life, which makes this hotel the perfect destination for a family, solo traveler or couple.
Tijili Hotel Benoa offers a variety of 270 rooms, from overlooking the ocean, to a greenery courtyard, to pool access for a swim or a choice of interconnecting rooms for your retreat with your family.
Tanjung Benoa is also well known for water sports activities and Tijili Hotel Benoa offers a huge variety of water sports from Jet Ski's to a limitless choice of water-based activities. Take part in outdoor activities and have fun.
Bookings to be made directly with hotel.
Offer valid from 1 January to 31 December 2020.
10% Discount on website prices when booking a minimum 2 night stay.