Sometimes getting help comes from unlikely sources. Sometimes it's not from the words of doctors, but from the silent understand of our furrier friends. Charley Larcombe meets some very special therapists.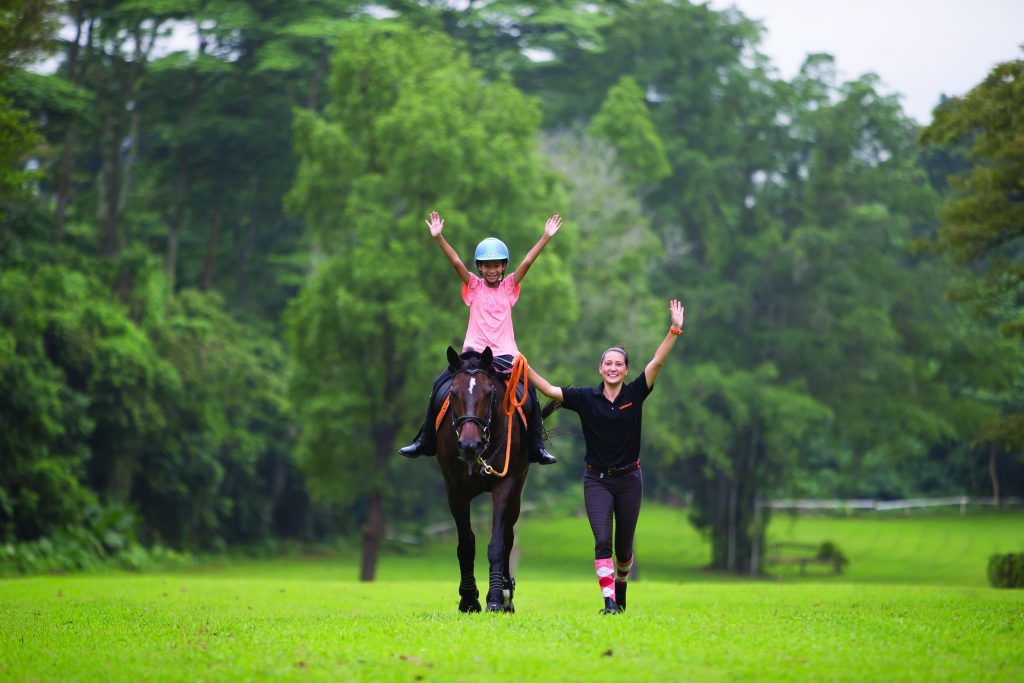 THERIS
Jesse Ihrcke Dorsey, Founder of THERIS, combines her degree in Psychology and Counselling with her diploma in Equine-Assisted Therapy.
Describe the work of THERIS
THERIS (Therapeutic & Educational Riding in Singapore) specialises in equine-assisted therapy programmes for children with special needs. In particular we work with children dealing with cerebral palsy, multiple sclerosis, autism and Down syndrome, as well as depression, attention deficit and anxiety.
People benefit hugely from equine-assisted therapy – for example horses are a mirror of you and will reflect how you behave so you can strike up an incredible kinship with a horse; often more so, than with any other animal. A dog will blindly adore you, cats can be nonchalant, but you have to build a relationship with a horse. It is incredibly rewarding. Also, from a physical aspect, the movement of the horse is similar to ours so that hip rotation walk is physically and emotionally calming.
Our therapy sessions involve Desiree (Desi), a former showjumper who has found her true calling and takes great pride in her work. She changes her manner depending on the child; gentle with someone who needs calming; being a little firmer with those who need some structure or need to lower their guard. She is the perfect therapy horse!
What sets THERIS out from the work of other therapies?
We fortunately offer one-on-one sessions, meaning we can spend quality time and individually assess the child's needs and their progress. Our approach is therapy without the child really realising its therapy. Apart from the physical, we look at the psychological and the emotional whilst working with Desi so it feels relaxed.
We start by grooming and tacking up, before the riding session and then tend to ride out in the surrounding area where the kids have so much to see. We often do small tasks and games that not only help with concentration, attention or learning deficiencies but can also help with physical strengths and core issues which often go hand-in-hand. We try to focus on their ability, what they can do, as opposed to their disability.
What sort of cases are you seeing a rise in?
I have seen a huge rise in kids with social and emotional issues like anxiety, stress and depression which were not so common when I first started out in this. These are so crippling for their social capabilities that they don't want to go to school, can't cope with the pressure of friends and have such a lack of self-worth. It can be heart-breaking seeing these things in anyone, let alone children.
These kids often say they want to be like Desi. They want to be strong and calm like her and so we work on how they can do that. How that if they ride more, they can get physically stronger, how they can rely on her to help them emotionally, how learning how to move around Desi and how she behaves makes them just know more and feel more confident. Desi does all of this; I feel I'm just there to facilitate and put into words, but Desi is the one that helps them.
www.theris.com.sg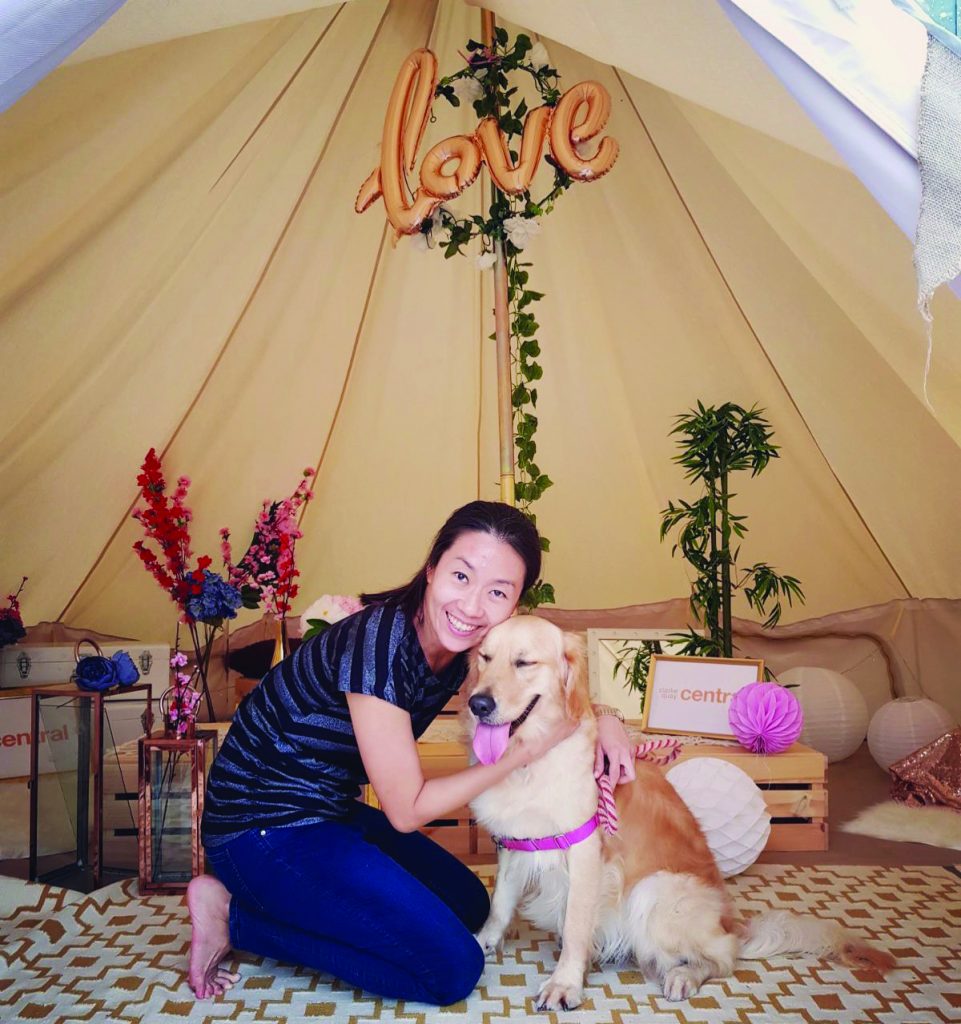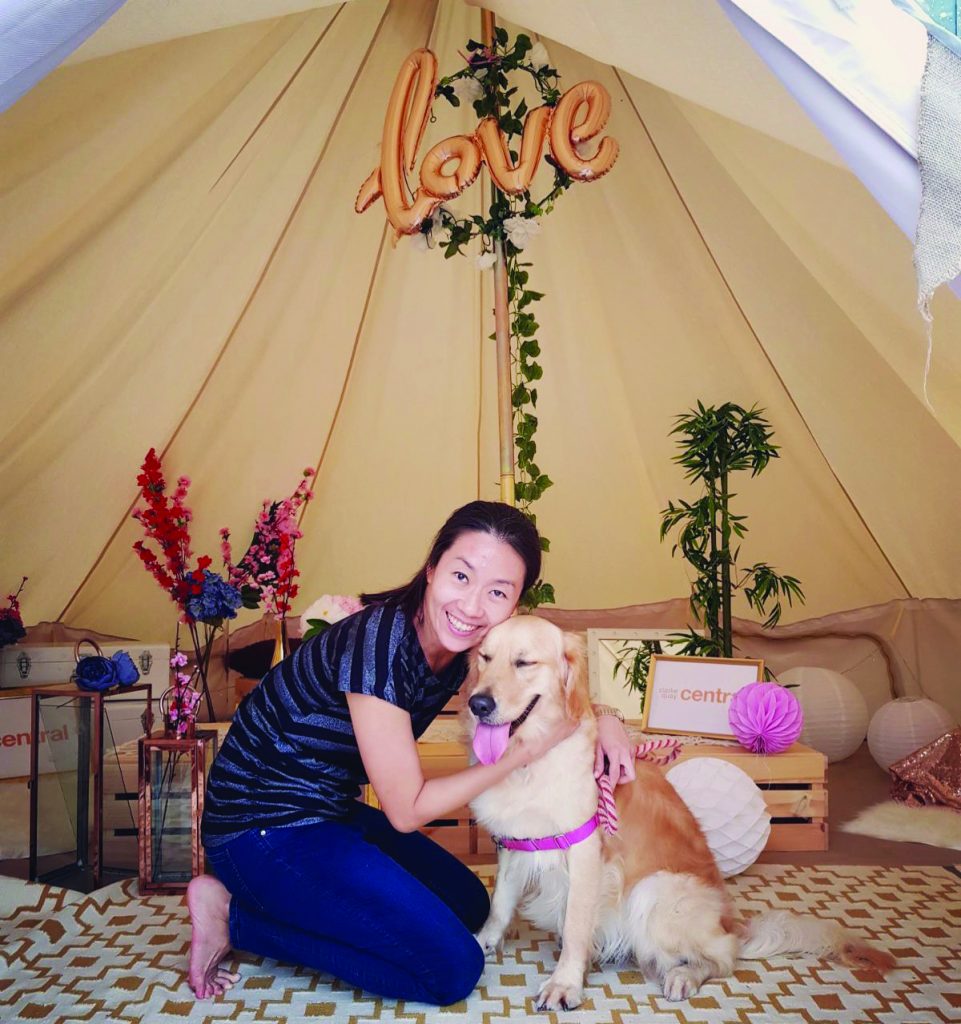 Pawsibility
Maureen Huang and her "co-therapist" Retrievers, Telly and Hope explain the benefits of working with animals.
Describe the work of Pawsibility
Simply having one of the dogs there in the session helps to relax and soothe the person, whether it's a child or an adult. Talking about or working through problems when Telly is being quietly patted and stroked feels more like chatting with a friend, than spilling your secrets to a stranger. The presence of a therapy dog has been proven to lower blood pressure and heart rate so therefore reduce stress.
We also play games and do exercises involving the dog that work on the person learning to be kind or compassionate, or cope with their frustration and anger. Working with the dogs is like a living example of what happens when you react a certain way.
Who do you help?
We work with both children and adults facing a range of issues, from anxiety and stress, to impulse control and coping with special needs or learning difficulties. We even do workshops with schools around Singapore simply to work on socio-emotional skills – being better at dealing with your emotions can only be a good thing, right?
Both dogs have different personalities, which help different people. For example Telly, is my wonder dog. She has been doing this for a long time and nothing fazes her; she can do any exercise and will happily jump over poles or run through tunnels, play catch with a person or simply lie there and be a shoulder to cry on. Hope is young, still learning and struggles to fit into her big sister's shoes. Naturally she is everything a therapy dog should be, but she's still working on things and some people really respond to the fact that she isn't quite perfect yet – just as they feel. When they see Telly, they think how understanding, how calm, how sweet, but Hope gives them hope. For instance, we were working with a girl suffering from depression and a real lack of worth. We tried to teach Hope how to play a game, but after a few attempts Hope wasn't quite getting it and the girl was tempted to stop. Instead we kept on going, eventually Hope picked it up and the girl was gratifyingly rewarded. She took away from the session that perseverance does pay off. She too can do it.
pawsibilityaat.com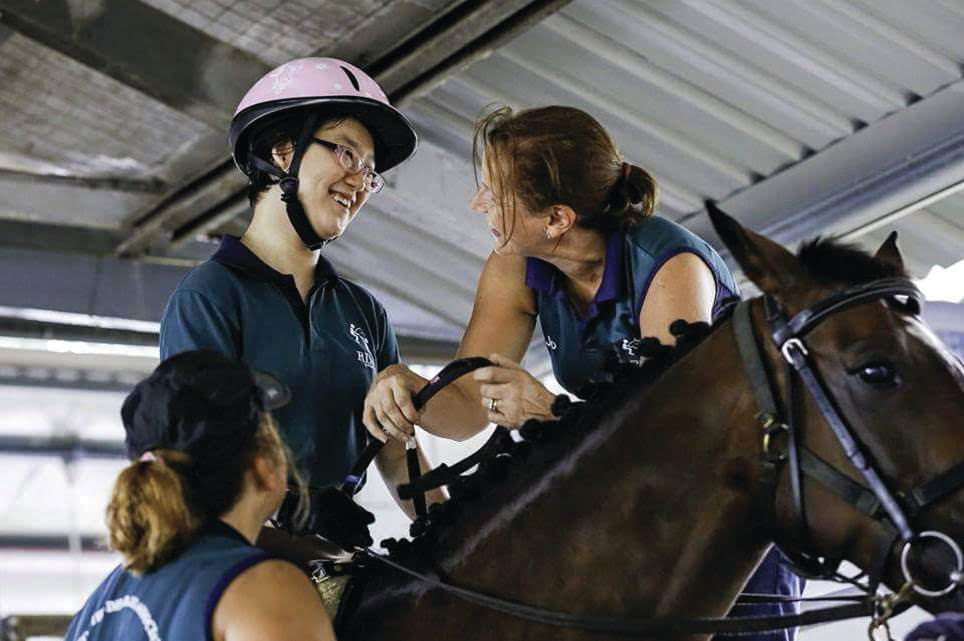 Riding for the Disabled Association
Karen Lim tells us about the work of Riding for the Disabled Association Singapore, an ANZA Action-supported charity.
Describe the work of the RDA
RDA Singapore offers Equine Assisted Therapy and Hippotherapy to those suffering from a range of disabilities including physical, emotional, cognitive and social difficulties such Cerebral Palsy, Autism Spectrum Disorder, visual impairment, hearing impairment, learning disabilities, Muscular Dystrophy and CVA (stroke).
Horses provide a tool for physical therapy, emotional growth, and cognitive improvement, in a unique format that is fun, exhilarating, and sometimes has the power to change a person's perspective on life. Besides the physical benefits derived from therapeutic riding, the contact with the animal is a powerful experience, and the strong bond that is sometimes experienced often has a profound, uplifting effect on people who are troubled or suffering.
What sets RDA out from the work of other therapies?
RDA can benefit virtually all disabilities, both physical and learning disabilities, in children and adults. As well as providing recreation and sport, riders gain increased self-confidence, improved circulation, respiration, balance, coordination and mobility. For someone who is unable to walk unaided, see or has communication difficulties, riding a horse allows them to experience a new sense of freedom and independence. Friends are made and it's fun.
People using wheelchairs for mobility are able to walk tall with the aid of a horse – they are no longer looked down upon. They can venture into the forest or jungle for a walk, something that is virtually impossible for anyone who is a wheelchair user.
Please share one of the RDA's inspirational stories.
Malcolm Lim is a 13-year-old boy who was diagnosed with Autism Spectrum Disorder. He is completely non-verbal, yet after a visit to the RDA he developed a special bond with one of the horses, Lukas, and began to keep a horse-riding diary. In it, he wrote down his thoughts and feelings – a huge breakthrough.
Sadly Lukas had an accident in the field which left him out of therapy action for a few months, but during this time Malcolm penned letters to him. He shared his feelings, his empathy and how he was looking forward to seeing his friend again. Heartbreakingly after an operation, Lukas passed away and Malcolm was inconsolable – yet still putting his grief down on paper, still communicating. And he continued to ride, even though he didn't quite make the same connection with his next therapy horse.
This is an incredible example of the connection our riders can experience with the horses; it is a special link.
Let's talk about the horses!
We look out for ponies/ horses that are sound in the pace of walk. They must be of quiet temperament and have a tolerant personality. They go through assimilation processes at RDA, Singapore if they are imported, and then they need to go through assimilation processes to do with mounting and possible behavioural issues they might encounter during the sessions.
If you have further questions on how riding a horse helps someone with disabilities, now you can find out more. Come meet the wonderful therapy horses and ponies, and learn more about RDA's unique therapy program for persons with disabilities. RDA Open House: Charity Carnival, Volunteers Recruitment & Adoption Drive, 6 May, between 10am and 3pm
at the RDA Centre, 5 Jalan Mashhor, 299174.
rdasingapore.org