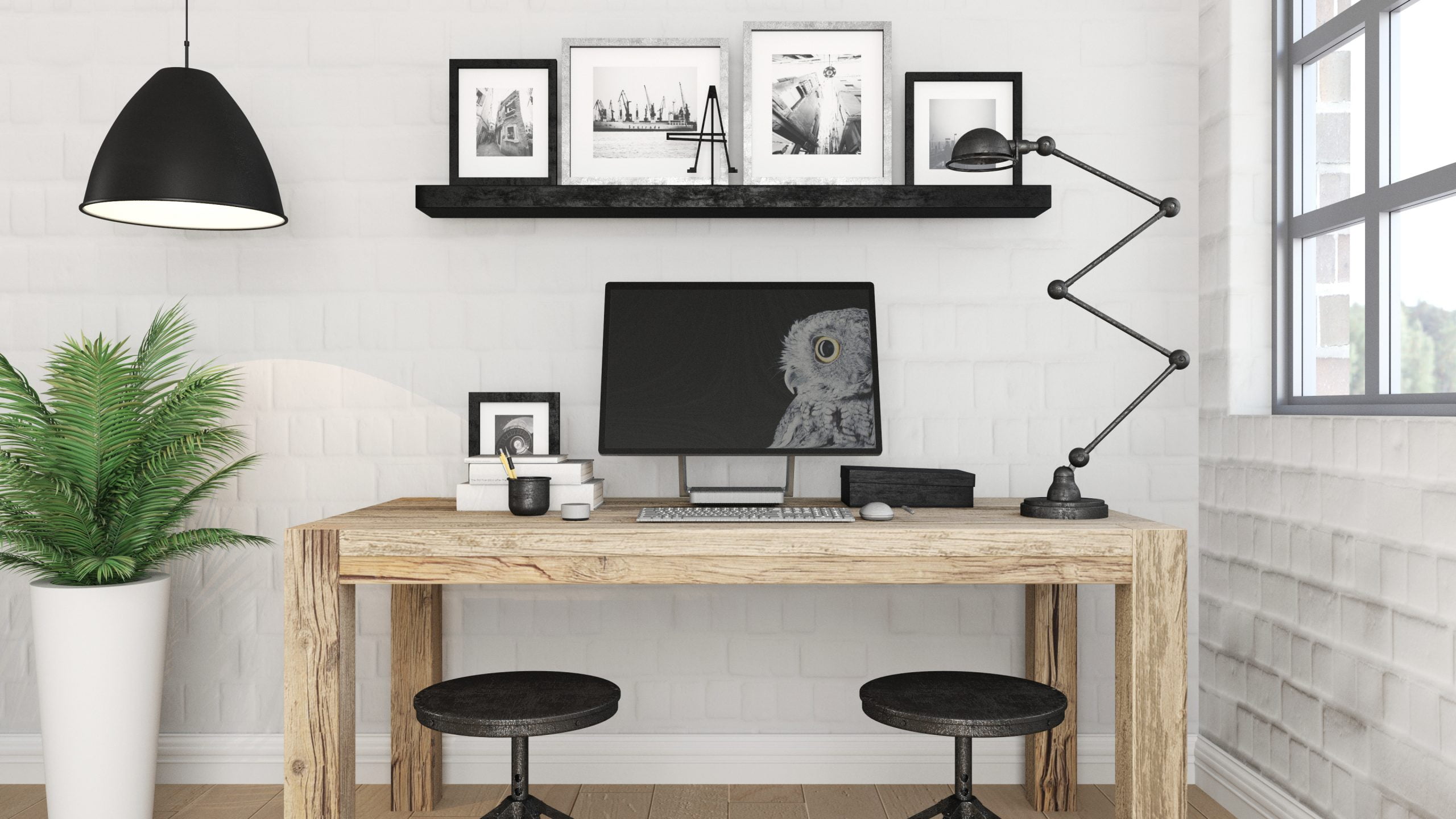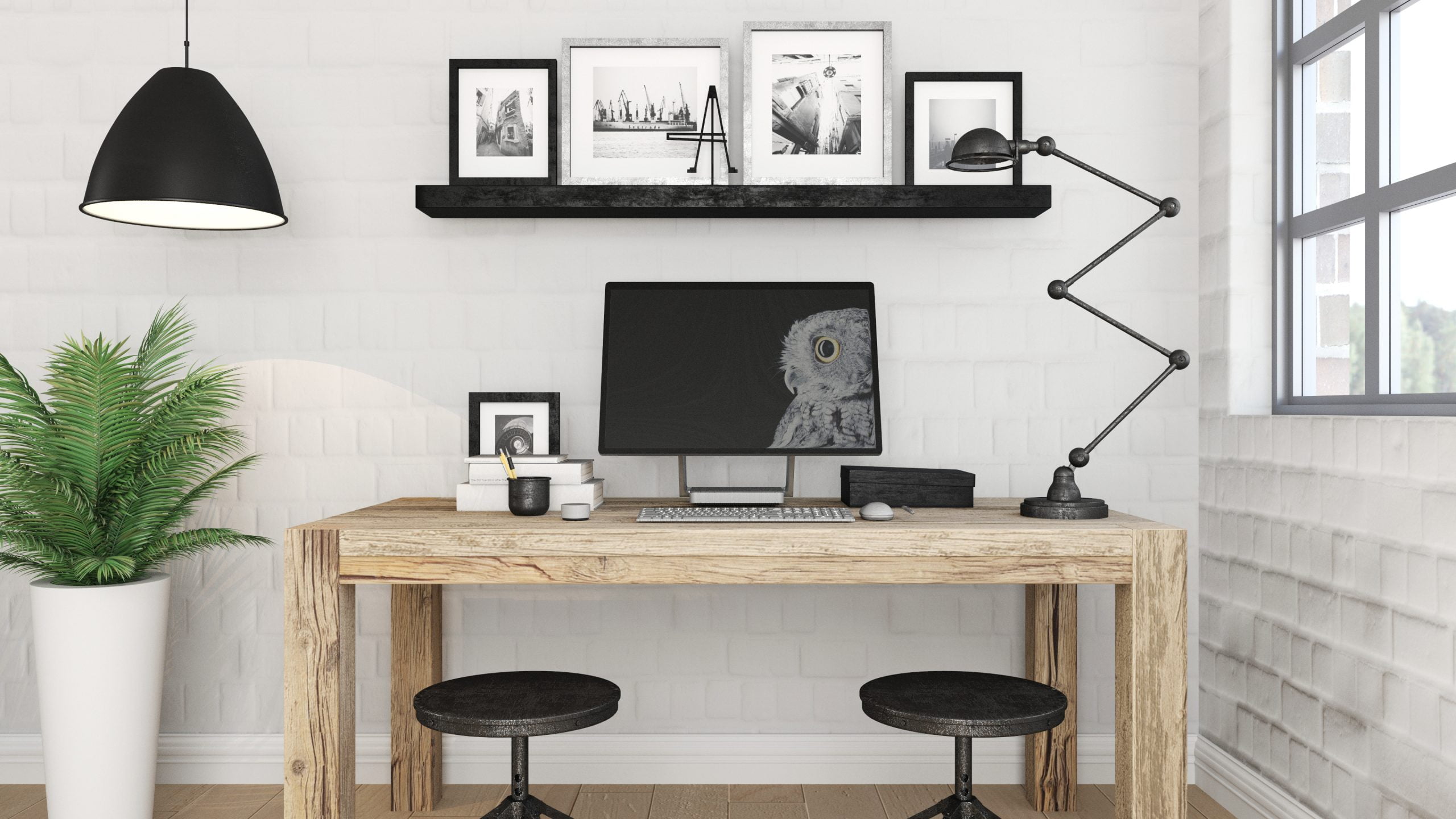 Over recent months, it's become clear that our future work lives will look very different. Post coronavirus, working from home will continue be the norm for millions. Whether you're tapping into a laptop from a quiet corner of your bedroom, or in a dedicated study, you're probably realising that workspaces should not only be functional but aesthetically pleasing and comfortable too. Everyone in the family needs a dedicated workspace- and it doesn't matter if you have an entire room, cloffice (office in a closet!) or just a wall. Here are some tips to help transform your workspaces into fantastic feel-good zones.
1. Setting the scene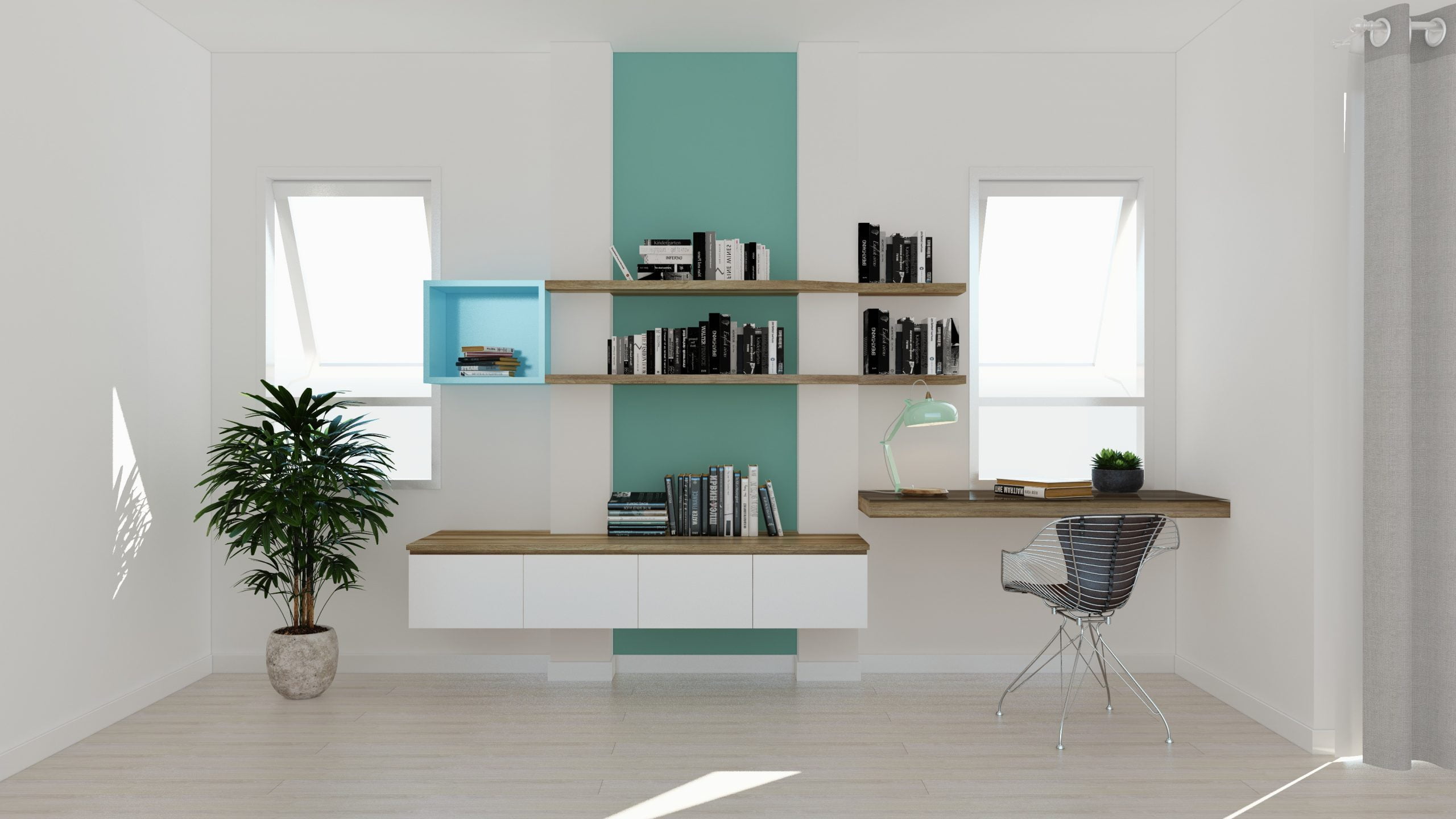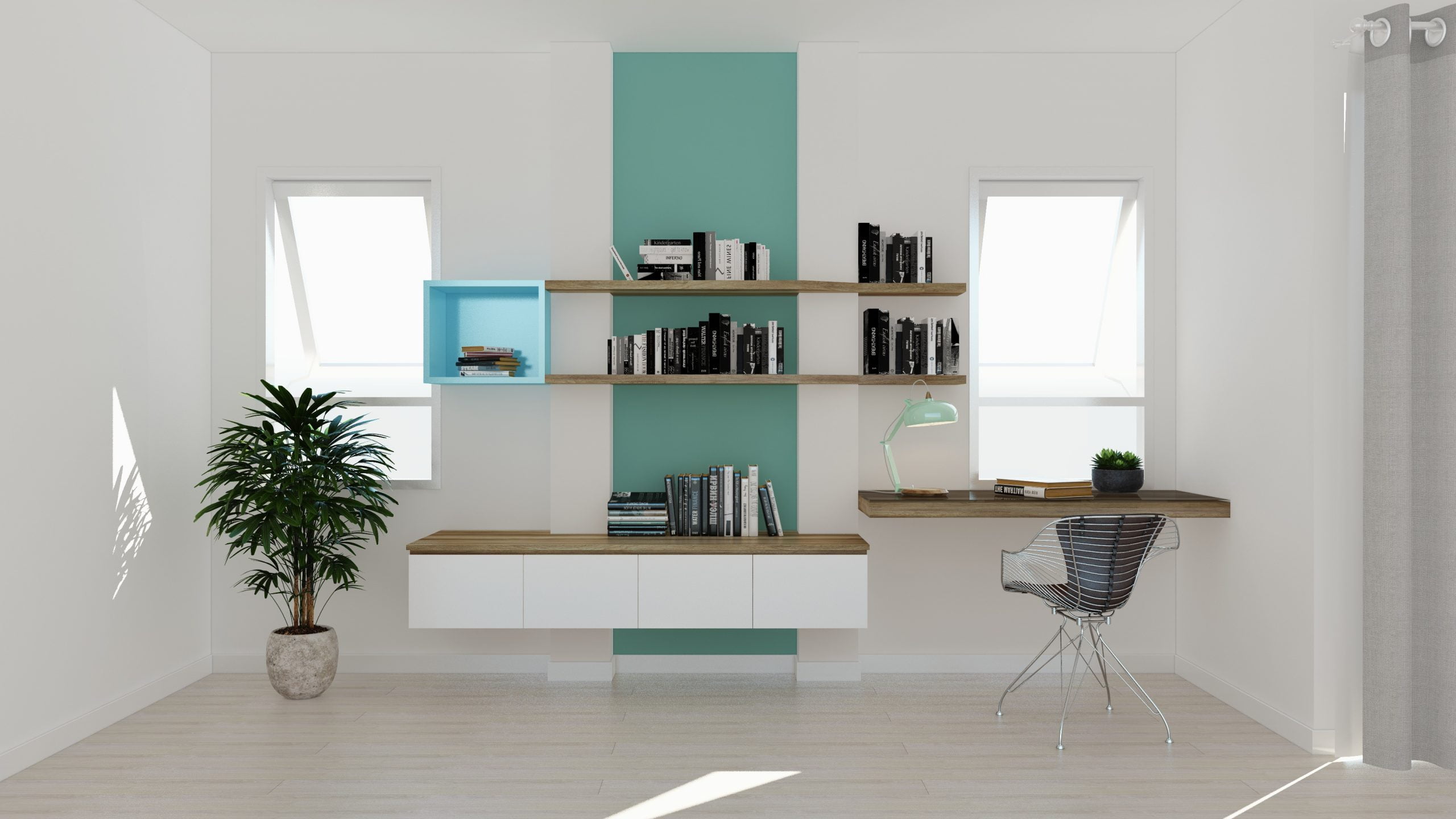 Look at the space you have available for your work area. It is a tight squeeze? Ikea has superb office solutions for small spaces, which can be combined to create dual desk workspaces along a wall. This solution is particularly good for two or more children, or for the creative type who likes to spread out. Consider also placing two desks in front of each other when the room is narrow. Place storage or a bookshelf underneath. Got a walk-in wardrobe? Create a "cloffice" – a personal and private workspace!
TIP: Allow 90cm between the desk and any other furniture for movability. Don't throw away an old desk – upscale by painting it a refreshing new colour using Annie Sloan Chalk paint, available at Big Blue Trunk, Cluny Court. They offer great workshops too. You don't need to spend a fortune on a new desk, either. Check out Pinterest for great Ikea desk hacks!
2. Light it up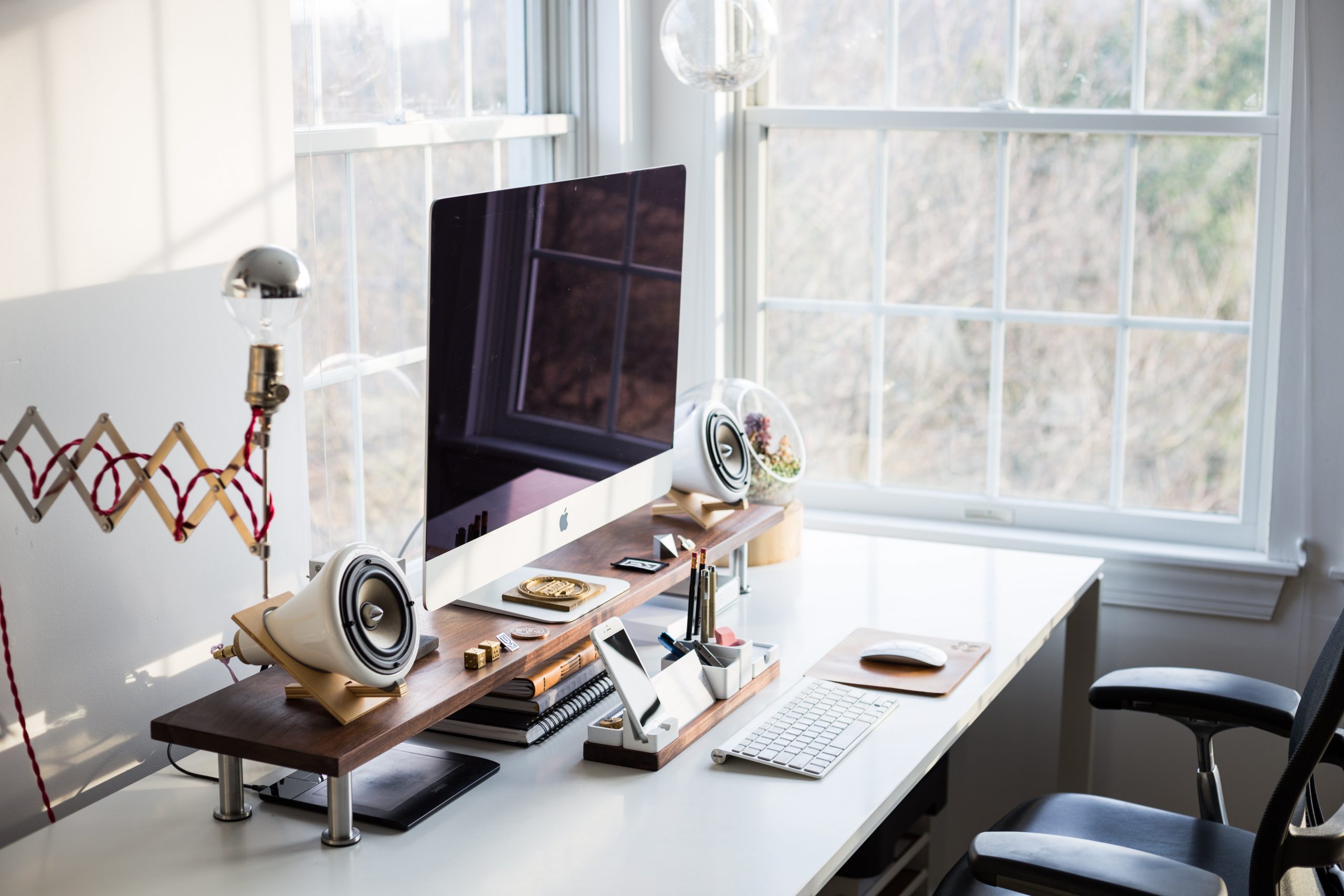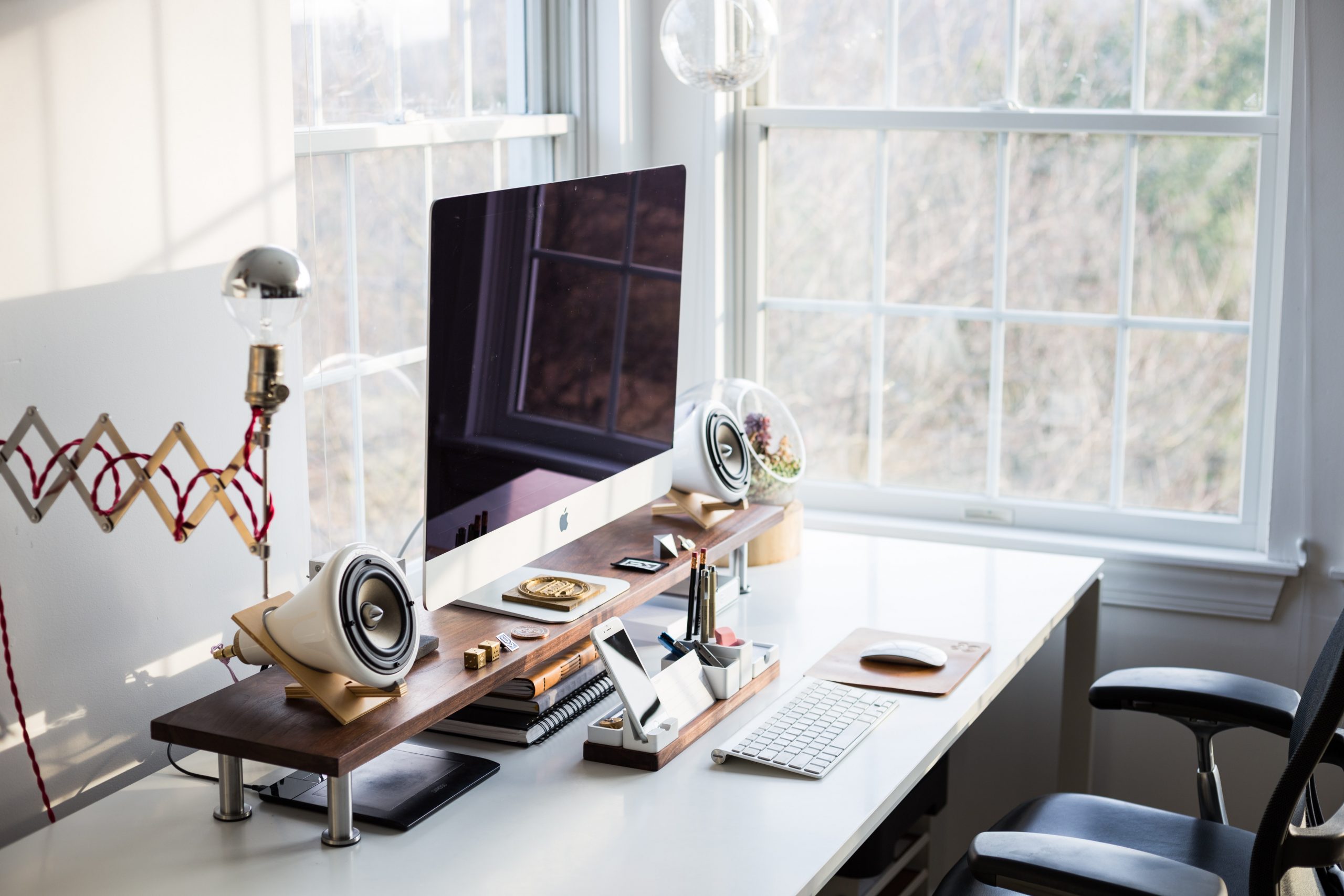 Lighting is very important in a work space, so don't position your desk in front of a glaring window (unless you want to wear sunglasses) or behind a window that throws out too much light during the day and may obscure your screen. My rule of thumb is to have three sources of light – natural, desk and overhead. Overhead task lighting is important, but difficult to position perfectly in rental properties, so a desk lamp is imperative for grey Singapore days and transitioning work from day to night.
3. Sensible Storage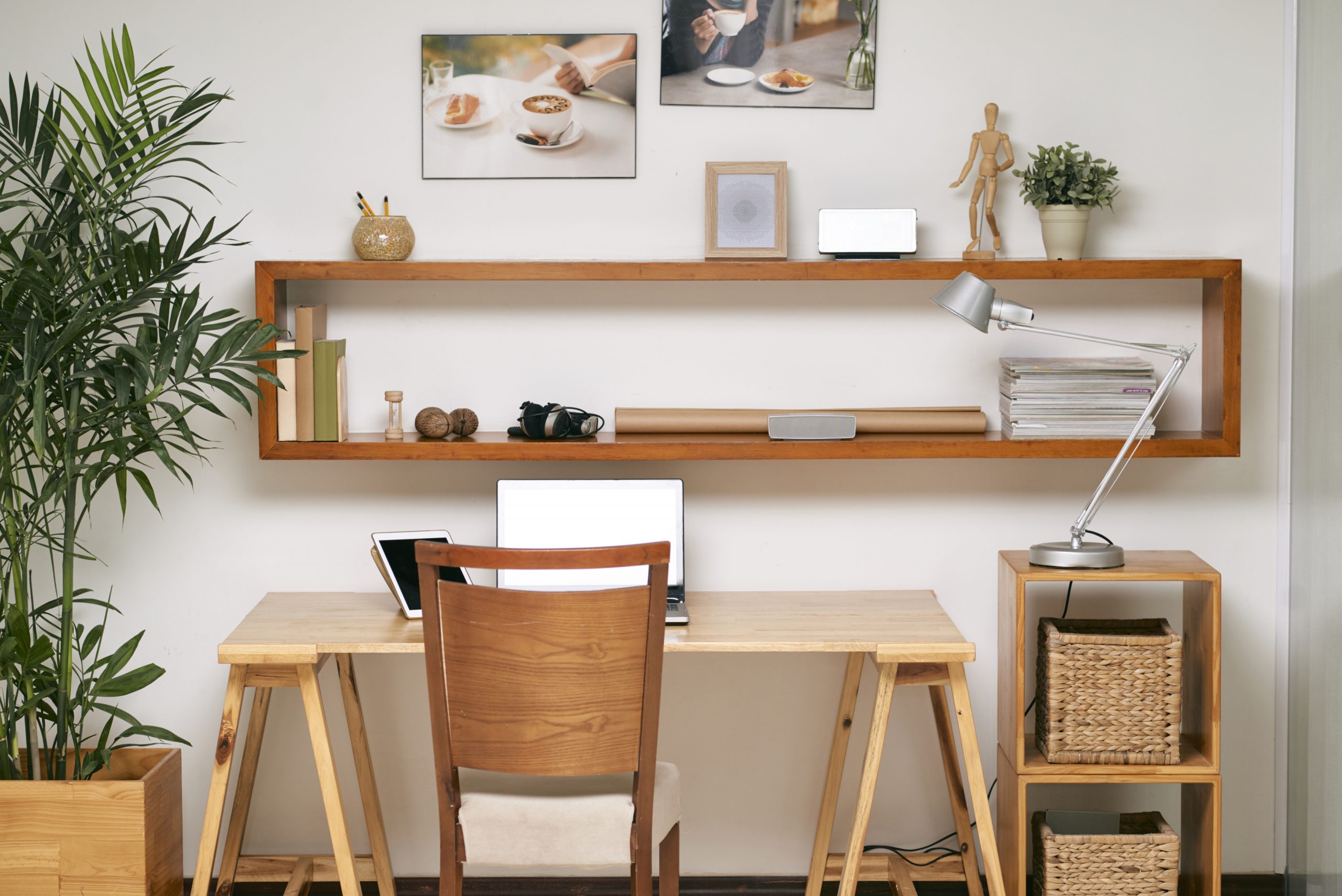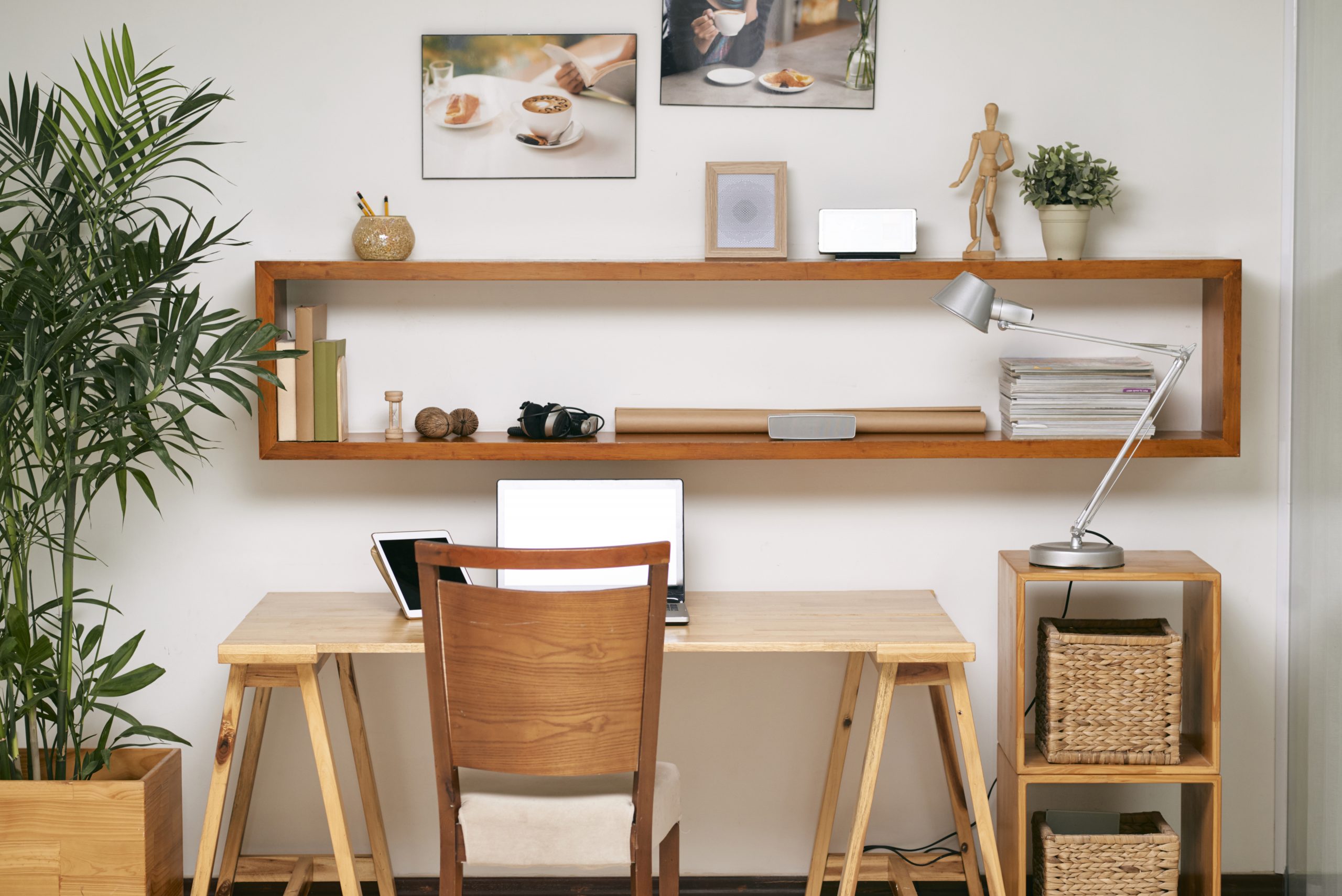 The perfect office is tidy and not just a dumping ground for random items found around the house. Good storage systems help keep your office space highly organised, and functional (and you productive!).  As a stylist I have drawers for colour samples and swatches and others to keep fabrics and samples. A book shelf on its side or at the end of a table top offers a perfect place to store books but gives you more surface space to work or place items.
Consider a toolbox for each child, which can be easily put away in a cupboard at the end of the day. What better way to store school bags, folders and books than using a selection of baskets tucked under a desk or on shelves?  Look online at Layard Interiors for a great selection in all sizes. Hanging shelves are a good way to create more space in a rental property and with neat boxes and folders, they look attractive. Don't clutter the top of your desk, but curate a small collection of relevant and aesthetic objects and a few pens. Keep everything else stored away but within easy reach.
4. Textiles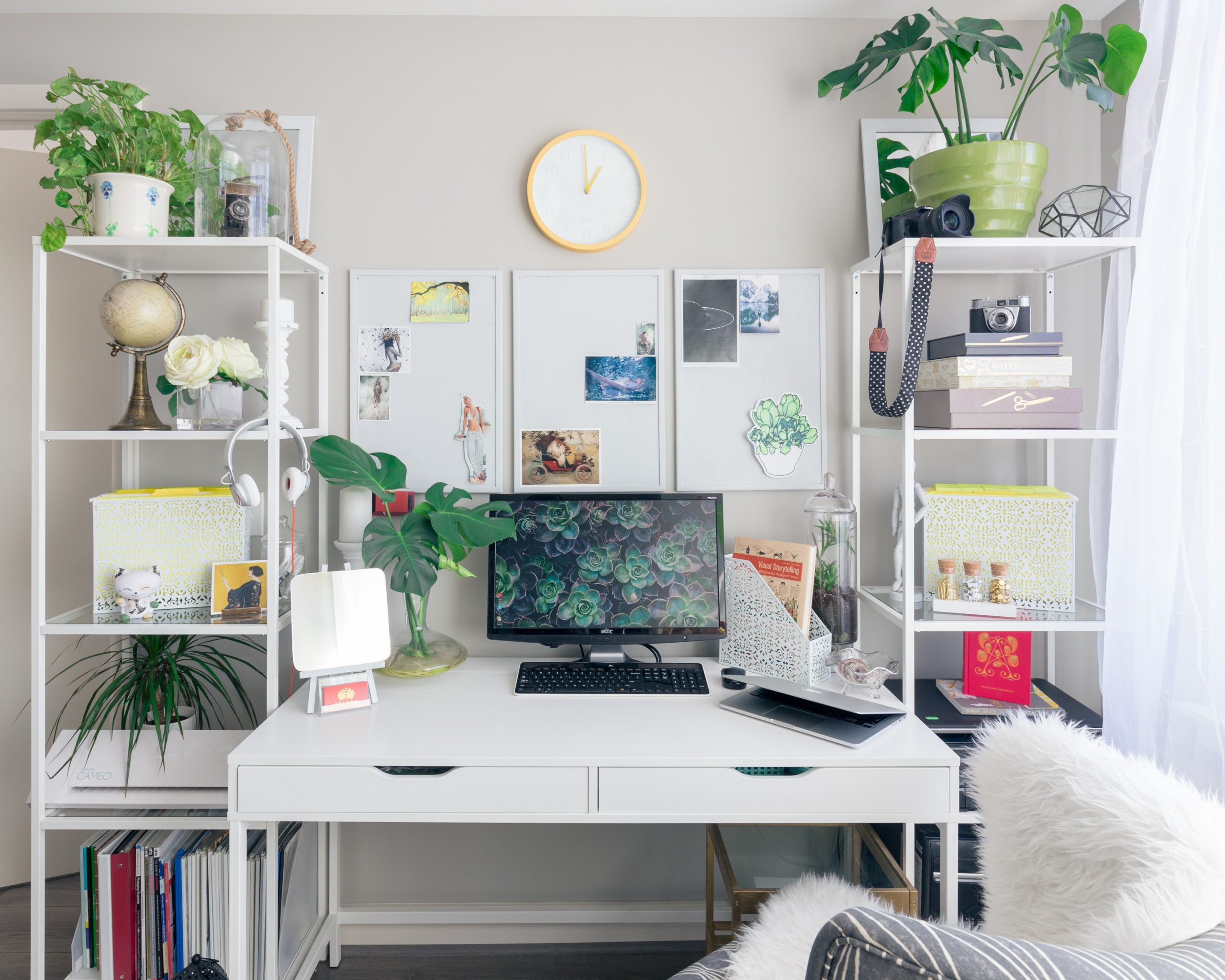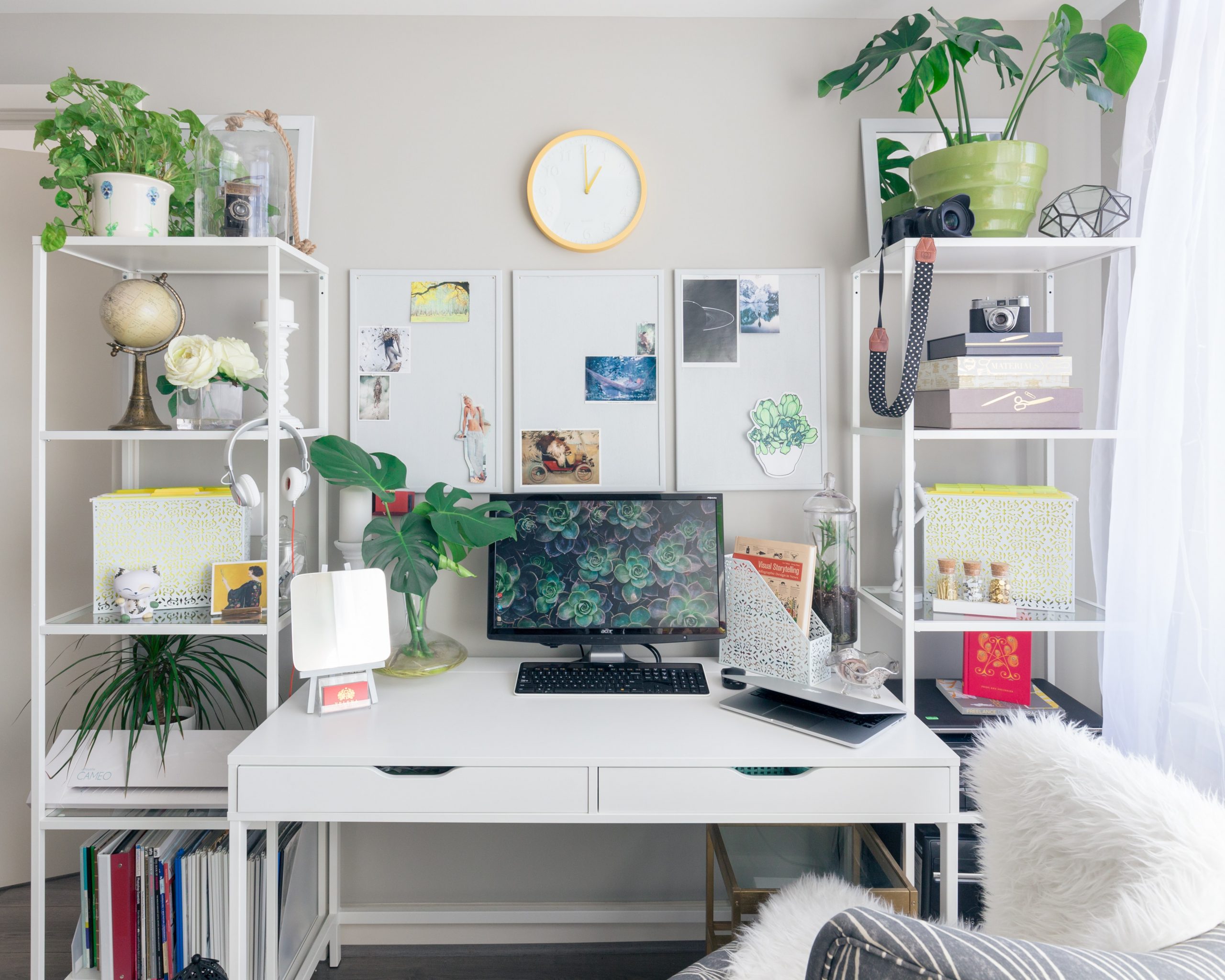 All spaces are improved with the addition of textiles – brighten up your workspace at home with a pop of colour (around 10% is a good guide to how much to use) For your office makeover, add colour in the form of a chair, shelves or soft furnishings. A sheepskin throw, scatter cushions and a bean bag provide a separate area to relax while working and make the whole area cosy and comfortable. A jute throw rug looks great too. During CB, you can look around your home and make use of what you have around.
4. Wall to wall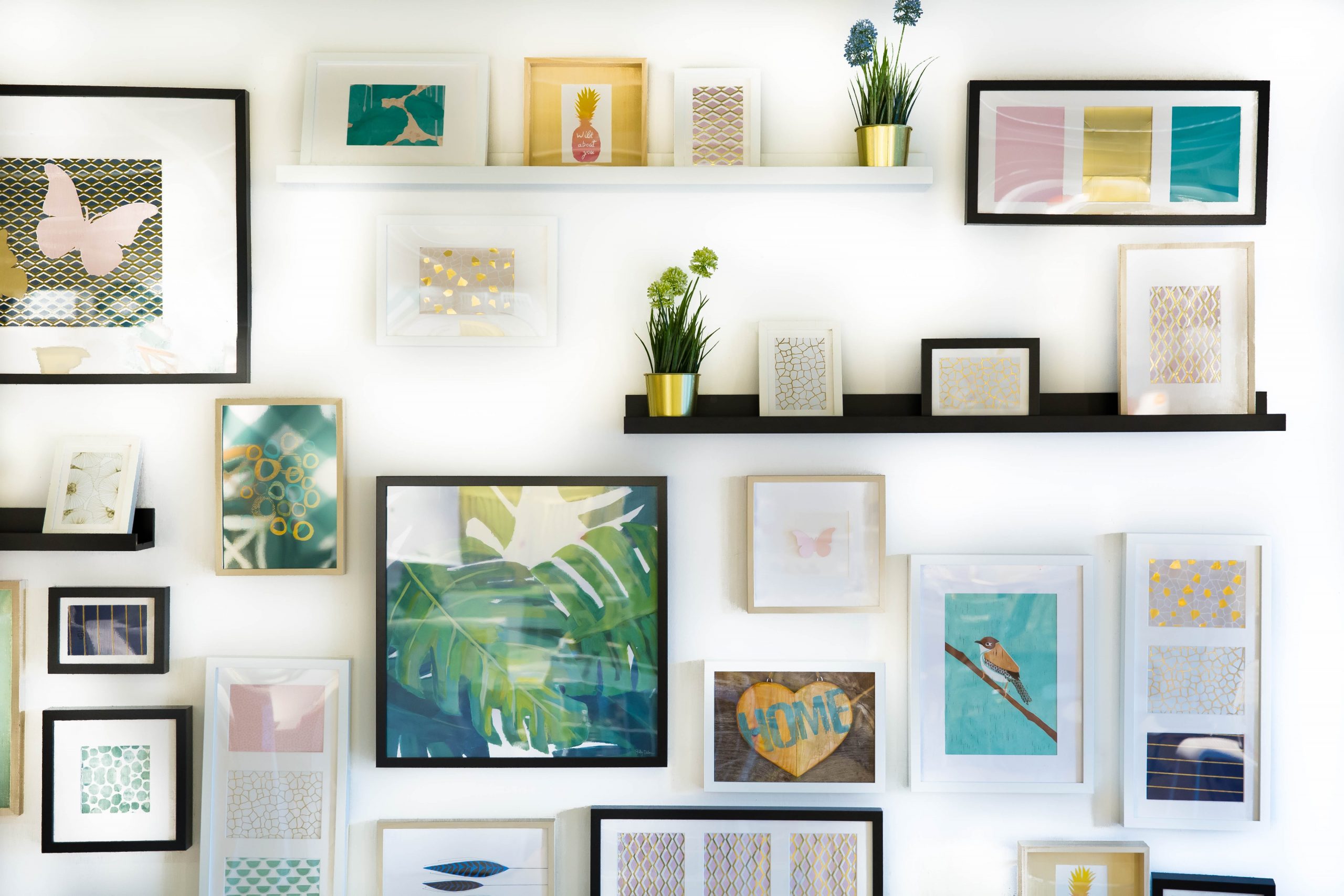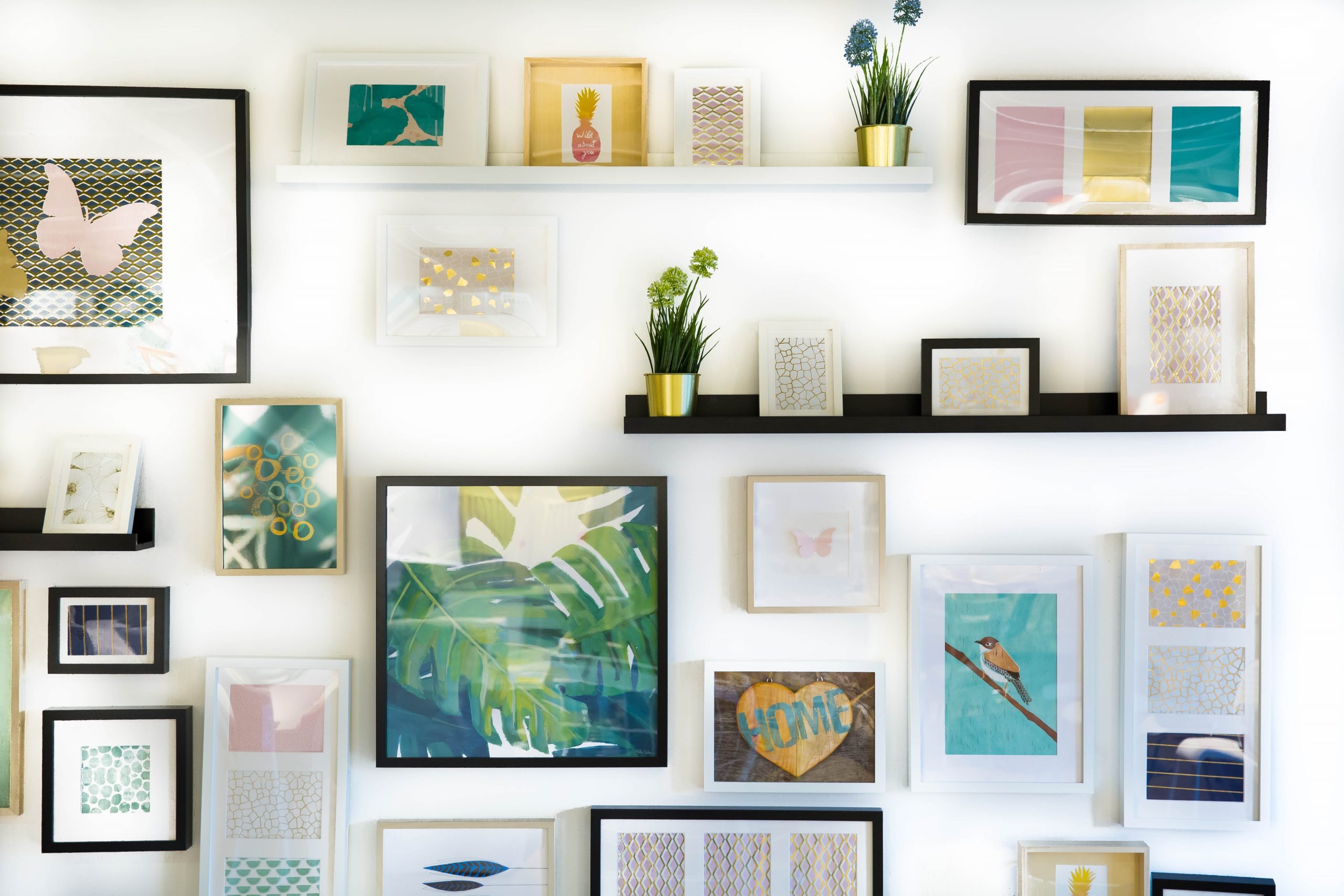 Who ever said; "Nothing kills creativity faster than a wall."? Not true! Living in a rental property it may not be possible to paint the walls of your office space or even consider wallpaper, however you can add an attractive book case, floating shelves and art. A gallery wall is a great way to showcase your travel photos and the frames are light enough to withstand the hanging strips available at all small hardware stores. Feeling inspired? You can buy self adhesive wallpaper in the form of subway tiles, florals and wall stickers at https://dekorea.com.sg/self-adhesive-wallpaper
Juliet's Office – Before and After
"As with many designers my office space was a dumping ground and the furniture placed in the same position it was when we moved in. By repainting, moving the desk to a central position, and placing the storage behind, it immediately felt more balanced. A gallery wall of photographs and kids art work added an element of interest and a focal point. Cushions made from a selection of fabrics from Spotlight placed on the window seat provided a pop of yellow to complement the chair in the otherwise achromatic room. It's lighter, brighter and more inviting! In just a few steps, even in lock-down, you too can wake up with a new look tomorrow. Get inspired!"
Before: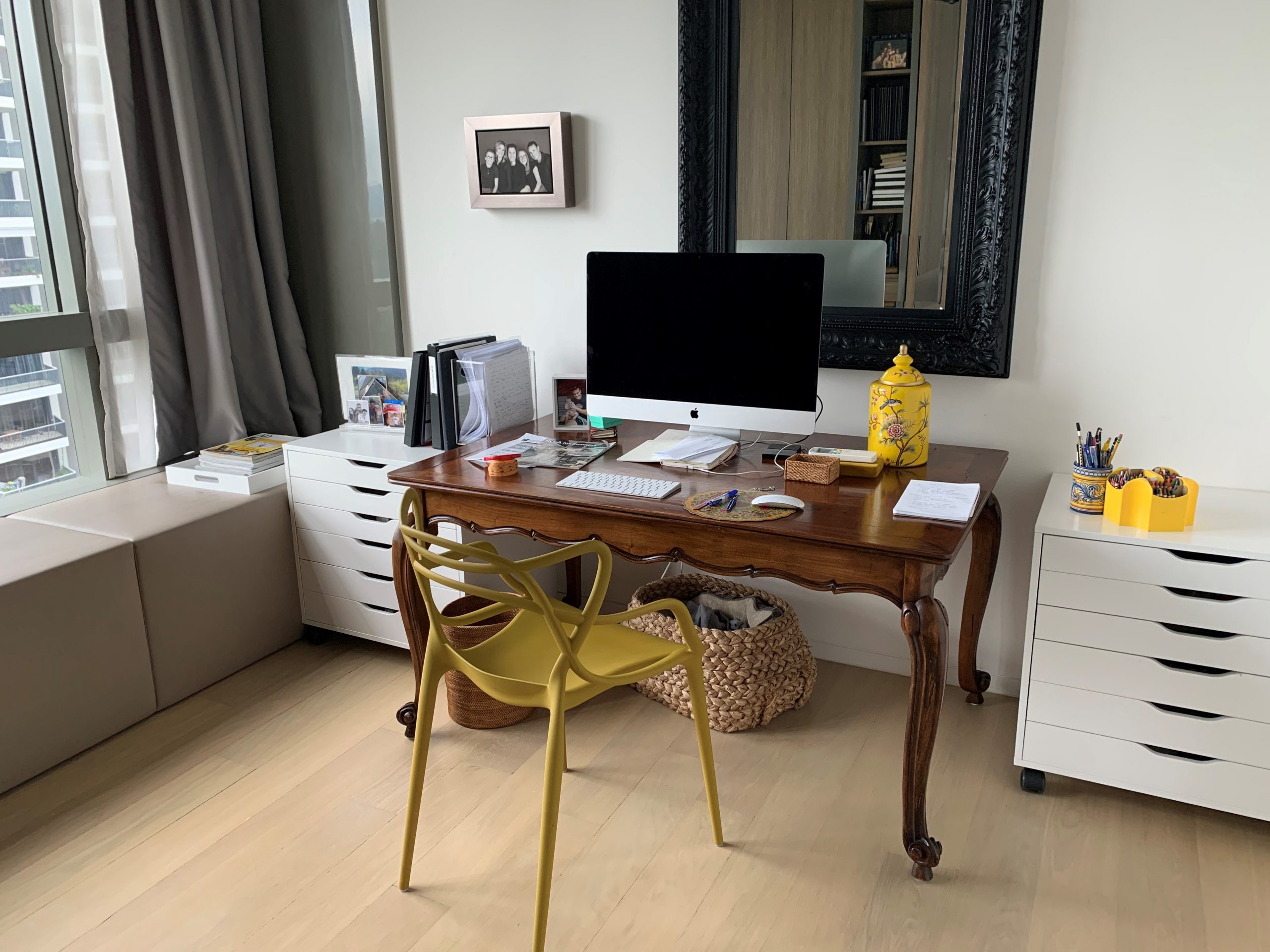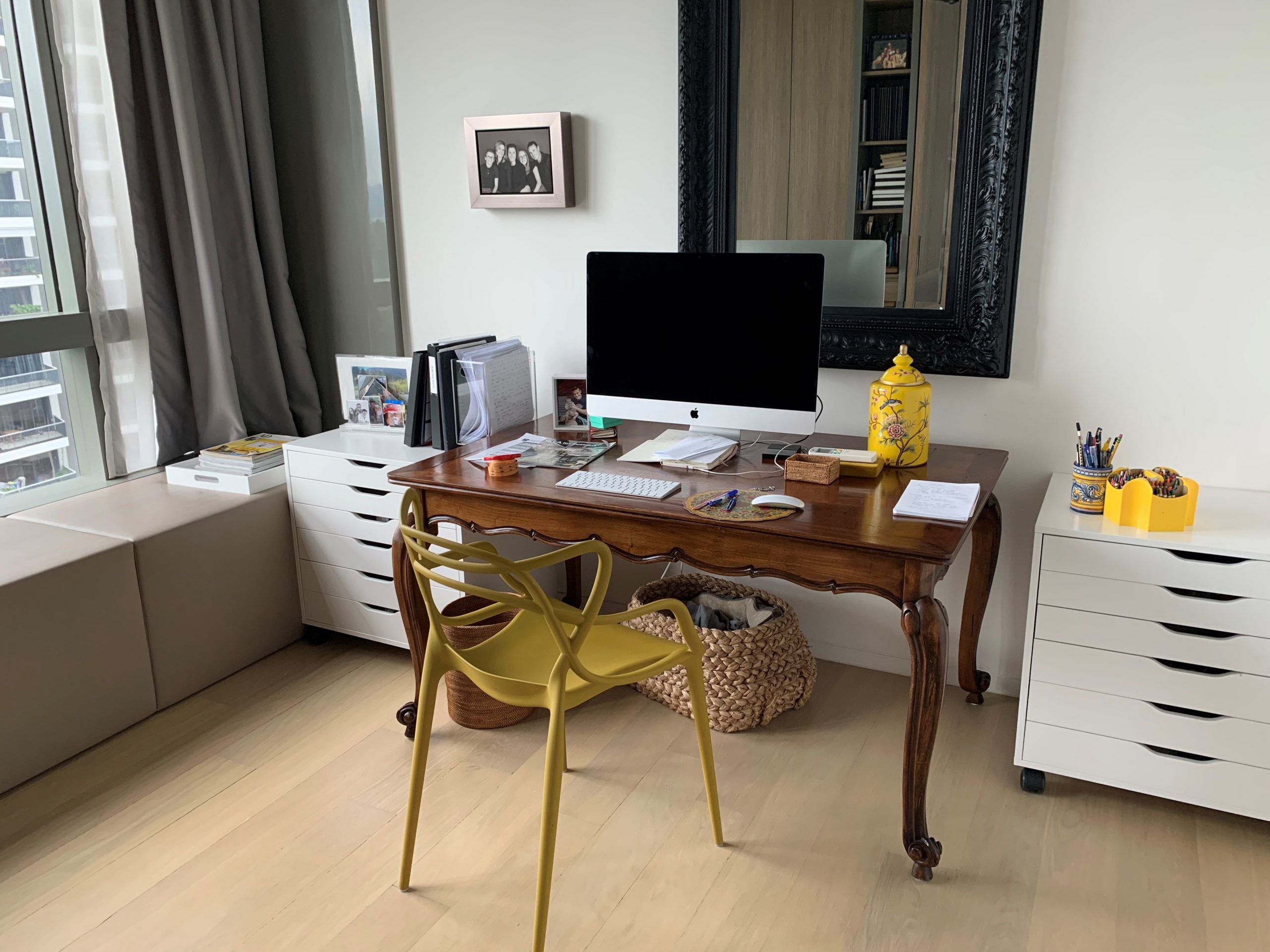 After: