WHAT DOES ANZA SOCCER OFFER?
ANZA Soccer is a not-for-profit organisation with over 40 years' experience in delivering quality soccer programmes for 2-18-year-olds. Our emphasis is on affordable, fun and competitive soccer. Our $675 season fees make us the most affordable option in Singapore and include Saturday club games, mid-week training and kit.
The Saturday Club League is run by volunteer parents, with opportunities for players to develop competitive skills in our Sunday Competition League, led by AFC qualified coaches. Our dynamic Saturday Club League runs from August 2021 to April 2022 (with school holiday breaks) on three full-sized artificial pitches at The Cage Sports Park, Turf City.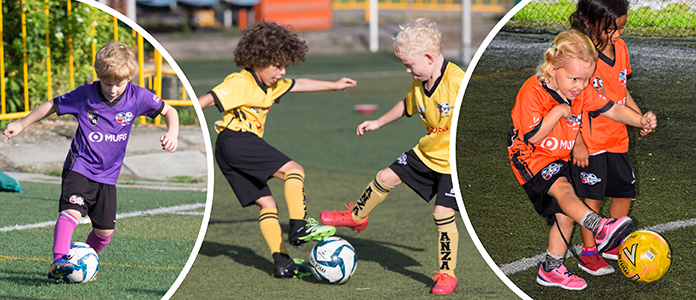 YOUNG PLAYERS
Our youngest players, aged 2-5 years, spend an exciting hour playing with friends each Saturday. Players learn basic kicking, trapping, dribbling, passing, and shooting skills and play small-sided soccer games. Judging by the smiles, laughs, screams and cheers, these mini kickers are off to a great start!
Our goal for these young players is to ensure they get involved, make friends, work on basic soccer skills and have a lot of fun! Professional coaches, trained to manage shorter attention spans, emphasise fair play and teamwork, while providing clear instructions and encouragement.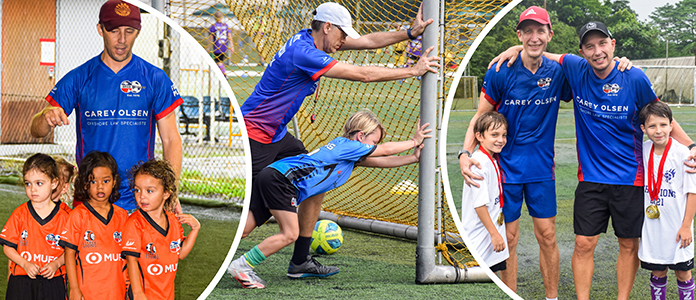 PARENT COACHES
Parent coaches drive our Saturday sessions from the G5 level up. ANZA Soccer is a family-driven club, and having Mum or Dad coaching gives kids great joy and provides opportunities for parents to engage with their own kids and the team. ANZA Soccer is always looking for parents to volunteer as coaches or assistant coaches. You don't need soccer or coaching experience, as there's plenty of support available. Coaches coordinate the players, run simple drills, and ensure the matches go smoothly. Our parent coaches are vital to reinforcing our ANZA Soccer fair play principles, instilling our code of conduct and making soccer enjoyable for everyone!
"I have two children, Jake (7) and Phoebe (13) playing with ANZA Soccer, and I've been coaching for the last four years," says parent volunteer Simon Edwards
"Seeing the young kids listening, learning, and enjoying their football and putting into practice what you're teaching them is so rewarding. ANZA Soccer provides a fantastic structure for us to introduce kids to the game. It gives beginners an opportunity to come along and have fun, while enabling those kids with more experience to learn more and be introduced to healthy competition."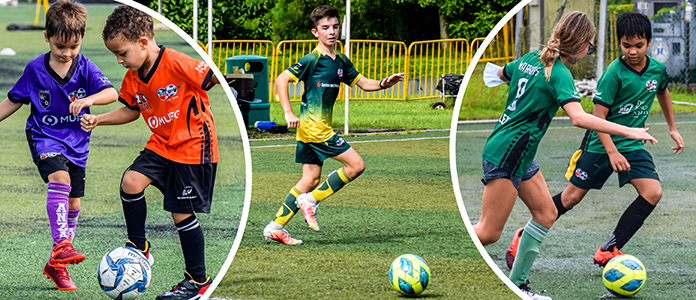 SATURDAY CLUB TEAMS
All 850+ ANZA Soccer players compete in our Saturday leagues, giving both kids and parents a chance to develop team spirit and enjoy all the physical and emotional benefits sport offers. Our 64 Saturday club teams play hard-fought League and Cup competitions. ANZA Saturday club teams are all-inclusive and all players are guaranteed play time for at least half the game. Each age group also has a weekly Thursday training session, as well as a designated ANZA Matildas girl's session, run by our professional coaches. On Saturdays, the focus is on fun, fair play, teamwork and friendship. Teams are balanced at the start of each season to keep games competitive.
"My husband Ryan and I are never sure who gets more enjoyment out of ANZA Soccer, the kids or the adults; as much as they enjoy playing, we equally enjoy watching, cheering them on, and participating too," says parent volunteer Juliet Harper. "Over the years we have seen the boys grow, develop and keep fit. But more importantly, they've had fun and forged bonds with their teammates. Likewise, we have met many wonderful parents and shared great team moments with other ANZA families!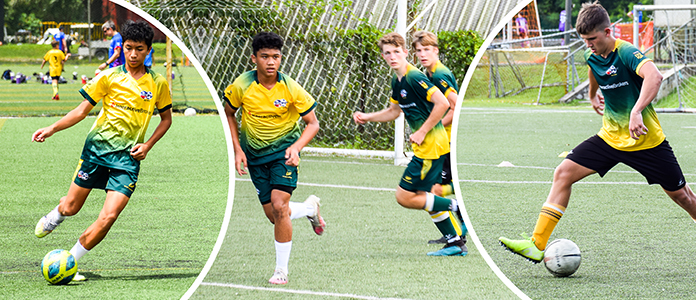 JSSL COMP TEAMS
When interclub competition resumes, we are sure our nearly 300 competition players will continue to do us proud, displaying their trademark ANZA Soccer focus, passion, and teamwork. Our committed comp players enjoy their on-pitch challenges in the JSSL and ESPZEN Sunday leagues and have enjoyed incredible results. Our parent and professional coaches, team managers, and competition team coordinators work so hard each season to make our teams so competitive. Look out for comp team try-outs as Covid rules allow.
NEW B18 YOUNG LIONS TEAM
When interclub competition resumes, our B18 team plays in the Equatorial Football League, a Singapore men's league that plays on Saturday afternoons. Interested ANZA players who have aged out of other soccer organisations are welcome to join. We look forward to seeing our senior players take on new challenges!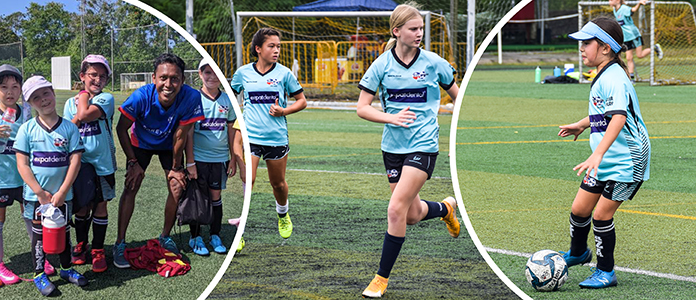 MATILDAS GIRLS' SOCCER PROGRAMME
ANZA Soccer is proud to have over 150 girls, playing across all our Matildas age groups. The girls train together on Tuesdays, under the guidance of professional coaches and head Matildas coach, Adelina Gomez. On Saturdays, when Covid rules allow, they play friendly games against our mixed and boys teams. For our youngest Matildas, aged from six years, they played a combination of skill drills and 4v4 games.
"When Zoe asked to do a trial for soccer, I was sceptical as she is usually more interested in arts," says parent Cara Mayega. "As soon as she stepped foot on the pitch she was welcomed by the other girls. She absolutely loved it and there wasn't a Saturday where she didn't jump out of bed and rush to put on her turquoise uniform. She might still do cartwheels between penalty kicks but seeing her this happy and engaged has been a gift."
The Matildas are a diverse group of girls from all backgrounds and nationalities. They form new friendships on the field which often carry over off the pitch. Our parent volunteers make sure every girl feels welcomed and has fun. "When Kiki started at ANZA Soccer, we had she just arrived from the Netherlands. ANZA Matildas gave her the support she needed to enjoy soccer and make new friends," says parent Laurens Klasen.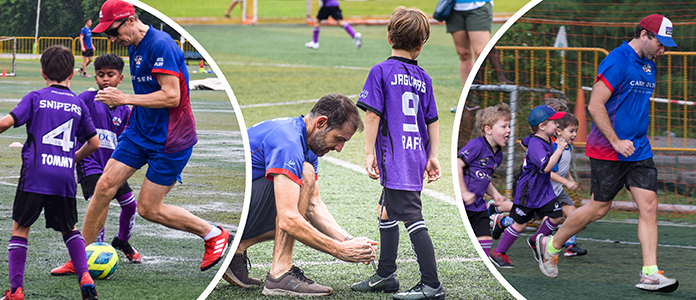 VOLUNTEERS
ANZA Soccer runs on the tremendous support of its many parent volunteers. Whether as members of the ANZA Soccer committee, age group and comp team coordinators, coaches and team managers, or organisers of the weekly half-time oranges. Our army of volunteers provide the leadership and support that allows ANZA Soccer to function so successfully. We're always looking for keen volunteers. Join over 200 parents who volunteer each week to make ANZA Soccer enjoyable, fun and beneficial.
"It's been a real privilege seeing the kids improve rapidly over the last six months, both with their soccer skills and general level of confidence," says Jono Smith
Coach, 2015 (G5) group. "Their enthusiasm for playing, working as a team and having fun during the sessions makes it very motivating and rewarding for the coaches. The kids turn up ready to play and support their team, come rain or shine… particularly, come rain!
GET INVOLVED
Our Saturday mixed ability teams play in Singapore's only in-house league and stay together year-on-year, giving players opportunities to develop friendships and learn about leadership, inclusiveness, and perseverance. Players may also try out for our competition teams, which play against other soccer organisations through external leagues and tournaments. Girls may choose to join our girls-only teams or mixed teams. Registrations for all ANZA Soccer programmes are now open – come and join us!
Registrations open now for 2021-2022 season anza.org.sg/sports/soccer
Did you know? 33 players turned up to the first ANZA Soccer training in 1976 (then called the International Junior Soccer League) – The 2020/2021 season welcomed 900+ players!
Thank you to our sponsors for their continued support of ANZA Soccer