ANZA Soccer is a not-for-profit organisation with over 40 years' experience in delivering quality soccer programmes to children and young adults aged two-18 years. Our emphasis is on affordable, fun and competitive soccer. The Saturday Club League is run by volunteer parents, with opportunities for players to develop competitive skills in our Sunday Competition League, led by AFC qualified coaches.
Saturday Club League
All 850-plus ANZA Soccer players compete in our Saturday leagues, giving both kids and parents a chance to develop camaraderie and team spirit. Our 64 Saturday club teams play competitive League and Cup competitions. ANZA Saturday club teams are all-inclusive, and all players are guaranteed play time for at least half the game. Each age group also has a weekly Thursday training session, as well as a designated girl's session, run by our professional coaches. On Saturdays, the focus is on fun, fair play, teamwork, and friendship, though of course each team also wants to win or at least put up a good fight! Teams are balanced at the start of each season to keep games competitive.
Sunday Competition League
Nearly 300 players join our 25 Sunday competition teams, led by AFC-qualified coaches. These teams achieve excellent results in the JSSL and ESPZEN Sunday Leagues. In 2019, ANZA Soccer won the overall Paul Parker Trophy at the JSSL International 7s competition, triumphing over 190 clubs from 17 countries. In the 2019–20 Sunday JSSL League season, ANZA Soccer earned joint first-place honours with five top finishes across our boys' and girls' teams. Our dedicated and passionate competition players, coaches, team managers, and group coordinators work hard each season to make our teams competitive, while maintaining our ANZA Soccer fair play standards.
Players aged six to 18 years can try out for the Competition League from mid  August.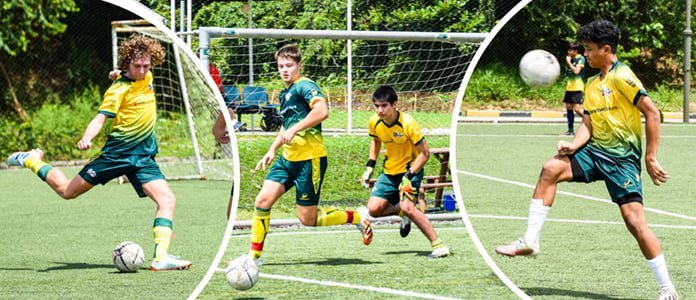 The Matildas Girls-only Teams
Girls-only Matildas teams (age six to 16) participate in all Saturday age groups, fielding strong competition teams in the girls Singapore-wide league. Weekly practice sessions under our dedicated female professional coach are well attended, with competitive results in most ANZA Soccer age group competitions and two first-place finishes in the Singapore–JSSL League 2019–20 season. Players of all skills are welcome – join our supportive, friendly, and competitive girls' soccer community!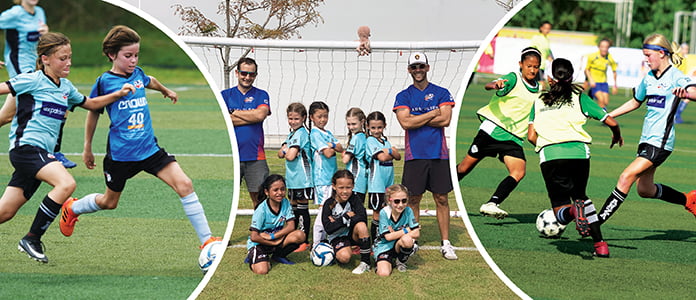 Parent Volunteers
ANZA Soccer runs on the tremendous support of its many parent volunteers. Whether as members of the ANZA Soccer committee, age group and comp team coordinators, coaches and team managers, or organisers of the weekly half-time oranges. Our army of volunteers provide the leadership and support that allows ANZA Soccer to function so successfully. We're always looking for keen volunteers. Join over 200 parents who volunteer each week to make ANZA Soccer enjoyable, fun and beneficial.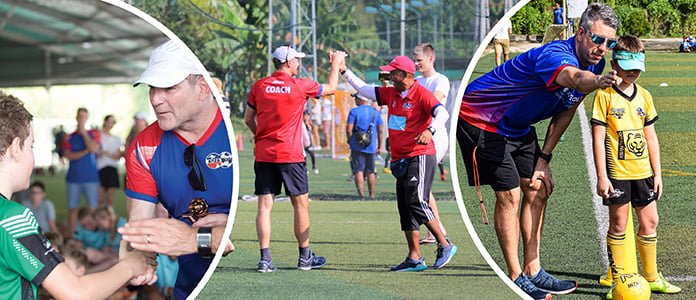 Fees
ANZA Soccer offers the lowest fees across youth soccer academies in Singapore.
Saturday Club fees: S$100 (for those whose first Saturday is in April)—full season $675 including 1x weekly age-group training, Saturday Club League games, and kit.
Sunday Competition fees: S$100 (April joiners pro rata fee)—full season $650 including 1x weekly comp training, Sunday Competition League games, and kit. 
ANZA Family Membership: S$200 per year
Families must hold ANZA membership throughout the season to participate. Click here to Join ANZA!
Testimonials
"I love playing for the Matildas. I have a lot of fun and I've made new friends." – Anna (12)
"I've been playing for ANZA Soccer since I was seven – the club has a great sense of camaraderie and competition." – Declan, U17
"ANZA Soccer is different from any other club because of the parent involvement; volunteer parents are doing it because they want to be here, and it creates a great sense of community." Christina, Mum to Sylvie (8)
"This is my second year with ANZA Soccer. It's fun! ANZA has great training sessions and fun coaches. My coach is really good and he's fair; he makes sure everyone gets a turn on the pitch." – Rory (10), Gordons
Thank you to our Sponsors