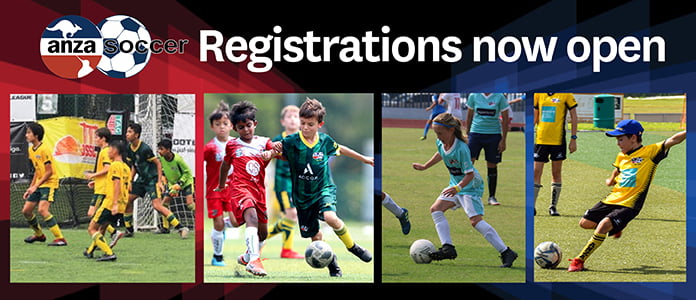 ANZA Soccer is a not-for-profit organisation with over 40 years' experience in delivering quality soccer programmes to children and young adults aged 3 to 18 years. Our emphasis is on affordable, fun and competitive soccer, with the Saturday Club League run by volunteer parents, and with opportunities for players to develop competitive skills in our Sunday Competition League lead by AFC qualified coaches.
Saturday Club League
The 65 teams of our dynamic Saturday Club League welcome players of all abilities. Up to eight teams play in each age group on three full-size artificial pitches at The Cage Sports Park, Turf City. The season runs from 29 August 2020 to May 2021, with breaks during school holidays. ANZA Soccer provides the only closed soccer league in Singapore, allowing players to enjoy competitive games in a fun social environment. Every Saturday, our pitches come alive with 900 children, 250 parent coaches and team managers, and spectators cheering from sheltered viewing areas. Games are designed to be inclusive, exciting, and age-appropriate. On Thursday afternoons, players have age-group training sessions with professional coaches. Players usually remain on the same team year-on-year, which fosters team spirit and builds long-term family friendships. The Saturday Club League season ends with a family fun day and presentation ceremonies, and teams often hold their own celebratory parties as well.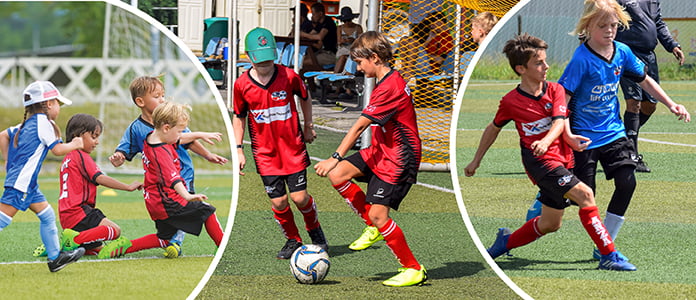 Sunday Competition League
Players who want more competitive soccer experiences may also join one of our 25 Sunday competition teams, led by AFC-qualified coaches. These teams play in external leagues and tournaments in Singapore. Players aged 6 to 18 years may try out for them in July and early August. Nearly 300 players join our competition teams, which achieve excellent results in the JSSL and ESPZEN Sunday Leagues. In April 2019, ANZA Soccer won the overall Paul Parker Trophy at the JSSL International 7s competition, triumphing over 190 clubs from 17 countries. In the 2019–20 Sunday JSSL League season, we earned joint first-place honours with five top finishes across our boys' and girls' teams. Our dedicated and passionate competition players, coaches, team managers, and group coordinators work hard each season to make our teams competitive while maintaining our ANZA Soccer fair play standards.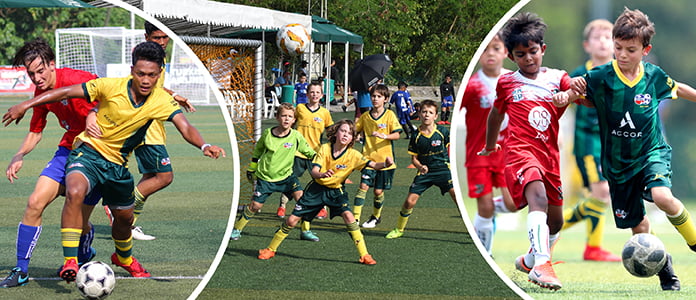 The Matildas Girls-only Teams
Our girls-only ANZA Matildas teams welcome players aged 6 to 16 years and participate in all Saturday age groups, playing against our mixed teams. Matildas teams play one year down on Saturdays, following generally accepted soccer practice to allow for an even playing field. The Matildas also field strong Sunday competition teams in the Singapore-wide girls' league. Weekly training sessions are run by a dedicated, professional female coach. Matildas teams earned two first-place finishes in the Singapore–JSSL League 2019–20 season. Players of all skills are welcome—come join our supportive, friendly, and competitive girls' soccer community!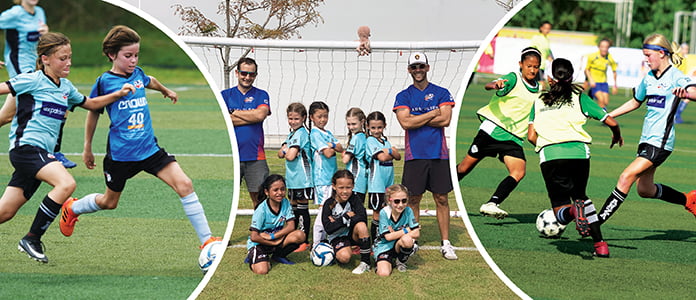 Parent Volunteers
ANZA Soccer is a family-driven club. The success of ANZA Soccer relies on the ongoing support of parent volunteers. The Saturday Club League sees parents take on the roles of Coach, Assistant Coach, and Team Parent. There are additional opportunities to volunteer at Committee level. Volunteer parent coaches coach our Saturday sessions from the G5 level up. They are key to teaching our ANZA Soccer fair play principles, reinforcing our code of conduct, and above all making soccer fun!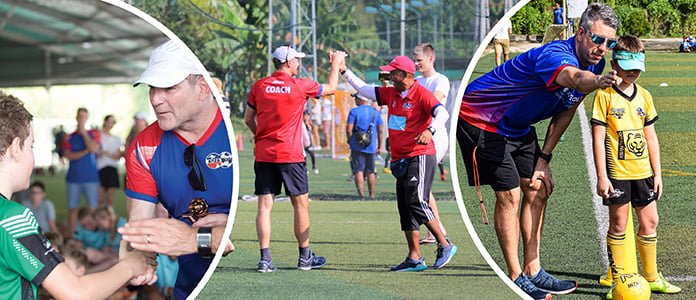 New B18 Young Lions Team
In the 2020–21 season, ANZA Soccer will field a B18 team in the Equatorial Football League. Interested players born in 2002 and 2003 (or earlier), including those who have aged out of other soccer organisations, are welcome to join. We look forward to seeing our senior players take on new challenges, while continuing to play competitive soccer with their mates!
Joining a Community
To be part of the ANZA Soccer programme, your family must also join the vibrant community of the Australian and New Zealand Association. Membership in ANZA is open to families of all backgrounds, and has many benefits beyond youth soccer. By joining ANZA, you have access to all its activities, including social events, talks and tours, interest groups, adult and kids' sporting groups, and volunteer and career-building opportunities. Since 1948, ANZA has provided expatriates from around the world, as well as Singaporeans, myriad ways to come together, make new friends, learn new things, relax, stay fit, and give back to the community.
Fees
ANZA Soccer offers the lowest fees across youth soccer academies in Singapore.
Saturday Club fees: S$650—full season including 1x weekly age-group training, Saturday Club League games, and kit
Sunday Competition fees: S$555—full season including 1x weekly comp training, Sunday Competition League games, and kit
ANZA Family Membership: S$185 per year
Families must hold ANZA membership throughout the season to participate.
ANZA membership is open to all nationalities.
Refunds
We understand there is much uncertainty at this time, but in order for us to plan our programme, allocate resources accordingly, and be able to hit the ground running at the start of the season, we have decided to open registrations on the same time frame as usual. We will process full refunds of soccer fees for families who leave Singapore before the season starts. Furthermore, if the season cannot take place as scheduled or is disrupted to the extent that we cannot offer our programme as planned due to COVID-19, then refunds will be processed accordingly.
Please note that the ANZA membership fee is not refundable.
Thank you to our Sponsors