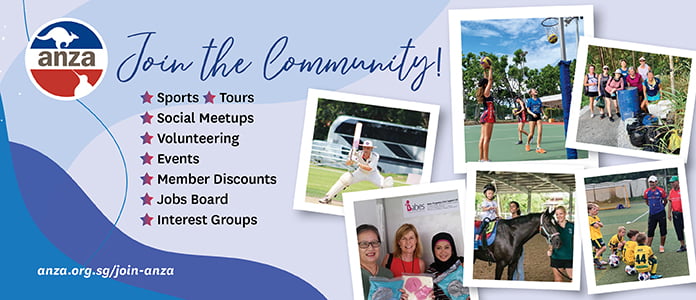 Founded in 1948, ANZA has a long history of welcoming newcomers to Singapore. Over more than 72 years, ANZA has grown to become a vibrant and diverse sports, social and networking community. Our 7000+ members are from a wide range of nationalities – everyone is welcome!
Our affordable annual membership is priced at $200 per family – this provides access to a range of well-priced sports programmes for kids and adults, fun events, interest groups, volunteering and networking opportunities, a jobs board, special member offers on dining, travel and service, local tips and advice…and most importantly, lots of new friends!
Our members value ANZA's strong sense of community and connection, especially if they're far from home and loved ones.
Benefits of an ANZA Membership:
New to Singapore? You'll need a support network. Our subgroups are a fantastic way to socialise and meet more seasoned expats and locals. Check in with our Book Club, learn Mahjong, Click with our Photography group, have lunch with Secret Men's Business, or check in for a Casual Coffee. We offer many low-key options for meeting new people and learning your way around Singapore. We even have a dedicated What's Ap group where you can ask questions and get tons of tips and local know-how.
Been here a while? We get it, Singapore is a high turnover city, and friends come and go. ANZA provides opportunities to reconnect, look for work, discover the local community, and build new networks.
Love sports? ANZA offers a range of affordable, fun, and well-organised sports groups – including Soccer, Cycling, Netball, Athletics, Cricket, AFL, Nippers, and smaller groups like tennis, golf, walking and running. Prefer the sidelines? Sign up for coaching and volunteering opportunities. We're all about having a go!
On the social side we usually hold 50+ events per year – including our glamourous ANZA fundraisers, the Black Tie Ball and signature ANZA Melbourne Cup Race Day. We also host New Members Drinks, Ladies Nights, charity events, and networking meetups.
Explore Singapore with ANZA Tours. Make the most of your time here by discovering the island's rich heritage and culture. Our tours are off the beaten track and led by Singapore's best tour guides.
Giving back is important to us. ANZA Action, the charity arm of ANZA, supports more than nine charities and they're always looking for volunteers.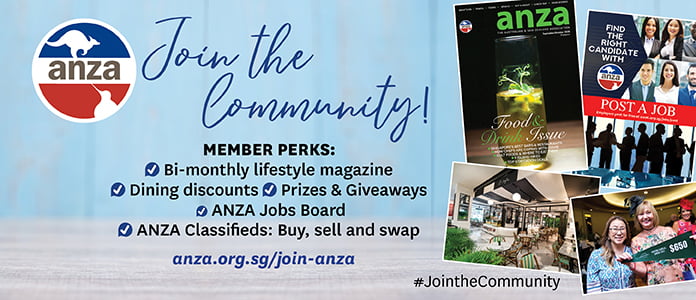 Members Resources: 
ANZA Magazine – all our members get a treat in their mailbox every two months, with our glossy lifestyle magazine. Every issue is full of great tips for living your best Singapore life!
EDM: Subscribe here for a weekly wrap up of ANZA news, member offers, and more.
ANZA Jobs Board: Find your next job here
ANZA Classifieds: Buy, sell and swap
 What Our Members Say: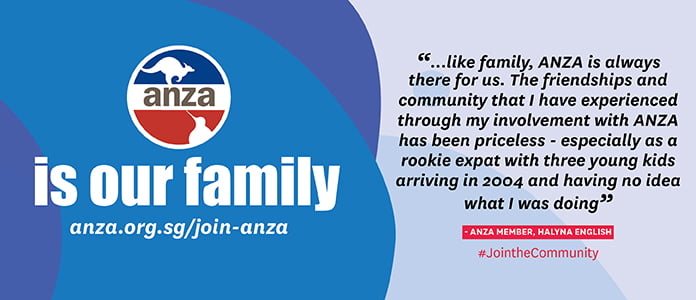 "I want to take this opportunity to thank you and the whole ANZA team for the incredible work you have done over the past few months. I am deeply grateful for the time, efforts and emotional energy you have invested into taking care of our community. Thank you. Well done. You are all amazing." – Kim Forrester
"We have thoroughly enjoyed our experience with ANZA and cannot speak highly enough of the community you have created. We will happily recommend ANZA as a "MUST" for any new arrivals to Singapore. – Gaby and Steve Riddington
"The ANZA community in Singapore has formed a bedrock for my friendships here." – Janice Burns
Membership is open to all nationalities, not just Australians and New Zealanders.
ANZA membership is a non-refundable and non-transferable.
When you sign up to become a member of ANZA, your membership will automatically renew at the end of your 12-month membership period.  (Please refer to the Terms & Conditions for further details)