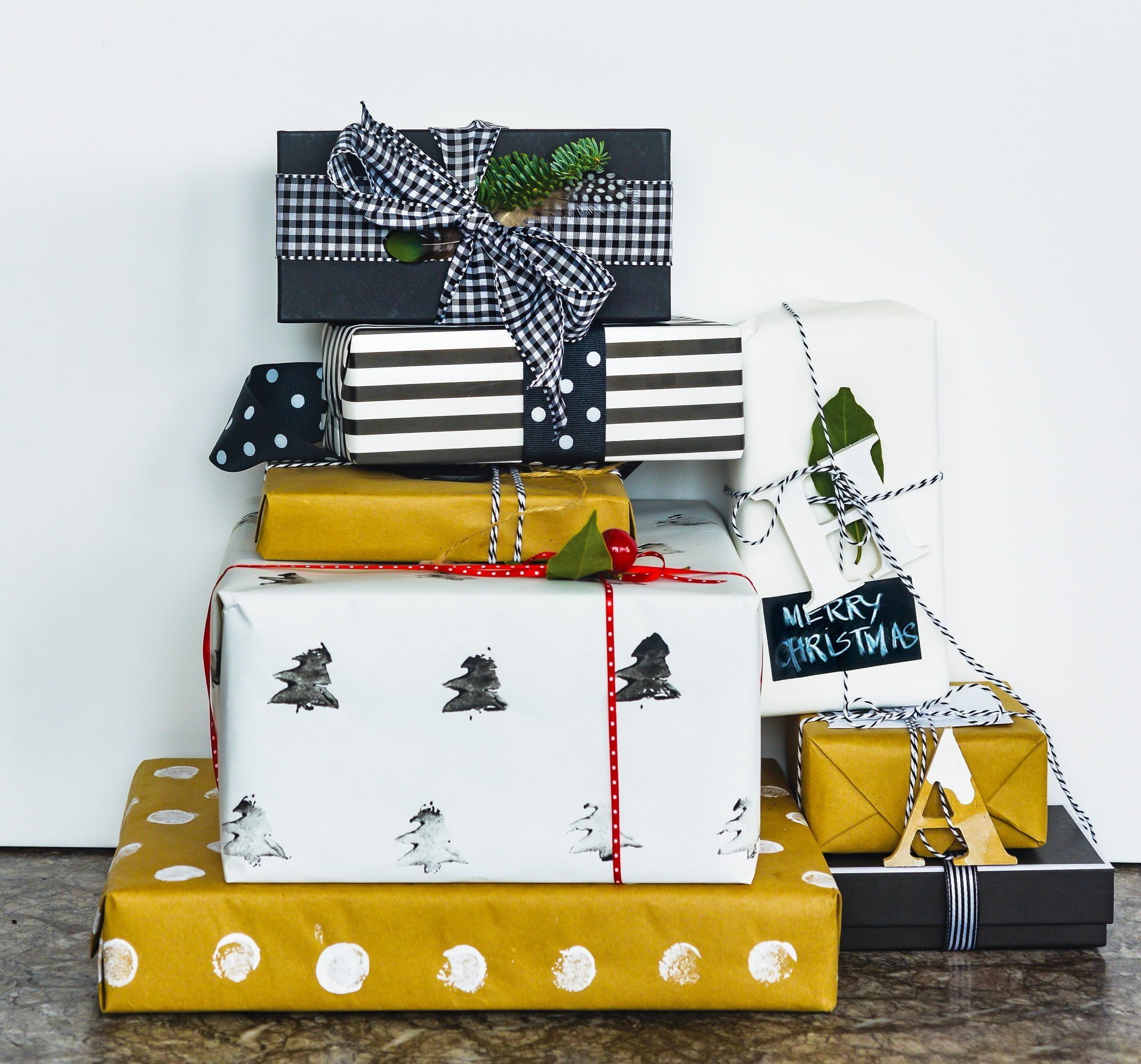 Styling: Juliet Harper

 

|

 

Photography: Raf Dalmau
There are two kinds of people in this world. Those that leave their Christmas wrapping until the very last minute when the Sellotape has long run out and the only papery items in your house are pages from the weekend newspaper; and those who are wrapped and ready to roll somewhere around the end of November (after popping their last batch of homemade mince pies into the freezer).
No matter what category you fall into, nothing says love at Christmas more than a carefully concealed gift that's been tailored to suit you and wrapped with attention and creativity (and perhaps a few droplets of sherry). But going the extra mile with the look of your presents doesn't need to mean lots of time, big expense, and an online night course in crafting. 
"Wrapping gifts with neat folds, crisp edges and carefully tied bows indicates that you've put in effort and value the person you're giving it to," says stylist Juliet Harper. "It also hides the surprise within the package." 
Indeed, studies published in Science Daily found that presents "which are nicely wrapped suggest that the gift giver views the relationship as important, and this positivity increases the chances that the recipient will like what's inside."
"Be careful though," warns Juliet, "as it can also raise expectations. It's important to place just as much focus and thought on the the gift inside as well!"
To get the balance right, we recommend imagination, a healthy drawer of bits 'n' bobs (we all have one!), and some good old slices of potato.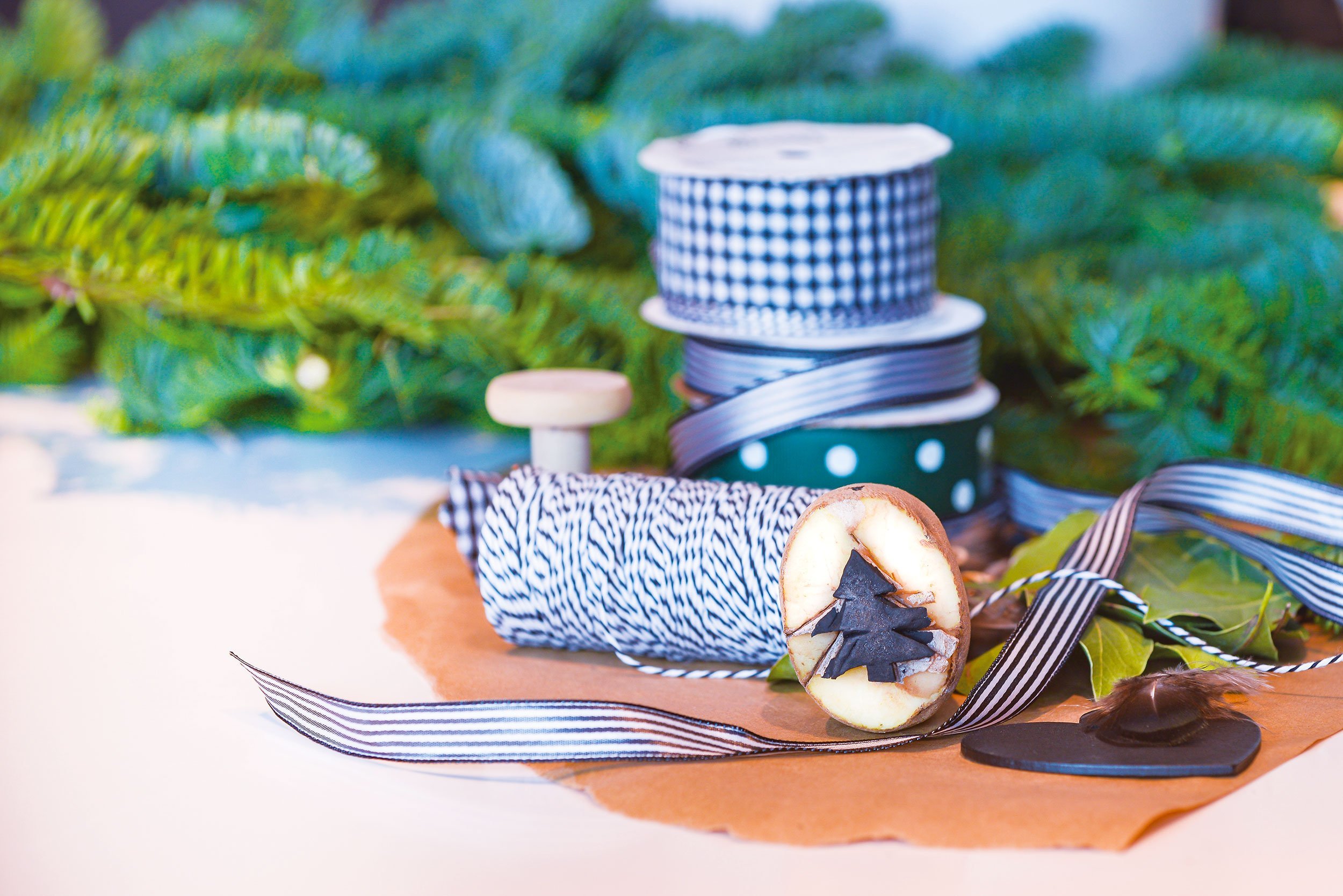 Juliet's genius wrapping ideas

Make the outside as meaningful as the inside
So many things we buy come in little boxes; candles, watches, secret Lazada purchases, so keep these to wrap your presents. It saves on using extra paper which is both expensive and detrimental to the environment. Complete the look with a neat bow and small accessory 

Expensive ribbon is not always needed as natural unbleached twine looks great when tied with the likes of a few crayons for young kids, or wooden letters of their name to colour

Cookie cutters in the theme of the season make an attractive tag, or slices of dried fruit look stunning. Old socks can be transformed into decorations, and an unravelled woolly can be made into pompoms

A little pop of greenery is always a good idea in a home and the same applies to gifts. At Christmas, a little sprig of pine, mistletoe or thistle will give a present a botanical lift. Twigs and dried berries, or even little birds' feathers can be used. Add a small, tied bunch of fresh herbs or a bouquet garni to a bottle of wine with a standout ribbon as a gift when invited to a celebration dinner

 

Of course, not every gift we give to children needs to be wrapped with chic flourishes. Wrap a few in plain paper, then tie them altogether with one bow beautifully tied at the top

Gift bags can be purchased in all sizes and they save on time and Sellotape. Keep bags once opened so you can reuse them later

Reusing wrapping paper is sensible and sustainable. Start by buying unbleached recycled paper to create D.I.Y designs with potato prints and cookie cutters (remember to teach recipients how to unwrap gently!). Ribbon can be pricey, so always keep some from presents given to you. Combining colours, patterns and widths instantly makes the gift more personalised

Present & Correct
A step-by-step guide to adding personality to your package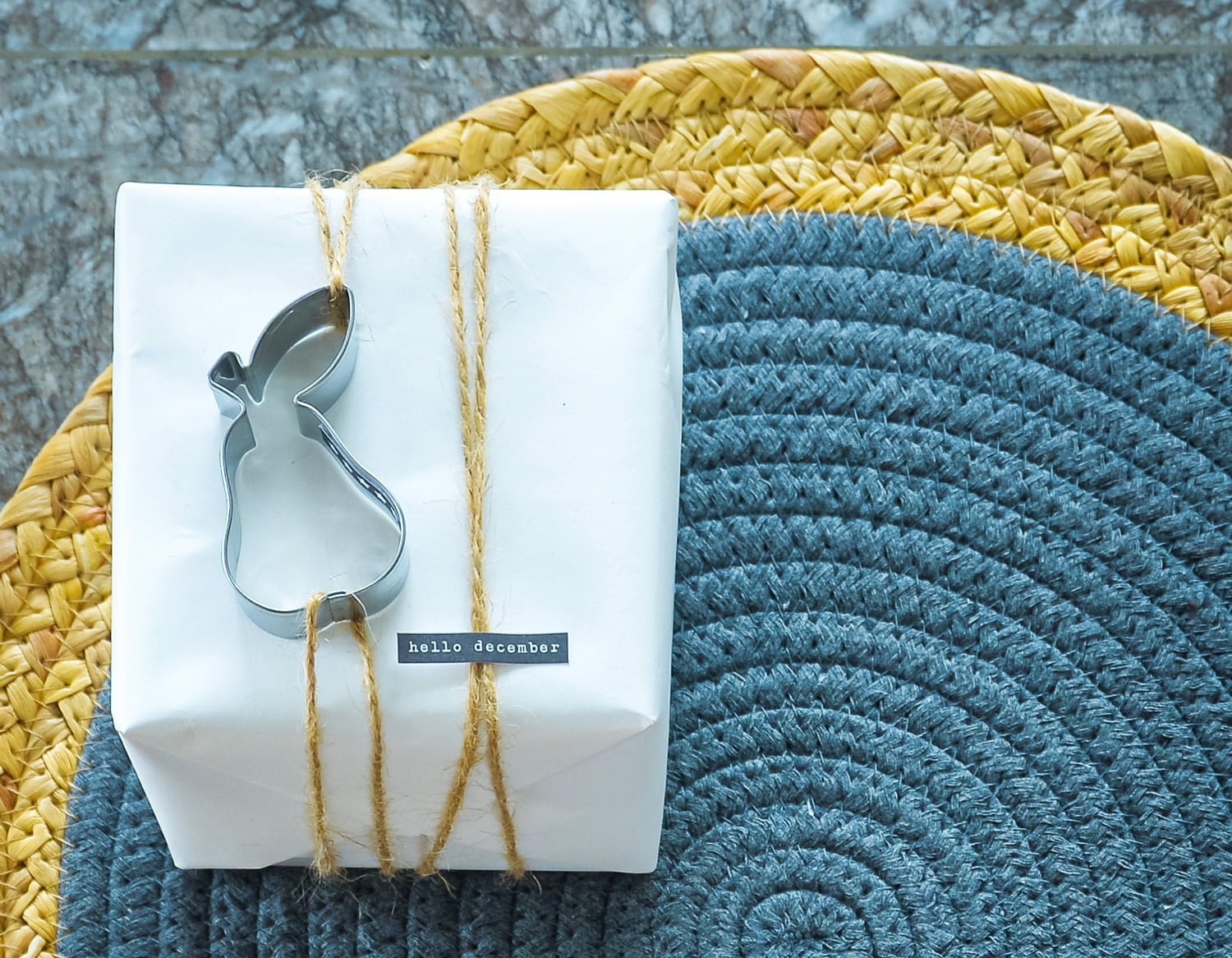 Cookie cutter style
Small cookie cutters/silver bells

Twine 

Brown paper

Craft Christmas stickers
Take very long pieces of twine about six times the length of your gift. Hook the twine on one end of the cookie cutter then keep wrapping it around the gift until you can hook the other side of the cookie cutter and tie the twine together at the back. Space out the twine so it's spread over the gift. Add a festive message in the corner by handwriting or using craft stickers.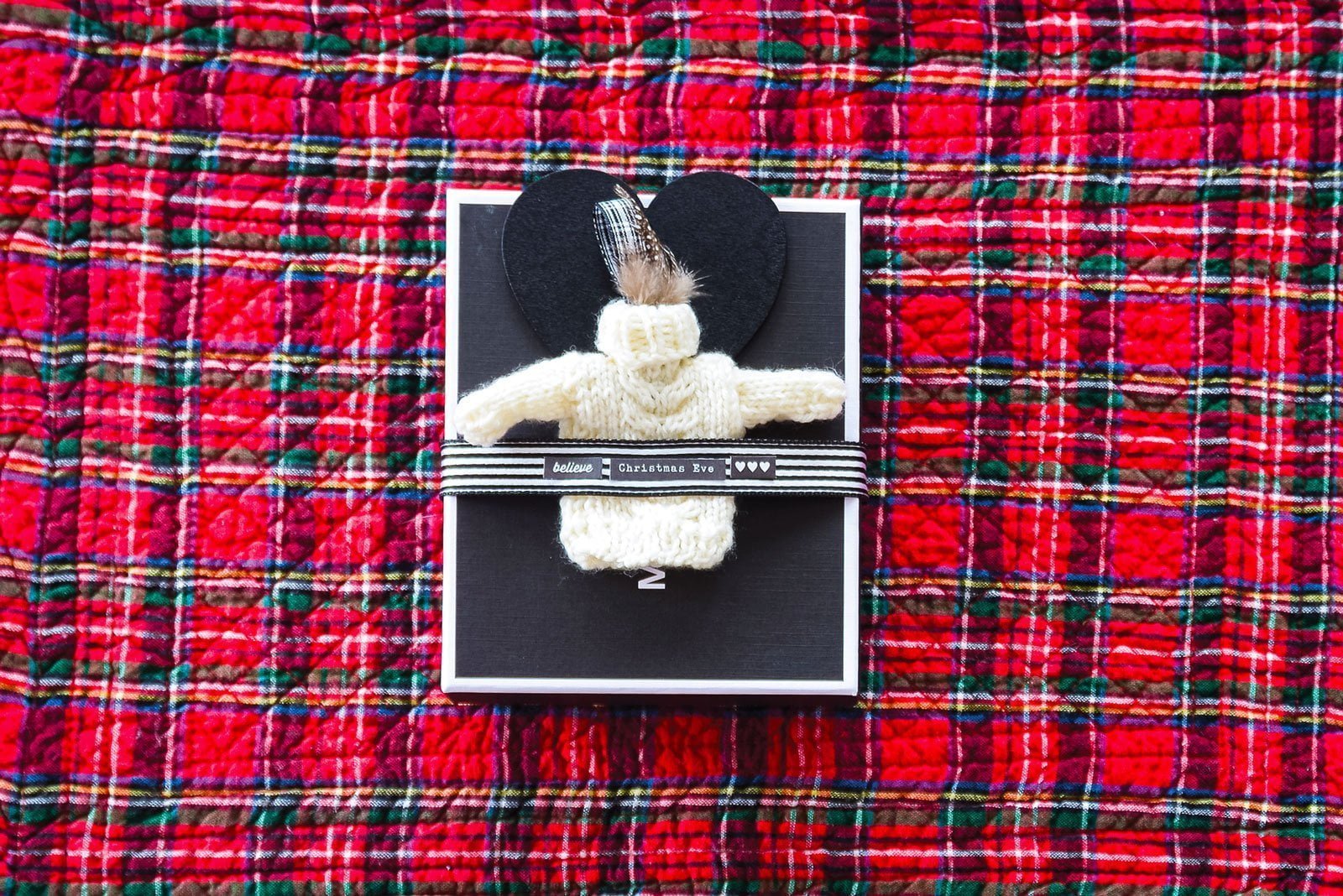 Knit one
Small box

Scrap of striped ribbon

Christmas jumper decoration

Craft Christmas stickers
Start by making a small decoration out of old socks, a paper cut-out, or if you have the skills, knit a little jumper as shown above (by ANZA member Janice Burns). Once the gift is wrapped, tie the decoration onto the front of the box with ribbon long enough to touch at the back. Fasten with tape. On the ribbon, place a few Christmas words or write a note using a fabric marker.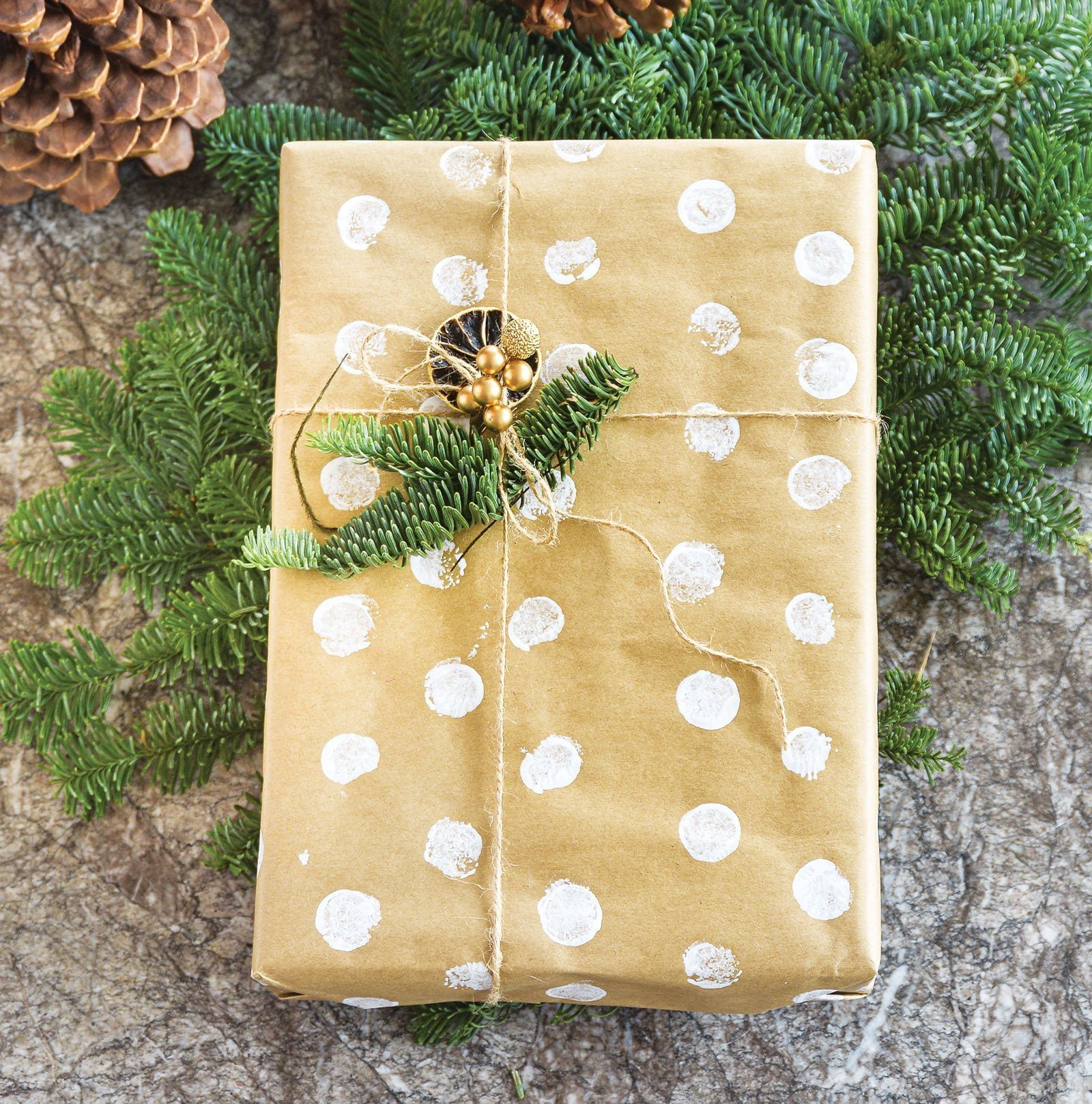 Spot the difference
Brown paper

Kitchen twine

Wine cork

White acrylic paint

Dried orange slice

Pine leaf
Take the end of a wine cork and dip it gently into white acrylic paint. Starting in one corner, make even dots on a large sheet of paper. Continue dotting in a neat row across the paper. Once dry, wrap the gift twice with twine and decorate.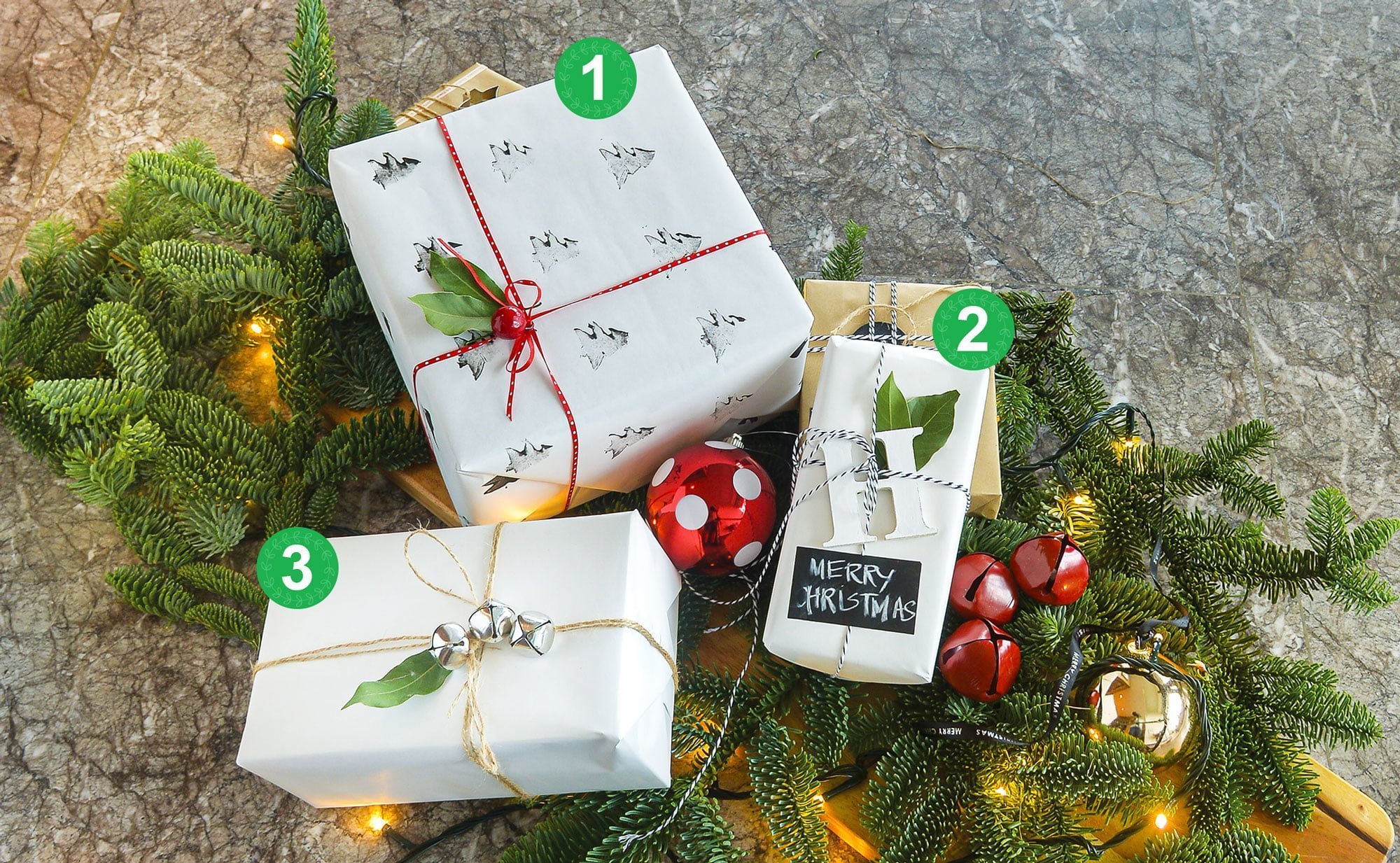 1. Pretty potato
White wrapping paper

Potato 

Black acrylic paint 

Black and white twine

Red cherry 

Thin red ribbon
Cut one potato cut in half. Draw a tree shape on the sliced end then cut around it, about 5mm down, with a sharp paring knife. Alternatively, take a slice of potato and cut right though it with a cookie cutter. Use a paper towel or old rag to absorb any excess moisture. Apply a thin layer of paint and stamp on the paper (try doing this on plain ribbon too). Once the gift is wrapped, tie with a simple bow or red ribbon for a colour pop and add some artificial cherries for a festive flourish.
TIP! Cut the potato in an egg shape and paint it black. Let it dry, then add a white spot on the bottom, an orange beak, white feet and eyes and you have a little penguin!
2. To the letter
White wrapping paper

Small envelope (optional)

Wooden letters

Black and white craft twine

Sage leaves

White acrylic paint
Wrap the gift in simple plain white paper. Take a small wooden letter and paint part or all of it white, red, or green. A snow effect was added to the letter H, but using your finger to make little dots of snow is also effective. Once dry, tie the letter to the gift with black and white craft twine and set off with a sprinkling of foliage, a sticker, or a note in a small envelope. The letters can be used as tree decorations later.
3. Jingle bell rock 
Three silver bells

Twine 

White paper

Christmas foliage
Wrap your gift and tie with twine of double thickness. Fasten together with three festive bells and add a pop of colour with sage leaves.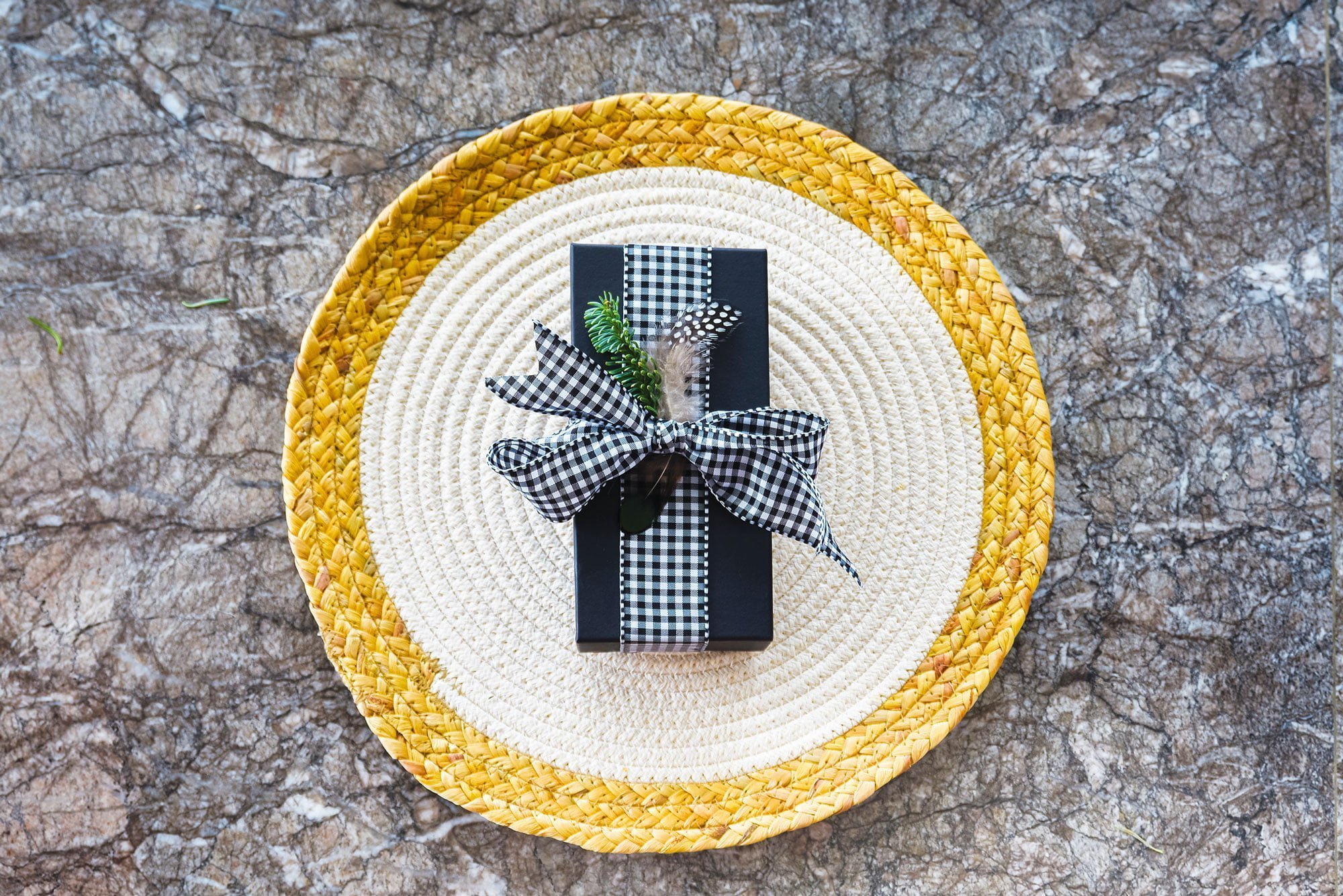 Black magic
Old glasses case or small black boxes

Recycled paper in a contrasting pattern

Assorted wide ribbon in black and white stripe or plaid

Foliage or feathers

Sprigs of pine or rosemary
Use a small recycled black box to wrap your gift. If it has branding on it, use blackboard stickers to cover the writing, or blacken it out with a Sharpie and cover the box in wrapping paper. Use a wide ribbon to tie the gift with a large bow – the aim is for most of the box to be covered in the tie. Adorn with colourful feathers, foliage, or even slide in a cinnamon stick.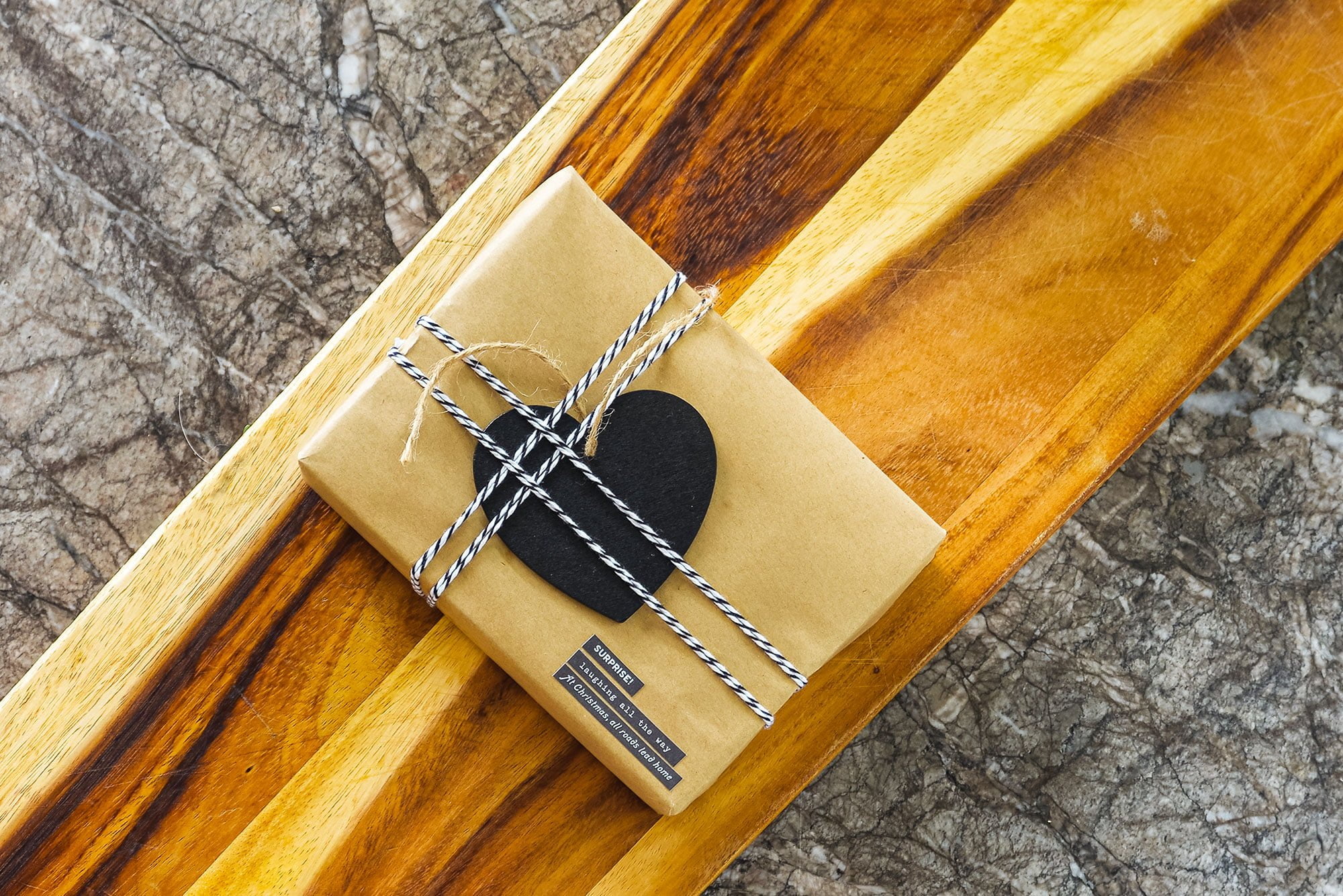 From the heart
Brown paper

Chalkboard gift tags

Black and white craft twine

Craft Christmas stickers 
Using black and white craft twine, wrap the gift from top to bottom and left to right and repeat. Tie at the back and evenly space out the twine so it appears in a neat grid pattern. Tuck the chalk gift tag in behind. Add some Christmas wording using craft stickers or write a note in chalk on the tag. 
Where to find decorative bits
Our favourite SG shops for crafting and creativity
TIP! Always have a roll of plain paper at home, particularly in natural and white along with a good selection of colourful ribbons. Plain gift tags are also essential. Consider getting a personalised family stamp to put your own touch on your gifts. Brands like axogram.sg and parademade.com have cute ideas
Juliet Harper is the owner of The Style Affair, offering interior design and styling services on the-styleaffair.com