Firangi Superstar
20 Craig Rd, #01-03, 089692
firangisuperstar.com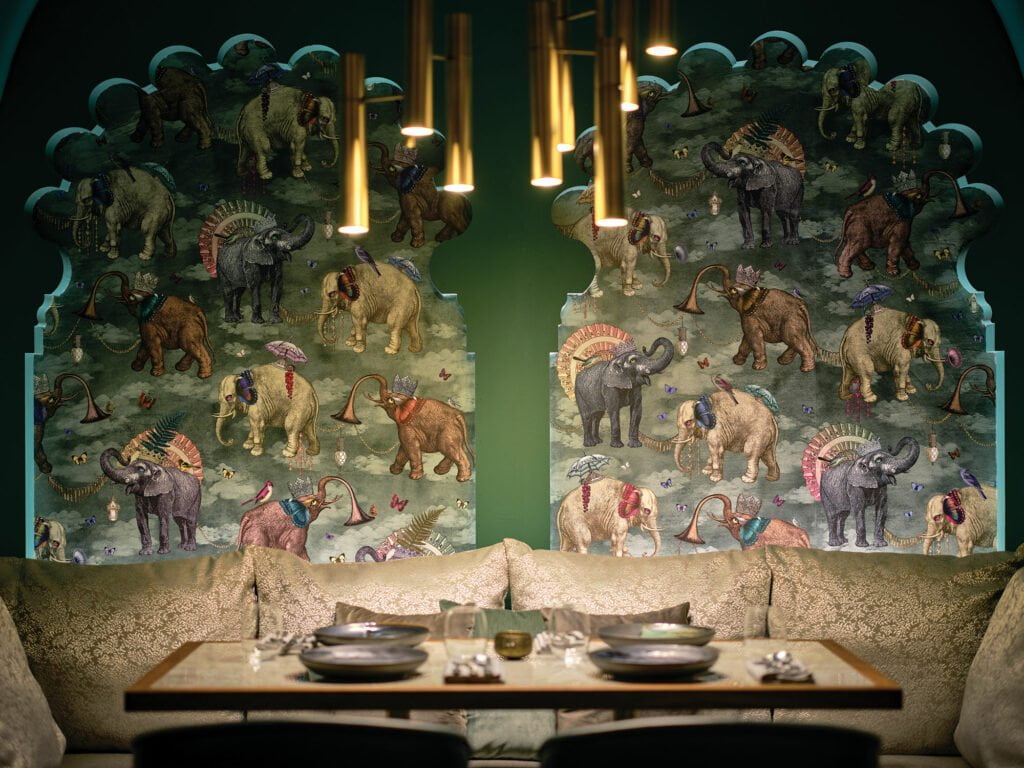 At Firangi Superstar, you're transported into another land. Namely 1940s Calcutta, which doubles up as this flamboyant restaurant's entry point and the start of your journey, both physically and gastronomically. Am I actually in West Bengal or just down from the carpark on Craig Road? Things get fuzzy fast. 
Firangi opened just over a year ago describing itself as "a foreigner's love letter to India". Launched by The Dandy Collection (Neon Pigeon, Fat Prince), it had big boots to fill and no problems in doing so. It swiftly gained a reputation as one of the swishiest places to find fresh and innovative Indian cuisine and tables are never easy to come by – not bad for a pandemic baby. 
With everything going so well, we could have forgiven Firangi for simply continuing on. However, aware of the ever-changing tastes of punters and the plight of the planet, they've launched a range of plant-based dishes on a "Veg Or No (V)eg" menu which pay homage to their most popular meaty offerings. 
Instead of presenting food made with well-known meat alternatives, the chefs here use only fresh vegetables and talent to create delicious doppelgangers that replicate the original flavour profiles and spices. "We conceived "Veg Or No (V)eg" to be a menu as flexible as a yogi," explains head chef Raj Kumar. "We use as much local produce as possible, no MSG, and there is something for everyone. You will have to try it to truly understand the depth of the versatility of this menu!"
We're presented with the original and new planty equivalent placed side by side. This provoked much oohing and ahhing from us over the elegant presentation and attention to detail: a purple flower petal here, a drizzle of Chermoula there – and yes that is a Parle-G biscuit attached to my Chai Masala Milk Punch. It's all par for the course in this Wes Anderson setting.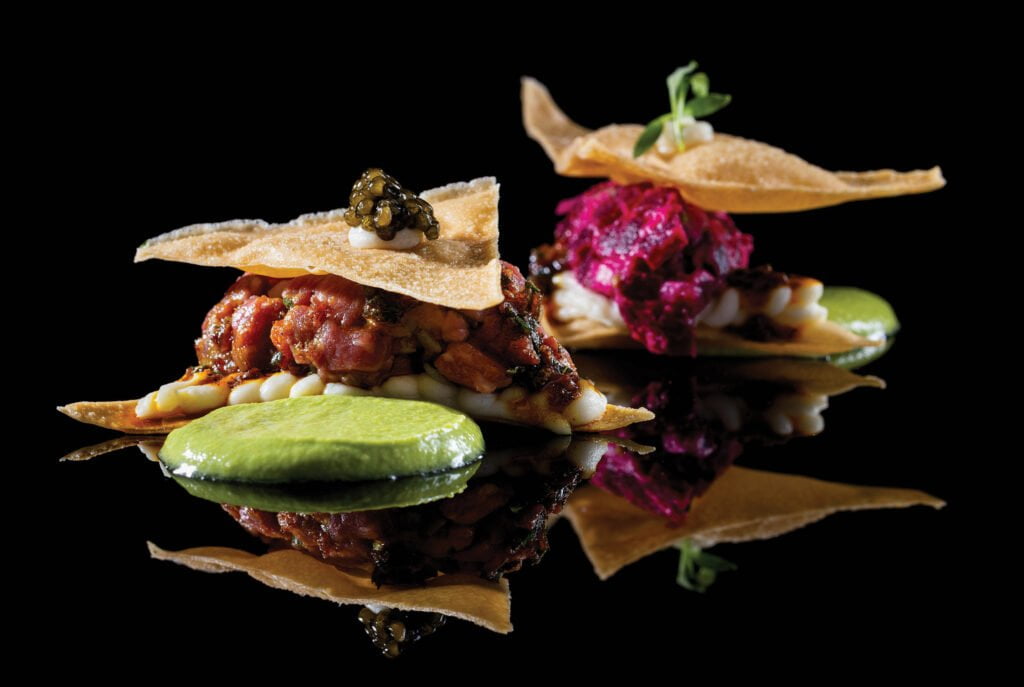 We start with homemade flatbreads and a medley of chutney comprising Smoky Tomato, Coriander Mint and Roasted Almond. For an extra dipping option, the Sacred Earth Samosa joined the party. The meat version is a tangy wagyu beef tartare with citrus pickle and caviar; the herbivore alternative packs beetroot tartare, citrus pickle and caviar. Remarkably, both dishes taste similar with the beetroot maintaining the same texture, consistancy and taste profile of the beef. 
We didn't believe that plant-based Holy Cow could be as impressive, but boy, were we wrong. Crispy beef tongue mixed with a beef masala and pickled shallots served in a bone marrow had the plant-based option of snake gourd-potato masala mixed with crispy potatoes and pickled shallots hot on its heels. The bed of accompanying naan chips were beyond addictive.
Next up was the plant-based version of Grogu's Roast, a roasted cauliflower with a Mangalorean spice mix and ghee. Firm, hearty and satisfying with a chilli kick, it fully stood up to its carnivorous counterpart of tender and nutty Iberico pork. In fact, the two were a match made in heaven. Backing up ANZA's strong belief that Brussels Sprouts should not just be for Christmas were the Tawa Fried Brussels Sprouts with Garam Masala (S$16), which were delicately spicy and full of bite.
As a special treat, Raj treated us to Back In The Saddle, a Tandoori Spiced Lamb, Confit Garlic and Curry Leaf. The melt-in-the-mouth Australian lamb comes smothered in tandoori spices and a moreish confit garlic sauce.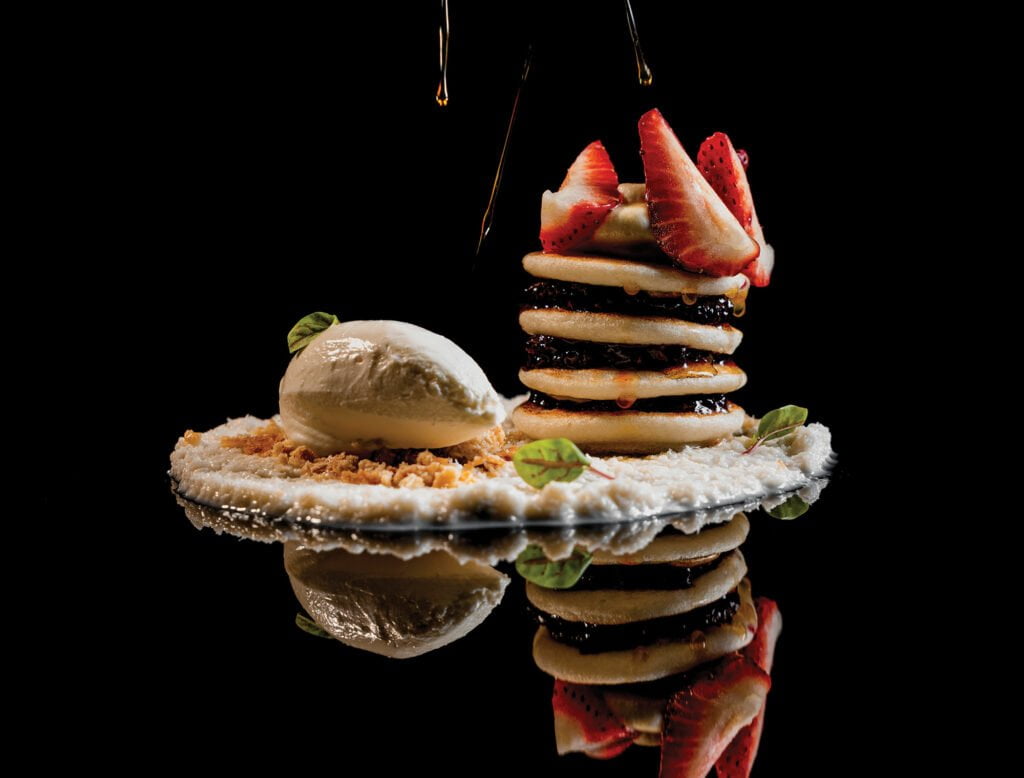 Dessert is Dosa Pancakes layered with a delicate wild berry compote and light coconut chutney, served with coconut cream. Jaggery syrup creates a quintessential kick of Indian sweetness that ends our meal and escape to India on the ultimate  high.
VERDICT: Dining at Firangi Superstar can be all your plant-based dreams come true or a carnivore's haven. The effort, creativity and attention to detail that goes into every dish to deliver innovative, tasty and decidedly different gastronomy is second to none. Go for a night to remember.