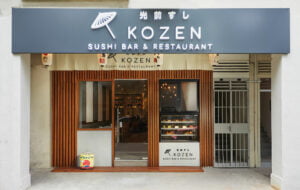 Jalan Besar had for many years been the hub for motorcycle shops and hardware stores. But in a post-Covid era, this area nestled between Little India and Rochor River has undergone a reinvention turning into an ecclectic neighbourhood providing myriad dining experiences. Kozen Sushi Bar & Restaurant recently opened in the up-and coming food enclave of Flanders Square. Yes, the same square from a storied past of vice and sin (what used to be Marne Road) is now an up-and-coming trendy district for delectable cuisine!
Singaporeans love sushi and Kozen Sushi Bar lives up to the high standards set. It serves a delightful medley of nigiri, maki and sashimi platters but adds an interesting twist: creative sushi cakes with the Birthday Sushi Cake being the most popular item on the cake menu. This original creation consists of fresh sashimi layered over sushi rice tossed in tobiko – it will be a refreshing change at any celebration.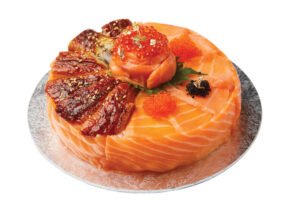 Our culinary journey started with the Kozen Sashimi Set ($50.80) followed by Tobiko Oysters (5ps $28.90). Both dishes certainly got our taste buds going. Next came Kozen's specialties: mini sushi cakes that were as tasty as they were stylish. Salmon Birthday Sushi Cake ($27.50), Hotate Birthday Sushi Cake ($34.50), Premium Ikura Birthday Sushi Cake ($44.50), Unagi Salmon Birthday Sushi Cake ($34.50) and the Unagi Hotate Birthday Sushi Cake ($39.50) can feed four people and make a quirky cake alternative for special occassions.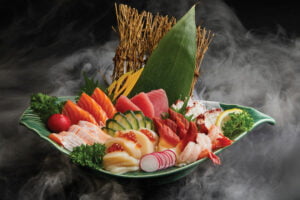 After a much-needed pause the Kozen Sushi Set ($37.90) arrived – a delish set served in a cool wooden staircase-like dish.
In addition to the sushi cakes, Kozen's creativity extends to its scrumptious sushi rolls and they were beyond our expectations. Our selection included the Kozen Foie Gras Roll ($30.80), an amazing item of grilled seaweed rice topped with burnt salmon stuffed with avocado eel, topped with foie gras and sprinkled with tempura flakes; the Unagi Avocado Roll ($22.90), and Unagi Teriyaki ($14.90). The last two rolls were decadent and delicious, the Black Truffle Foie Gras Roll ($30.50), a rice roll wrapped in seaweed topped with burnt salmon stuffed with foie gras; and the Unagi Tamagoyaki ($19.90), tasty squares of seaweed rice wrapped with scallops and stuffed with salmon belly, cucumber and ebiko.
As a palate cleanser we tried Salmon Spicy Salad ($13) which in reality should have been a starter, but it worked all the same. It came with slices of fresh salmon tossed in a lemongrass chili dressing which gives the sashimi slices a tangy and punchy flavour. Our final dish was another of Kozen's specialties, the Wagyu Don ($29.90), which you really have to try yourself to discover just how good it is.
VERDICT: A fantastic experience! Kozen Sushi Bar & Restaurant combines classic and modern Japanese food served in an inviting atmosphere. The fact it's in an area filled with local folklore adds another layer of enjoyment to this new gem.
Kozen Sushi Bar
22 Flanders Square, 209306
+65 6816 0253
kozensushi.com