You may call it hocus-pocus, but mystical beliefs are on the rise. Over the past few years, astrologers, reikii healers, mediums, life guides, breathwork facilitators, palmists and annimal communicators have gained huge popularity in Singapore. Admit it: aren't you just a little bit curious? Read on for stories from those with skills in the divine arts.
Mamatha Ramachandra is one of Singapore's most prolific tarot card readers with almost twenty years' experience. Her journey with tarot and development of spritual and mystic powers started when she was a teenager and given lessons by a local Travelling Gypsy. As the first in a three-part special in the run-up to spooky season, we speak to her about her trade.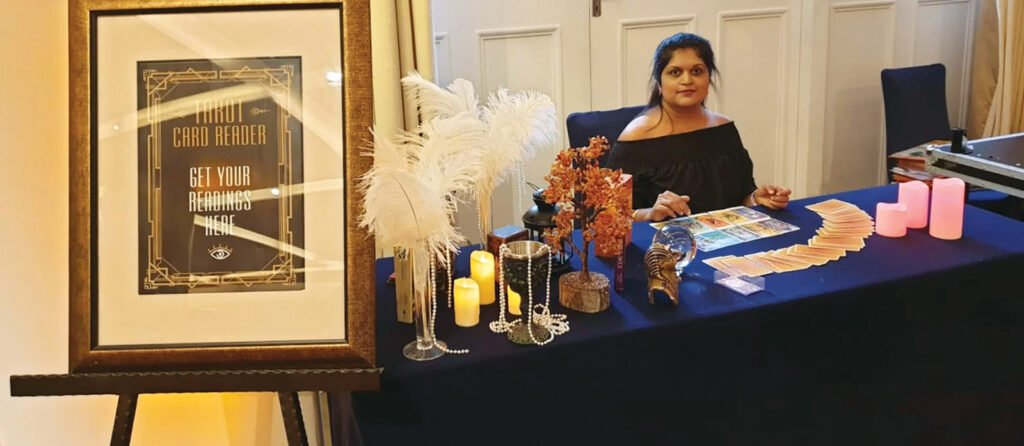 How does tarot work?
A typical reading will involve a deck of tarot cards, a reader and a client. Compared to astrology or numerology, tarot is a very practical driven tool used to provide future direction. Astrology can reveal you'll meet a romantic partner aged 34 for example, but tarot can go much deeper and provide an extra level of information. For this reason I request that my clients ask me specific questions about their future. They must be practical and specific about the information they want. 
Your introduction to tarot is quite a story …
When I was growing up as a teenager in London, we lived in an area where there was a Travelling Gypsy staying nearby. Everyone knew who 'Bellawitch' was, especially as she lived in a bonafide caravan with a black cat and was famous for her tarot readings. One day, I was coming back from school and spotted her cat stuck up a tree. Knowing exactly who it belonged to, I rescued it and returned it to her. Bellawitch was so grateful that she insisted she taught me tarot to say thank you. I had no interest in learning tarot or getting to know her, so I politely declined. 
So, what happened?
Every time I saw Bellawitch she kept insisting I go to her caravan so she could give me lessons. After a few weeks, she kind of wore me down! I didn't understand why she was being so demanding and just wanted to get her off my back, so one evening after school she started to teach me tarot.
Did you tell anyone what you were doing?
I certainly didn't tell my parents! My friends knew and some of them warned me to be careful as tarot felt more fearsome back then. Initially I was very skeptical, but as the months passed I started to enjoy the history and science behind the craft. Bellawitch didn't ever read my cards, but she did keep telling me I was going to be a tarot card reader in the future. I just laughed it off as I wanted to work in advertising! 
When did you do your first Tarot card reading?
When rumours spread around school that I was learning tarot from the 'crazy lady in the caravan' it made me quite popular. I started doing readings for friends, but my first official client was a local woman given to me by Bellawitch about a year and a half after she started teaching me. By that time we'd gone through a lot: she'd given me a combination of card studies and business intel, and the mystic side had got to me. She pushed me to into doing the reading at first, telling me to have faith in myself. After that, I got more and more regular clients (mostly the people she didn't like!) who I'd fit around my studies. I still have some of those early clients today.
Did you then read tarot full-time?
No! I stuck to my dreams and had a great career in advertising working in New York, India and Singapore for many years. I continued tarot readings on the side, but it wasn't until I found myself unemployed 12 years ago that I went full-time. I hired a tiny attic space in a shophouse on Arab Street, added a table and two chairs, and business boomed.
What would you say to those interested in having a Tarot reading?
I say to clients, tarot is not about answers and fortune telling, it's about direction. Approach a session with a clear agenda on what you want to find out. Clients tend to look to me for confirmation, assurance, and sometimes as someone to blame. I do not mince my words in my readings, but I am compassionate with the results that show themselves to me. For some people, no matter what I tell them, they only hear what they want to hear. Oh, and don't ask me questions about your own death – it's my principle not to reveal that to you!
+65 9749 9287