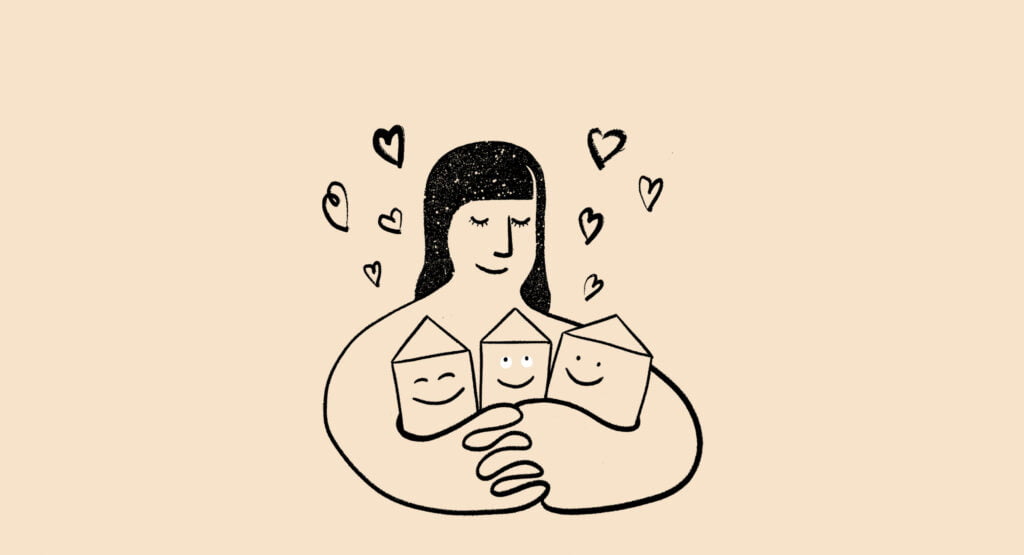 Looking for a new home is no easy feat. From trawling through endless online listings to negotiating and bidding to finally moving in, there's a lot to be done – a process made all the more stressful when you're doing it from overseas. 
The only thing harder than finding a new home? Finding one as an expat living in an entirely different country. 
That's where Milk Chocolate comes in. We work with Aussie expats across the globe, helping them to locate, buy, build and move into their dream Australian home, and making the process smooth and stress-free from start to finish. In fact, 75% of our clients are Australian expats, so we know exactly how to fulfil their unique needs.
Who is Milk Chocolate?
Milk Chocolate is an Australian company that works across all parts of the property lifecycle. We take care of researching, finding, purchasing, managing and building of properties around Oz, and we assist clients from across the country and around the world.
How can they help me find a new home?
Securing homes for Aussie expat families is a core part of our business. We know finding a family home isn't just a straightforward property transaction; it's your new place to live, work and nest. It's a highly emotional purchase, so our team holds your hand every step of the way – from figuring out where to live to finally getting those new keys. 
You also receive the expertise of in-house licensed real estate agents who are masters of negotiation, location selection and asset selection, along with our in-house economists, valuers, designers, builders, property managers and project managers. Plus, our clients get access to a fixed fee structure and more than 20 million data points. That's a super strong team batting on your behalf.
How do the fees work?
We believe in total transparency, so we charge a fixed fee for our services, rather than relying on a commission-based structure. This allows us to remove the unknowns for you and provides certainty of purchasing costs before we've even picked up
the tools.
What if I want to build a home from scratch?
We know construction like the back of our hand and do everything from straightforward cosmetic renovations to complete home builds and even subdivisions. First, we work with you to find the perfect parcel of land in the best location. Then, our design team collaborates closely with you to figure out exactly what kind of home you want. Next, it's build time and your dream home comes to life.
What if I'm not ready to move, but want to invest in Oz property?
While we're pros at purchasing family homes, we're just as experienced when it comes to investment properties. A number of clients choose to buy a property back home, with the intention of returning to Australia after a few years. In this instance, we look for properties that boast investment potential, especially when it comes to delivering a solid rental yield for the period you're away. 
Our construction team can also enhance the property to increase its liveability and value, plus we provide property management services. And if you want to expand your property portfolio further, we'll find you the ideal investment property to suit your budget and financial goals, be they around capital growth or ongoing rental yield. 
What does the process look like?
It depends on your needs. You may have a clear idea of exactly where you want to live and only need help finding a property, or you might be starting entirely from scratch, with the entirety of Australia as your oyster. Generally, though, you can expect the process to look like this:
Onboarding to figure out your precise needs
Suburb due diligence to provide locations and other recommendations
Live tracking so you can stay across our property reviews in real time
Property selection, including identifying the right home and completing multiple pre-purchase inspections
Property recommendations, be they maintenance or design-related
Negotiation and purchase
Exchange to settlement
Pre-settlement inspection
Making the home move-in ready, including utility connection, top-to-toe cleaning and important garden maintenance
Handover, including our Home Handover pack

 
Something we get asked about a lot is how our overseas clients can properly vet each property when they're far away. Well, that's where we shine. While you're welcome to physically attend home inspections here in Australia, it's not essential.Interestingly, only 3% of our purchases have actually been viewed by our clients. The rest? We help them to see options via video call, or we put together a comprehensive virtual inspection pack that provides a thorough look around prospective homes. 
Ready to get started? Reach out to the Milk Chocolate team today at enquiry@milkchoc.com.au