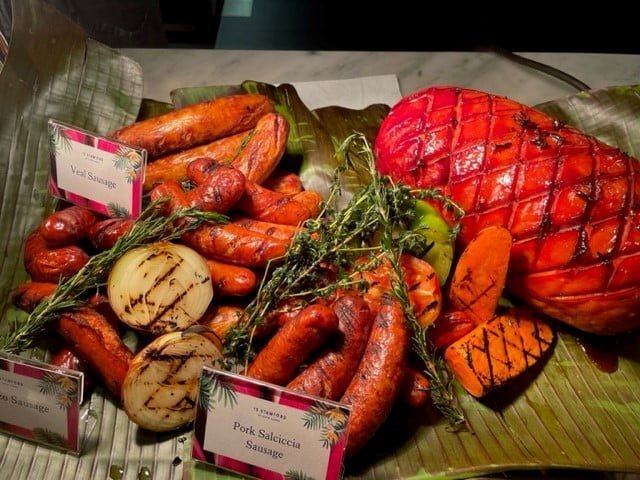 Brunch is perhaps the most decadent meal out there, and with prices for everything on the up and up, getting bang for your buck has never been more important. Singapore knows how to do Good Brunch so with endless options out there it can be difficult to know which one is worth your dollars. After heading to The Capitol Kempinski Hotel Singapore, ANZA can vouch that the new Tropical Sunday Champagne Brunch at 15 Stamford by Alvin Leung offers fabulous food and experience for a price that's well worth it. 
Held every Sunday, the new tropical brunch is one of the largest we've seen in Singapore – so big that it extends to several rooms. Alongside the plethora of food choices there's thematic cocktails and a lovely relaxed atmosphere made even more so thanks to live entertainment. We dined to the tinkly sounds of a live harp which added a very swish and sophisticated feel to the whole shebang. Our first glass of free-flow fizz was poured by our tropical shirt-clad waiter and we were off!
We arrived hungry
Reader, we arrived hungry and our mission was to eat and drink a lot. It was not a difficult task to fulfil. Food was fresh, plentiful and diverse with a variety of live stations to choose from. The Seafood Stations serves the freshest Baby Lobster, Tiger Prawns and Blue Mussels with Seasonal Oysters as the highlight, ready and waiting to be paired with Thai assam vinaigrette, yuzu ponzu, or cilantro and lime emulsion.
The Charcuterie and Cured Fish Station comprises the likes of Beef Bresaola and Jamón Ibérico De Bellota alongside Hot Smoked Salmon and Smoked Haddock. Guests can create their own pasta dish of dreams with a choice of capellini, fettuccine or macaroni in sauces such as aged cheddar cheese sauce, Asian aglio olio or black truffle cream. The Indian Station serves curries and poppadums. 15 Stamford's Signature Laksa takes centre stage in the noodles section.
Hot coal grill
No brunch is complete without a hot coal grill and the Grill Carving and Rotisserie Spit Roast at 15 Stamford by Alvin Leung does not disappoint. Go all out with Wagyu Beef Hanging Tender, Pork Belly Char Siew or Angus Beef Ribeye. There's also spit-roasted Red Snapper, Gammon Ham, and Pasture Fed Lamb Leg. The seafood grill is a smorgasbord of White Clams, Spring Bay Mussels, and Tiger Prawns.
The dessert options are equally as plentiful and enticing. Sweet treats included Yuzu Meringue, Pandan Fudge Cake, Assorted Macarons, and Peranakan Kueh. The Chocolate Fondue was a wonder with roasted almonds, Valrhona chocolate balls, and seasonal fruits for dipping. Got space? Finish off with a rotating selection of five premium seasonal cheeses from Grana to Goat Cheese, presented with crackers, lavash, quince paste, grapes, muscatel and honeycomb.
Needless to say, it's never a good idea to plan anything energetic after a brunch in Singapore and this rule applies to the Tropical Sunday Champagne Brunch. Fit to burst, we headed back home, slipped into our PJs, and spent the remainder of the afternoon feeling grateful for tropical living and everything that comes with it. 
Verdict: Slip into something nice and make the most of this buffet brunch which is well worth the price tag. Dining here feels like a special treat with so much to offer and makes for a tranquil escape in the tropics. Just get your PJs ready and waiting for when you return home…
15 Stamford by Alvin Leung's Tropical Sunday Brunch takes place every Sunday and starts at $188++ with free-flowing cocktails, wines, beer, and Telmont Reservé Brut Champagne Brut; $218++ for Telmont Rosé Champagne; $248++ for a Billecart Rosé; or $268++ for Billecart Blanc de Blancs.
Kempinski Hotel Singapore
15 Stamford Rd
178906