Bushies kick off!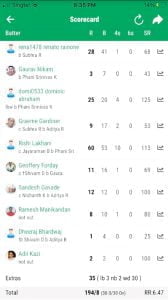 The first game of the ANZA Cricket season took place at the beautiful Dempsey ground with the batsmen of Bushies showing no rust. Rishi Kakhani led the way with a great 60 run and 53 ball innings, supported by Domonic Abhriham (25 off 20) Reanto Rainone (28 off 40) and – of course – 35 extras. The grand total of 194 was a real good one despite no real big hits in the final overs.
As for the bowling …


It started off well. Gaurav Nikam scared them with his pace, but it was Ramesh (Rammy) as captain who came on to pump and capture three quick wickets off his six overs. We were really in the game at the early stages, however, as the sun bore down, the field dried and out came the heavy swingers. While a lot of our shots went to fielders, the Champions Friends squad had the knack for finding gaps and the short side boundaries of Dempsey came into play. A couple of good middle innings stands for the 4th and 5th wicket meant damage was done. All in all, it was a great game with lots of runs, but Bushies fell short in what was an impressive opening for the season.
Commonwealth Capers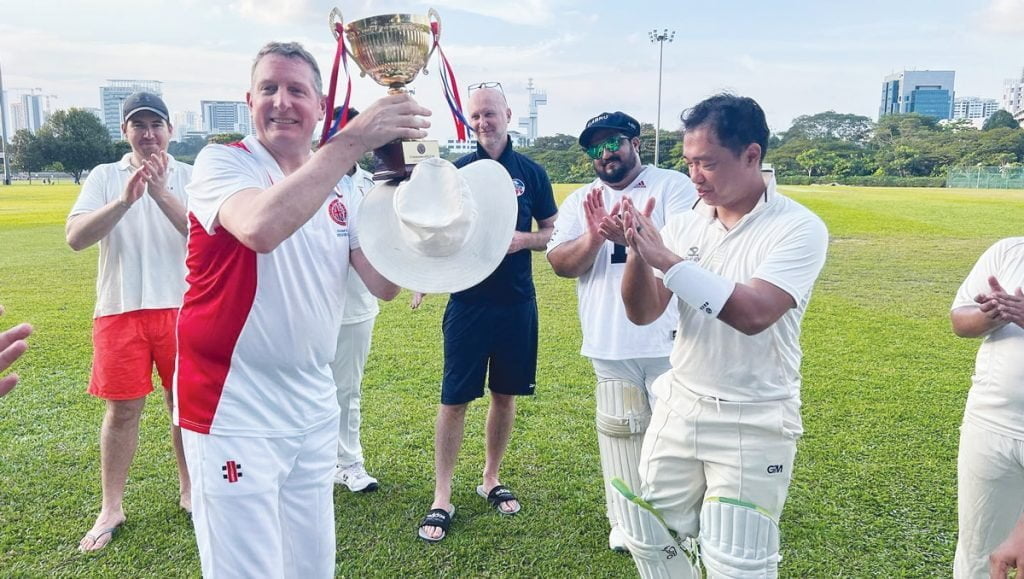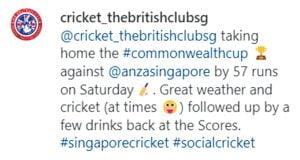 ANZA Cricket took on the British Club for the Commonwealth Cup at NUS ground. It was an enjoyable social game, no better explained than by their tweet to the world (or Twittersphere!). Special thanks to the BC boys who were awesome hosts, and not bad at cricket either! We'll let you hang onto the cup for a while …
Sign up for ANZA Cricket to get in on the action here
Interested in sponsoring ANZA Cricket? Contact Kerry Low, gm@anza.org.sg