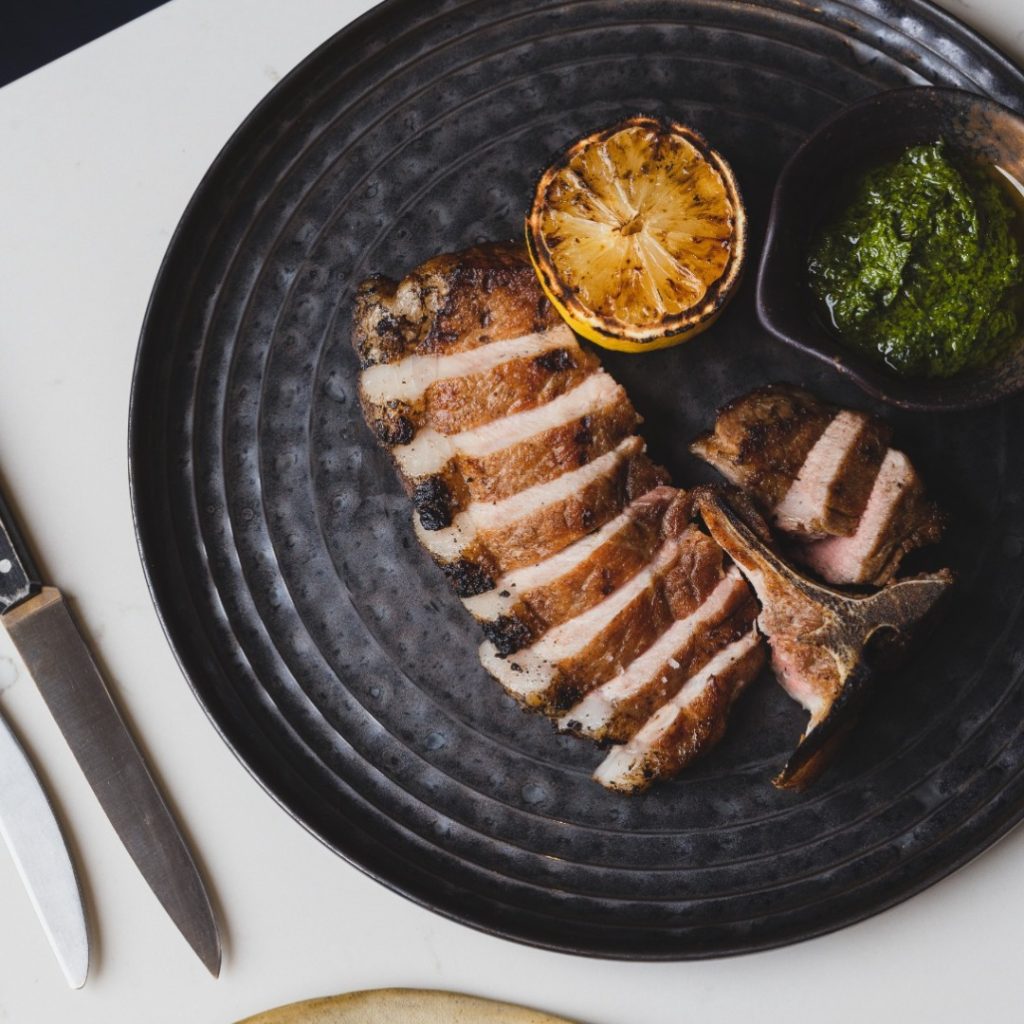 Meadesmoore has made its mark on Singapore's rich steakhouse scene, offering a distinctive concept that celebrates secondary cuts of meat, or what some folks refer to as Butchers' cuts. Located on Boon Tat Street (formerly Fat Belly Social Steakhouse), this sophisticated and inviting establishment is an ideal setting for business meetings, cosy gatherings, and intimate conversations.
Meadesmoore Chef Victor Loy pays homage to the 1900's grand steakhouses, such as Delmonico and Peter Luger's, while showcasing his own unique philosophy. These cuts, appreciated by butchers for their robust flavours, varying levels of fattiness, and consistent quality, take centre stage here. Complementing the meat offerings, diners are treated to an array of delectable updated classic side dishes, perfectly rounding out the flavourful meat cuts. Additionally, a thoughtfully curated seasonal menu showcases limited produce sourced from the chef's trusted network.
Simple sophistication
Our culinary journey began with a couple of appetisers that beautifully showcased Chef Victor's vision of simple sophistication. The Beef & Crab Tartare (S$28) presented a delightful surf and turf concept. Velvety chopped beef tartare crowned with crab salad, enhanced by hints of umami from the colatura di alici (anchovy essence), lemon juice, and sherry jelly. The tartare was elegantly served on a bone marrow base, garnished with ikura and microgreens.
Accompanying the tartare, we enjoyed the Tendon & Escargot (S$24), a delightful marriage of garlicky snails and bone marrow. The escargots were roasted in green garlic butter and combined with slow-braised beef tendon. This tantalising mixture was placed on a toasted buttered brioche, generously spread with horseradish cream. It was a table favourite.
After a brief break, the star of the menu arrived: The Meadesmoore Cut (S$200). This exclusive cut, sourced from 2GR in Australia, is a rare gem that is typically served in shabu shabu style. However, Chef Victor elevates this extraordinary cut, which comes from the area between the ribeye and the chuck, by offering guests three distinct types of marbling and unique flavour profiles.
The Underblade, tender and succulent, provided a delightful combination of sweetness and rich beefy notes reminiscent of a flatiron steak. Next to it, the Ribeye Cap boasted a velvety texture and a luxurious buttery consistency. Finally, the beef loin offered deep, robust beef flavours. Chef Victor's suggested condiments include: Bordelaise ($7), Café de Paris butter ($7), and Fleur de Sel, perfectly enhanced the steaks.
All great steaks need an exceptional supporting cast, and Meadesmoore's choices certainly delivered. We savoured the Black Kumato (S$18), juicy and vibrant black tomatoes marinated in sherry, accompanied by shaved shallots, extra virgin olive oil, and topped with thinly-shaved sweet shallot rings and tarragon leaves. The Butterhead (S$16), as its name suggests, featured butterhead lettuce tossed with herbs, honey lemon vinaigrette, and house-made macadamia tahini, topped with grated roasted macadamia nuts.
Supporting cast
No steak experience would be complete without a serving of Mac & Cheese (S$24). Meadesmoore's version features Grana Padano, bleu, mozzarella, and a seasonal cheese.  This deliciously gooey rendition is mixed into a bechamel and casarecce pasta, the shape of this pasta has a middle groove perfect for catching extra amounts sauce. This dish is then put under the broiler and finished with a shower of fresh shaved truffle. Needless to say, the table fought for the last two pieces of pasta.
To conclude, we indulged in a sweet finale suggested by Chef Victor himself: the S'mores ($20) and the Popcorn (S$16). Meadesmoore's rendition of the American camping classic, S'mores, showcased a delightful combination of flavors. It featured a chocolate sea salt cookie sandwich filled with a tantalizing sour berries compote and refreshing coconut sorbet, all enveloped in a luscious marshmallow mousse. As a theatrical touch, a shot of vodka was flambeed tableside and poured over the dessert, adding a dramatic element to the presentation.
The Popcorn dessert offered a playful twist on the classic caramel version. It included house-made corn curd and summer strawberry ice cream, topped with a delectable sea salt caramel sauce. The dessert was further enhanced with a generous sprinkling of sea salt caramel popcorn kernels, adding a delightful crunch to every bite.
VERDICT: In the vast Singapore steakhouse scene, Meadesmoore carves a unique place in the landscape featuring different cuts that are not usually found and without compromising flavours and quality. Chef Victor's creations do not drift far away from the classics, but rather are evolutionary and designed to satisfy our carnivore-gastronomical desires. And please, do not miss the Mac & Cheese and the S'moores.
21A Boon Tat St
Level 2
Singapore 069620