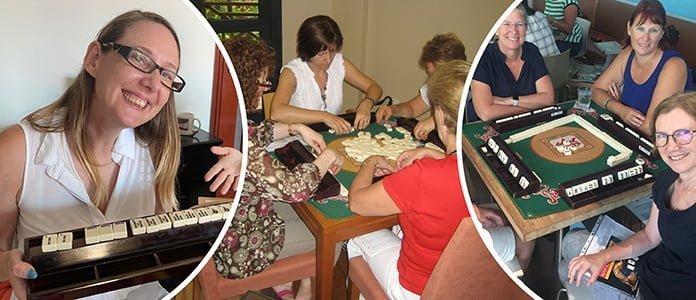 The popular group meets up each week to play Mahjong, a tile-based game that was developed in China during the Qing dynasty. Commonly played by four players, it's fast paced, social and great fun.
"We take beginners through to experienced players," says organiser Sue Chamberlain. "You might join to learn Mahjong, but it's also a good way to meet a great group of people." New to the game? Someone will sit with you and teach you the basics. It's fairly easy to pick up the rules and is very addictive once you get the hang of it! "Mahjong is a challenge to the brain," says Sue. "And you get to enjoy a traditional part of Asia that you can take home with you."
These are various sessions and ANZA Mahjong also offers a Monday evening session in the ANZA Office on Beach Road.
Registration to ANZA Mahjong is only available to ANZA members. Click here to Join ANZA! or contact the ANZA office for more information.
To join the Mahjong group register below and you will receive a link to join the WhatsApp group so we can keep you up-to-date on our regular Mahjong sessions.