Our soccer players may start out kicking a ball about on Singapore's pitches in Bukit Timah, but the best get to take their game global. Indeed, recent times have seen some of our young group members not only called up to join the Football Association of Singapore (FAS), but they've also been recipients of Singapore Olympic Foundation's prestigious SOF-Peter Lim Scholarship. Whether they're still part of ANZA Soccer today or are ex-members who've gone on to join international soccer teams, our rising stars of the field show us how passion, determination, fancy footwork and a full understanding of the offside rule can lead to reaching your goals – literally! 
"An excellent player, Laken would knit the team together with his passes to the strikers"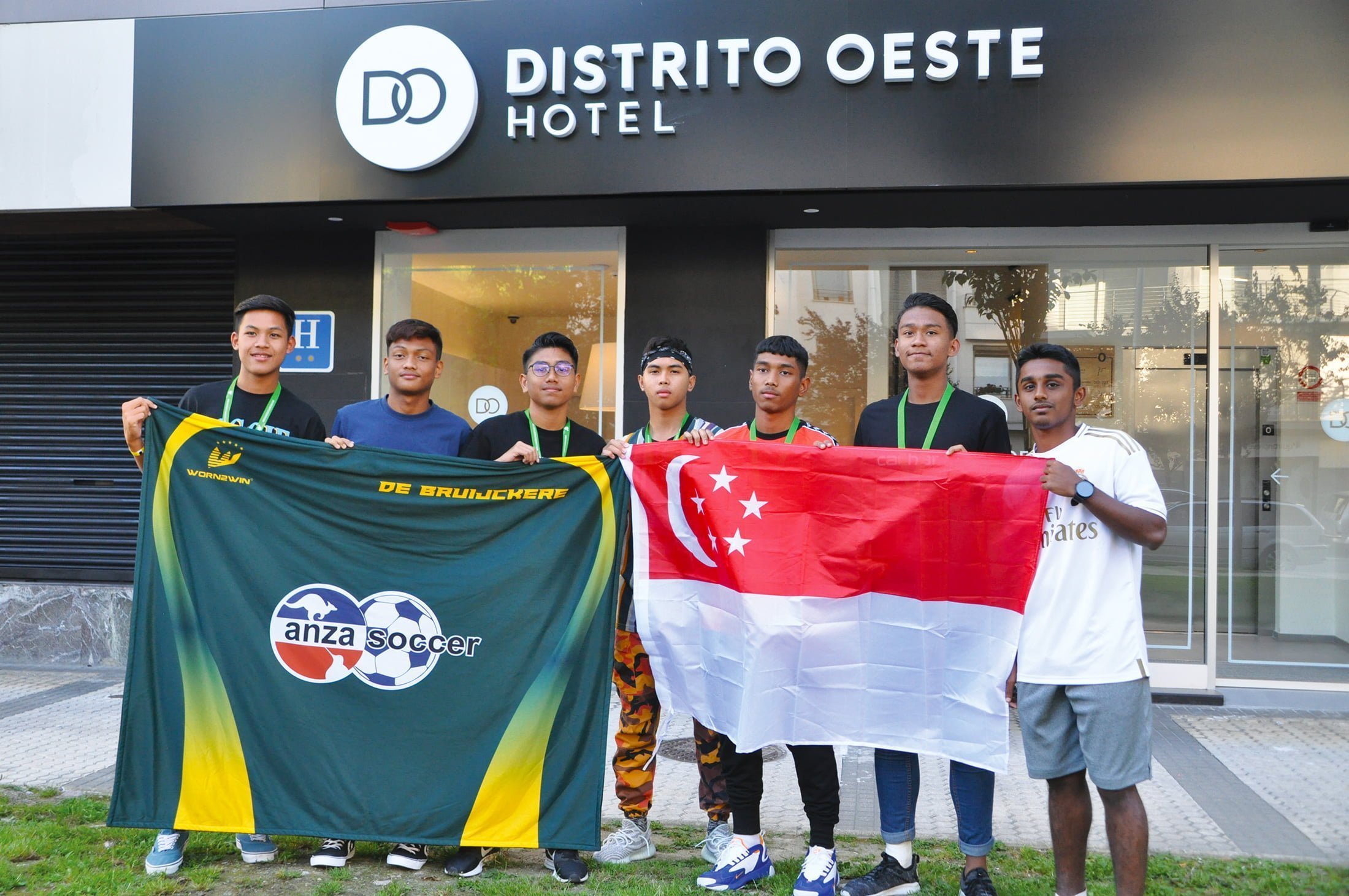 Laken (far left) and teammates at the 2019 Donasti Cup in San Sebastian, Spain
Laken Limbu was born and raised in Singapore's Nepalese community after his father was detailed to the Gurkha Contingent of the Singapore Police Force. From age 15, Laken played with ANZA Soccer as a talented midfielder and competed in overseas tournaments in Spain and Malaysia. Coach Yakob Hashim recalls his impact on his teams: "As soon as Laken joined ANZA Soccer, we could see that with his talents, he could go far. An excellent technical player, when playing in centre midfield he'd knit the team together with his passes to the strikers. He's a disciplined player who worked hard in training, and was a leader to his teammates."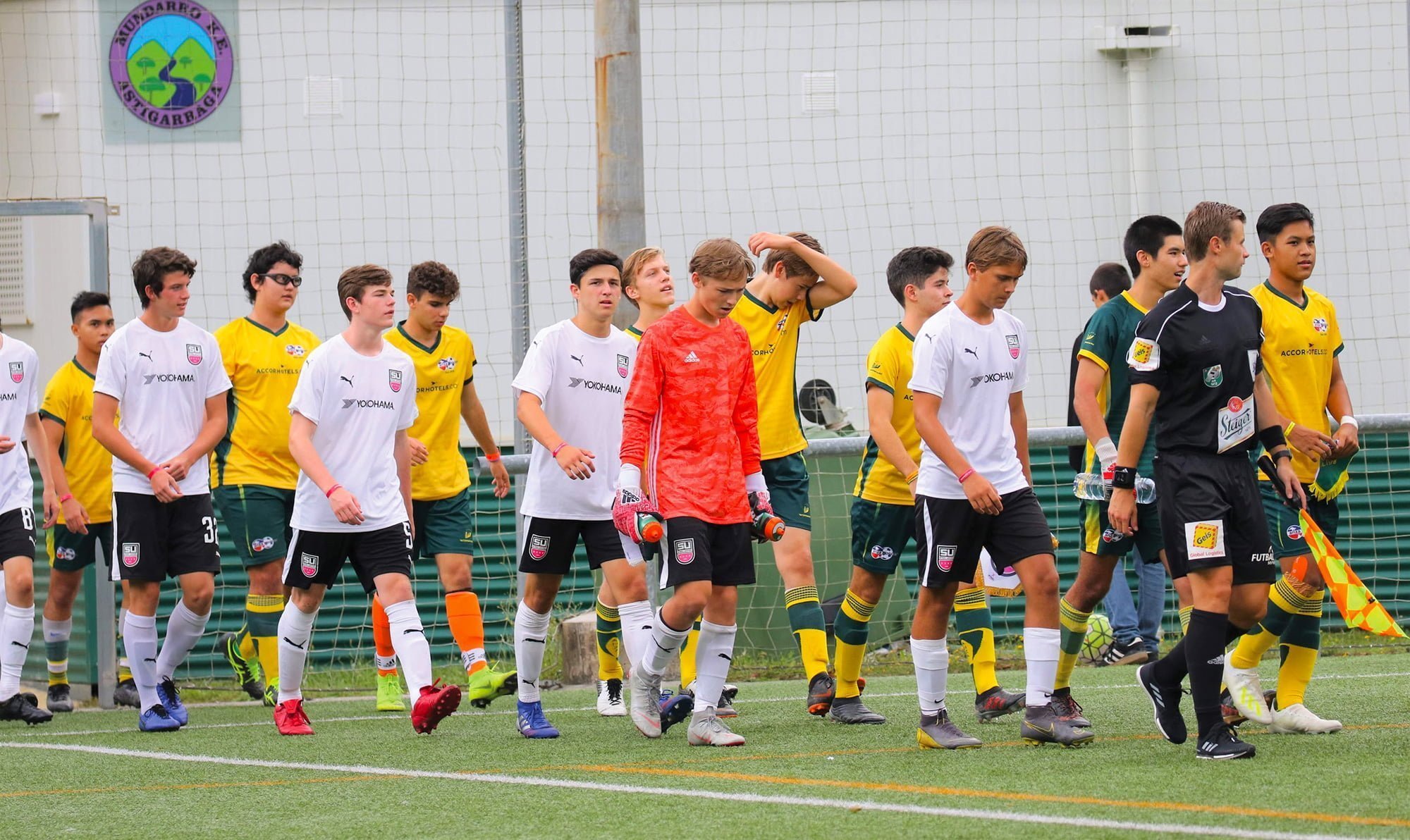 Laken leads in the ANZA Soccer team before the Donasti Cup 2019
We were excited to hear from Laken, who moved to Nepal two years ago, when he joined Nepal's first private football club, Jhapa FC, for the Martyr's Memorial C Division league qualifiers. More recently, he signed a professional contract with the Ruslan Three Star Club, which plays in Nepal's top (A Division) League. A local superstar, his transfers featured in the Nepalese football news site goalnepal.com.
"I hope that I'll make it to an A-League team in Australia"



Tariq Shahid
Tariq Shahid s/o Mohamed Akbar has played with ANZA Soccer for the past two years. He was called up to the Football Association of Singapore (FAS) U15 national team, attended the DV7 football training camp in Valencia in 2018, and played in the Barça Academy World Cup in Barcelona in 2019. A recipient of the Singapore National Olympic Foundation's prestigious SOF-Peter Lim Scholarship for 2020 and 2021, Tariq shares how ANZA Soccer has played a huge part in his incredible soccer journey.
"I was scouted by ANZA's Coach Yakob in 2019, and my two years with ANZA have really taught me humility – that by being respectful, I will earn respect in return. I really enjoy the banter and camaraderie between the mostly Aussie and local boys. Coach Jerry emphasised discipline and intensity during training and games, and he also helped me to learn how to check my emotions. The relentless efforts put in by many parent coaches have also been really admirable.
The pandemic has meant that I've missed playing competitive football and I've worried that it has impacted my development. I also miss the adrenaline rush of playing 11-a-side football matches. My aim for the future is to be a professional footballer. I hope that by giving my best and absorbing as much as possible, I'll be able to make it onto a European team or an A-League team in Australia – with ANZA's help of course! I'm working hard on my own as well to make my dream come true. Hopefully, one day I'll come back to ANZA in a coaching capacity to contribute and repay all the help that I have got on my journey so far."
"An exceptional player with a killer left foot"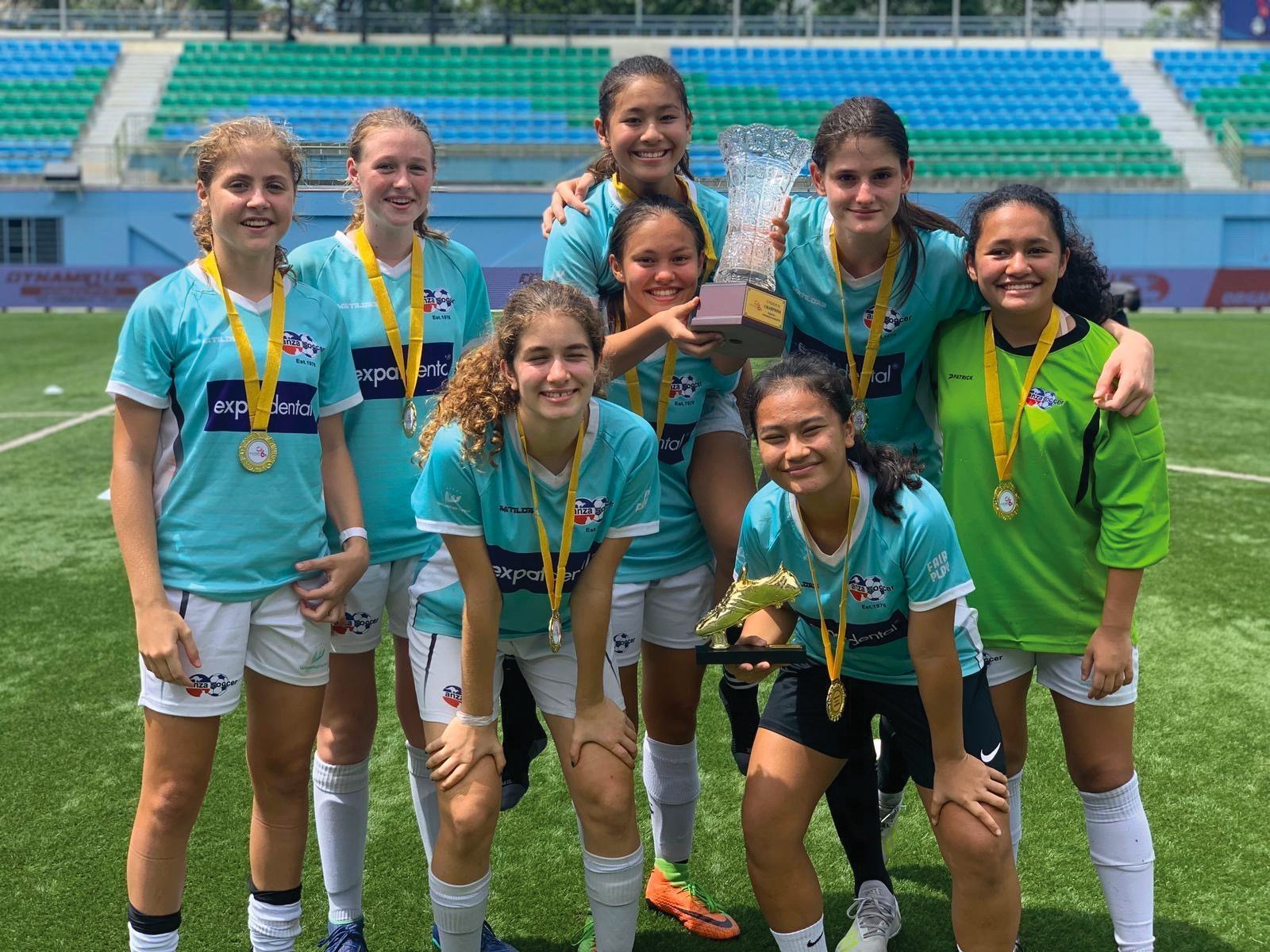 Putri (right front holding Golden Boot trophy), with her victorious team at the 2019 SingaCup Women's 6s
Putri Nur Syaliza Sazali played with ANZA Soccer's Matildas and became Singapore's first female soccer player to be offered an overseas athletic scholarship when she was recruited to a US university. A talented striker, she was known for scoring many impressive goals against both girls' and mixed teams while playing for ANZA. 
A member of Singapore women's national team, Putri is also an honoured recipient of the SOF-Peter Lim Scholarship. Coach Adelina Gomez, who trained Putri's Matildas team, describes her as "an exceptional player with the X-factor on the field that connects the dots with her killer left foot. She represented ANZA in the JSSL 7s in 2019 and scored the winning goal to clinch the Cup Championship. The camaraderie the girls had was very special, and she never lost her humility. I cannot be more proud of what Putri has accomplished, especially at such a young age."
"I want to achieve something Singaporeans can be proud of"
Richie (player to right of referee) after scoring the winner in the JSSL 7s B12 2019 Cup Final
Richie Neubronner played with ANZA before being selected for the FAS U15 Singapore national team. He now also plays with FAS Centre of Excellence (COE) team Tampines Rovers. The COE scheme aims to help young Singaporean footballers develop and provide a talent pipeline for the S.League, national team, and professional opportunities elsewhere. Still a member of our B14 team in the JSSL League, Richie explains how he got involved with ANZA and what it meant to him.
"My older brother was already playing for ANZA and I wanted to develop my football abilities. ANZA has the perfect environment for children to build a good foundation for football. The coaches, parents and players are all friendly, and ANZA's in-house leagues allow me to make friends and improve. Coach Tony taught me a lot as I was starting my ANZA journey, and Coach Yakob also helped me to improve by making me play with the older boys and being strict with me. He made my team run a lot if we made mistakes, but I've definitely improved because of it! 
One of my biggest ambitions at ANZA was to win a JSSL 7s tournament. When the first couple I played in didn't result in wins, the losses were disheartening. However, that didn't stop us from continuing to improve, and winning the JSSL 7s Cup in 2019. In the future, I hope to play football for Singapore's men's national team and achieve something that Singaporeans can be proud of. I also aspire to play professionally in Europe as the level of football there is exceptionally high. I would definitely learn a lot from the players." 
Anza Soccer stars hit the pitch on Saturdays from 8am.
Log onto anza.org.sg/sports/soccer for more