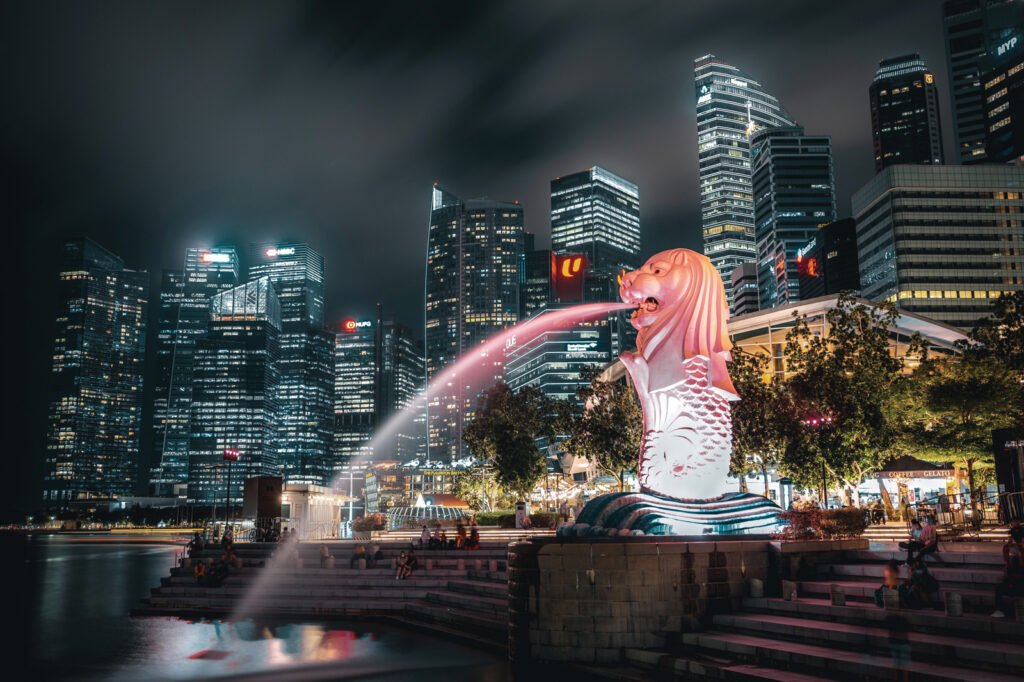 Going out in Singapore after dark doesn't have to mean a boozy session followed by bad dancing at BRIX (although these are perfectly acceptable pastimes). There are heaps of activities to do and places to visit to keep everyone occupied well into the small hours. Here are some of our favourite nocturnal happenings to take on when everyone else is sleeping.
Fun activities
Things to do solo, or with friends and family
Late night kite flying
Sweating away at Marina Barrage in the middle of the day as you try to send a kite sky high is no-one's idea of fun. That's why flying a kite at night against Singapore's shimmering skyline is far more enjoyable (and sensible). There's a certain sense of stillness that is only achievable in the small hours when temperatures are more comfortable, so night-time offers perfect conditions. Get LED night kites from kiteculture.sg to make the experience even more awesome.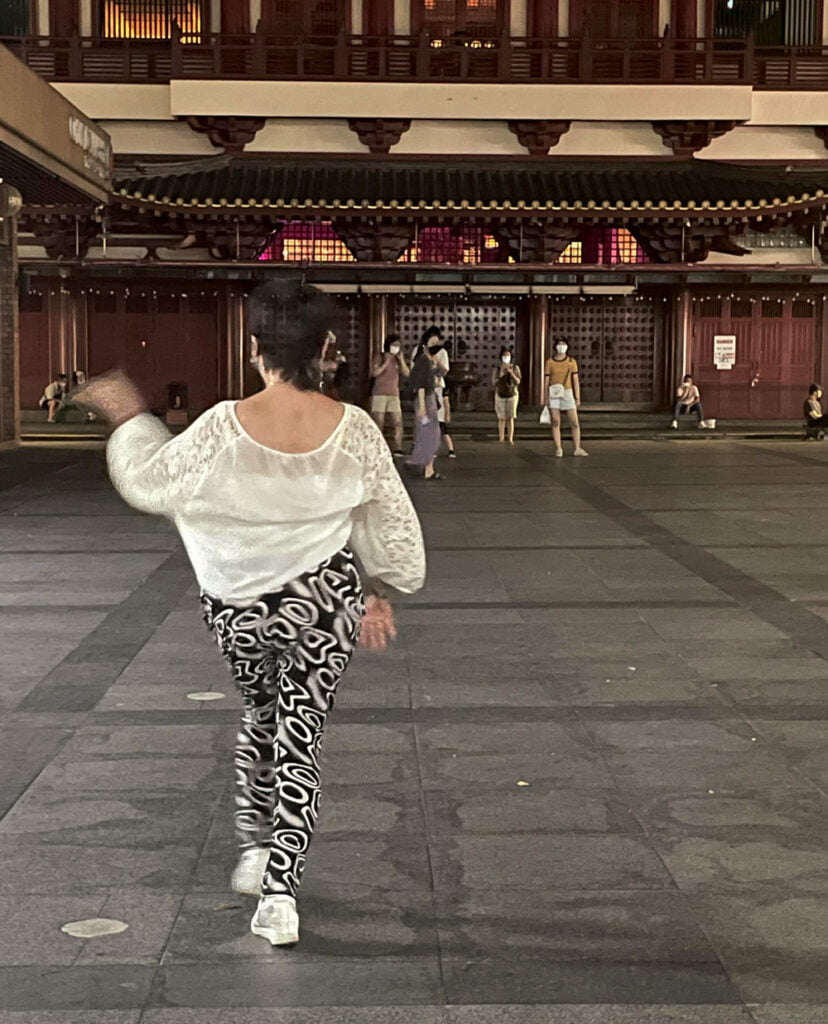 Culture spot at People's Park
As the lights dim in Chinatown, it's the locals who truly shine, especially at the back of the Buddha Tooth Relic Temple. While the secret societies, gangs, and dodgy dens of Chinatown's past are long gone, you'll find the locals continuing their games of mahjong and putting the world to rights. Nearby, another group indulge in some line dancing. Watch them groove to a sound system and trusty tapper who "keeps the beat". They put on quite a show as they shimmy and sway their way around the old square, and offer a heart-warming slice of community life.
Prawning
The only thing to be doing at midnight in Singapore? Catching a prawn! Orto (orto.sg) is open 24 hours and offers round-the-clock prawning with rods and bait included. With 10 ponds containing big head prawns and yabbies, it's a spacious set-up with plenty of options to choose from. Grab a beer from a nearby bar counter, and you could be forgiven for thinking you're cooking up a barbie back home. Rumour has it that this place will be redeveloped soon, so get there sharpish.
Orto, #01-09 81 Orto, Lorong Chencharu, 769198
Stargazing
Our skyscape is constantly flooded by city lights, whether seen from a rooftop bar or on the sands of Sentosa. Changi Point Coastal Walk is not only a lovely wander at night, but it also offers great stargazing opportunities. Head to the 140-metre Changi Bay Point boardwalk on the newly opened Changi Bay Park Connector for the magical sight of twinkling stars and sweeping waterfront views. Want to stay inside? Woodlands Galaxy Community Club is home to the Andromeda Observatory and features a 30cm telescope that gives astrophiles the best view into space. It closes at 6pm so you only get a snippet of sunset, but it's worth it.
Woodlands Galaxy Community Club, 31 Woodlands Ave 6, 738991
Hit the arcade
​​Release your inner child at Level Up (1-levelup.com), an adults only arcade and bistro bar at Clarke Quay. Their motto is "Eat, Drink, Play" and this is certainly the place to do it. You'll find old-skool arcade games (Space Invaders! Daytona racing!), beerpong, table football, drinking games, local music and delish bar bites until 12am. Alternatively, Cow Play Moo Cow (cpcm.com.sg) is a huge amusement space for all ages full of machines and games, with some outlets open until 12.30am.
Level Up, #02-04, 3A River Valley Road, 179020, Cow Play Moo Cow, islandwide
Watch the port at work
Senoko Fishery Port does not smell pretty, but it sure is a feast for the eyes! Open from 2am – 6am, night owls or early risers can come here to glimpse over 30 stalls including an array of stingray, sotong and mud crabs which are – quite literally – fresh off the boat. Perhaps more fascinating, however, is watching the staff at work and observing how things operate in the dead of night. Remember to bring your NRIC or passport to get past the security checkpoint.
31 Attap Valley Road, 759908
Cosmic bowling
There's bowling, and then there's cosmic bowling. Bringing bowling and disco together, K Bowling Club (kbowlingclub.com) pulls out all the stops with lights, good tunes, food and booze alongside the game. Open until 1am, the venue also boasts dart machines, karaoke booths and old school arcade games making it a heap of after hours for families and groups of friends. Likewise, Sonic Bowl (sonicbowl.sg) is also where it's at for a late night strike.
Sonic Bowl, various venues. K Bowling Club, #03-27, 313 @ Somerset, 313 Orchard Road, 238895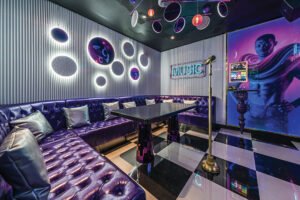 Sing it out
Karaoke is back and if your vocal chords don't start coming into their own until nighttime, there are plenty of places to let rip at! K.Star Karaoke (kstar.com.sg) houses 22 themed rooms featuring the likes of space and carnival decor. If you feel sleepy upon arrival, we recommend opting for a panorama room which takes it up a notch with 360-degree wall projections with high-tech animations. As the venue opens until 3am, it's likely that you'll find yourself thinking you're in a dream, or a nightmare?!
K. Star Karaoke, Orchard Central, Suntec City, Plaza Singapura
Sporty stuff
Because fitness isn't just for daylight hours
Night cycling
Cycling after sundown is super relaxing as the crowds disperse and the air grows cooler. Favourite routes include Punggol Waterway, Kallang River, and the breezy sea-view trail from East Coast Park to Changi Village. Up the fun by including supper stops along the way. ANZA Cycling and ANZA Easy Riders are always ready to welcome new members.
Go-karting
For a night drive with a difference, The Karting Arena at The Grandstand, with its electric and petroleum-powered go-karts, ticks all the boxes (thekartingarena.com). Go all F1 around the tracks at speeds of up to 30km/h, or 50km/h if you've got a driver's license to show. Along with single karts, double seaters with one dummy wheel are perfect for parent-child duos. We guarantee everyone will sleep well afterwards.
200 Turf Club Road, #01-01B The Grandstand, 287994
Sunset dancing
Prepare to dance like no-one is watching (although a few people actually will be) at locations around the island with Secret Sunrise Singapore. This fabulously unselfconscious bunch host facilitated events at sunrise (and sunset) with the aim of taking you on a journey of music and movement, connection and joy. Pop the headphones on, turn the tunes up, and prepare to sweat!
Rock climbing
Rock climbing at night is a unique way to hang out (literally!). Many outfits across the island stay open up until 11pm, allowing you to scale walls while the sun goes down. Climb Central (climbcentral.sg) has locations across the red dot and welcomes all ability levels. Upwall (upwallclimbing.sg) hosts occasional midnight climbing sessions that run till as late as 2.45am.
Upwall, 1 Pasir Ris Close, E!Hub@Downtown East, #01-105, 519599
And relax
All exercised out? Soothe achey muscles at a spa. Open 24 hours, G.Spa (gspa.com.sg) is a world of indulgence with saunas, steam baths, hot and cold pools and a relaxation lounge. They even offer all day dining so if you fancy food after your 2am footsie, go for your life! Natureland Spa (natureland.com.sg) has great packages on massages, scrubs and foot massages. Multiple locations in town open until 3am so bear it in mind if you can't sleep.
G.Spa Singapore, #02-02, Guillemard Village, 102 Guillemard Road, 399719
Late night bites
Some dishes taste better after dark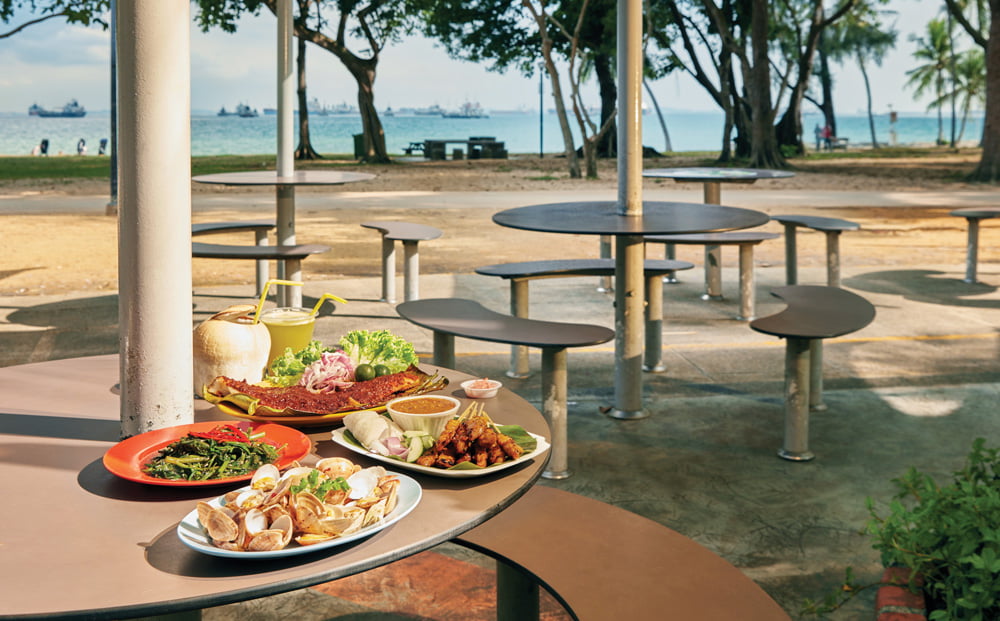 East Coast Lagoon Food Village
If you're indulging in a late bike ride, this food centre in East Coast Park is the ideal place to recharge your batteries and soak up some evening vibes. Satay, hokkien mee, BBQ stingray, and cereal prawns are served up under the twinkling stars. Tuck in while you take in the sound of the ocean and a tranquil atmosphere that is quintessentially wee-hours.
East Coast Lagoon Food Village,
1220 East Coast Park, 468960. Open until 2am daily
Cafe Gavroche
If your midnight cravings involve cheese, cold cuts, Fines de Claire oysters and a glass of fizz, may we suggest Cafe Gavroche (cafegavroche.com). This 1930s-style French-inspired cafe opens until midnight on Saturdays, adding a splash of sophistication to post-cocktail snacking. Don't miss the delish chocolate cake which may be the fuel you need to get you back home.
Cafe Gavroche, 69 Tras Street, 079008
The Ramen House
A hearty bowl of ramen could be the key to curing impending hangovers, so head here if you're feeling fuzzy before 6am. The 30-hour boiling process provides flavour-rich, milky, and smooth broth with the ramen noodles, meat and vegetables. Their bestseller, Volcano Ramen (S$12.90), is as satisfying as it is sobering.
The Ramen House, 6 Short St, 188213
Superstar K
If you want to hang out with the cool kids (or if you have cool kids yourself), opt for a Korean BBQ before bed. Superstar K is an authentic place with a relaxed atmosphere serving up Seasoned King Size Beef Rib, Pork Belly Bulgogi, Black Pepper Chicken, Kimchi Stew and more. Once home, demand that all dining participants strip off immediately and put their smoky clothes in the wash. Unless you were eating out with friends, obviously.
75 Tanjong Pagar Road, 088496
The Ramen Stall
Visit The Ramen Stall (theramenstall.sg) not just for ramen, but also a wide range of Japanese appetisers, sushi, sashimi, kushiyaki, gohan and desserts. It's open until 2am on Friday and Saturday and as it's halal, all dishes are free of pork, lard and alcohol.
The Ramen Stall, 787 North Bridge Road, 198755
The Roti Prata House
Hidden within a row of shophouses, The Roti Prata House (facebook@TheRoiPrataHouse) is one of Upper Thomson Road's iconic supper spots. As well as prata, you'll find briyani, maggi goreng and soups, making this low key late nighter a must. For something different at 2am, give their durian or ice-cream prata a whirl.
The Roti Prata House, 246 Upper Thomson Road, 574370
BKK Bistro & Bar
After working up an appetite prawning with friends at Orto, head to BKK Bistro & Bar (facebook.com/BKK.Bistro.SG) for Thai bites and lakeside views. You'll find a whopping 24 different combinations of boat noodles, as well as a variety of staples such as Tom Yum Seafood Hotpot, Spicy Basil Pork Rice and a good ol' Green Curry.
Bkk Bistro & Bar, 81 Lorong Chencharu, 769198. Open until 2am
Beach Road Scissors Cut Curry Rice
If the quality of your night depends on the curry you complete it with, this is for you. Beach Road Scissors Cut Curry Rice (facebook.com/curryscissorsrice) is a laid back spot in two old shophouses at the junction of Jalan Besar and Kitchener Road. Serving curry Hainanese style, expect favourful gravy, crunchy cabbage and crispy pork chop until 3am – perfection!
Beach Road Scissors Cut Curry Rice, 229 Jalan Besar, 208905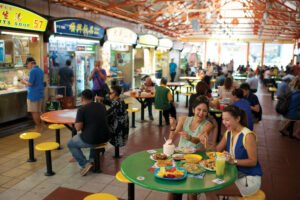 Maxwell Food Centre
Maxwell Food Centre is one of Singapore's most famous and busiest hawkers, but visit at night and you'll find a distinctly more chilled vibe. Ideal if you've been on the sauce, soak up your sins with a comforting 2am bowl of noodles or a plate of fried char kway teow.
Maxwell Food Centre, 1 Kadayanallur Street, 069184
89.7 Supper Club
If you're looking for no-frills comfort food to end your day, 89.7 Supper Club (897supperclub.com.sg) will satisfy any craving. This food court houses a mountain of different stalls comprising local, Chinese and international cuisines so options are endless. Need a bowl of post-partying pasta? Something to soothe little ones to sleep? A midnight mixed grill? Open 24 hours a day, and in two locations on the island, drop in and take twilight dining to a whole new level.
Located at Changi Village and Geylang