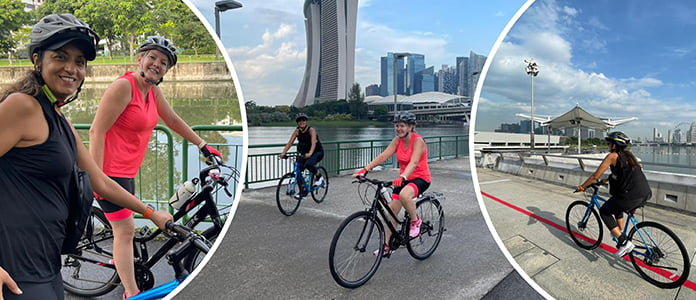 Love cycling, but want to avoid busy roads and ride at a more relaxed pace?
ANZA Easy Riders is a new low-key cycling group for people keen to explore Singapore's Park Connector Network (PCNs) and other off road bike paths. Participants will need their own bike and a helmet, but don't need to be an experienced cyclist. There's no need for a road bike or fancy cycling gear – just jump on your two-wheeler and enjoy a leisurely pedal with the easy riders! The group will meet up on various days and times, but won't require early morning starts.   
Please note: Organisers will try to ensure 90% of the rides are PCN riding, but there may be some short stretches on the road.
Register below to join The ANZA Easy Riders group and receive the WhatsApp link for the chat where you can book your place on one of the regular rides.
Registration to ANZA Easy Riders is only available to ANZA members. Click here to Join ANZA!
Looking for more cycling options in Singapore? Check out ANZA Cycling club. Activities include Road, Off Road, Racing, Triathlon and women's only Cycling Chix. *please note separate registration is required for ANZA Cycling