ANZA Cycling has become legendary in Singapore for its strong, social community, strict safety code and incredible riding opportunities. Over 450 active members ride around the island in bunches, pretty much every day of the year. Our club sections include Road, Off Road, Racing, Triathlon and women's only Cycling Chix.
Some cyclists race at elite/UCI level, others simply enjoy a weekly social spin and a post ride coffee. We cater to all and everything in between: from shorter 25-30km loops in no-drop groups, to groups that set off to ride the 125km 'Round the Island' (RTI)
With around 30 nationalities represented, our members range from older teens, to members in their 70s – all sharing the same love for getting out on two wheels in great company!
We ask everyone new to the club to join us for our Newcomers' Ride, which is held on the first Saturday of each month. For more details and to register for the Newcomers' Ride, please contact cyclingmembership@anza.org.sg.
When: For more information on ANZA Cycling, including a map of where we meet, click here.
Where: For a comprehensive schedule of how far, how fast and when we ride, click here.
Fees: $88 per year, annual renewal $58
Registration is only available to ANZA members. Click here to Join ANZA!
Our primary form of communication with members, including changes and additions to daily rides, social events and general club news is via the ANZA Cycling Facebook Group. Please join us there for more regular updates on club activities.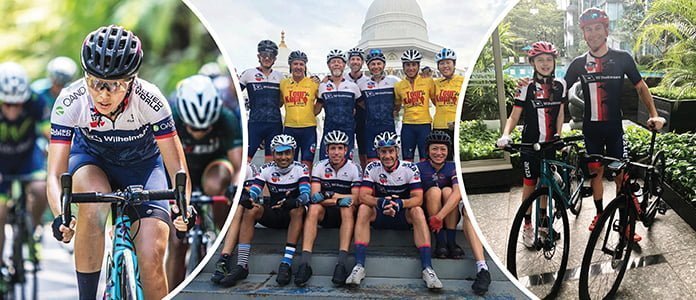 Testimonials:
Christopher Bloch – Road Director
"The club prides itself on scheduling rides at different distances, speeds, and parcours (route profiles) around Singapore, virtually 365 days a year. These rides set off at varying speeds for all levels and keep everyone together for a great and safe morning out. Regardless of the route, our final destination will always be the all-important coffee with mates. Let's be honest – that's the real reason we ride!"
Stephanie Lim – ANZA Cyclist
"I joined ANZA Cycling four years ago and ride regularly with them during the week, as well as off-road CX riding. The best part is the community. I've met a wide range of people, attend regular club breakfasts, social evening drinks, and have made friends both on and off the bike. The female specific ANZA Chix group has been great too!"
Our Sponsors