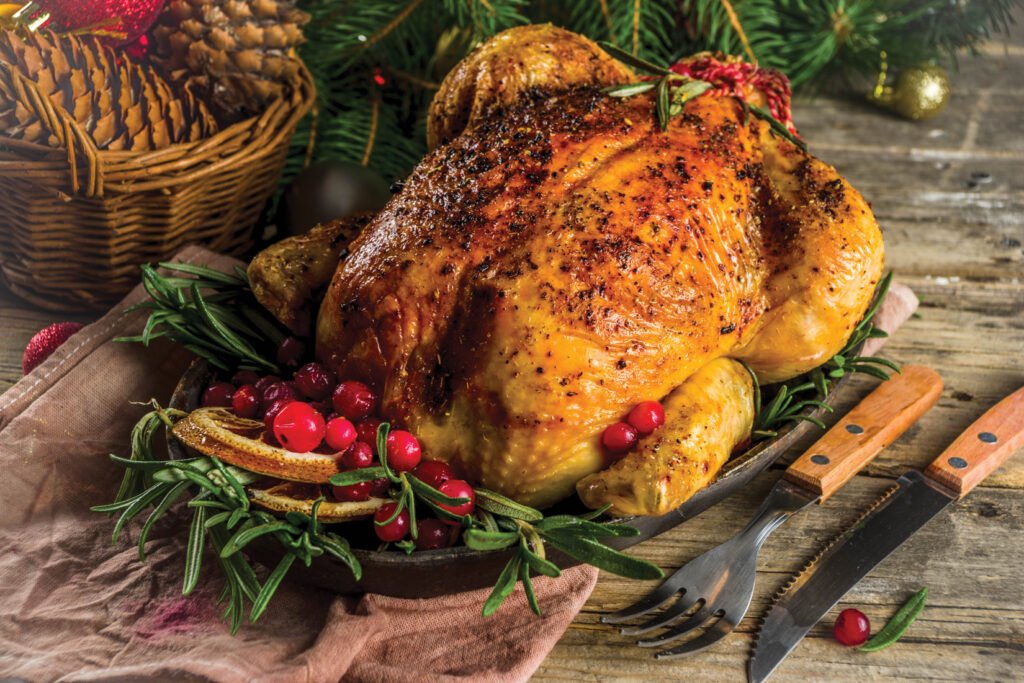 Planning and executing the perfect Christmas meal can be stressful. With so many mouths to feed, dietary requirements to cater for, and potential disasters, it can be tempting to give up and call for a takeaway. But that's for those who don't know about The Fishwives. For those living in Singapore, The Fishwives' outstanding selection of quality meat and seafood, alongside essential sauces, cakes, puddings, treats and wines, make holiday meals easier and extra special.
Rebecca's top tip:


Quality hams and turkeys are in short supply in Singapore so order early!
Yuletide traditions
For owner Rebecca Forwood, holiday planning is a year-round affair as she's always on the lookout for the best festive meats and goodies to stock in her Cluny Court shop and online store. "The holidays were always special when I was growing up," she says. "I loved the hustle and bustle of preparations, spending time with family in Australia, and all of the fun traditions we had. My mum's side of the family are incredible cooks and between my mum, grandma, uncles and aunties, we created the most amazing Christmas Day feasts." 
With this in mind, Rebecca works hard every year to continue many of the same yuletide traditions while raising her own kids and operating her gourmet grocery store in Bukit Timah. Her key to success? As long as you have good quality food and plenty of it, you will pull off a successful festive meal. "Choosing the highest quality ham or turkey is a great start," says Rebecca, who puts hefty legwork into finding premium hams and turkeys available for every Christmas season. The hams come in half-bone (5kg) and full-bone (10kg) varieties and are certified free-range. The delicious French turkeys are approximately 3.6kg and include the giblets which are great for making gravy.
Glazed & baked

Rebecca's holiday meal prep looks much like that of her mum, the original founder of The Fishwives, so the process is near and dear to her heart. "In my family, we always glaze our holiday ham with our homemade glaze made from maple syrup, brown sugar, orange marmalade and dijon mustard – and maybe an extra special secret ingredient," Rebecca reveals. It's the same recipe they use in-store if you add a glazing package to your ham when ordering – The Fishwives team glaze and dress your cut for you. By doing so, you can save yourself hours in the kitchen while the ham will be glazed, baked, and the centre of attention come meal time, without you having to lift a finger.
The Forwood holiday turkey is also prepared in the same way every year. Rebecca's trick for a moist, flavourful turkey is to cover the bird with slices of bacon and slide a homemade butter mixture under the skin of the breasts and legs. She also stuffs the whole bird with a mouthwatering homemade stuffing and a tantalising fresh blend of herbs and spices for the perfect finishing touch. "It's always a winner and everyone always comes back for seconds," she says.
Holiday goodies galore
Indeed, holiday food favourites are endless at The Fishwives and you can create a memorable and special spread with minimal stress. Don't miss their wide variety of festive specialties including Italian panettone, gourmet Australian cheeses, crackers, dried fruit, and artisan honeys and chutneys for the ultimate cheeseboard. You'll also find an outstanding artisan Christmas pudding from Australia with a gluten free and vegan option so no one misses out.  
Of course, no celebrations are complete without bubbles. Although they're known for their wholesome, natural Australian foods, The Fishwives offer a carefully chosen selection of excellent cellar door wines, including superior champagnes and alcohol free champagnes. We'll raise a glass to that!  
How to order your essentials
This year, holiday hams and turkeys will be ready for delivery from The Fishwives from 20 November 2022. Order online at thefishwives.com or visit the store. Delivery is free for all orders over $100. The Fishwives do everything possible to ensure your celebrations are stress-free and focused on time with friends and loved ones. Be sure to stop by as you're prepping for the festivities this season.
The Fishwives, #01-05B Cluny Court Shopping Centre, 501 Bukit Timah Road, 259760. thefishwives.com