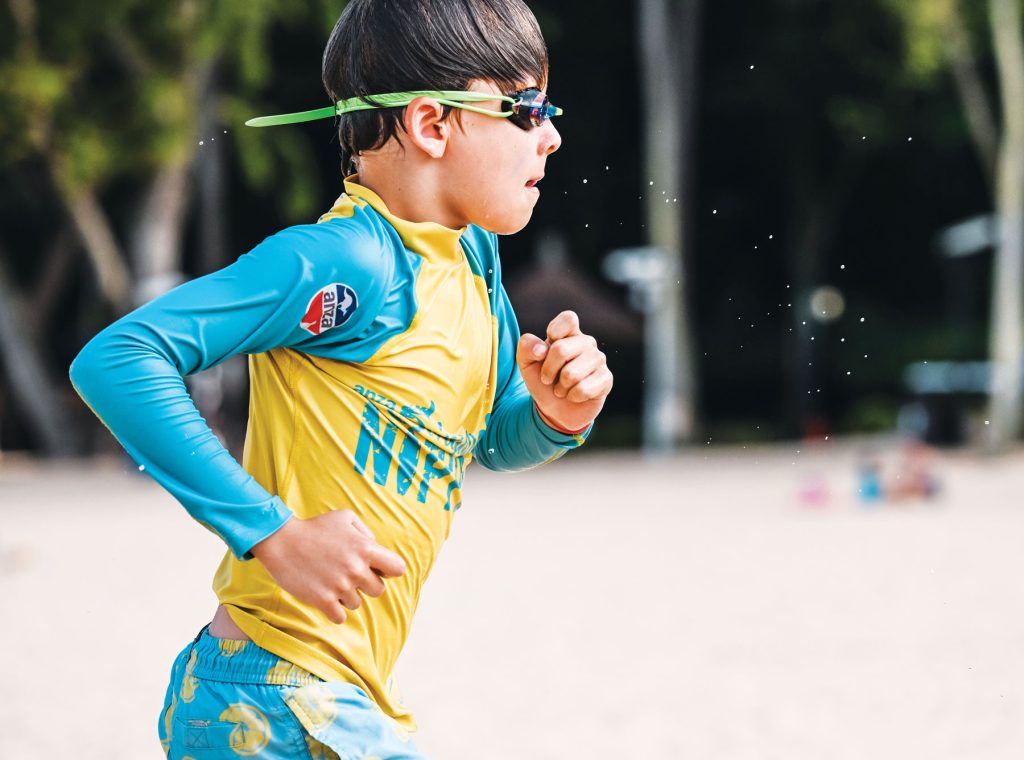 ANZA's 75th anniversary is a wonderful opportunity to reflect on everything the association has done for its members and expats in Singapore. Moving to a foreign country can be a very daunting experience and ANZA's sports groups offer a little slice of home and familiarity in a country where certain sports are not necessarily easily accessible.
Compared to ANZA's longstanding legacy, the idea to bring an ANZA Nippers programme to Singapore was only born in 2015. Two seasons performed under the restraints of Covid didn't affect the group's popularity for good reason: Nippers brings children and parents together, and creates a strong sense of community all while teaching important life skills. Read on for our interview with Nippers' founder, Skye Wellington.
What is Singapore Nippers?
We're a not-for-profit, parent-led, volunteer group where children from 5-13 years of age can learn surf lifesaving skills through fun activities and connect with the great outdoors.
Why do it?
build strength and determination
achieve qualifications
hang out with your kids
compete in solo and team events
feel part of a community
meet people you might not meet otherwise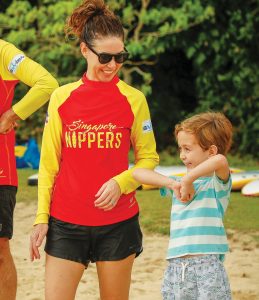 Were you involved in surf lifesaving while growing up?
I was raised in Peregian Beach, on the Sunshine Coast of Australia. My parents thought it was vital that I knew how to handle myself in the surf. The beach was my backyard, and it was normal for kids to go and play without supervision. I became a member of Coolum Beach Surf Life Saving Club and went to Nippers every Sunday. I loved it.
How did Singapore Nippers get started in 2015?
I was homesick and wanted to feel part of a community outside of school and work circles. After getting in touch with various governing bodies in Singapore and Australia to no avail, I decided to build up the group myself. Through research, consultation with clubs and my own recollection of being a Nipper, a programme was created, word spread and families came along to help out.
How does the group work?
We run sessions on Sunday mornings at Sentosa. The kids are broken into age groups and led by a volunteer Age Manager and Assistants in a programme of age-appropriate activities. We usually start with a beach clean-up to encourage kids to take care of our natural environment and keep participants safe from stepping on anything sharp.
Coaches lead the kids through classic Nippers events that are designed to build strength and speed, promote strategy skills, develop teamwork and perseverance, and ultimately prepare them for lifesaving.
Theory is also built into the sessions. Kids get exposure to first aid, reading beach conditions, and sometimes we have guest speakers.
What do kids need to start?
A basic swimming ability is necessary. Nippers helps kids to build strength and ability on the sand and in open water, but it's not designed to teach people how to swim. We have assessment criteria for each age group which includes being able to swim certain distances, float on your back and tread water.
What else do children learn at Nippers?
How to deal with a jellyfish sting; read surf conditions; be gracious whether you win or lose; and pick yourself up again when you get sand kicked in your face. The end game is that you graduate to being capable of saving lives through rescue and resuscitation.
Who teaches the classes?
All our coaches are volunteers who freely give up their Sunday morning sleep-in. A few even allow themselves to get buried in sand up to their necks, be decorated with seaweed and act as giant floaties! Some coaches have Bronze Medallions and lifesaving certificates, were lifeguards themselves and ran patrols, have been swimming teachers, or are just ocean-loving. We run training sessions and share information on how best to conduct events for the kids. We also run a course each year to train and enable parents to attain their Bronze Medallion. They can then act as water safety officers or lead groups.
How can people get involved?
Nippers has always relied on parent participation. Having more coaches means we can take on more members. To become a coach, some surf lifesaving experience is an advantage but not an absolute requirement, and we offer training in how to run and teach Nippers events. If people want to offer their time to support admin, events, fundraising and marketing functions, we welcome that too, so do get in touch!
For press and media inquiries, please contact Kat at sgnipperscomm@gmail.com
Stay up to date with ANZA Nippers on @sgnippers and @SingaporeNippers